Today's baking recipe requires, um, no baking. Which, I suppose, means it's not actually a baking post.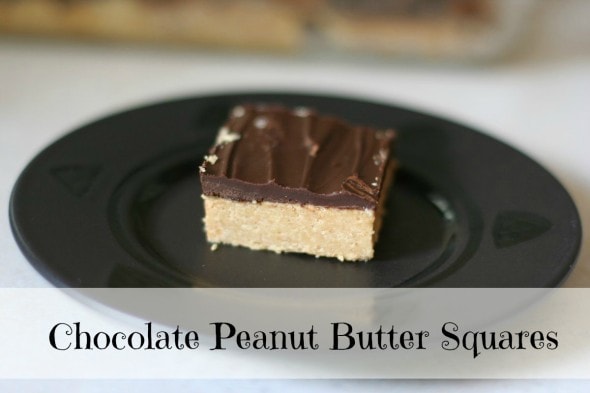 But if you're like me, when it's hot outside and you're trying to avoid using your AC, or are trying to use it minimally, you're not in the mood to crank up the ol' oven.
So, here's a recipe you can make without heating up your kitchen (I found it in an old Taste of Home magazine a few years ago.).
These bars/candy are somewhat reminiscent of Reese's Peanut Butter Cups, except that they are square and have no fancy wrapping. And though they are candy-like, there's nothing at all complicated about making them.
You can use natural peanut butter in this recipe, but the finished product will not be quite as smooth or soft.
If you'd like to print this recipe out with no pictures (to save on paper, of course!), click here to get the Taste of Home version, which will allow you to print it in a variety of formats.
Chocolate Peanut Butter Bars
Peanut Butter Layer
2/3 cup graham cracker crumbs
2 cups powdered sugar
3/4 cup peanut butter
1/2 cup melted butter
Chocolate Layer
1/2 cup chocolate chips
4 1/2 teaspoons peanut butter
1/2 teaspoon butter
To make peanut layer:
Crush your graham crackers. This is easy to do if you use a rolling pin and a plastic bag. Bonus points to you if you've saved a cereal bag for this purpose (cereal bags work better than ziplocs because they are usually more durable).
I get bonus points. Whee!
Mix the graham cracker crumbs, powdered sugar, peanut butter, and melted butter together. If you use natural peanut butter, your mixture will look like this.
Regular peanut butter makes a much softer mixture.
Spread the peanut butter mixture evenly into a 9×9 pan. I don't have a 9×9 pan, so I use an 8×8 or a 9×7, and it works out just fine. I'd recommend greasing the pan, or if you like, you can line the pan with foil. That way when the bars are chilled, you can easily take them out of the pan in one big square and cut them on a cutting board.
I find this handy-dandy little rolling pin to be very effective with the stiff natural peanut butter mixture.
Wet fingers or a wet spatula work best with the softer mixture.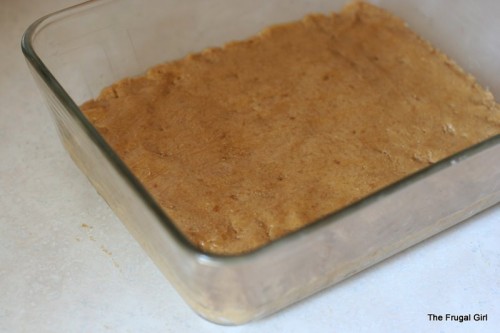 To make the chocolate topping:
Combine chocolate chips, peanut butter, and butter in a microwave safe bowl. I use a heaping tablespoon of peanut butter, because I really don't feel like measuring 4 1/2 teaspoons of peanut butter. Seriously, who measures a half teaspoon of sticky peanut butter?? And I use a skinny pat of butter instead of trying to measure a 1/2 teaspoon.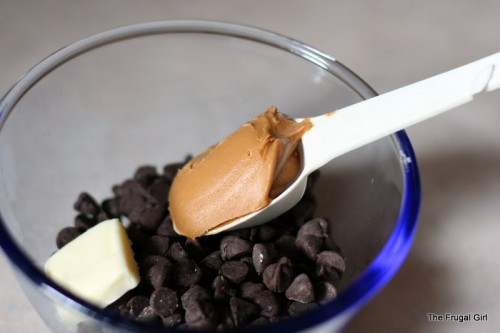 Microwave, stirring occasionally, until chocolate chips are melted. Alternatively, you could melt this in a double boiler.
Spread on top of the peanut butter mixture, and refrigerate until chocolate is set.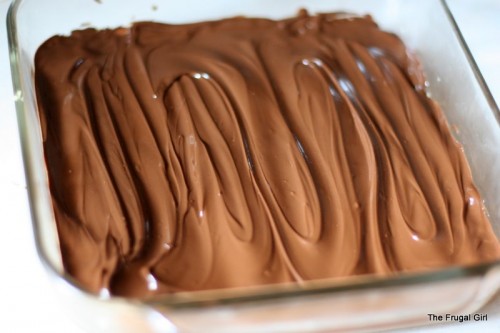 Once the chocolate is set, I like to use my bench knife to cut the candy into squares.
You should store your candy in the fridge to keep the chocolate nice and firm. I keep mine in a glass container with a plastic lid. A cookie tin would work as well.
Enjoy your not-baked treat!