It's a Five Frugal Things Thursday! And 3/5 items are repairs I did, so, yay me. 😉
1. A fish quilt fix
A year or two ago, Zoe's fish quilt had an unfortunate meeting with a nightlight, which resulted in this: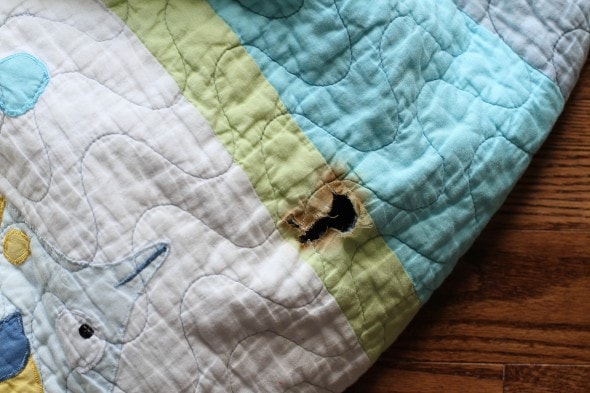 (The nightlight situation has been rectified, and we are super grateful this was the only damage!)
Anyway, the quilt has been sitting on Zoe's bed, un-mended, for an embarrassingly long time.
But the other day, I cut up an old green t-shirt, filled the middle of the hole with a few layers of old white t-shirt fabric, and backed the patch with a piece from an old denim shirt (which has been hacked up for lots of mending jobs over the years!)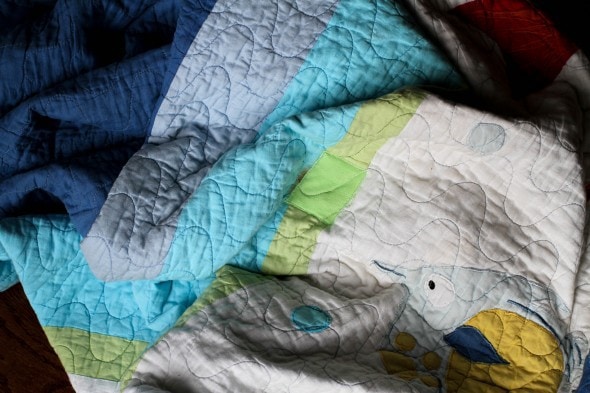 When I first put the patch on, it looked especially odd and I couldn't figure out why at first. Then I realized, oh! It's missing the quilting lines. So I sewed lines that mimicked the original quilting and it looked better.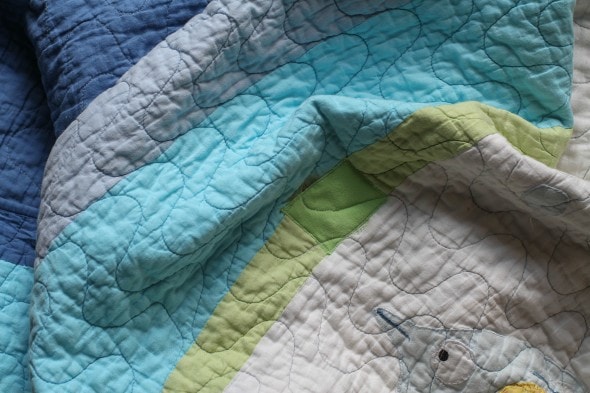 The green doesn't completely cover the burnt part, but I didn't want to stray too far off of the green line. Maybe if a bright blue shirt happens to hit the rag bag, I'll add a little blue strip next to the green part to completely cover the burnt part.
This is fix is very imperfect, but it is also very done. Good enough and done is better than perfect and not-done, I say.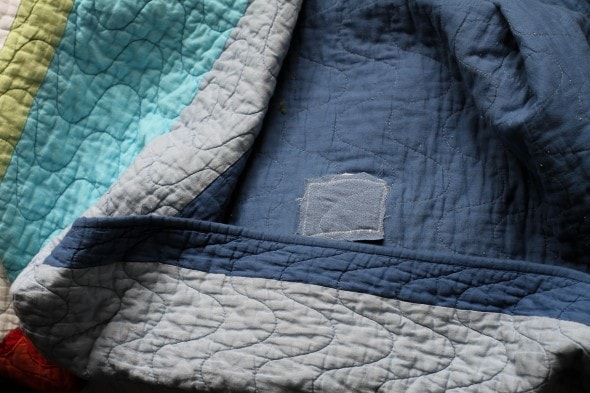 2. A Costco chair fix
Joshua has two folding faux-leather chairs from Costco in his room, for sitting on while gaming/watching TV.
(Those beanbags we originally bought for his room ended up not working out very well…all the stuffing compacted in just a few months. Don't buy 'em!)
These have been working out nicely, except somehow, the wooden frame inside one of the seats managed to come apart at the corner.
(No one at our house seems to have a clue how this happened. Hmm.)
Anyway, I pushed the pieces back together, but they needed some reinforcement to make sure they didn't pop back out. I found a flat metal thingamajig in our toolbox and decided to use that to screw the pieces together.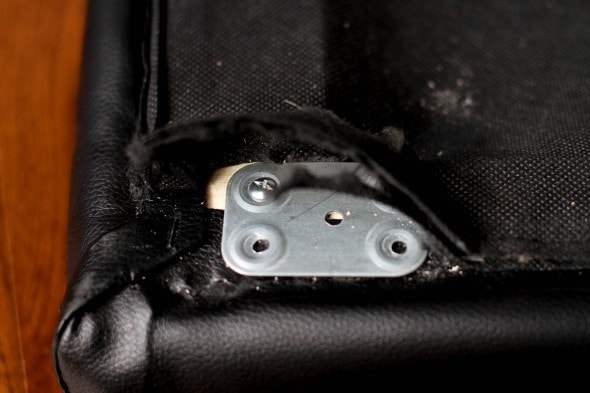 It was a little big for the job, but hey, it was on hand! I didn't bother screwing screws into the other two holes, as I didn't want to risk messing up the faux leather, and I figured that 2/4 screws would work fine.
Time will tell!
3. A bunk-bed fix
If you follow me on Instagram, you know that we got carpet in the kids' rooms last week.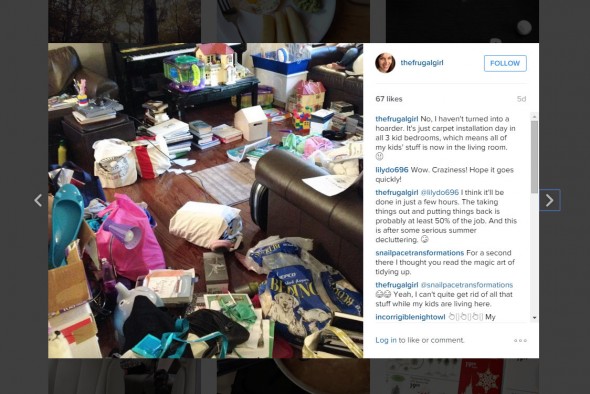 (everything from my children's rooms, except the beds and dressers!)
Gratefully, the carpet installers were happy to work around the beds, which meant we didn't have to take them out of the rooms.
Phew.
The only problem was, they screwed Sonia and Zoe's ladder back on lop-sided, and the board by the ladder somehow got damaged.
(Possibly while they were moving the bed, but I don't know for sure. It is a 14-year old bed.)
The ladder was higher on one side than the other, so it gently bounced when you climbed it.
(One wonders how a person fails to notice this….?)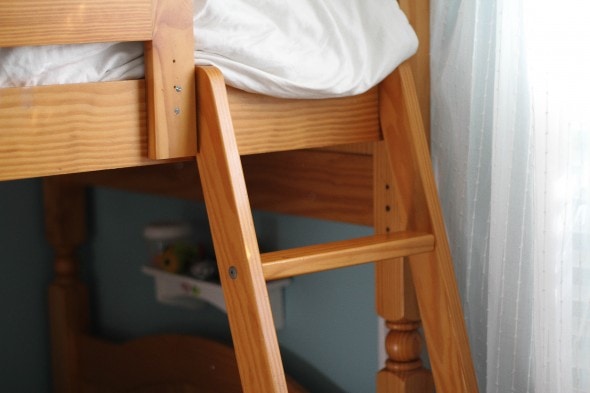 (the ladder, now properly straightened)
Anyway, I unscrewed it and as I was doing that, I noticed the missing chunk of wood.
The bunkbed wasn't really safe and sturdy like that and since I'm an impatient person and want to put things back together, like, 5 minutes ago, I decided to try to fix it myself.
(I texted a photo to my brother for some advice.)
I got out the chop saw, which I've never used before, cut a piece of scrap wood down to size, and screwed it into the corner post.
Then I screwed the ladder on, through the scrap piece and through the existing bunkbed board, so now the corner is reinforced from both sides.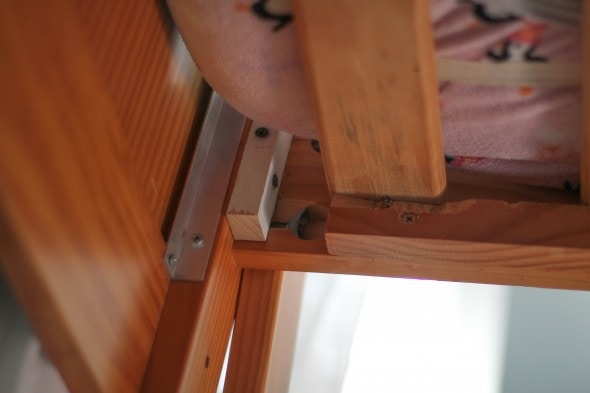 And the ladder is actually straight now too, which is a bonus. 😉
This isn't the most beautiful fix in the whole world, and my screws aren't perfectly straight because that's such a tight space to fit a drill in.
(And also because my drilling skills are a bit, er, lacking.)
BUT. It's fixed, and it's stable, and as a bonus, I now know I am quite capable of using a chop saw.
At least for straight cuts.
And since the fix is on the inside of the bed frame, it's not like it's generally visible, which means the ugliness factor is sort of irrelevant.
Oh, while I had the drill out, I also screwed down some of the under-mattress slats, since some of them had shifting problems.
4. I got a new pumpkin-carving kit.
When I was at Kohl's the other day for some socks for our Christmas Child (more on that in #5), I walked by the post-Halloween clearance shelves and noticed a carving kit marked way down.
Since a few pieces from our carving collection have broken, I picked this one up for use next year.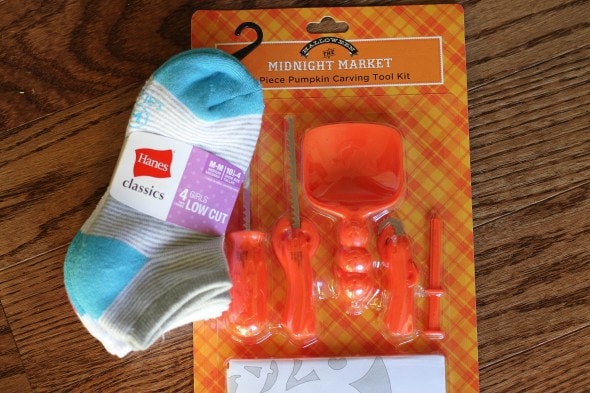 If you haven't tried one of those little kits, do! They make pumpkin carving so, so much easier, compared with using a paring knife.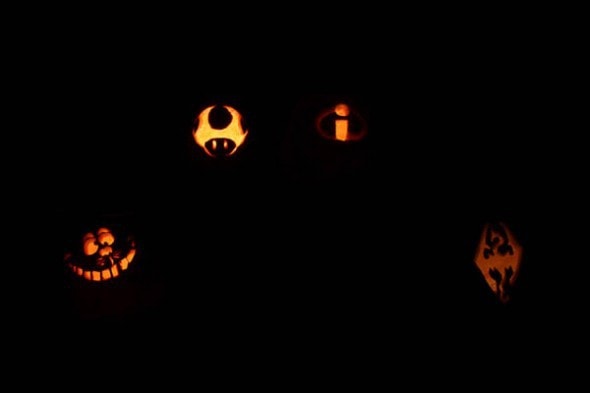 5. I used $15 of Kohl's moola.
On the day it was due to expire, I remembered that I had a $5 Kohl's Yes To You reward, so I popped by to pick up some socks for our Operation Christmas Child box.
Later in the week, I noticed I had a $10/$10 Kohl's coupon, and Joshua told me he was needing some new running pants.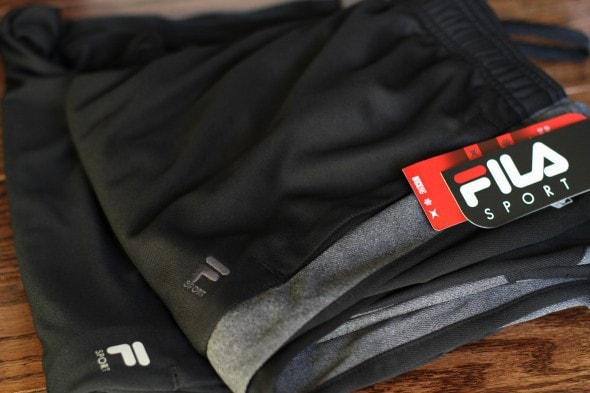 So we stopped in while we were near Kohl's, and while he was trying on pants, I found a pair of running shorts in the clearance section for $10. Between the coupon and the 15% discount for using a Kohl's card, I got him the pants and the shorts for a total for $20.
______________
Whew. That was a long and wordy Five Frugal Things post.
For those of you that made it to the end…feel free to add your own Five Frugal Things in the comments!