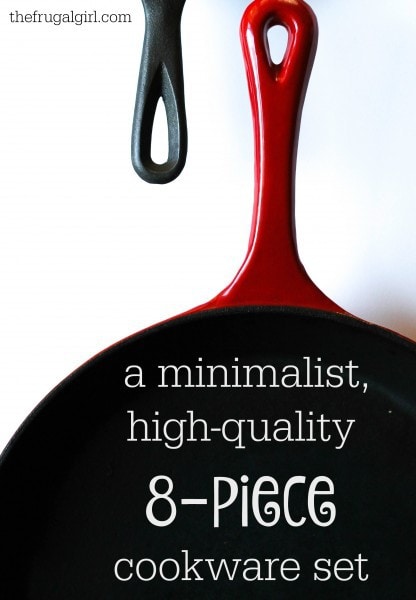 A lot of you wanted more posts on simplicity, and you all also have asked for more posts about buying high-quality items that last.
Sooo, I thought a post about my somewhat minimalist collection of high-quality cookware might fit both of those requests!
Like a lot of you, I live in a kitchen that wouldn't win a prize for spaciousness. And it's never going to snag the blue ribbon for Lots Of Cabinet Storage either.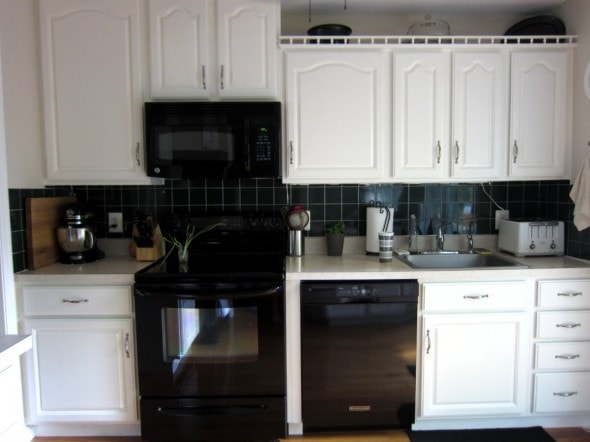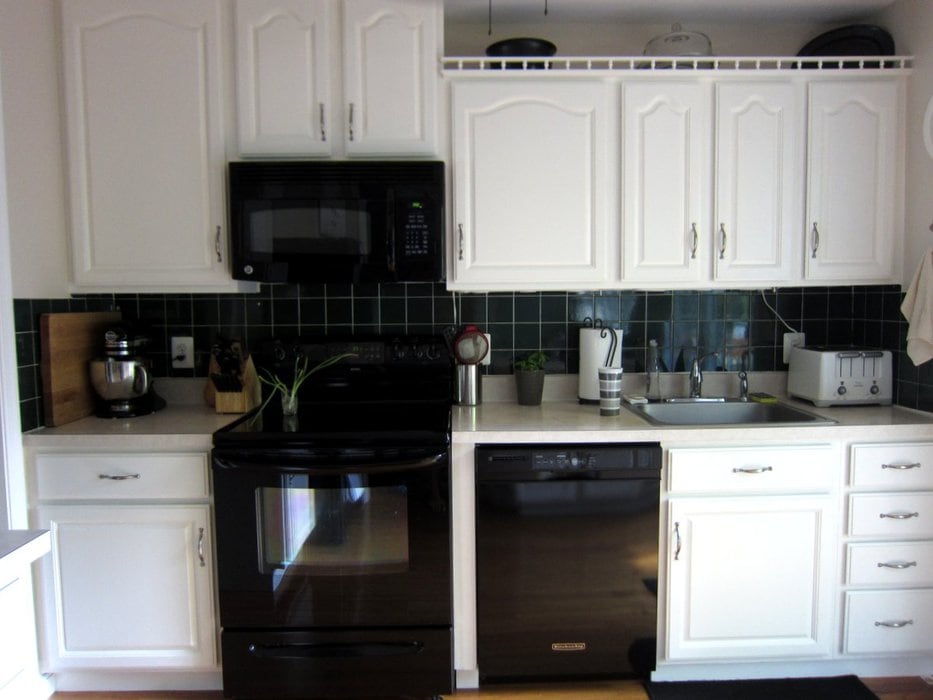 I mean, I know it could be way worse, but a lot of my cabinets are pretty shallow and are difficult to fit pots and pans into. And there's no pantry in my kitchen either, which leaves even fewer cabinets for cookware.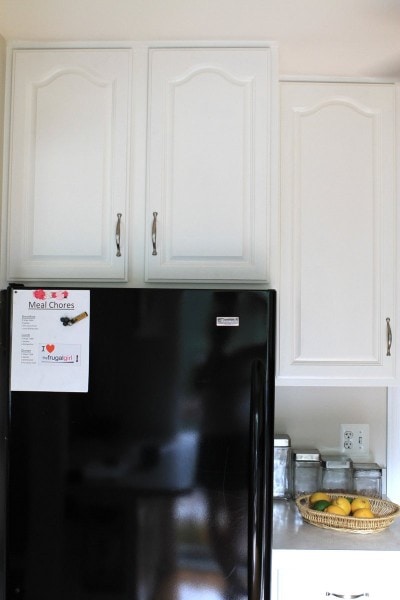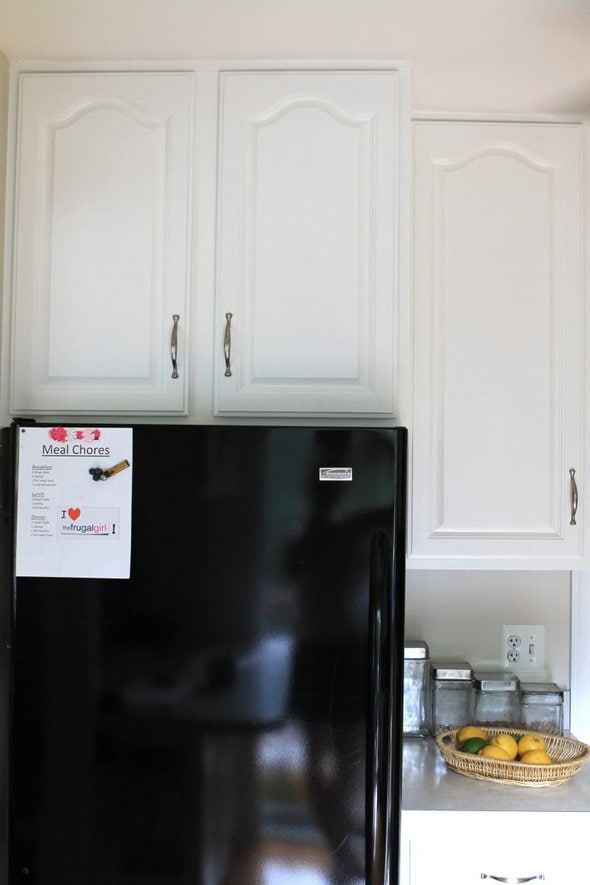 To make my few cabinets work, I've had to pare down my cookware to a fairly minimal collection, and surprisingly enough, I've realized that's really all I need to do the cooking for my family of 6.
You might need more or less cookware than me, depending on your situation, but I thought it might be helpful to share what's working for me.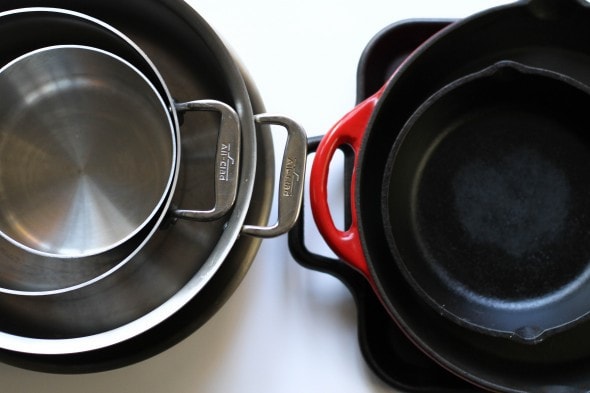 Because I like to own a few quality items that last rather than lots of cheaper items, my cookware is mostly on the expensive side of things.
Even I'm shocked when I look at the prices, to be honest. 😉
I've slowly built this collection over the years, mostly via birthday/Christmas gifts, and as of now, I honestly don't think I will need any cookware for decades, or possibly for the rest of my life.
(This is the huge upside of quality items!)
Also, I have really grown to hate most nonstick cookware, so I own none. I find that the finish on nonstick stuff tends to wear off in just a few years and then the pot is trash and possibly dangerous to cook in.
So frustrating! And such a waste of money/resources.
Oh, and I've chosen to build my collection a lá carte because I always feel like cookware sets contain pieces I don't necessarily want, and that negates the price savings you gain by buying a set. Your mileage may vary, though.
So. Here are the eight pieces living in my kitchen cabinets: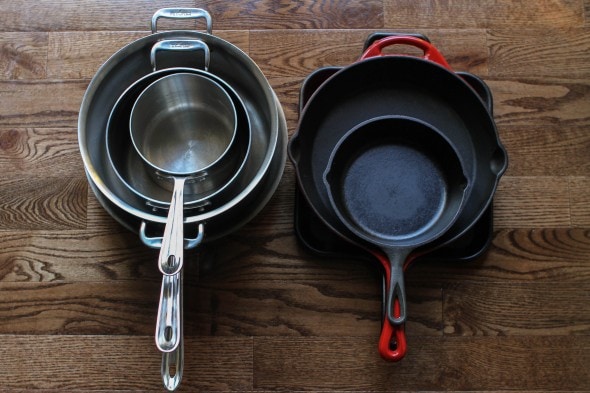 2-12 inch skillets (one stainless steel, one cast iron)
1 small cast iron skillet
2 saucepans
2 Dutch ovens
1 cast iron grill pan
Note: This does not include bakeware…just cookware. I'm slightly less minimalist with my bakeware!
All-Clad
I own 4 All-Clad items, all-told.
All-Clad, which is recommended by Cook's Illustrated, is shockingly expensive, and for many, many years I resisted even putting any of these items on my list.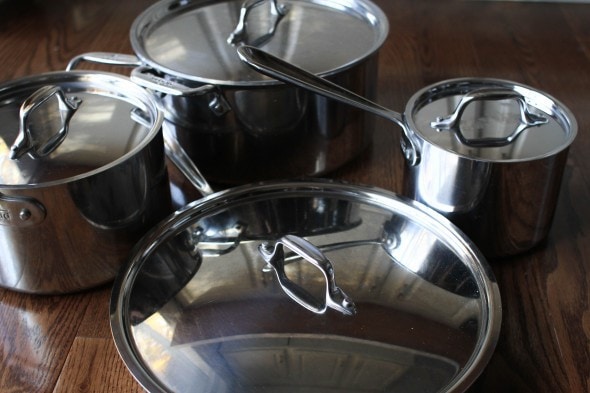 But, they are incredibly fabulous pans and considering how indestructible they are, I think they are going to last me a lifetime. So if that's the case, they are worth every penny.
(Cooks Illustrated does sometimes recommend some less expensive multi-clad pieces of cookware as best buy options, but All-Clad comes out on top of their testing on a consistent basis.)
All-Clad 12-Inch Skillet ($120)
This is my go-to skillet for anything that doesn't require a non-stick surface. It's awesome for browning, for making sauces, and for cooking meat and veggies. I own the version with the lid, which is super helpful…definitely recommend that! I don't use the lid all the time, but I'd really miss it if I didn't have it.
All-Clad Saucepans
I have a medium (4 quart) and small (2 quart) version and they are so so so so so much better than the old warped Revere Ware pans I use to suffer with. These actually sit flat on my stove, which makes cooking a whole lot easier!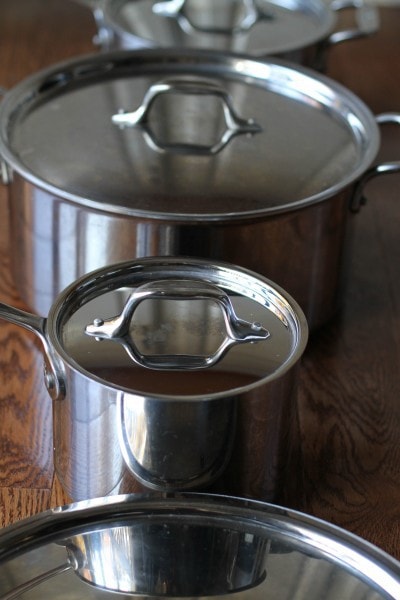 And even when one of my kids boiled the water clean out of one the other day, it didn't warp.
(My Revere Ware pans all warped if you looked at them wrong.)
My only complaint about these is that they could have made the handles more comfortable. Other than that, I think they're pretty perfect pans.
Oh, and the helper handle on the larger saucepan is very useful.
($159 for the smaller pot, $216 for the larger)
All-Clad Stockpot/Dutch Oven ($305)
This too replaced a warped Revere Ware pot. My old stockpot really only touched the stove firmly in the middle, and the sides never got very hot. You can imagine that this made cooking something like a cream soup quite…challenging.
My All-Clad stockpot is sturdy, not warped, and I lurve it.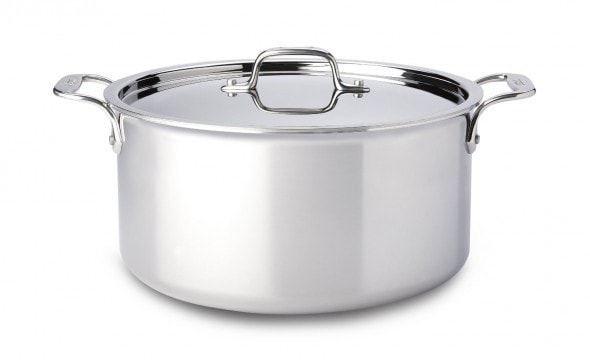 I use it every single week for making yogurt (seriously the best non-scorching pot I've ever tried for heating milk!) and I also use it for soups, making homemade stock, and for making applesauce.
Cast Iron
In addition to my All-Clad, I've got three cast-iron items. Thankfully, you don't have to pay oodles of money for good-quality cast iron, so these items are super affordable!
12-Inch Cast Iron Skillet ($45)
I bought mine from Aldi, but you can get a similar one from Lodge. This is the pan I use whenever I want to make something that requires a nonstick surface. Since my pan is nicely seasoned by now, I can even make something as delicate as a crepe in it with no issues.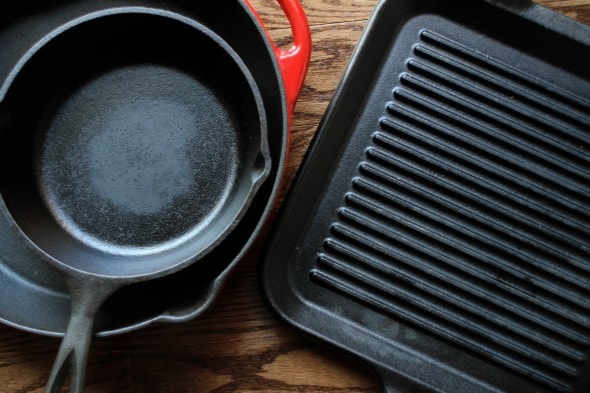 I kept my nonstick skillet on a shelf downstairs for a few years just in case I couldn't get along without it, but after it sat collecting dust, I decided I was gonna be ok without it!
Cast iron IS really heavy, though, so if you have weak wrists/arms, this might not be a great solution for you. But it's workin' great for me.
Small Cast Iron Skillet ($9)
I bought this little Lodge skillet eons ago for something like $5 and I love it to pieces. It's the perfect size for heating up leftovers, cooking a little bit of bacon, or frying an egg or two for breakfast. It's super-duper well seasoned and the nonstick finish rivals any actual nonstick pan.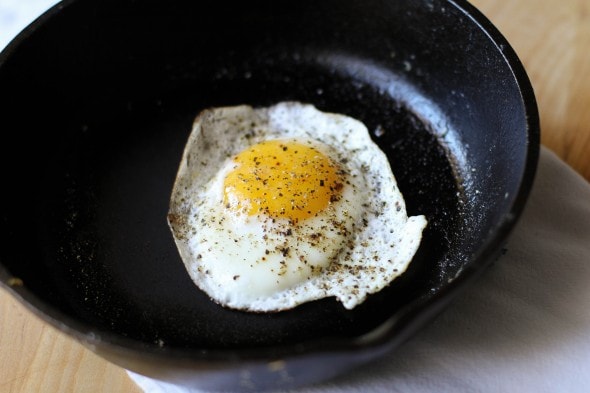 Plus, since it's a pretty small pan, it's not that heavy, despite the fact that it's cast iron.
Lodge Grill Pan ($27)
This grill pan is my most recent acquisition and I got it to replace my last piece of nonstick cookware: a skillet with grill-shaped ridges. I only used it to make paninis, and this Lodge pan is doing just fine for that task.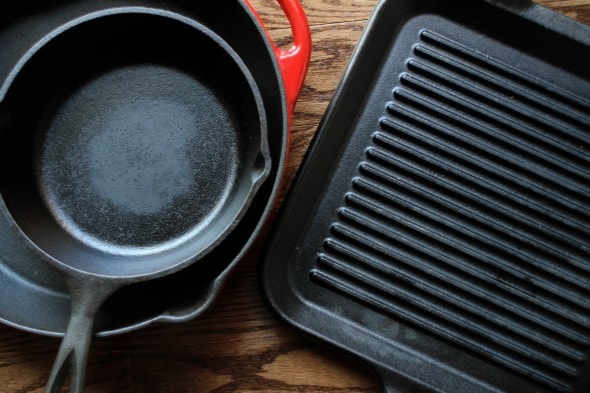 Tramontina Cast Iron Dutch Oven (honorable mention)
I bought this one before I got my All-Clad stockpot, and while I did use it a fair bit before, it hasn't gotten a lot of use since the All-Clad stockpot came to town. So, I'm not actually counting it as part of my core collection.
I've thought about getting rid of it, but haven't pulled the trigger, largely because I still want to try that no-knead rustic bread and you need a cast-iron Dutch oven for that.
(There are several affordable options available for a pot like this one.)
___________________
If you want to try getting by with less cookware without taking a big plunge, take everything out of your cabinets and put back only the items you use super frequently. Put the rest of the pots and pans under your bed or in the basement and go about your regular cooking life.
If a year goes by and you don't find yourself digging up the out-of-the-way pans, you can probably go ahead and donate them. If you haven't needed it in a year, I'd say it's not important/useful/necessary. Get rid of it and embrace the extra cabinet space!
Amazon links are affiliate links, which help support The Frugal Girl at no extra cost to you.