When I posted about The Make Ahead Cook
yesterday, I promised to share one of the recipes I tried: Easy Pulled Pork.
I'd never made pulled pork before, but this seemed like a simple way to prepare a fairly inexpensive cut of meat.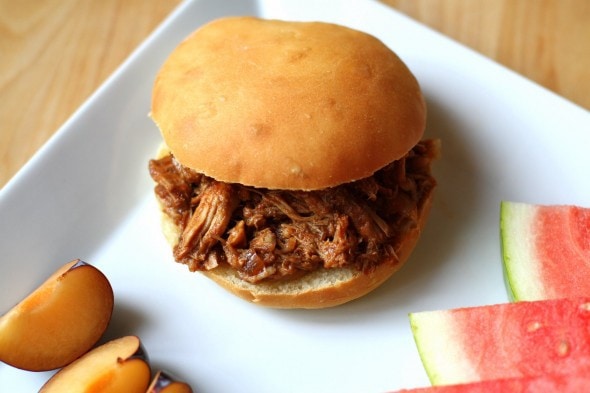 Easy, cheap, and tasty…that works for me.
This version roasts in the oven for three hours, which works out super well for me because I'm home for at least three hours most days. If you work out of the home, though, I'm pretty sure this could also cook in a crockpot.
I used a Boston butt roast, which was only a few dollars a pound. You cut it into chunks and then season it with salt and pepper.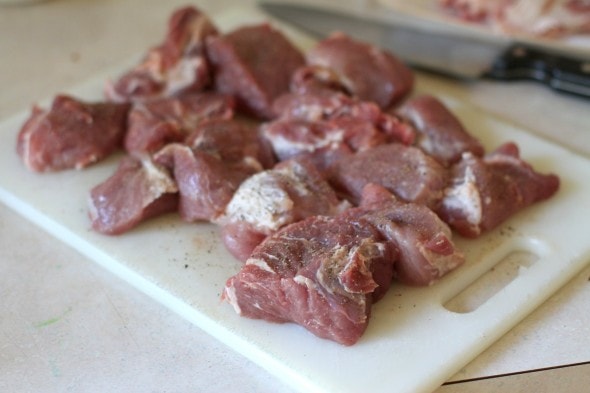 Then I switched things up a little bit. I've been reading CI/ATK long enough to know that YOU BROWN ALL OF THE THINGS.
So even though this particular recipe didn't call for it (why, I don't know!), I browned all the pork pieces in my Dutch oven before proceeding.
I may have felt sort of satisfied with myself.
😉
Remove the browned pork from the pan and set it aside on a plate.
Then in the same pot, you'll make the sauce.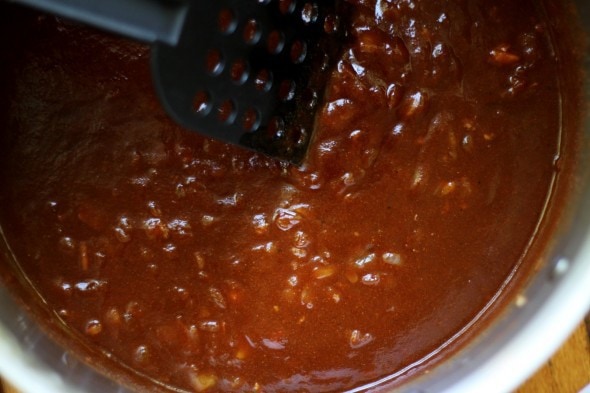 It's easy, though it does require a fair number of ingredients.
Just heat a tablespoon of oil over medium heat, add a chopped onion and saute until soft. Then stir in the spices and garlic and cook for 30 seconds, and stir in the water, ketchup, molasses, sugar, Worcestershire sauce, salt, and pepper.
Then place the (browned!) pork pieces into the sauce, and bring it to a simmer.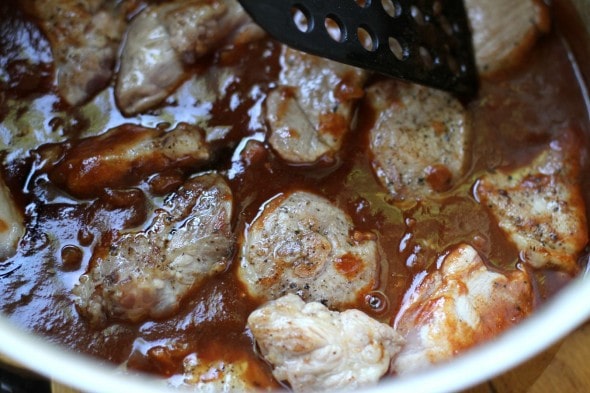 Cover the pot and place it in a 300 °F oven for about 3 hours, or until the meat is very tender.
Then it's just a matter of shredding the meat and you're pretty much done.
The original recipe calls for reserving a cup of the sauce to serve alongside the meat, but I just left all the sauce in the pot.
I'm a rebel like that.
Once the meat is shredded, you can refrigerate or freeze it until you're ready to serve dinner. ATK recommends stirring a tablespoon of cider vinegar into the pork when reheating to brighten up the sauce, but I kind of forgot about that, and it was still fine.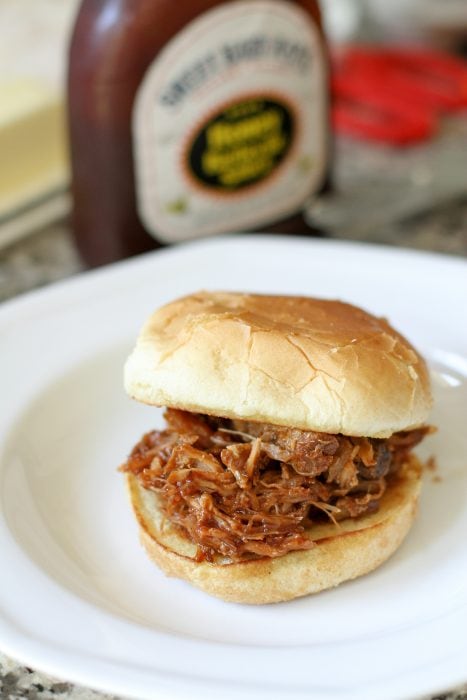 So, apparently the vinegar is not a do or die kind of thing.
I served my pulled pork on fluffy homemade hamburger buns. But you can certainly use store-bought buns.
Or you can forgo the buns altogether. 😉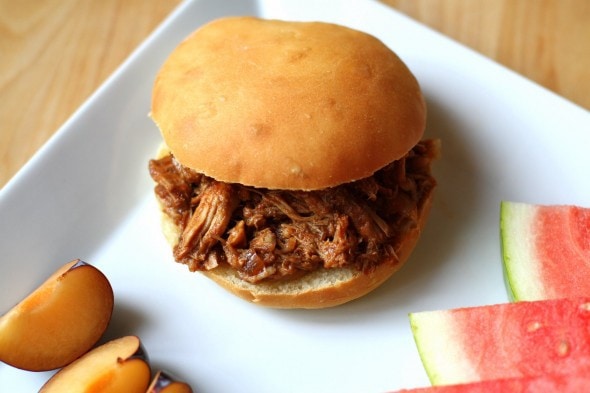 Easy Pulled Pork
Printable Easy Pulled Pork Recipe
3 pounds boneless pork butt roast, trimmed and cut into 2-inch pieces
2 tablespoons vegetable oil
1 onion, chopped
3 tablespoons paprika
4 garlic cloves, minced
1 tablespoon ground cumin
1/4 teaspoon cayenne pepper
1 cup water
1 cup ketchup
3 tablespoons molasses
1 1/2 tablespoons packed brown sugar
1 1/2 tablespoons Worcestershire sauce
salt and pepper
To finish and serve:
1 tablespoon cider vinegar
hamburger buns
Season pork with salt and pepper. Heat 1 tablespoon vegetable oil in Dutch oven over medium high heat. Brown pork chunks in two batches; set aside.
Add 1 tablespoon oil to Dutch oven (unless you have enough rendered fat) and saute onion until softened, about 5 minutes. Stir in paprika, garlic, cumin, and cayenne, and cook for about 30 seconds. Stir in water, ketchup, molasses, sugar, Worcestershire sauce, 1/2 teaspoon salt and 1/2 teaspoon pepper.
Nestle pork into sauce and bring to simmer. Cover pot and place in a 300 ° F oven; bake for 3 hours, or until meat is fork tender.
Using a slotted spoon, remove pork from sauce. When cool enough to handle, shred meat and return to sauce. Transfer to storage container and refrigerate until ready to serve.
To reheat, transfer pork mixture to Dutch oven and cook over medium heat, stirring regularly, until heated through (about 10 minutes). Adjust consistency with water if necessary and season to taste with salt and pepper. Serve on hamburger buns.