Actually, these can be Bacon-Chicken-Cheddar Quesadillas if you prefer. That's what's pictured here.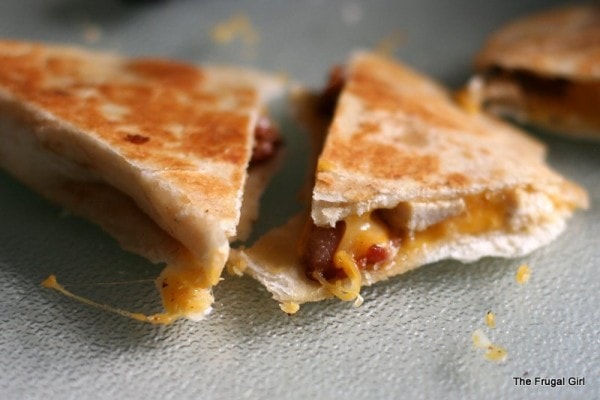 Quesadillas are endlessly customizable. As long as the filling ingredients include cheese (which melts and holds everything together), you can put almost anything into a quesadilla.
Another lovely thing about quesadillas is that they can be on the table fairly quickly, so they're a good thing to have on your menu when you are short on time and are tempted to order a pizza or get takeout.
Bacon is perhaps not the most inexpensive meat out there, but it can be had on sale almost without fail, and this recipe doesn't use that much of it. Plus, even if you make quesadillas with shrimp (which I do sometimes!), you will still end up spending less money making these than you would if you got takeout or ate fast food. Honestly, I can usually feed my family crab cakes for the price that we would pay to get fast food for the six of us. Restaurant/take-out food is so expensive that cooking at home will save you money over eating out almost every time, regardless of what you happen to be cooking.
So, learn how to make quesadillas…it could save you big bucks. 😉
Bacon Cheddar Quesadillas-makes 4
4 strips bacon
1 1/3 cups shredded cheddar cheese
4 flour tortillas
butter for cooking
Cook the bacon until crisp; break into bite-size pieces. Sprinkle cheese evenly over half of each tortilla. Sprinkle bacon over cheese.
Heat a large skillet over medium heat. Add butter to coat the pan. Fold tortillas in half, and place two into the skillet. Cook for 2-4 minutes on each side, adding butter as needed, until both sides are lightly browned and cheese is melted. Repeat with remaining tortillas.
Cut into wedges and serve with sour cream or guacamole.
To make Bacon Cheddar Chicken Quesadillas, add several strips of cooked, sliced chicken to each tortilla along with the bacon and cheese.
_______________________
Here are a few more meal ideas to help you resist takeout temptation:
Chicken Tortilla Soup
Shrimp Quesadillas
Hibachi Chicken and Shrimp
Thin-Crust Pizza