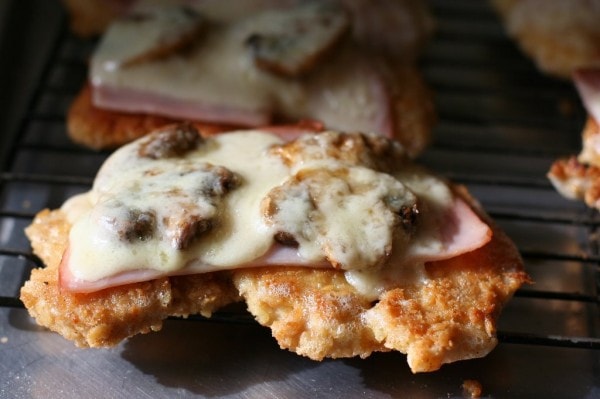 I got this recipe from a Taste of Home magazine a while back, and it's become quite a favorite of our family. Joshua and Sonia always ask for seconds of this, and that's saying something because they're not normally big main dish fans.
This dish isn't at all hard to make, and it tastes kind of like Chicken Cordon Bleu, except I like it better! I think the chicken coating has a better texture and flavor and the chicken is usually more moist as well. Plus, you don't have to fuss with trying to roll up chicken breasts.
I got the recipe from a Taste of Home magazine, and it's also available on their website. However, I made a few minor changes, and the version that follows reflects that.
First, you'll need to crush up some Ritz crackers. I don't really like any off-brand Ritz crackers for eating as crackers, but they do work fine in this application so I use whatever type I have on hand.
An old cereal bag works great for crushing crackers with a rolling pin. Cereal bags are often more tear-resistant than even freezer Ziploc bags (so your crackers won't poke holes in the bag), and they're free with a box of cereal!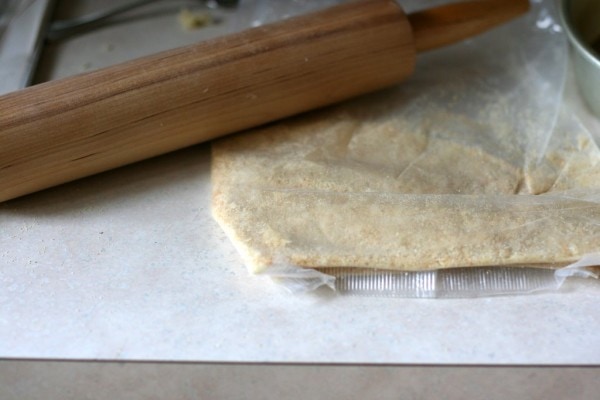 Place the crumbs in a round cake pan or pie plate and add salt.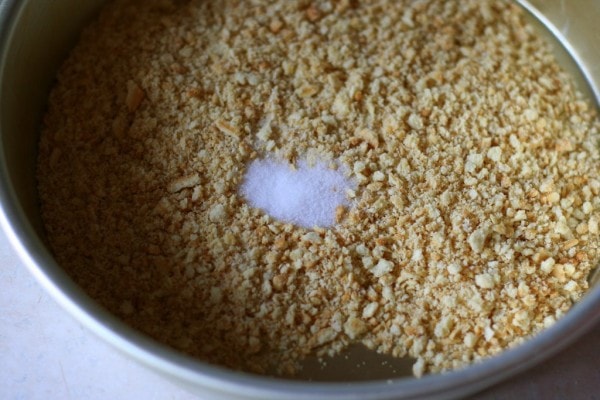 Next, whisk an egg in a separate bowl.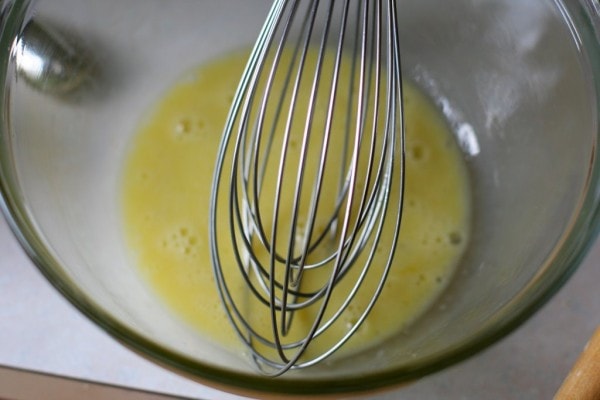 The original recipe calls for regular chicken breasts, but as you regulars know, I hate cooking whole chicken breasts. I fail at cooking them evenly. I also hate trying to pound a chicken breast to 1/4″ thick, so I just cut mine horizontally into thin cutlets.
Anyhow, to bread the chicken, dip each piece into the beaten egg and then into the cracker crumbs, coating each side.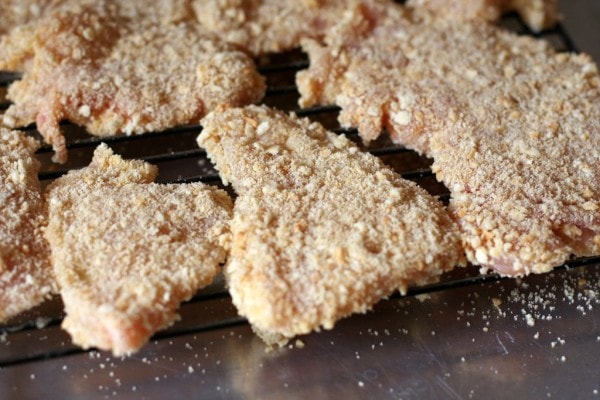 Now, the recipe says to melt 1 tablespoon of butter in a skillet, but I don't think 1 tablespoon is enough. I use several. 😉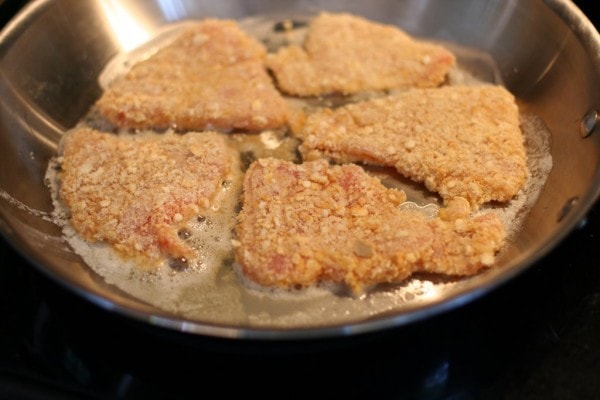 Cook the chicken for 3-4 minutes on each side or until it's browned and cooked through, adding more butter as necessary.
Move the cooked chicken pieces to a wire rack set on a baking sheet.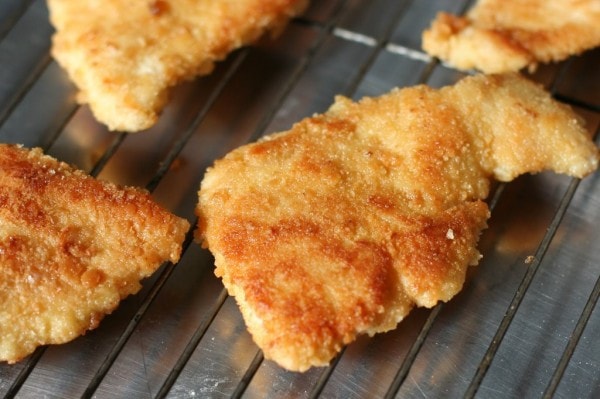 If you like mushrooms (I don't but Mr. FG does), saute them in the skillet until they're softened.
Place a small piece of Swiss cheese on top of the chicken to hold the ham in place, then top it with ham, then mushrooms (or not if you don't like them!), then more Swiss cheese.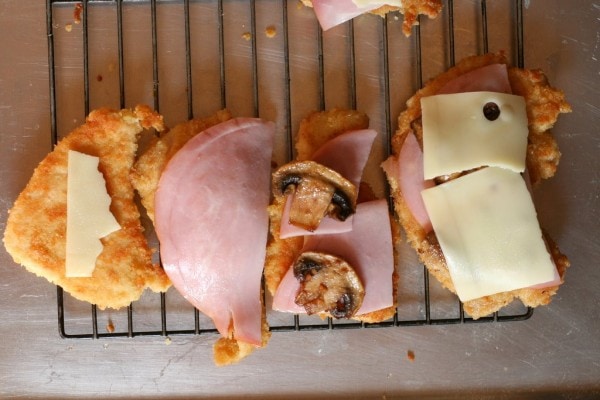 Broil the chicken 4-6 inches from the heat for several minutes, until the cheese is melted.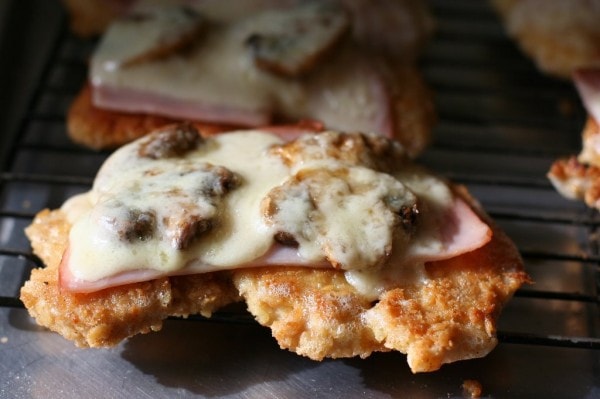 A salad and some yummy homemade bread enhance the deliciousness of this chicken, just so you know.
A couple of ingredient notes:
1) Chicken breasts are not all created equal. Local, small-farm chicken breasts taste the best and are the most responsible choice but if you need to buy commercial chicken, the Tyson brand is the tastiest option.* (I learned this from Cook's Illustrated and have found it to be true). I know Tyson is much-maligned, but I don't think their practices are any worse than other commercial chicken producer's practices (buying Perdue or off-brand chicken isn't taking the high road). And I figure that if you're going to buy commercial chicken, you might as well buy the kind that tastes the best.
*I'm not going to be around much today to check in on the comments, so if you have something unhappy to say about factory-farmed chicken, be a dear and keep it polite so that there's not a flaming war going on here when I return! Shanks.
2) Deli ham is not a cheap food. But the recipe only requires a small amount (I use half a slice for each piece of chicken usually), and lunch meat ham is cheap at Aldi and often goes on sale at other stores. Also, nitrate-free versions of deli ham are available at regular grocery stores (Hormel makes it and perhaps other companies do too).
Swiss Mushroom Chicken
printable version

4 boneless skinless chicken breast halves (4 ounces each)
1 egg
1 cup crushed butter-flavored crackers (about 25 crackers)
3/4 teaspoon salt
1/2 pound fresh mushrooms, sliced
2 tablespoons butter, divided, plus more as necessary
4 slices deli ham or thinly sliced hard salami
4 slices Swiss cheese
Flatten chicken to 1/4-in. thickness or cut chicken lengthwise into thin cutlets. In a shallow bowl, lightly beat the egg. Combine cracker crumbs and salt in another shallow bowl. Dip chicken in egg, then roll in crumbs; set aside.
In a large ovenproof skillet, saute mushrooms in 1 tablespoon butter until tender; remove and set aside. In the same skillet, cook chicken over medium heat in remaining butter for 3-4 minutes on each side or until no longer pink.
Top each chicken breast half with a small piece of cheese, a ham slice, mushrooms and a cheese slice. Broil 4-6 in. from the heat for 1-2 minutes or until cheese is melted.