I originally found this delicious recipe on Kelle Hampton's blog, and I've made it multiple times over the past few years.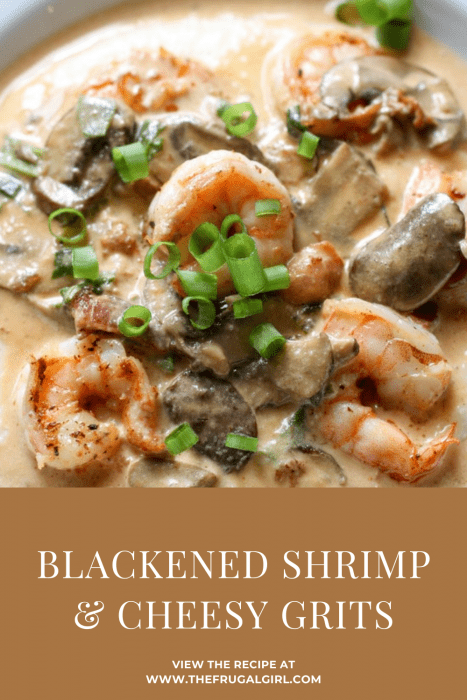 I've linked to it a few times in my menu plan, but since I don't make it quite exactly like the original I always feel the need to add some parenthetical comments.
Also, the order of the instructions and ingredients always feels a little weird to me in the original; for some reason, the ingredients are not in the same order as they are called for in the directions.
So, I wanted to rewrite the recipe for myself, and I figured I could just put the recipe into a post so that I can link to it in future menu plans without having to do parentheticals.
Oh, and another reason I wanted to retype it: I really think the salt amounts in the original recipe are a typo.
I like salty food, but two tablespoons of kosher salt is a lot for a pot of grits that's going to have cheese added as well.
So.
I don't have step by step photos or anything, but I do have a printable recipe for you, just the way I make it.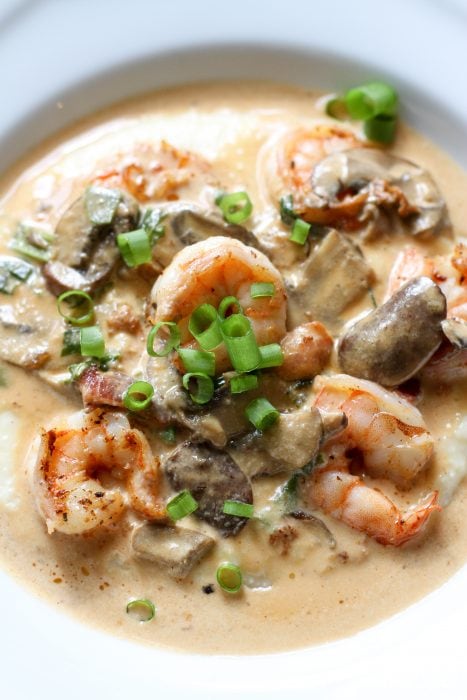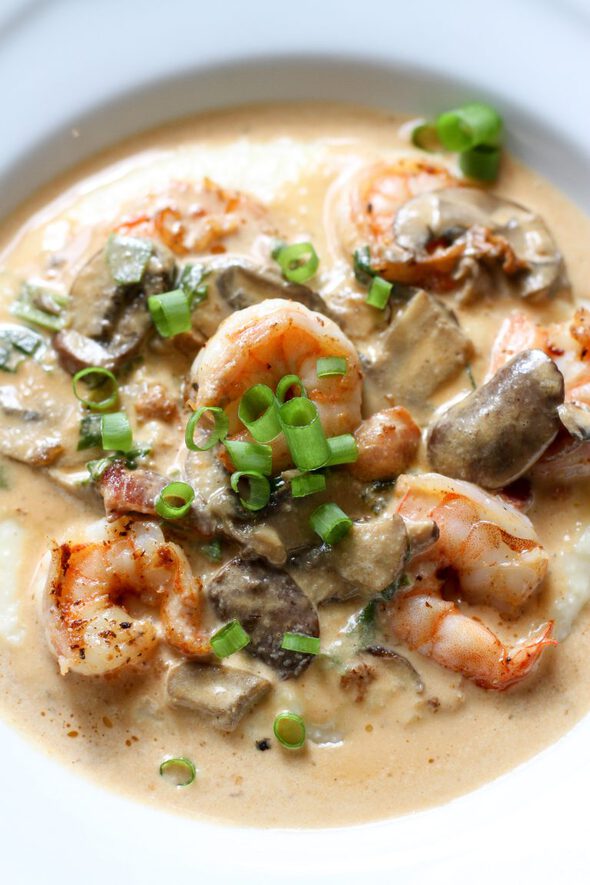 This is kind of a long recipe, I know!
You might feel a little overwhelmed when you scroll through it. There are quite a few ingredients, and a fair number of steps.
But this is largely because you're sort of making two dishes at once: the grits, and then the shrimp/sauce.
Once you make the dish a few times, it will feel less complicated.
What type of shrimp should you use?
This recipe calls for raw shrimp, so I would not subtitute pre-cooked. The uncooked ones really taste better.
I buy frozen, uncooked shrimp in whatever size is on sale at the moment, usually 31/35 or 36/40.
Usually raw shrimp has the shell on, but if you buy it from Costco, only the tail shell is on, and that makes the peeling job quicker.
So, if you want your life to be easier, get the shrimp from Costco!
Can you make shrimp and grits without dairy?
Yes, if you tweak a few things.
Sonia is sensitive to cheese and milk, but not to butter or cream.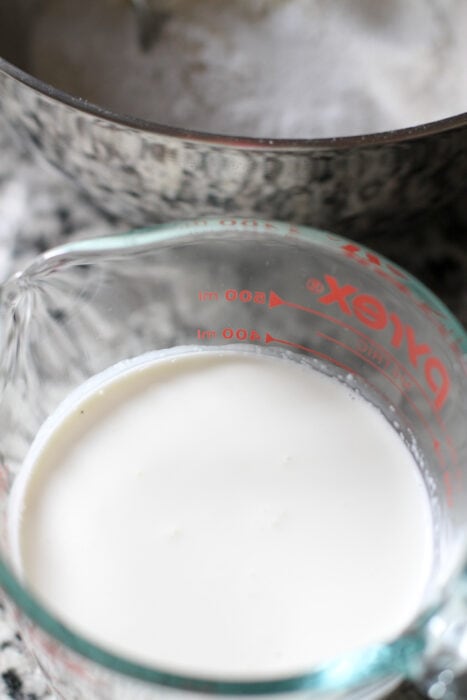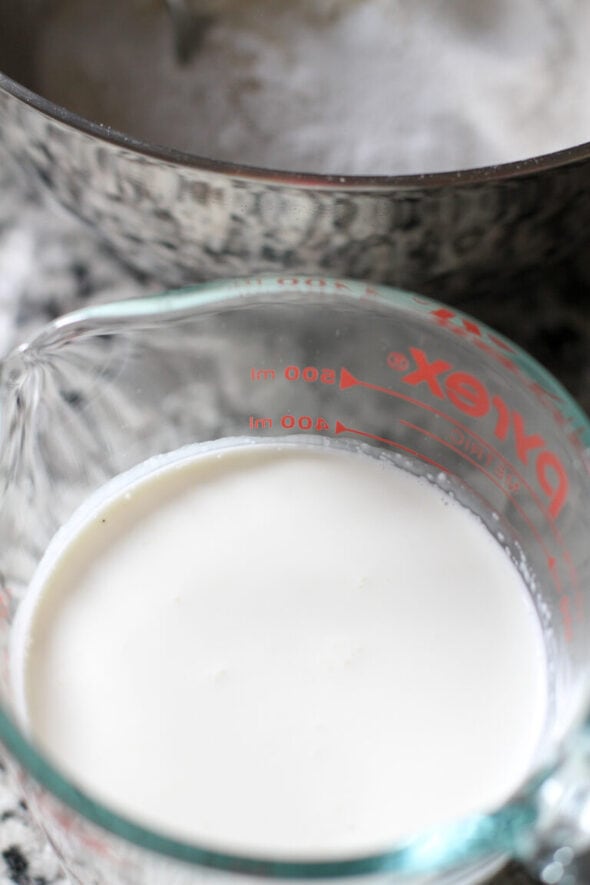 So, nothing in the sauce is problematic for her.
If you can't do heavy cream, I'd just sub more chicken broth, and you'll have a clear sauce vs. a creamy sauce. Or you could try a dairy-free milk in place of the cream.
The grits are problematic for her due to the milk and cheese, so I either:
make grits with dairy-free milk and then scoop her serving out before adding the cheese
make a separate, small pan of grits for her with water, butter, salt, and pepper
This is a time when having a broken stovetop with only two burners is extremely problematic. Ha.
Those of you with no allergies will be able to make this dish with only two pans, though (a saucepan for the grits, and one skillet for the bacon, then the shrimp, then the sauce.)
Can you make this a little lighter?
This is not a low-calorie dish by any stretch of the imagination. (!)
Most of the people I'm feeding are not in a position of needing to limit calories, so I make the recipe as-is and I don't worry about the calories.
If you are watching calories, though, you could leave out the cheese, sub something lighter for the heavy cream, and use less bacon.
How to reheat leftover grits
Grits get awfully firm after a night in the fridge, so I always stir in some milk (or water for Sonia) and then reheat them in the microwave or on the stove top. The additional liquid does wonders to help the grits return to their original creamy state.
The amount of liquid you need will vary depending on how many leftover grits you have. Start with a little liquid, and keep adding and stirring until the texture is the way you like it.
Any other questions?
I tried to cover it all, but if you've got more questions after reading the recipe or giving it a try, leave a comment and I'll do my best to answer.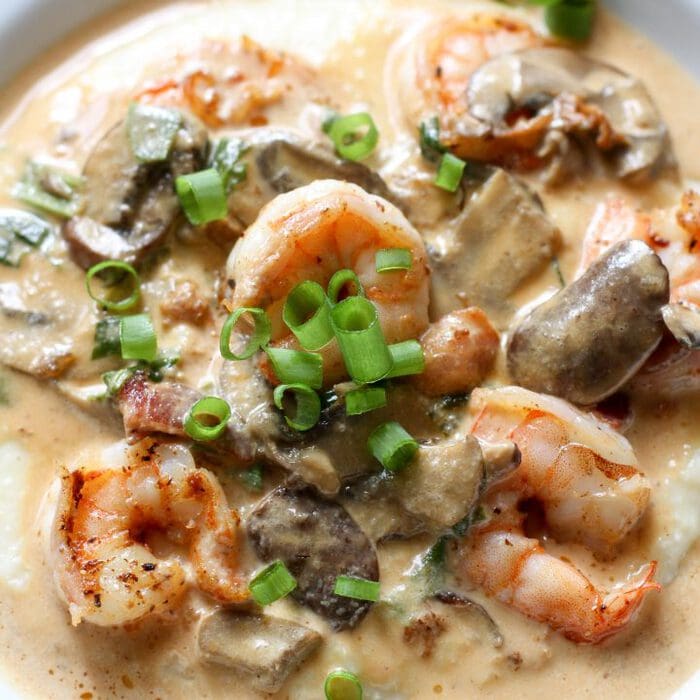 Blackened Shrimp with Cheesy Grits
Total Time:
1 hour
5 minutes
Creamy, cheesy grits are topped with shrimp and mushrooms in a tomato/cream sauce.
Ingredients
Grits
4 cups of water
2 teaspoons kosher or sea salt
1 cup of quick cooking grits (Quaker brand, not instant)
1 1/4 cups milk
2 tablespoons butter
3/4 cup grated Pepper Jack cheese
3/4 cup grated sharp Cheddar cheese
Freshly ground black pepper to taste
Shrimp and Sauce
1 pound shrimp, peeled and deveined
1/4 teaspoon each paprika, cayenne pepper, black pepper, and sea salt
6 slices of bacon, scissor cut into small pieces
1 cup baby bell or white mushrooms, sliced
1/2 cup green onions
3 cloves garlic, minced
3/4 cups chicken broth
1 cup heavy whipping cream
2 tablespoons tomato paste
1 fresh jalapeño, sliced thin (optional, for garnish)
additional green onions (optional, for garnish)
Instructions
For the grits, in a heavy saucepan, heat 4 cups of water to boiling. Add salt, and then, stirring constantly, gradually add the grits. Reduce the heat to low and let grits simmer about 5 minutes, until thickened.
Stir in milk and butter. Bring to simmer, then cover pot and let cook over low heat for 35-40 minutes, stirring occasionally.
Once grits are done, stir in cheese and ground pepper.
While grits are simmering, pat shrimp dry with paper towel and season with cayenne, paprika, salt, and pepper.
Heat a 12-inch skillet over medium heat and cook chopped bacon until crispy. Remove bacon to a paper-towel lined plate.
Pour off all but 1 tablespoon of bacon grease; add seasoned shrimp to skillet and cook 1-2 minutes on each side, until pink. Remove to a plate.
Add mushrooms and green onions to skillet, adding additional bacon grease if necessary. Saute until soft. Add garlic and cook one minute. Stir in chicken broth, cream, and tomatoes. Cook sauce over low heat for 10 minutes. Taste and season with salt and pepper as needed.
Stir shrimp into the sauce and heat until warm.
To serve, spoon grits into a bowl, spoon shrimp/sauce on top, then sprinkle with bacon, green onions, and jalapenos.
Notes
Cook the shrimp and make the sauce while the grits are simmering for 35 minutes. That way, everything is done at the same time.
Recommended Products
As an Amazon Associate and member of other affiliate programs, I earn from qualifying purchases.
Nutrition Information
Yield

4
Serving Size

1
Amount Per Serving
Calories

1033
Total Fat

74g
Saturated Fat

44g
Trans Fat

2g
Unsaturated Fat

25g
Cholesterol

459mg
Sodium

3733mg
Carbohydrates

23g
Fiber

2g
Sugar

5g
Protein

68g