Oh hey, everyone! Today we're having an unusual occurrence: an afternoon blog post. 😉
If you're new here…during the early days of the pandemic, we started making weekly lists of things we're thankful for, and we just have never stopped! Thankfulness costs nothing except some time, and it helps us all see the good that is always there, even in the midst of hard things.
This week, I am thankful:
that I got un-stuck in my chemistry homework
I was working on some homework on Sunday and man, I was starting to have a pretty bad attitude. I was reading the questions and thinking, "How the heck am I supposed to figure this out??"
But I watched a lot of YouTube videos and drew eleventy billion Lewis structures, and after drawing a lot of them the wrong way, I am now getting the hang of it.
for a break from exams
Every one of my classes had an exam last week, so now I get a little breather. Whew.
I think I actually have two weeks with no exams; only quizzes and homework.
Yay!
for beautiful fall colors
My walks are starting to be more and more colorful each week!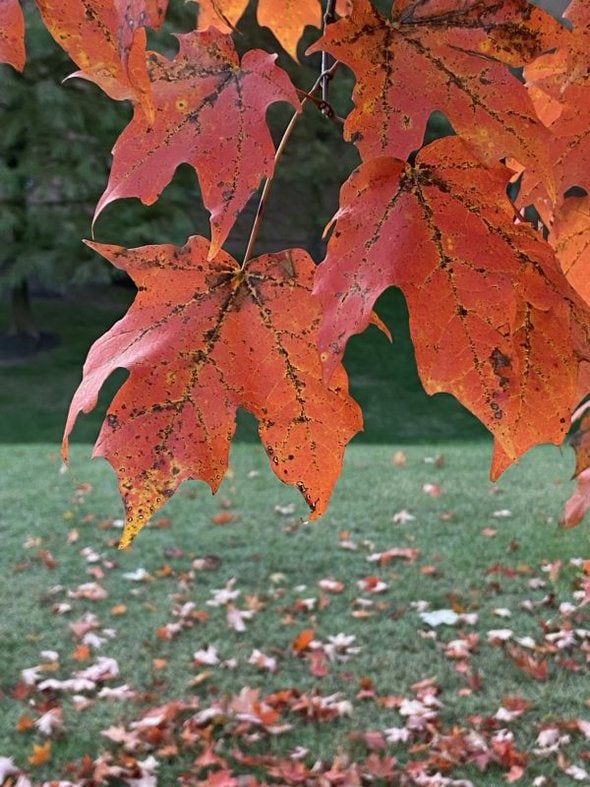 for woods to walk in
I will never stop being thankful for off-road places to walk. I love the woods!
for cat snuggles
She continues to sit on my lap all the time and I am not upset about it. 😉
for the interesting ways the light changes through the year
Since this is still my first year in this rental house, I am fascinated to see the ways the light is changing as the seasons change. Different windows are sunny at different times of day now.
And the rainbows from the cut glass in the door are changing too.
What are you thankful for this week?