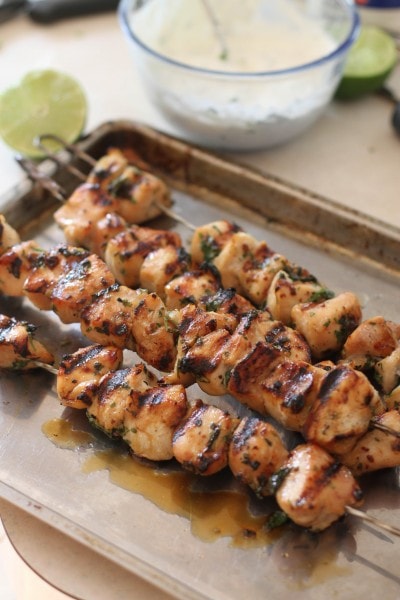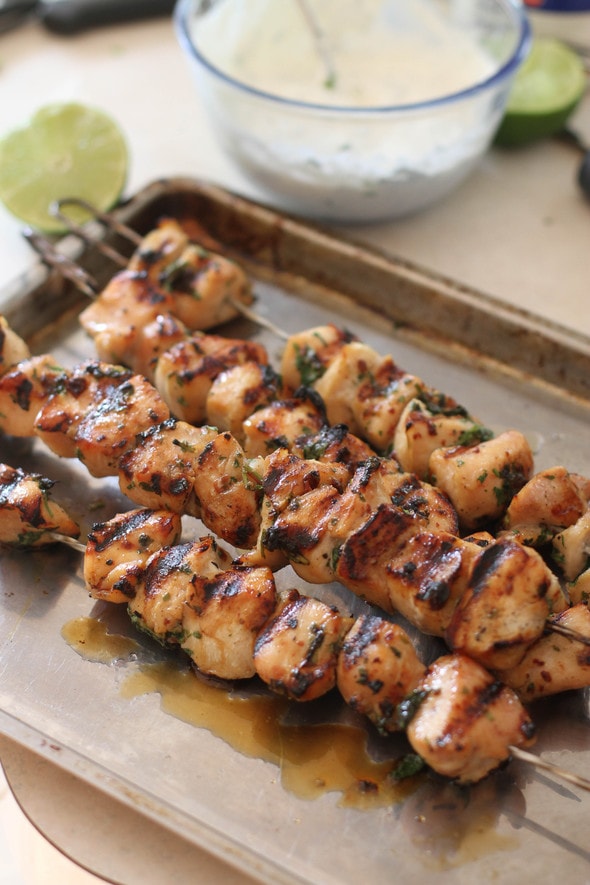 This post is from the archives and I'm republishing it today with some updated links and a recipe card. Ejoy!
I've told you quite a few times that the orange ATK cookbook (now discontinued, but you can usually find used copies on Amazon; don't buy the overprice new ones!) has become one of my favorites in the last year or so. It's full of recipes that aren't super-duper involved or time-consuming, and that's a godsend for me on busy days.
But unlike some quick recipes, most of these don't call for overly processed ingredients, and they also taste delicious.
So, pretty much a win-win-win.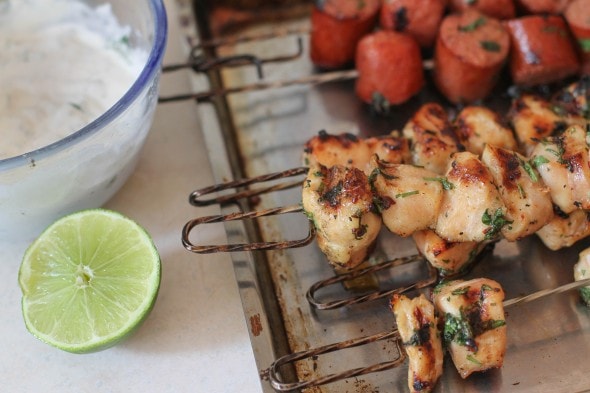 These chipotle chicken kabobs are simple but tasty, and they don't have to sit in the marinade, which means you totally do not have to think ahead to make 'em.
Also, if you have any leftover, they make a darn delicious salad for lunch the next day.
They obviously don't make a meal in and of themselves, but you can always skewer some veggies to go alongside on the grill. Or I sometimes add a salad and sweet or regular potatoes as sides.
Chicken breasts are a bit on the expensive side, but I think these could successfully be made with boneless skinless chicken thighs too. Let us know if you try it!
To make these, first mix the marinade ingredients together.
Chipotle Chilies In Adobo Sauce Aside:
The marinade includes chipotle chilies in adobo sauce, and though these come in a small can, there's almost no way you could use them up at one time.
(They're pretty darn hot so a little goes a long way. In fact, I halve the amount called for in this recipe because I live with a bunch of anti-hot-food people.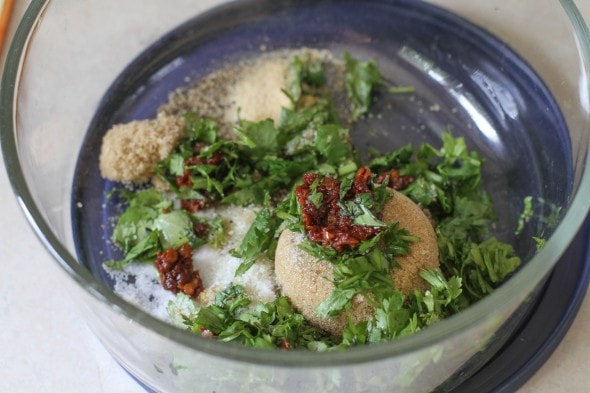 So I process my chilies in the food processor and store them in a glass jar in the fridge, where they keep pretty much forever.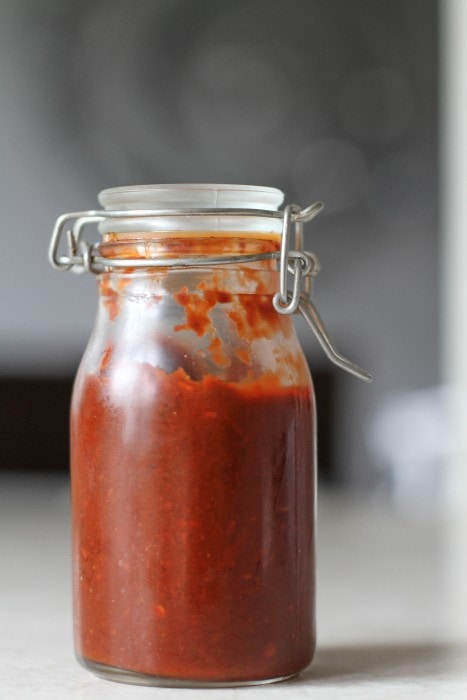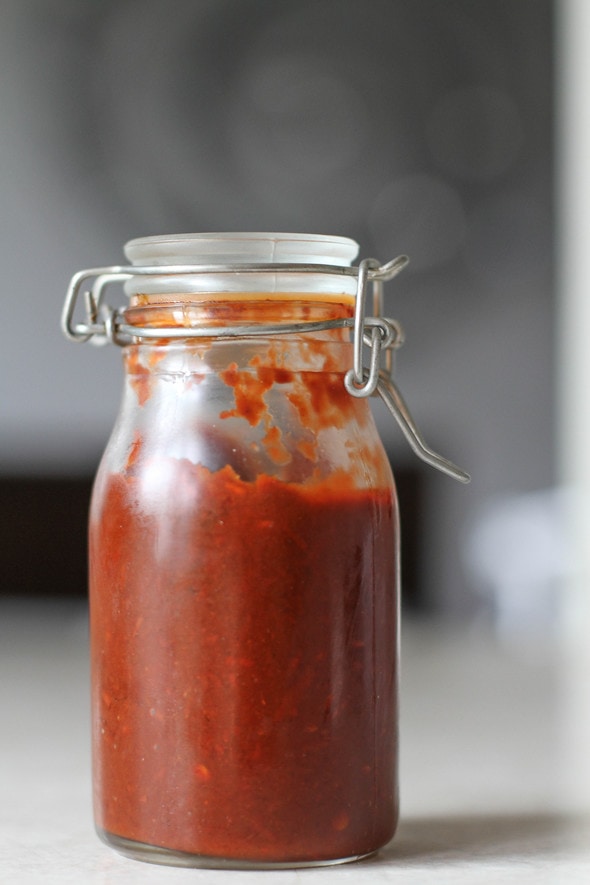 /End of Chipotle Chilies In Adobo Sauce Aside
Cut your chicken breasts into 1 1/2 inch pieces and add them to the marinade, mixing well so that all the pieces are nicely coated.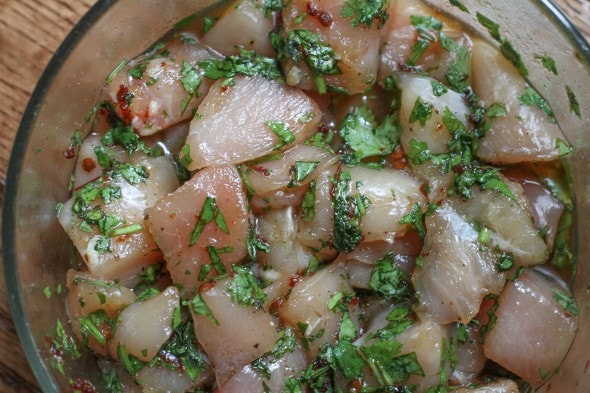 Then thread the chicken onto your skewers.
By the way, I got my skewers on clearance at the grocery store, and what I like about them is their super sharp ends, which make threading things a dream.
I have a more blunt set too, and I really prefer these sharp ones.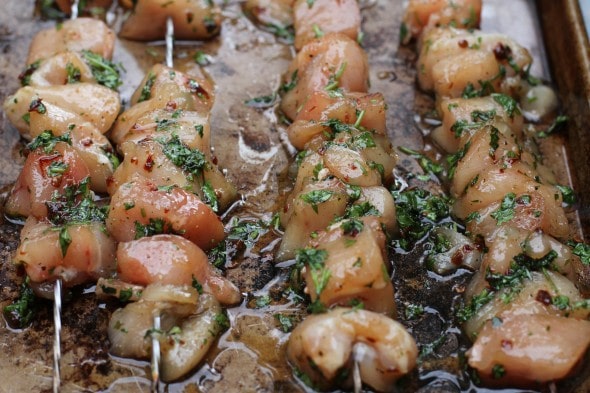 Cook's Illustrated recommends these Norpro skewers, which aced every task they tried 'em on.
Where were we?
(Me and these asides!!)
Oh, right. ATK recommends broiling these skewers, but I prefer the grill over the broiler.
Unless it's, like, 13° and windy outside in January.*
But right now it's July!
So grilling is happening.
*Actually, this is not true. I pretty much always grill instead of broil, even in winter.
I let my gas grill heat up on high for about 15 minutes, oil the grill grates, and then throw the kabobs on.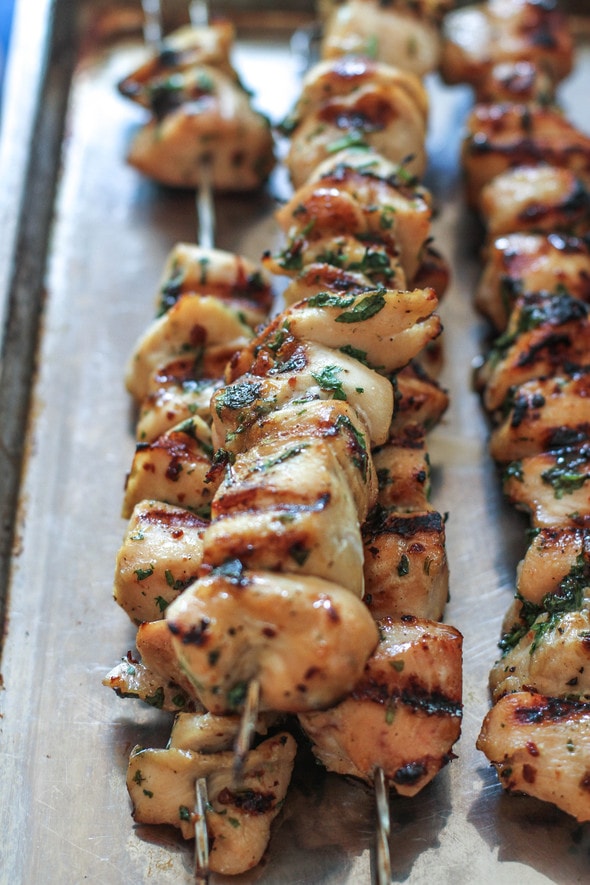 The amount of time it takes to grill your kabobs will depend a lot on your grill and on the size of your chicken chunks, but it should be less than 5 minutes for each side.
So, grill them for 5 minutes on a side, flip them, and they should be done a few minutes later.
The sauce! I'm gonna tell you about it now, but it's smart to make this while your grill heats up. Then you can eat as soon as your kabobs are done.
The kabobs can totally stand on their own, but if you'd like a little something to cool them down a bit or you're like me and creamy sauces blow your hair back…well then, you should make the sauce.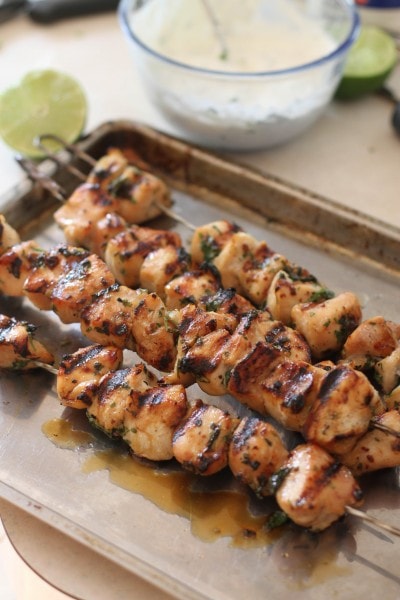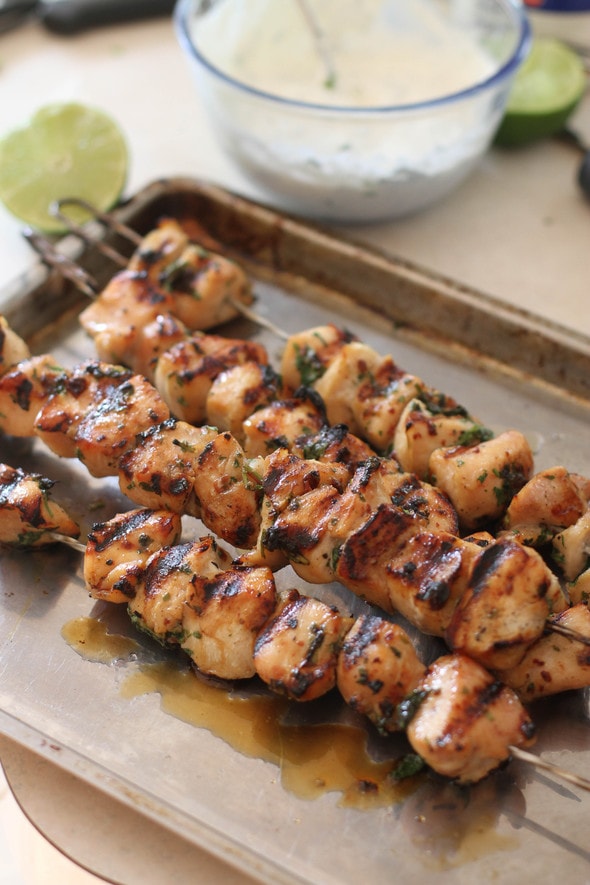 Which is just sour cream, mayonnaise, lime juice, cilantro, garlic, salt, and pepper.
Also, scallions, but I have never so far had any when making this sauce, so I'm not a reliable source if you're wondering how important they are.
Scroll down for the printable recipe!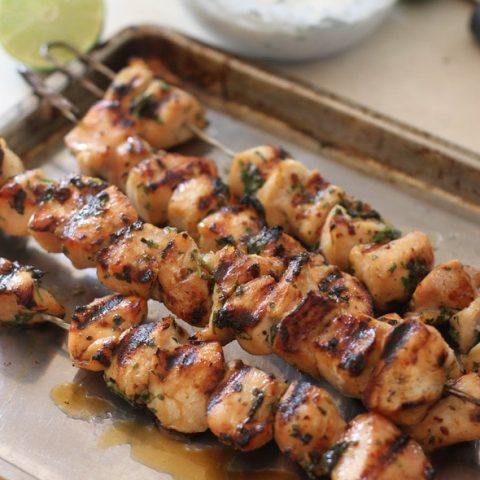 Chipotle Chicken Kabobs with Cilantro Lime Dipping Sauce
Additional Time:
5 minutes
These kebabs get a super fast marinade which makes them a quick dinner option.
Ingredients
2 pounds boneless, skinless chicken breasts, cut into 1 1/2 inch chunks
1/4 cup packed light brown sugar
1/4 cup minced cilantro
2 tablespoons minced chipotle chili in adobo sauce (I halve this.)
salt and pepper
1/2 teaspoon garlic powder
1/2 cup sour cream
2 tablespoons mayonnaise
3 tablespoons lime juice
2 scallions, minced
Instructions
In a large bowl, mix brown sugar, 2 tablespoons cilantro, chipotle, 1 1/2 teaspoons salt, 1/4 teaspoon pepper, and 1/4 teaspoon garlic salt. Add chicken and stir well.
Thread chicken onto skewers.
Heat grill, oil grates, and grill skewers for about 5 minutes on each side. Let rest for five minutes, then serve with the sauce.

To make the sauce: Combine sour cream, mayonnaise, lime juice, scallions, remaining 2 tablespoons minced cilantro, and remaining 1/4 teaspoon garlic powder.