Long-time readers of this blog will recognize Third Day Naturals, but for those of you that are new:
Third Day is a company run by a Frugal Girl blog reader and her husband in New York state. They make all kinds of affordable, natural products like soap, lip balm, body butter, sugar scrub, and more.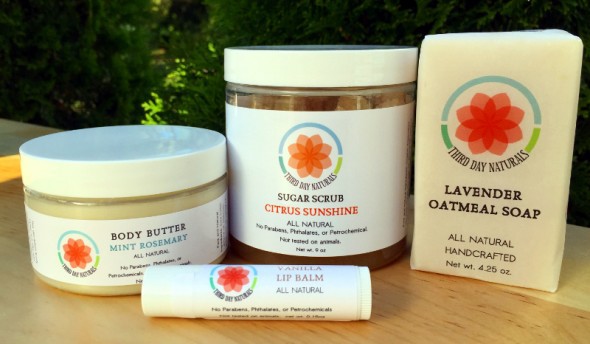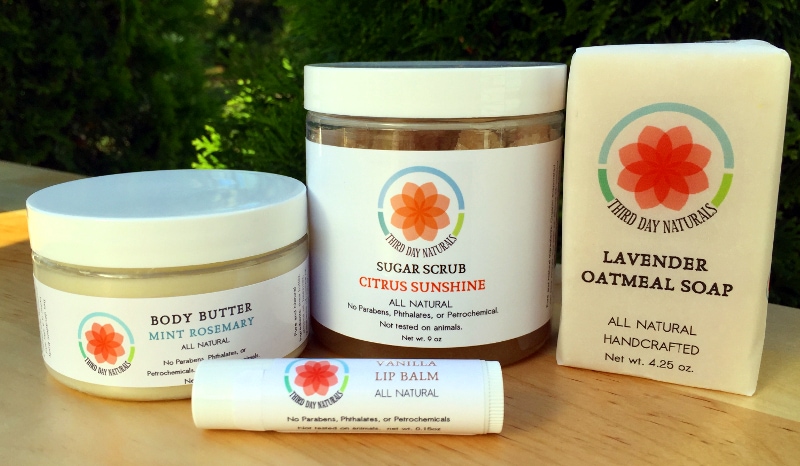 Their products smell great, and you can feel good about putting them on your skin thanks to natural ingredients like coconut oil, shea butter, and beeswax.
The lip balm is probably our most favorite Third Day Naturals product…it works super well, and it comes in all sorts of yummy flavors.
And the body butter works so well on super dry skin. Plus, a little goes a long way, so one container will last you for ages.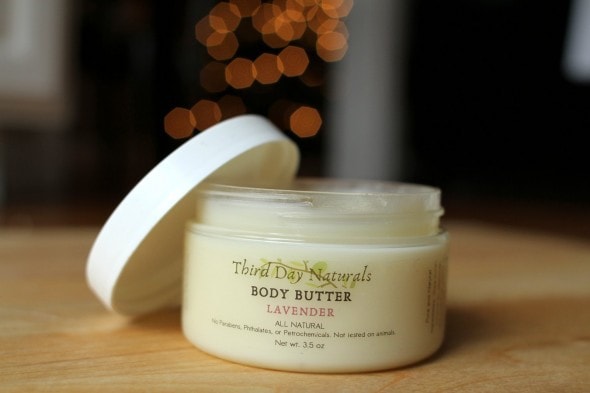 Ooh, and Third Day recently made an improvement to their soaps. Handmade soaps often have kind of a sharp corner from being sliced, but Third Day's soaps now come with a slightly rounded edge, making them comfortable to use from day 1.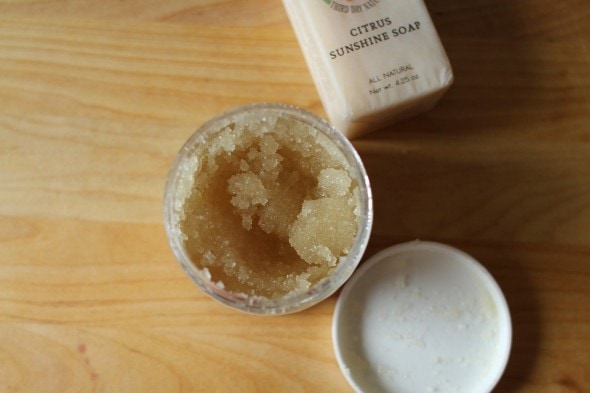 The Giveaway
Since it's the holiday season, we have a giveaway from Third Day. Yay!
One lucky reader will win a Third Day Naturals prize package worth $50. It includes:
2- soaps
1- lip balm
1- sugar scrub
1- healthy jelly
1- lotion stick
1- body butter
And you get to pick your own scents for each of the products too.
You could keep everything for yourself 😉 or you could give these away to someone on your Christmas list.
To enter, hop on over to their site to see all the delightful soap scents you can choose from and then leave a comment telling me which scents you'd pick for your two soap bars.
P.S. If you want to get started on your Christmas shopping at Third Day Naturals now, hop over to their site and use code FRUGAL20 to get 20% off your order. And if your order is $37 or more, you get free shipping!
NO PURCHASE NECESSARY. Void where prohibited. Odds of winning depend upon number of entrants. This giveaway is not sponsored. Winner will be chosen at random.