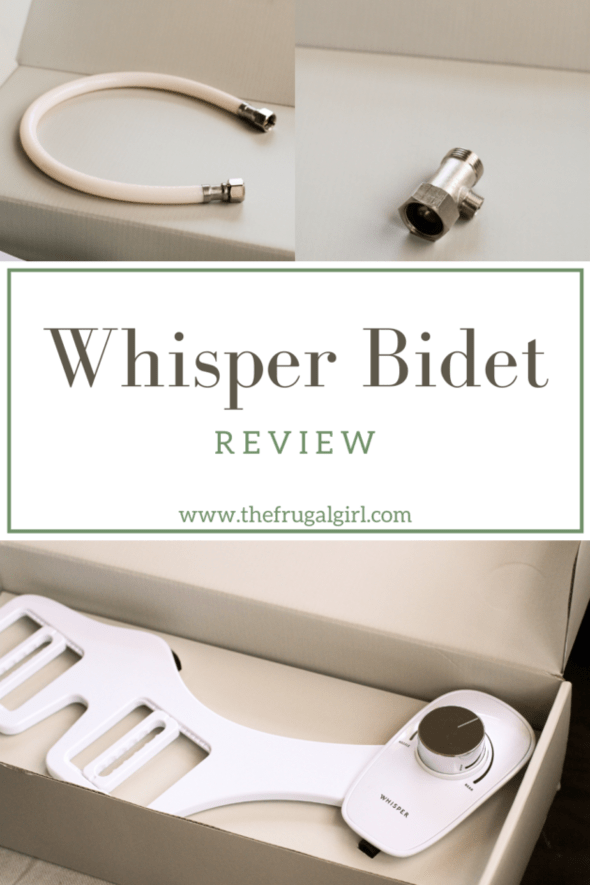 (The review is from Mr. FG and me because the girls are completely hecked out by the idea of a bidet. Ha.)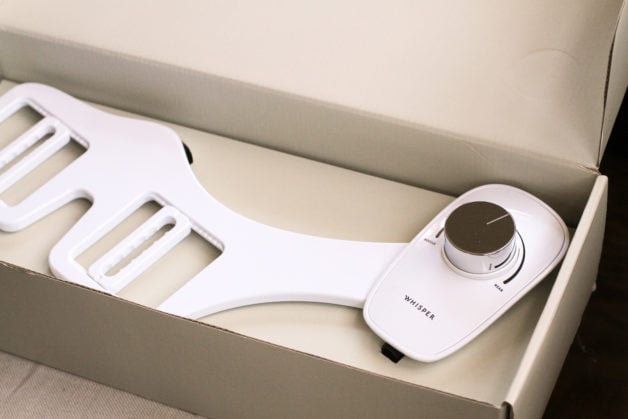 I know we are really late to the party here; lots of people bought bidets during The Great Toilet Paper Shortage of 2020.
But hey, better late than never.
We have always kinda wanted to get a bidet, but the bidet never managed to move to the top of our to-buy list.
So when Whisper Bidet emailed and offered to send me one, I said, "sure!"
It's a bidet attachment that works with your existing toilet; you can buy dedicated bidet toilets, but those are rather expensive.
(understatement of the year!)
And if you already have a toilet that works fine, it seems a little wasteful to go buy another one, so it's nice to have an option to modify your existing toilet.
How do you install a Whisper Bidet?
You basically just have to turn off the water supply, unscrew the water supply, remove your toilet lid, and then install the Whisper Bidet.
The gif below illustrates this nicely.
Do you need plumbing skills to install it?
Nope. This is super uncomplicated; if you can screw and unscrew things, then you can do this. No tricky plumbing is necessary.
(And this is coming from someone who loathes plumbing, so you can trust me. I'm not a person who will say plumbing is easy when it's not!)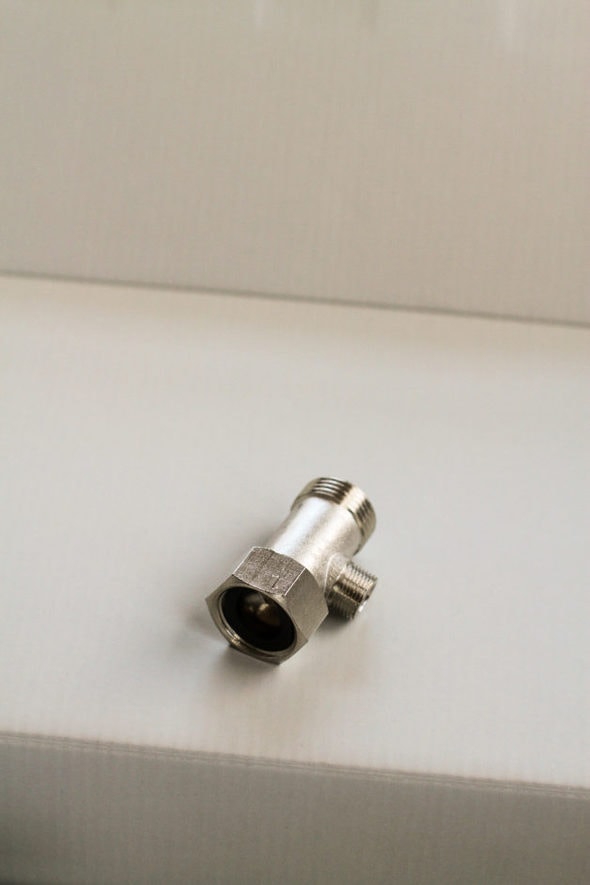 Since the Whisper Bidet attaches to your existing toilet and your existing water supply line, it really is a simple job.
What comes in the package?
Just three things! You get the main piece, an adapter, and a flexible water line.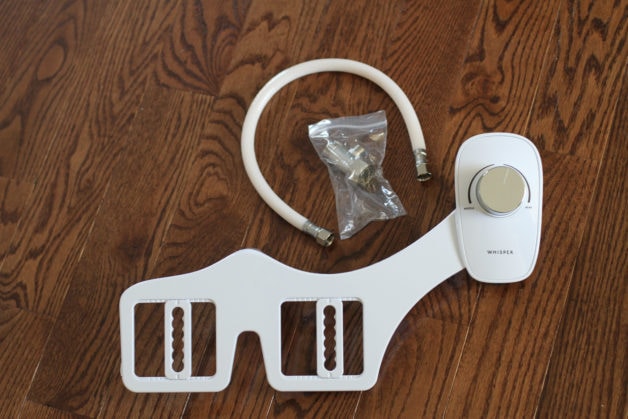 What do we think of the Whisper Bidet?
It IS a bit of an adjustment if you've never had a bidet on your toilet before!
But it does help to reduce the use of toilet paper. And it definitely feels more hygienic than toilet paper alone.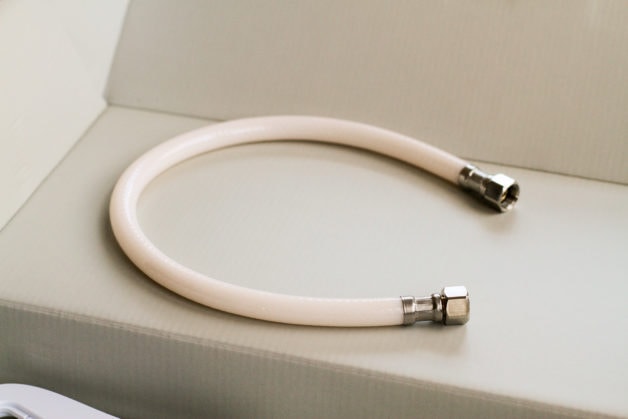 And while this doesn't apply to us, I know that a bidet can be very useful for people who have mobility issues (for instance, someone who is recovering from back surgery).
How much does the Whisper Bidet cost?
The Whisper Bidet costs $79.
On the one hand, that feels like kind of a lot for three pieces.
BUT. This is a tiny fraction of what a bidet toilet costs; for example, this one from Home Depot will run you $900!
Does a bidet pay for itself?
Over time, I'd definitely say it could. How long it takes depends on how much you pay for toilet paper and how much you use your bidet in place of toilet paper.
But, assuming that the bidet lasts for many years, I don't see how it could NOT pay for itself.
Is the water warm?
Uhhh, no.
That bidet water temperature is a little bit shocking in the winter! Yikes.
But I think it will be a much more pleasant experience in the summer when the water in the pipes is warmer.
There are companies that sell bidets that attach to the warm water supply line, but I still think those would send you chilly water at first, since the water in the line would be cold.
Plus, those are more complicated to install because you have to get the line under your sink, which usually means going through your vanity cabinet somehow.
So, I'm just making peace with the cold water.
What if you don't like the Whisper Bidet?
There's a 60-day trial period with a money-back guarantee.
So, it's a risk-free purchase! You can try it and if you really hate it, you can get a full refund.
Pros and Cons
Let's sum it up with bullet points!
The pros:
very easy to install
way cheaper than a dedicated bidet toilet
not super noisy
can save money by reducing toilet paper use
risk-free purchase because of the return policy
The cons:
it's not the most beautiful addition to the bathroom (not a big deal to me, but it might be to some)
it's a little bit hard to clean around
the water is cold
Get 10% off your Whisper Bidet purchase (plus free shipping!) with code FG10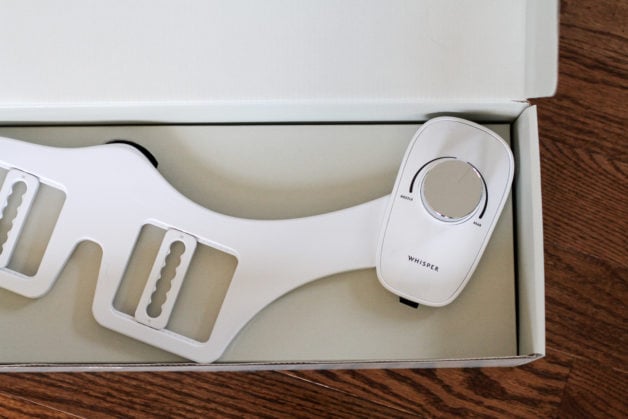 If you buy a Whisper Bidet through any links in this post and use code FG10, you'll get 10% off AND free shipping.
So. Make sure you use the code!
Do you have a bidet? I'd love to hear what you think of yours!