Every Wednesday (ok, most Wednesdays!) I share a baking recipe. And lots of pictures of said baking recipe. I don't call this Wednesday Baking because I bake solely on Wednesdays…no, my oven gets a workout much more frequently than once a week! Wednesday just happens to be the day I share baking recipes with you. All the past baking posts are archived in the Wednesday Baking category, which can also be found in a tab underneath my blog header.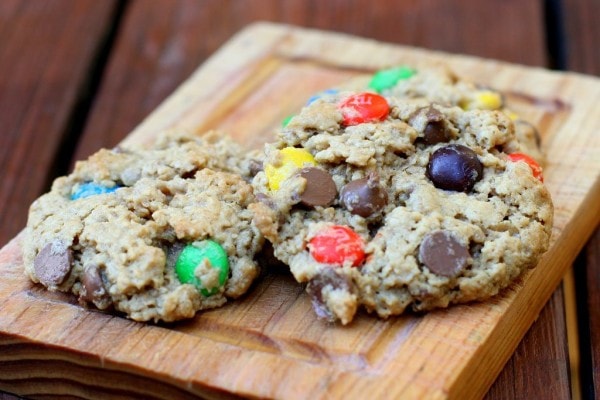 Usually on Wednesdays, I post bread recipes, but I thought it would be fun to change things up a bit and do a cookie recipe. I don't bake a cookies a lot, so my kids were super pleased that I needed to make a batch for this post!
The moniker for these cookies makes it seem as though they're something to be served at a Halloween party, but no…the monster portion of the name is there because you're supposed to produce massively sized cookies when you bake these.
I tend to make more average sized cookies when I make this recipe, though, so "Monster Cookie" is probably not quite the right name for these. Just calling them cookies is sort of boring, though, so Monster Cookies they are.
These are some seriously heavy-duty cookies…more like granola bars than ladyfingers, that's for sure. The main reason for this is that they contain no flour at all. The only starchy ingredient is oatmeal, and a lot of it. That makes these 100% whole grain, I suppose, and I'm pretty sure that means they must be health food. 😉
Ok, maybe not.
But they are delicious and chewy and moist, and I think you should bake a batch.
Gluten-free readers…if you make these with gluten-free oats, these should be safe for you to eat, right? I'm fairly clueless about gluten issues, so correct me if I'm wrong!
Making these is super-duper easy. First, you'll want to turn your oven on to 350 ° F so that it's ready when your cookie dough is. To make the dough, you'll need to combine the butter, peanut butter, eggs, and sugar, and baking soda.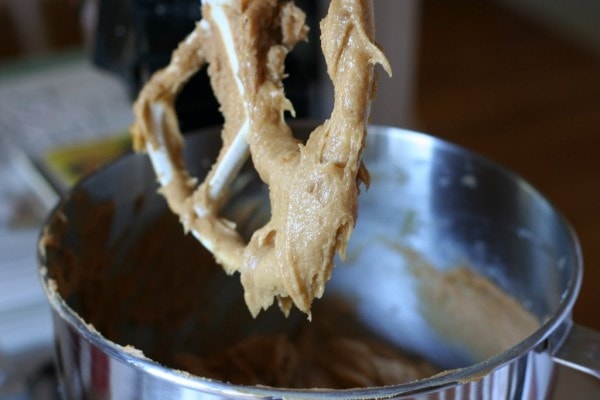 Zoe was helping me make these cookies, and she wanted a photo of herself doing this: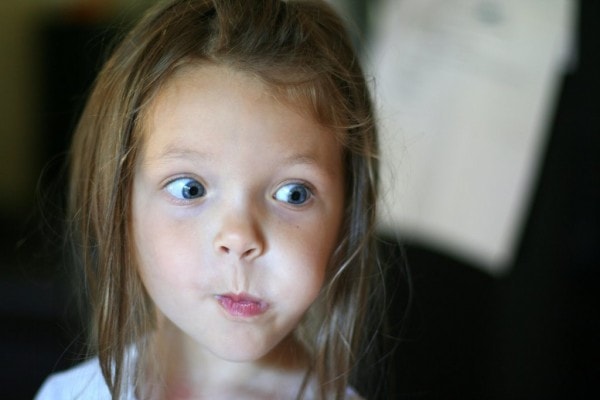 Ok, back to the cookies.
Next, you'll need to mix in the oatmeal. And after that's mixed in, it's time to add the M&Ms, chocolate chips, and raisins/walnuts (I never use raisins or walnuts).
It's also time to realize that trying to fit a whole batch of this dough into a Kitchen-Aid Artisan bowl is a bad idea.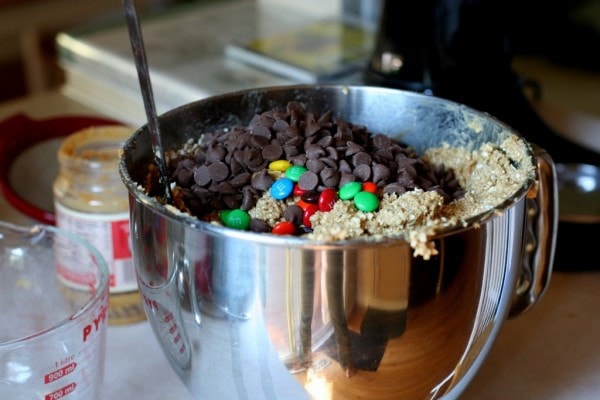 My big glass bowl from Aldi was a much better idea. Still, it was none too big, so if you're lacking in the large bowl department, I highly recommend halving the recipe.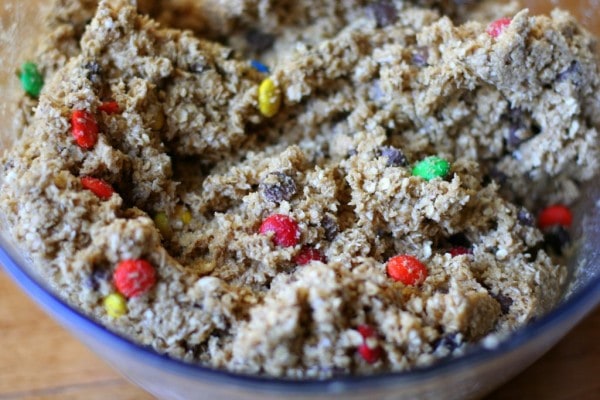 Using a soup spoon, scoop out balls of dough and place them on a cookie sheet (I use the Cook's recommended Vollrath Cookie Sheet
which is so much better than dark nonstick cookie sheets!). To make my cookies rounder, I like to wet my hands to smooth out the dough a little bit.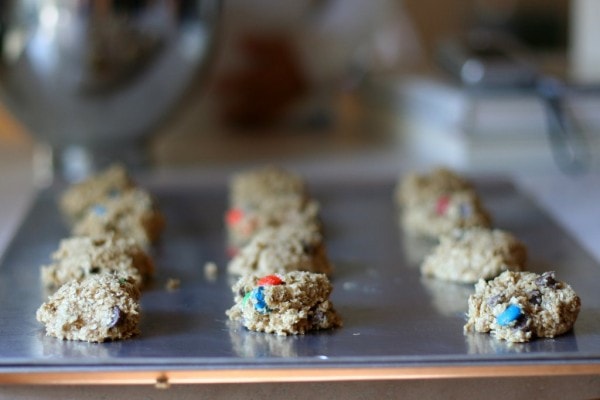 Bake the cookies for 10-12 minutes, or until they look almost done (the cracks in the cookies should still look a little bit wet). This helps to ensure that the cookies will be chewy.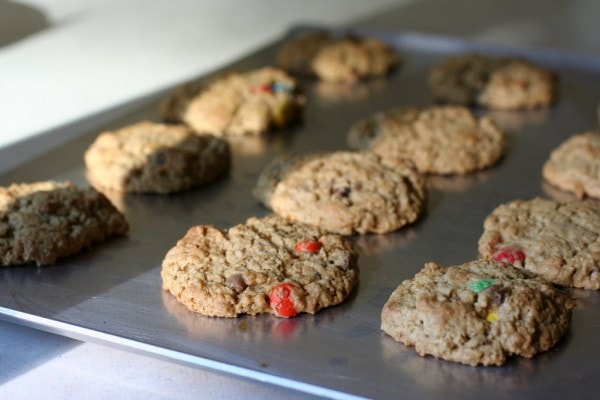 Let the cookies cool on the baking sheet for a minutes or two (this makes them less prone to breaking) and then remove them to a counter to cool completely.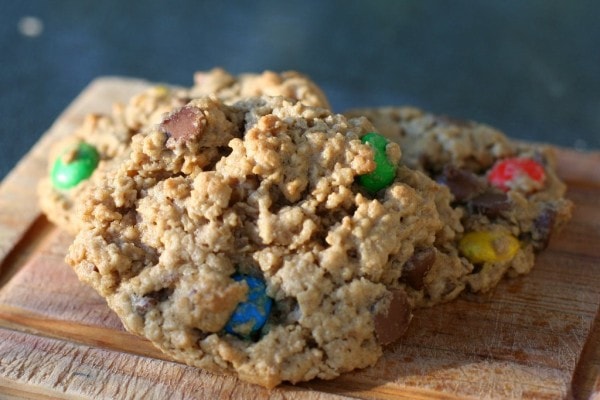 I mentioned that this recipe makes a lot of cookies, right? Even after I froze a portion of the dough (I'll let you know how it bakes up after I thaw it!) and quite a few cookies were snagged, my large cookie tin was very full.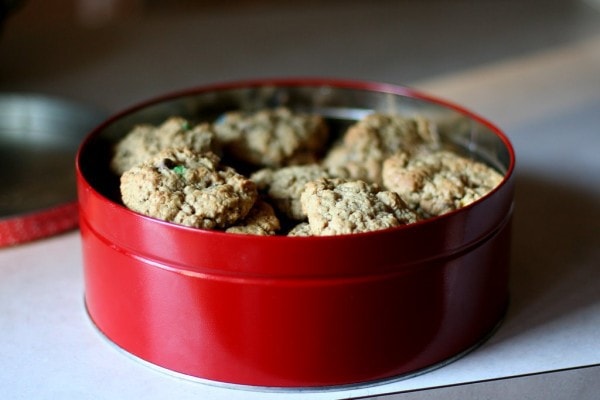 These cookies stay moist and chewy for several days, so we don't have trouble finishing them before they start to dry out. I know that these cookies freeze well, though, so if you don't house as many voracious cookie-eaters as I do, you can still make a batch and freeze extras to eat later.
Monster Cookies-makes about 100 cookies
Printable Monster Cookie Recipe
2 sticks (1 cup) softened butter
2 cups brown sugar
2 cups granulated sugar
18 oz. peanut butter (I use smooth)
6 eggs
4 teaspoons baking soda
9 cups quick-cooking oatmeal
12 oz. chocolate chips
8 ounces M&M's
optional:
1 cup raisins
1/2 cup walnuts
Cream butter and sugars together; mix in peanut butter, eggs, and baking soda until smooth. Stir in oatmeal, then stir in chocolate chips, M&M's, and raisins and walnuts if desired.
Drop by heaping spoonfuls onto a cookie sheet. Bake in a preheated 350 ° F oven for 10-12 minutes.
P.S.-a new baking-themed $100 giveaway is up over on my review page. Go enter before Monday…the $100 could be yours! 🙂
Today's 365 post: I see blue skies…