Every Wednesday (ok, most Wednesdays!) I share a baking recipe. And lots of pictures of said baking recipe. I don't call this Wednesday Baking because I bake solely on Wednesdays…no, my oven gets a workout much more frequently than once a week! Wednesday just happens to be the day I share baking recipes with you. All the past baking posts are archived in the Wednesday Baking category, which can also be found in a tab underneath my blog header.
My apologies to those of you who dislike nuts…today's post won't be very much fun for you!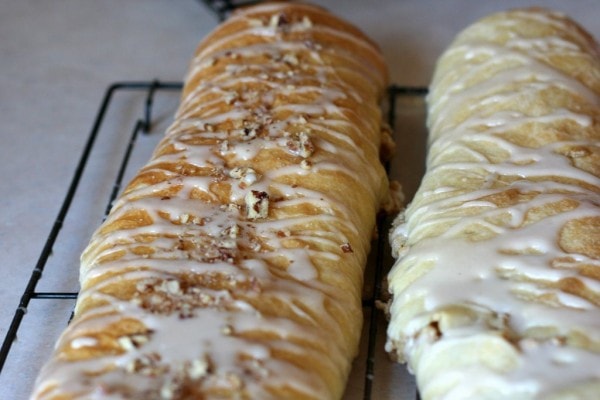 For a lot of years, I strongly disliked nuts, but in recent times, I've come around quite nicely. I'm still not an enormous fan (I'll choose Apricot Coffeecake over Nut Roll any day!), but I do enjoy eating nuts and nut-filled baked goods these days.
When I make a nut roll, though, it's usually because I'm wanting to bless someone who IS a huge fan of nuts. My father-in-law and my dad are both nut-lovers, and I've made this for both of them.
Nut roll is a fairly rich baked good, but it is not overly sweet, especially if you opt to leave off the confectioner's sugar frosting. I personally think the frosting adds just the right touch of sweetness, though.
I made this on Christmas Eve Day when I was in the midst of a big old baking fest, so I don't have step-by-step pictures of the whole process. I think I've got enough to make you feel like this is do-able, though.
I use a recipe from Taste of Home to make my nut rolls, and the dough-making process is very similar to the Cherry Danish process. And like the Cherry Danish dough, this one does not need to be kneaded.
To make the dough, dissolve yeast in warm water in a large bowl. Add the butter, milk, egg yolks (reserve the egg whites for the flling!), sugar, salt and flour; beat until smooth.
Cover and refrigerate the dough overnight. This will firm the dough up and make it much easier to roll out.
To make the filling the next day, beat the egg whites and vanilla until soft peaks form, and gradually add in the granulated sugar. It's important to add the sugar slowly, just like you would if you were making a meringue.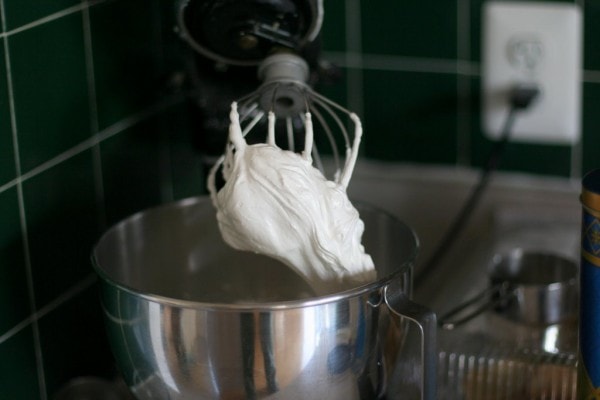 When you're done, the egg white mixture should be glossy and stiff.
Gently fold in the chopped nuts. I usually use walnuts, but I think this would be SO good with pecans.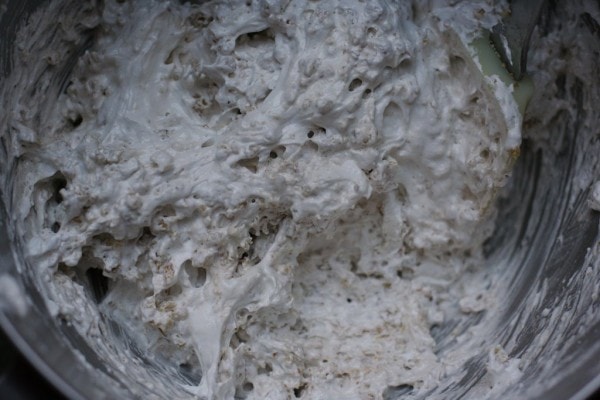 Divide the dough into thirds, and roll one third out into a large rectangle. Spoon a third of the nut filling onto the dough.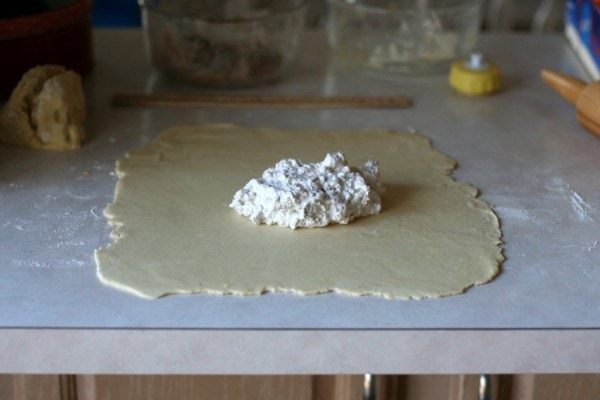 You'll think there's no way you will ever be able to make the filling cover all that dough, but you can. 😉 I like to use a plain old table knife to manage this.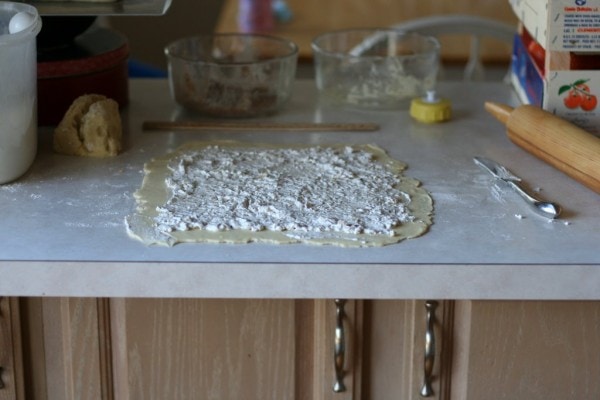 Roll the dough up, jelly-roll style. To make sure the dough stays rolled up, brush a bit of water onto the seam.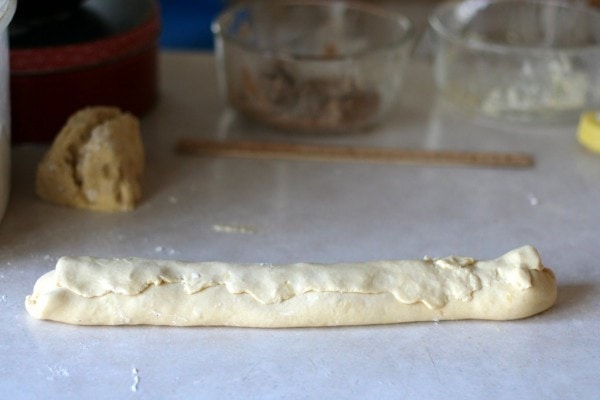 Place the roll, seam-side down, onto a greased baking sheet, and repeat the process with the remaining dough portions.
Cover the rolls with a wet tea towel and let them rise in a warm place into they're soft and puffy-looking. I wouldn't say that these actually double in size. It seems like mine always take at least 45 minutes to become soft and puffy, especially if I'm baking in cold weather. Allow plenty of time for this step!
Bake in a preheated 350 ° F oven for 20-25 minutes or until the rolls are golden brown. Remove rolls to a wire rack to cool (I use two wide cooking spatulas to manage this).
Mix the frosting ingredients and drizzle over top of the rolls. If you'd like to make them look a little more fancy, sprinkle a few chopped nuts on top of the frosting before it sets.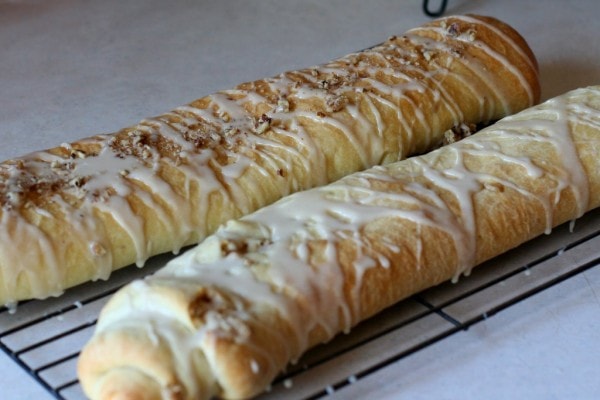 As with the cherry danishes, the frosting process here will be much less messy if you place the rolls and wire rack on a baking sheet first. That way all the dribbles will be on the sheet, not on your counter.
I wish I'd take a picture of a sliced nut roll, but I wasn't that forward thinking. I'll try to rectify that next time I make these! There is a photo of the sliced roll on Taste of Home's site, though.
Nut Roll Coffee Cake
A printable version is available at Taste of Home
1 package (1/4 ounce) active dry yeast
1/4 cup warm water (110 ° to 115 °)
1 cup butter, melted and cooled
1/2 cup warm milk (110 ° to 115 °)
3 egg yolks
2 tablespoons sugar
1/2 teaspoon salt
3 cups all-purpose flour
FILLING:
3 egg whites
1 teaspoon vanilla extract
3/4 cup sugar
2-1/4 cups ground walnuts
ICING:
3/4 cup confectioners' sugar
1 teaspoon butter, softened
1 teaspoon vanilla extract
3 to 4 teaspoons milk
Directions
In a large bowl, dissolve yeast in warm water. Add the butter, milk, egg yolks, sugar, salt and flour; beat until smooth. Do not knead. Cover and refrigerate overnight.
For the filling, in a small bowl, beat egg whites and vanilla on medium speed until soft peaks form. Gradually beat in sugar, 1 tablespoon at a time, on high until stiff glossy peaks form and sugar is dissolved. Fold in walnuts; set aside.
Turn dough onto a lightly floured surface. Let stand for 10 minutes or until easy to handle. Divide into thirds. Roll each portion into a 15-in. x 13-in. rectangle. Spread filling over rectangles to within 1/2 in. of edges. Roll up jelly-roll style, starting with a long side; pinch seam to seal.
Place seam side down on greased baking sheets. Cover and let rise until doubled, about 45 minutes. Bake at 350 ° for 20-25 minutes or until golden brown. Remove from pans to wire racks to cool. Combine glaze ingredients; drizzle over coffee cakes.
Today's 365 post: My towel drawer WAS getting a little empty!