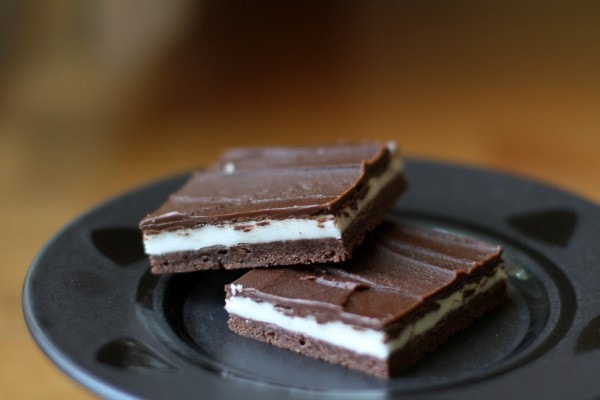 Today's recipe comes courtesy of my maternal grandmother. My paternal grandmother was big into yeast baking (I've shared one of her recipes with you before!), but my maternal grandmother is more of a dessert baker.
She has a special fondness for bars and cookies, and today's bar recipe is from her.
These bars are almost no-bake (they require only 10 minutes in the oven), and unlike almost all of my other recipes, this one calls for a packaged ingredient (cake mix, to be specific). I keep meaning to do some research and figure out how to make my own alternative mix for this particular use, but I make these so rarely, it's not been a high priority.
I make them rarely not because they're lacking in deliciousness…no, it's just that the combination of fat, sugar, and flour is difficult for me to resist, so it's not good for me to have lots of cookies and bars around.
Ice cream I can resist, candy I can resist, and homemade bread doesn't even tempt me to overeat, but homemade cookies and bars are my nemesis.
So, I usually make this sort of thing when we have company or we go to a potluck, because then I can't possibly eat the whole pan.
To make the crust for these, combine a chocolate cake mix package with 1/2 cup (8 tablespoons, or 1 stick) softened butter and an egg. A mixer makes this an awful lot easier, but you can do it by hand.
Spread the mixture into a greased jelly roll pan. If you don't have a jelly roll pan, you can use a 9×13 inch pan, and your layers will just be a little thicker.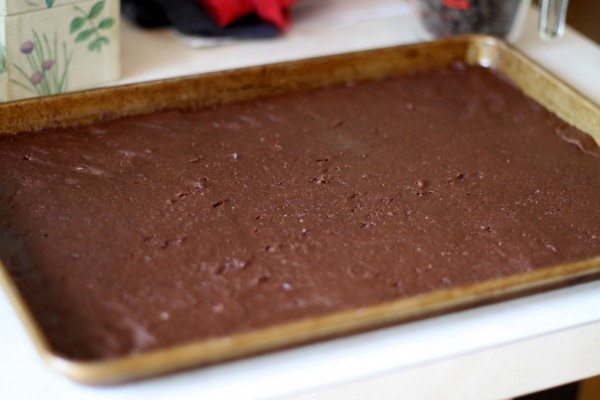 Bake at 350 for 8-10 minutes. Don't overbake it, or the crust will be hard. Let the crust cool completely (it'll look puffy at first and will then flatten out as it cools).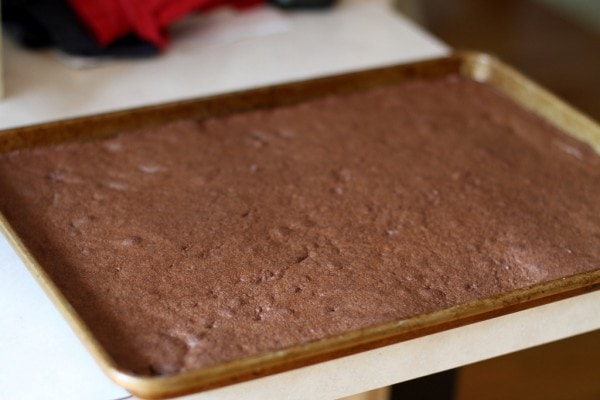 After it's cooled, you'll make the white filling. First, dissolve a package of gelatin in 1/4 cup boiling water. Make sure you stir it well so that there are no lumps.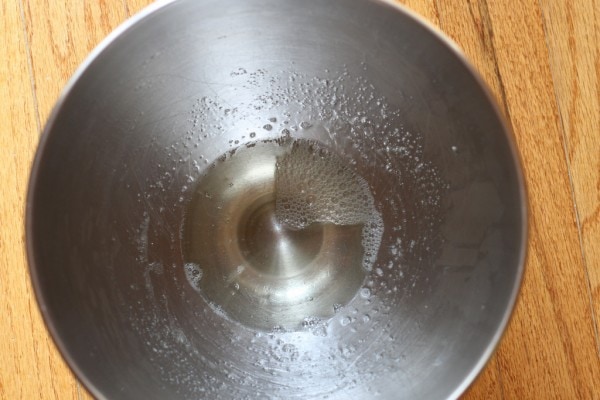 Let the gelatin mixture cool for 5-10 minutes. Do NOT leave it for a long time because it will start to set up, and your filling will have icky lumps in it.
Ask me how I know.
Add butter, shortening, sugar, and vanilla and beat until smooth. You can add mint flavoring and green food coloring at this point, but I've not tried that myself. (Given my obsession with chocolate and mint, I'm not sure why!)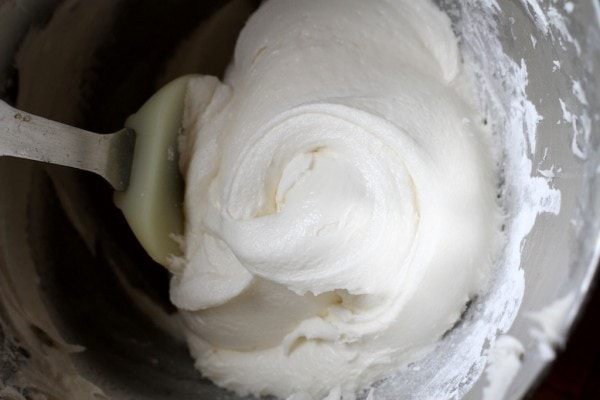 I'm guessing it would be possible to substitute more butter for the shortening, but I haven't tried it. I use shortening very rarely…so rarely, I bought a really small can of it!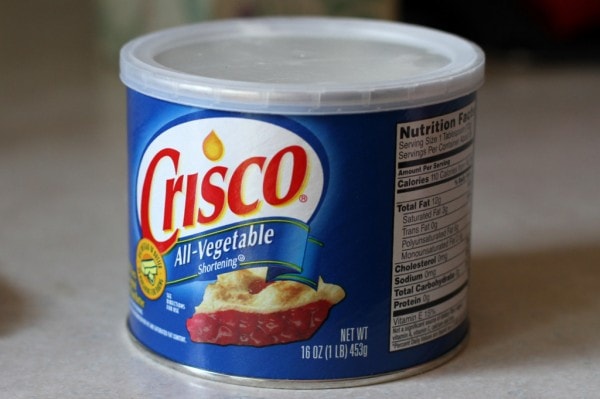 Because remember? I think smaller quantities are sometimes a wiser purchase, even if the price per pound is higher.
Spread the fluffy white filling over the cooled chocolate crust, then cover and refrigerate until firm.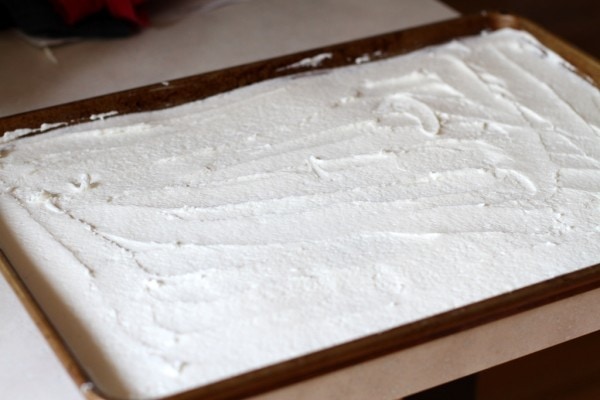 When the filling is firm (it should only take an hour or so), melt chocolate chips and butter together to make the chocolate frosting.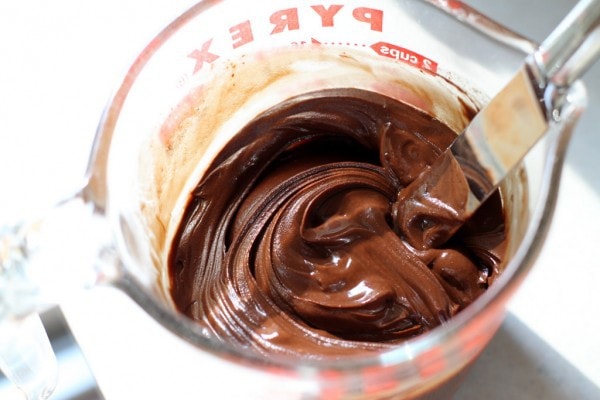 Spread evenly over the chilled white filling. This is a little more difficult than you might imagine because the cold filling makes the chocolate firm up alarmingly fast.
I'm never one to turn out beautiful frosting jobs, but under these circumstances, things are a little worse than usual.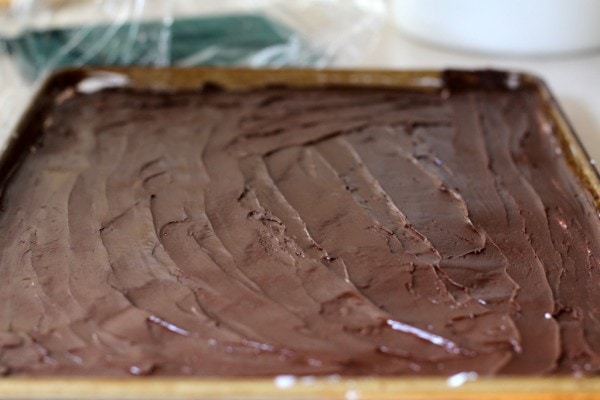 Fortunately, you cut these into squares before serving them, so it's not manifestly obvious that the frosting job is less than gorgeous.
Cover the pan and refrigerate the bars until the chocolate frosting is firm. Cut into bars before serving (a bench knife is fantastic for this! You can see one in my little Amazon widget on the right side of my blog.). Store any leftovers in the fridge.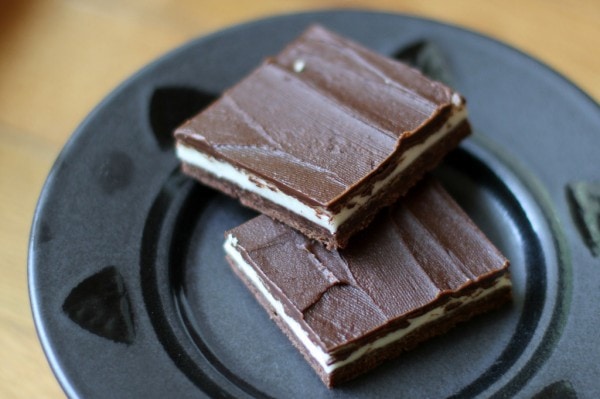 Chocolate Parfait Bars
Printable Chocolate Parfait Bars Recipe

Crust
1 package devils food cake mix
1 stick (8 tablespoons) butter
1 egg
Mix cake mix, butter, and egg together. Spread in greased jelly roll pan and bake at 350 F for
8-10 minutes. Let cool completely.
Filling
1 envelope gelatin
1/4 cup boiling water
4 cups powdered sugar
1 stick (8 tablespoons) softened butter
1/2 cup shortening
1/2 teaspoon vanilla
Dissolve gelatin in boiling water; stir to remove lumps. Let cool 5-10 minutes. Mix in sugar, butter, shortening, and vanilla and beat until smooth. Spread evenly over cooled chocolate crust. Cover and refrigerate until firm.
Frosting
1 1/2 cups chocolate chips
4 1/2 tablespoons butter
Melt chocolate chips and butter together; stir until smooth. Spread evenly over filling. Cover and refrigerate until cool. Cut into bars before serving.