It's a non-yeasty baking post this week, which is probably perfect, given that most of us are a tad busier than usual right about now.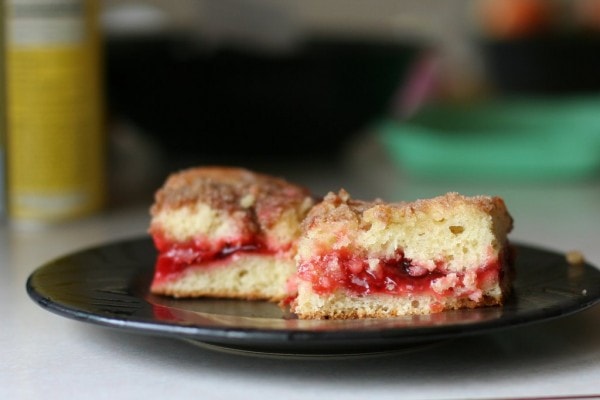 In fact, I chose to make this recipe this past Saturday precisely because I was too busy to mess with a yeast-raised goody.
(or is it goodie? Whenever I go back and forth between "y" and "ie" spellings I always remember the scene in Louisa May Alcott's "The Old-Fashioned Girl" where Polly is refusing to embrace the newly fashionable "ie" endings, and she tells Fanny (Fannie, rather!) indignantly, "Think how Pollie would look spelt so!")
/tangent
Never mind…more tangent thoughts. I loved that book when I was younger, maybe even more than I liked Little Women. I probably would think it's a bit legalistic if I read it again, but what I remember from that book is that what matters in a girl is character, and that all the fluffy "charm" so many girls have is no substitute for it.
Though the book is a classic chick-flick type of story and Polly does get the guy in the end, the guy is ultimately attracted to her because of WHO she is, and I liked that.
Ok, now we really ARE going to get back to baking. Focus, Kristen, focus!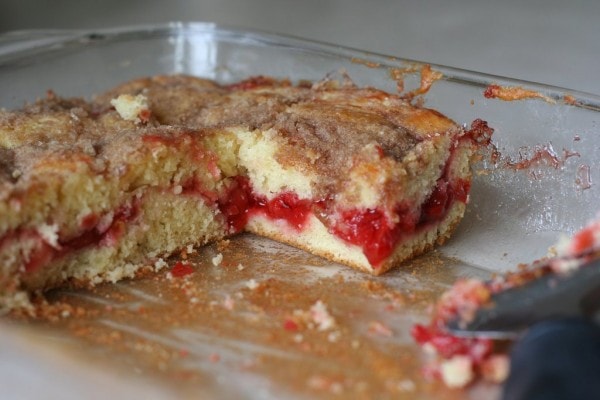 I found this recipe a number of years ago when I was searching for something to bring to our Sunday School class. I happened upon the Land O Lakes website, and decided to give this recipe a try. It's very easy to make, and since it's from Land O Lakes, it contains plenty of dairy goodness.
I do love me some dairy goodness.
I made this early Saturday morning so that it would be ready for the women's prayer meeting that's at my house, so these photos are a little different-looking than usual. Thank goodness for my LightScoop!
Before you get started, turn your oven on to 325 ° F so that it'll be hot by the time your coffeecake is ready to be baked.
To make the dough, cream butter and sugar, add egg and sour cream, and then gently stir in the dry ingredients.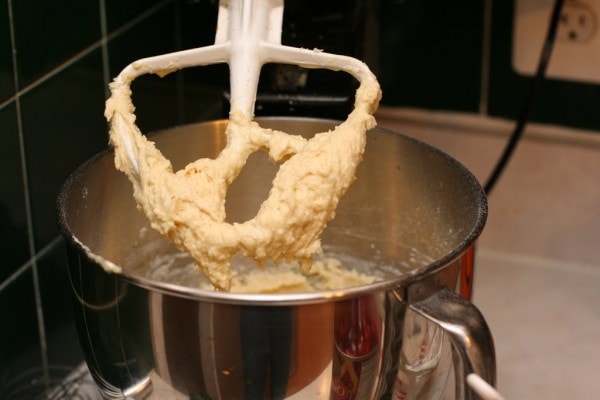 Spread half of the dough into a greased 9×13 inch pan. You'll think there's no way you can possibly do this, but just keep spreading.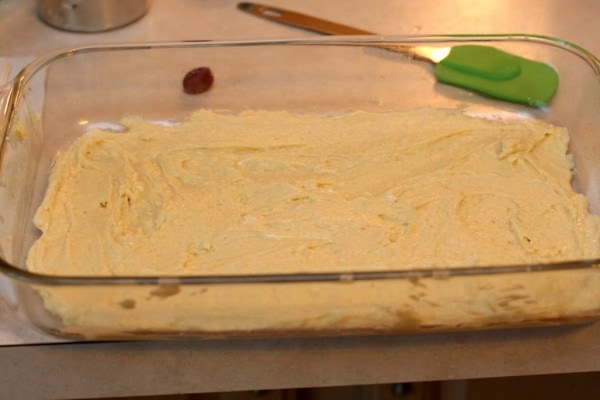 Pour a can of cherry pie filling over top of the dough. You could use any other flavor you want, or you could make your own filling, which would probably be more delicious than filling from a can.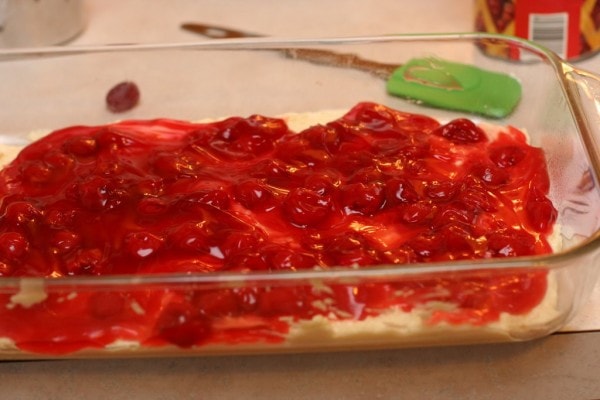 A strawberry/raspberry filling would probably be yummy.
The next task is to spread the remaining dough over the filling. This kind of job is always a little bit tricky because a stiff dough doesn't spread too well over a soft filling. So I drop spoonfuls of the dough all over the top of the cherry filling so that the dough is already sort of evenly distributed.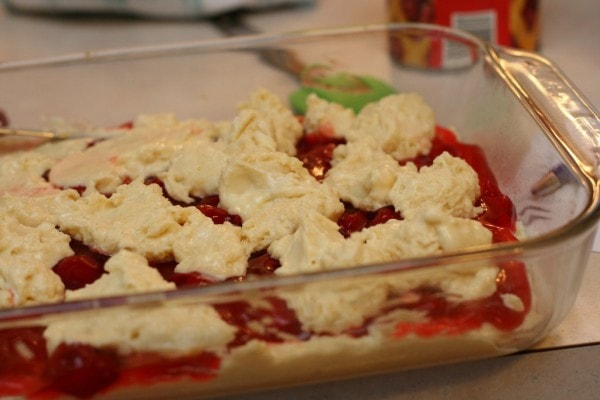 And then I use a table knife to smooth out the dough. I don't think it's possible to do this perfectly neatly, but it's ok…streusel is going to go on top!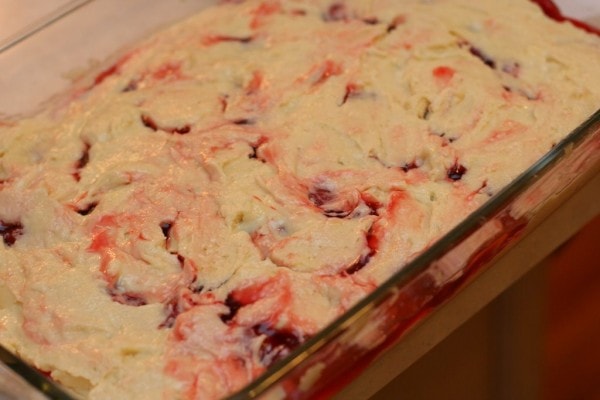 To make the streusel, combine the sugar, flour and cinnamon, and cut in the cold butter until the mixture is crumbly. The recipe calls for pecans, but I didn't add them this time. I think they'd be delicious, though.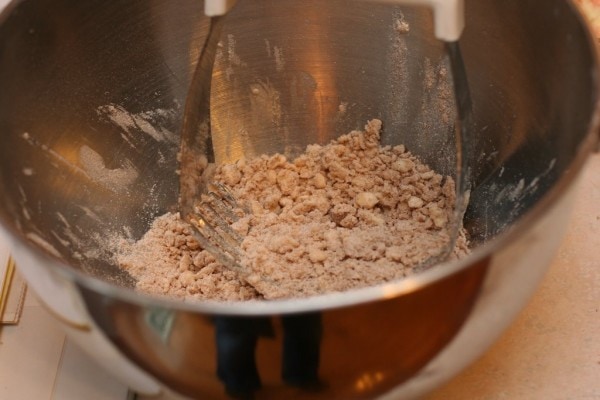 Sprinkle the streusel evenly over the top of the coffeecake.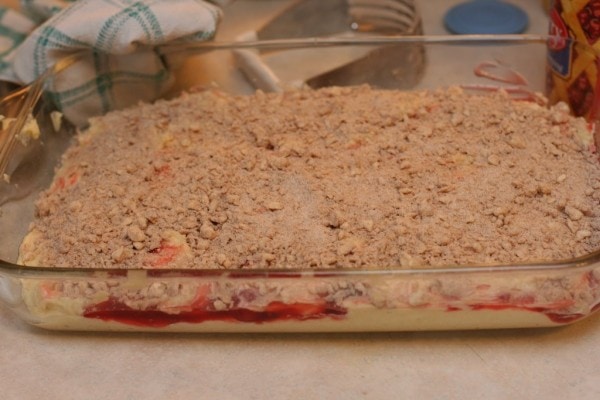 Bake for 45-50 minutes, or until a toothpick inserted into the center comes out clean.
The cherry filling is super hot when it comes out of the oven, so I definitely recommend letting the coffeecake cool for at least 10-20 minutes before you try to sample it. In fact, the last time I made this, I let it sit out for an hour while we prayed and the filling was still warm then…not burn-your-mouth warm, but definitely not room temperature.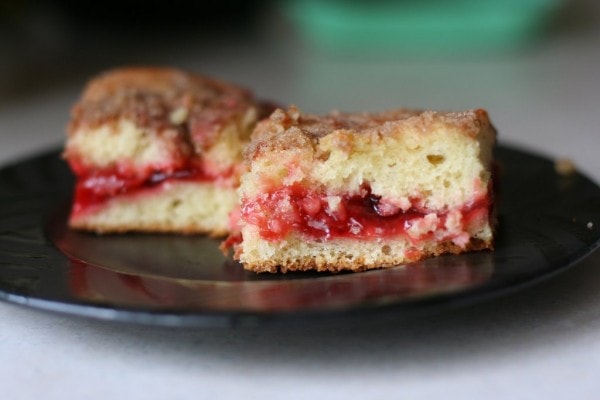 Anyway, if you're impatient and you burn your tongue on the pie filling, don't blame me. I warned you! 😉
Land O Lakes has a printable version of this recipe on their website, so I won't bother making and uploading a PDF for you.
Cherry Coffecake
1 cup sugar
1/2 cup butter, softened
1 cup sour cream
2 eggs
1 teaspoon vanilla
2 cups all-purpose flour
1 1/2 teaspoons baking powder
1/2 teaspoon baking soda
1/2 teaspoon salt
1 (21-ounce) can cherry pie filling
Streusel Ingredients:
1/4 cup all-purpose flour
1/4 cup sugar
1/4 cup chopped pecans
1 teaspoon ground cinnamon
3 tablespoons butter
Instructions:
Heat oven to 325 °F.
Cream 1 cup sugar and 1/2 cup butter in large mixer bowl. Add sour cream, eggs and vanilla; beat until smooth.
In a separate bowl, combine flour, baking powder, baking soda and salt. Add to butter mixture, and beat on low speed until dough is smooth (don't overdo the mixing here).
Spread half of batter into greased and floured 13×9-inch baking pan. Spoon cherry pie filling over batter. Spoon remaining batter over pie filling; spread carefully.
In a small bowl, combine 1/4 cup flour, 1/4 cup sugar, pecans and cinnamon. Cut in 3 tablespoons butter until mixture resembles coarse crumbs. Sprinkle streusel over coffeecake. Bake for 45 to 50 minutes until toothpick inserted in center comes out clean.