Every now and then I have a bunch of things I want to share but none of them are long enough to be a blog post on their own. So, I just throw them all together into one disjointed post. 😉
Actually, now that I think about it, this has only happened once before. If, for some reason, you can't get enough of this sort of thing, you can read my other miscellany post from January.
Zucchini Patties, unfried
When I posted the Zucchini Patty recipe a few weeks ago, I mentioned that due to my lack of attention to detail, I've always deep-fried my patties instead of sauteeing them. I thought I should at least give the saute method a try, and I did. Here's what a sauteed zucchini patty looks like.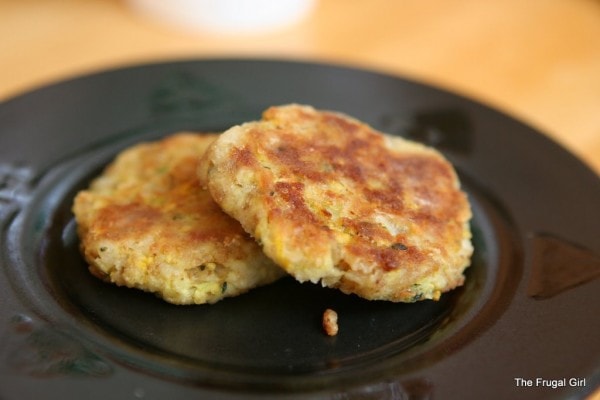 It probably comes as no surprise that the sauteed ones were not quite as tasty as the deep-fried patties. Does anything not taste better when it's deep-fried?
These were still good, though, and if you haven't already been spoiled by eating the deep-fried version, you might be very content with a sauteed zucchini patty.
When free samples go wrong.
(or, more on Kristen's inability to pay attention to details)
When my husband and I came home from our anniversary getaway, I took with me a small container of shampoo and conditioner from the hotel. For the record, I'm not a big fan of sample-sized items because I think they require an enormous amount of packaging for a very small amount of product. I'd normally have felt inclined to leave them there, but there was no seal on the containers and I figured that the staff would be required to throw them away before the next guests arrived.
So I brought them home and used them the next morning when I showered. As I did my hair that morning, I thought my hair felt a little bit greasy, and I figured I just must not have rinsed well enough.
The next morning, though, I took a closer look at the "conditioner" and found I'd put this into my hair.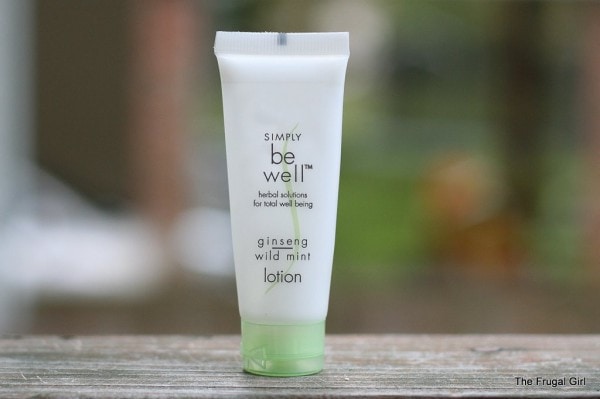 In case you were wondering, lotion is not an acceptable substitute for conditioner.
Just so you know. 😉
A Recipe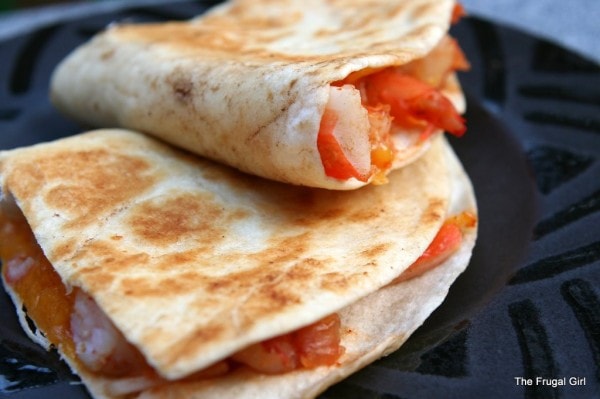 Some of you asked about these seafood quesadillas when I had them on my menu last week, so here's a quick recipe, with only one picture (oh, the horror!). I wouldn't normally post this here, as it's not especially frugal, but you asked, and I aim to please. 😉
In addition to shrimp, it also calls for imitation crabmeat, so if you are more of a food snob than I am, this is not the recipe for you. As for the shrimp, I always use raw shrimp which I then steam myself. The pre-cooked stuff that I've tried just does not taste quite right.
Seafood Quesadillas
2 1/2 cups of cooked, peeled shrimp and imitation seafood (use whatever proportions you prefer)
1/2 cup salsa
1/2 teaspoon salt
1 teaspoon of Old Bay seasoning (you can use more or less depending on how much you like Old Bay!)
2 cups shredded cheddar or Monterey Jack cheese
6 flour tortillas
Mix together cooked shrimp, shredded imitation seafood, and salsa. Add salt, and Old Bay seasoning to taste. Spread about 1/3 cup over one half of a tortilla and sprinkle with 1/3 cup shredded cheese. Fold tortilla in half. Repeat with remaining tortillas and filling.
In a large skillet over medium heat, melt 2 tablespoons of butter. Cook quesadillas for about 5 minutes on each side, or until the tortilla is brown and the cheese is melted, adding more butter as needed.
Cut into wedges and serve with sour cream or guacamole.