This giveaway is now closed. Congrats to Teresa, the winner of the $100 gift certificate.
I've partnered with Novica a number of times before to bring you giveaways, so most of you are probably already familiar with this company.
But in case you're new, here's the deal.
Novica is a National Geographic company that partners with artisans around the world, giving them a global market for their wares. They also provide no-fee micro loans to the artists, which helps them buy the supplies they need in order to make their art and earn money (You can actually loan money to an artist through Novica as well!)
I love Novica because what they sell is so different than the mass-produced stuff you can buy at most retail stores. It comes from a person, an artist, not from a factory in China. In fact, many times my Novica orders have come with a hand-written thank you note from the artist.
The prices are a little higher than what you'd pay at Kohl's or Claire's Boutique, but the quality is so much better. As you know, I love to buy things that last because in the end, they're actually the more frugal choice.
I'd rather own a few well-made, ethically obtained items than a bajllion poorly made items from a sweatshop.
Plus, not everything at Novica is crazy expensive. Here's a collection of handmade gifts under $50.
And here's a collection of gifts under $30.
Novica also offers a daily deal, featuring one item at a steep discount. Check it out…you can save up to 50%.
Over a year ago, I ordered this beautiful sterling silver bracelet, and I wear it all the time.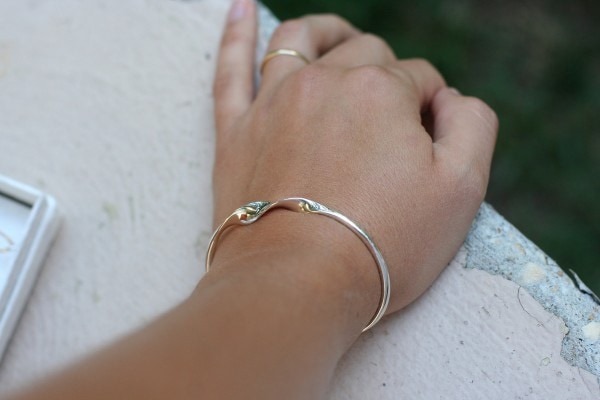 And I also got these earrings, which I wear constantly as well.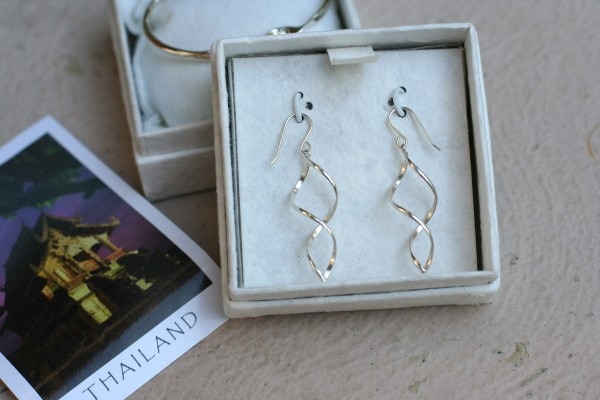 I honestly think I'll wear these for the rest of my life. And I may be able to hand them down too, which makes me happy (Woohoo for heirloom quality purchases!)
I also own an anklet from Novica and a pair of lovely pearl earrings. Lisey has some Novica earrings too, which are great for her sensitive ears.
The workmanship on everything I've ordered has been great, and the pieces are both durable and beautiful. Really, I can't say enough good things about Novica!
Novica doesn't just sell jewelry, though…you can buy clothing, accessories, and home decor as well.
When you're doing your holiday shopping this year, do check out what Novica has to offer. Your gift recipient will love the beauty and quality, and you can feel good about supporting an artist.
(speaking of which, Aoy is one of my favorite artists on Novica. Go check out the lovely jewelry she makes!)
_____________________________________________
One lucky reader will be able to go on a $100 shopping spree because Novica is giving a $100 gift certificate to one of you.
To enter, visit Novica's website, pick something you love, and then come back here and leave a comment telling me what you chose.
This giveaway is open to anyone around the world, since the gift certificate is electronic. So, international readers, enter away!
One entry per person please.
Novica is providing the $100 gift certificate, but I was not paid to write this post or provided any product in conjunction with this review.
The giveaway will close at midnight, EST on Sunday, November 11th.

______________________
Joshua's 365 post: Das' a lotta blue!