Frozen milk takes approximately 3 years to thaw.
Ok, so not actually, but it feels like it.
HOW DOES IT STAY ICY FOR SO LONG???
I've been buying extra gallons and throwing them into my chest freezer (to help cut down on milk runs) and my soul, I cannot believe how long a gallon of milk takes to thaw.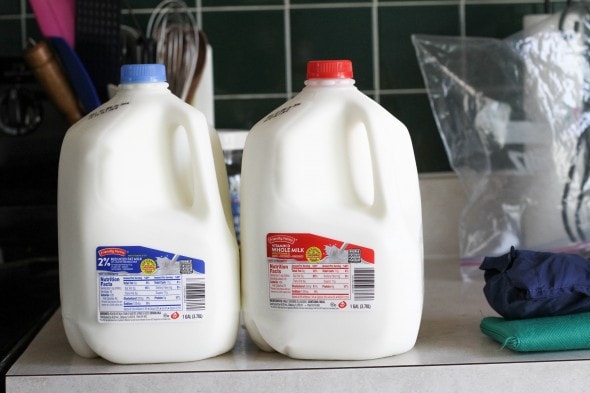 (To freeze milk, just pour out a cup or two into another container so that the milk has room to expand while freezing. And then put the milk container into the freezer.)
I do not like trying to avoid grocery shopping.
It's not so much that I mind doing a big trip (though that is a little annoying).
It's more that I hate the feeling that I really, really need to not forget anything.
Down the road, feeling the freedom to make a fill-in trip in between larger shops will really help.
I like having a two week plan of meals to choose from.
I don't really like the process of coming up with 14 meals at a time.
But once that's done (and the shopping is done), I love the feeling of knowing I have a long block of time where I don't have to think, "What could I make for dinner tonight?"
I really miss having fresh bananas around.
I try to buy a combo of ripe and green bananas when I shop, and I refrigerate the ripe ones to extend their life.
But still, there are times in the two weeks between shopping trips when we are, sadly, banana-less.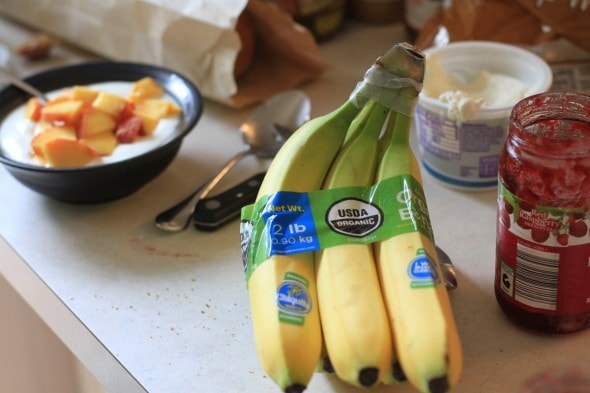 And that is sad, because a banana with peanut butter makes such a great snack.
A chest freezer is awesome. But I'd also like an extra fridge.
I am massively happy to have my chest freezer! And I can hardly imagine trying to shop every two weeks without it.
If I were going to keep shopping for several weeks at a time, though, I'd be pining for an extra fridge. It is so hard to fit two week's worth of cold things in my not-enormous fridge.
(We are temporarily ignoring the fact that there is nowhere in my house for an extra fridge to go. I'm just saying I can see a serious benefit to having one.)
Staying home makes some parts of my life easier.
It's easier to:
get blog posts written (I've been pretty prolific lately!)
stay caught up on laundry/household chores
get regular workouts in (no appointments in the morning, so I can work out right away)
I'm a homebody, but I do like going out a little bit.
I can be a very contented homebody.
However, after this long a period of mostly staying home, it does feel kind of good to hop in my car and go somewhere (like when Sonia needs an allergy shot).
It takes me a long time to get bored at home.
As in, I have not gotten remotely bored during the stay at home order. I still have lots of fun and/or practical things I could fill my time with.
This is most definitely due in part to the fact that I have kids at home, but I think even without kids, it would still take me a while to get bored.
I am very glad we do not live in a tiny house.
Our house is not huge, but it is big enough for us to not have to actually spend every single moment together.
(I think we would be very, very tired of each other if we had no space to be apart! Even Sonia, the most extroverted among us, likes to have some quiet time in her room.)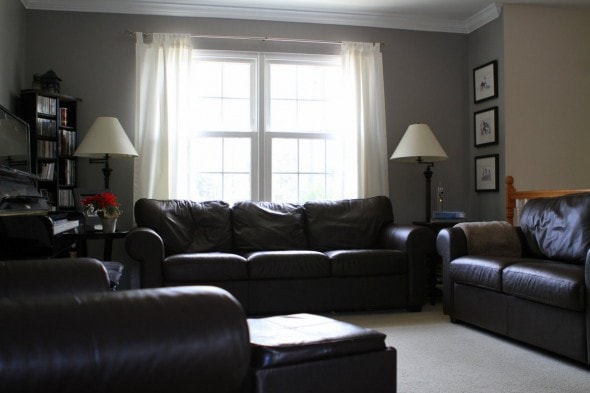 And also, it's nice that we have an office with a door that shuts, so that Mr. FG has a place to work from home.
A surprising number of people do not understand how to wear a mask.
If your nose is sticking out of the top of the mask, it would seem obvious that the mask is no longer effective.
But this has not occurred to some people, apparently.
(At first when I saw social media posts griping about people wearing their masks wrong, I was confused. Was I wearing mine wrong? Is there a trick to masks? Some special way to wear them? But then I went to the grocery store and my confusion was cleared up. Ha.)
What have you learned during quarantine?