Stephanie emailed me when I put a call out for reader submissions and she wondered if it would be ok to participate, since she and her husband are high earners with no kids, and they don't really NEED to be frugal.
And I said, "Of course!". Part of the fun of this series is that we get to see the wide variety of lifestyles represented by the readers here. I think it's lovely that our community is not just made up of people whose life story mirrors my own.
Here's Stephanie:
1. Tell us a little about yourself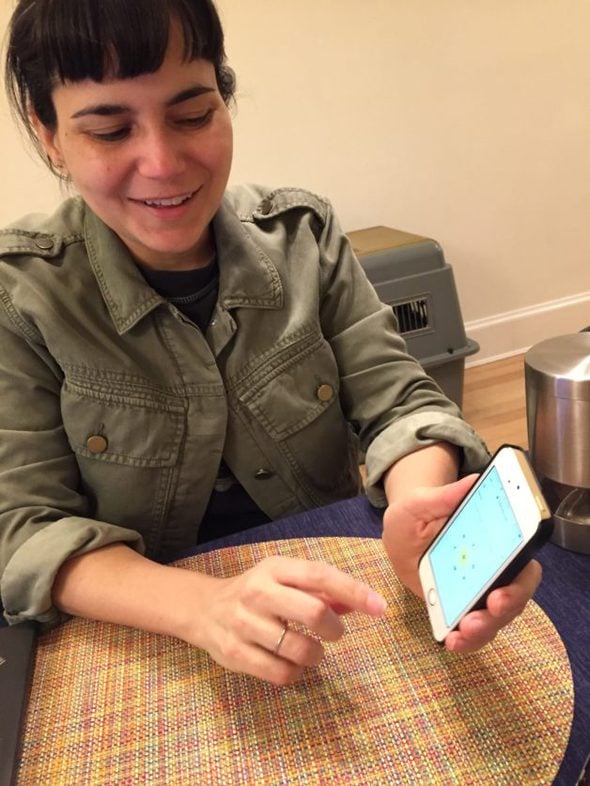 me, doing the NY Times Spelling Bee
I am 43 years old and live in Brooklyn, New York City – I'm working from home these days but previously I commuted to midtown Manhattan for work. I grew up in the suburbs of Washington DC, and as an adult have also lived in San Francisco and DC proper, but Brooklyn is definitely now home.
I live with my husband and our poodle named Ollie, currently, in a 3-story, 10-unit apartment building, and all three of us enjoy a lifestyle where we can walk to lots of things, including beautiful Prospect Park.
We got a poodle due to my in-laws' allergies, so they could visit our home, but professional dog grooming is very expensive, so naturally, I learned how to do it myself!
Broadly speaking, I work in finance (I studied economics in college, and finance and accounting in business school). I've had a couple of short stints at actual Wall Street firms, but mostly I work with economists who act as expert witnesses in lawsuits related to finance – corporate disputes about money.
Think about the largest banks and corporations in the world, and that's the type who would hire my firm to work with their $1,000-an-hour lawyers and prepare a professor from a top university to testify at trial.
My coworkers are introverted, nerdy, spreadsheet-loving types like me, and I am lucky to work with really nice and smart people.
That said, in some of the lawsuits we work on, I feel we are on the wrong side of the case and this bothers me a lot. I got into finance when I was younger, out of a genuine passion for the topic, but my interest waned after the financial crisis and I do feel a bit lost, looking for more satisfying work.
I left this industry for a spell in 2018 to be the finance manager of a large natural foods grocery store co-op (a 70% pay cut), but sadly that job did not work out so I returned to consulting and for now I focus on how it allows us to build financial security and be generous in charitable giving.
One of my hobbies is knitting and I love DIY projects of all kinds. I do a bit of container gardening and tend to my houseplants, make yogurt twice a week, make (and can) applesauce from time to time, and do some occasional pickling.
Last year I learned how to make soymilk starting with soybeans, and I'd like to take the next step and learn to make my own fresh tofu.
For the last few years I've kept a worm bin for composting (indoors!) and although I had one bad incident when I forgot to feed the worms for too long (we were moving apartments…it all just got away from me…) I now think I've got the knack of it and I get a big kick out of recycling our food scraps and making my own "black gold."
My husband works in non-profit development (he's a database administrator) and loves to play guitar and bass, and we both are pretty big homebodies.
Recently he has gotten very into jazz, so it is great we live in a city with so many talented jazz musicians!
I am saving up our travel rewards points for a trip to Japan someday, and we will definitely plan to see some live jazz music in Tokyo.
2. How long have you been reading The Frugal Girl?
A very long time! I had my 10-year wedding anniversary earlier this year, and I think I started reading The Frugal Girl before I got married, so I'll say more than 10 years.
3. How did you get interested in saving money?
I think I have always been a natural saver, but I also have been shaped by some twisted dynamics around money I observed in my family when I was growing up.
This, combined with one of my parents being controlling in general, resulted in me growing up to be fiercely determined to not depend on others for money so that I could make my own choices about my own life.
4. What's the "why" behind your money-saving efforts?
Overall, a general desire for independence and security, with other goals layered on top of that.
In my 20's I was focused on saving for a down payment for a home. I read Your Money or Your Life and started thinking about how a person could save enough money so they didn't have to work anymore. I also got interested in how a more environmentally friendly lifestyle also tended to be a frugal lifestyle and a simple lifestyle, all of which appealed to me.
About that time, I'd been doing very well at work, and one day my boss "joked" to me that they just needed me to get into a big mortgage, the implication being that I'd then be tied to that job and its paycheck. Woah!
These days I am still focused on achieving financial independence and making sure we will be provided for later in life.
5. What's your best frugal win?
Overall, just avoiding most of the lifestyle inflation that our income could support.
6. What's a dumb money mistake you've made?
In my last year of college, when I was swept up in learning about finance and investing for the first time and tech bubble mania was at its peak, I took some savings and invested in a high-tech mutual fund. The fund lost 95% of its value over the following year.
It wasn't such a bad thing to get burned at a young age when the dollars involved weren't so large and I've been a 100% index funds gal ever since.
7. What's one thing you splurge on?
We have multiple splurges! We spend more on groceries than we could – but I think what we get is better quality and worth it.
We also have a car (a little Fiat – perfect for 2 city dwellers) and in NYC you can definitely do fine without one, as I did for many years. But you usually can't bring a dog in a ride share or rental (we take him to our in-laws sometimes, and to parks for day hikes and such), and the hassle factor would be a lot higher.
Lastly, a pure luxury – we have linen sheets for our bed! I line dry them and we love the rumple-y-ness the night after I do laundry.
8. What's one thing you aren't remotely tempted to splurge on?
Cosmetics do not tempt me.
I've had friends try to have me share in their fun with makeup, and once in a while I'd buy some products, but it never stuck. Now I know that it's not for me and that's just fine.
9. If $1000 was dropped into your lap today, what would you do with it?
I'd just put it in our housing fund. Last year we sold our apartment and we're renting while we look for the next place. We want to move up in housing a bit so we're saving up for that.
10. Share a frugal tip with other Frugal Girl readers
Bank your raises as much as possible (keep living off your old salary and save the extra you earn from your raise).
Embrace naturally frugal (and environmentally friendly) vegetarian eating and look to delicious cuisine from around the world for fun and interesting meal ideas.
Also, for people in the U.S., one specific frugal tip is to look into purchasing discounted gift cards for places you regularly shop. Sites like giftcardwiki.com are good for this.
11. Is there anything unique about frugal living in your area?
In NYC we are rich in wonderful options for free entertainment. Although housing here is horribly expensive, you don't need to spend much on transportation if you are cool with walking and taking public transit.
Lastly, the Craigslist economy in New York is strong!
____________
Stephanie, thanks so much for sharing your story with us. We are birth-year buddies, which made me think of how interesting it is to see how our paths in life have differed (you got your degree long ago, and mine is still years in the future!)
I have a question: you said you'd lived in the suburbs at one point, but it sounds like you've spent a whole lot of your life living in the city. Do you ever miss suburban living? I ask because I've always lived in the suburbs, with lots of trees around, and I wonder if I'd miss all that green if I lived in a city.
Readers, the floor is yours for questions or comments!