We had lots of fun reading all of your guesses yesterday. There were over 130 comments, plus lots of emailed entries (which I kept track of.)
Interestingly enough, no one got all of the answers right!
(Probably because most of you couldn't imagine that Lisey made the cannibal cookie. But she did, and she came up with that idea all on her own. 😉 )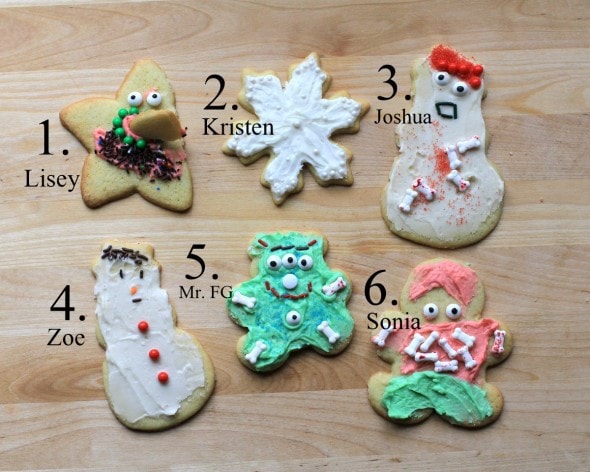 As a backup plan, I'm awarding the $50 Amazon gift card to the reader who got the closest the soonest. Yesterday morning, Kevin emailed his entry and got everything right except that he flip-flopped Sonia and Zoe.
So, Kevin, the $50 gift card is coming your way!
Thank you all for playing along! We'll do it again next year.
By the way, don't fret if you didn't win this one…I have at least one more giveaway coming up this week (for another $50 Amazon gift card), and that one won't require any guessing. 😉
(I'll try to get that post up tomorrow morning so that the winner can still squeeze in some Amazon shopping before Christmas.)
I'm hoping to be back this afternoon to share a little something with you, but last time I promised a second post in a day, it didn't happen.
So, I'll say that maybe I'll pop in this afternoon, if real life doesn't get in the way. 😉
_______________
Joshua's 365 post: When a Christmas tree gets an x-ray….