(Today's title references a post I wrote: You don't need whiskers to do that.)
This week, I'm thankful:
for my dad's help with my piano bench
My poor piano bench has really been through it these last 25 years; not only did it survive my own four children, but it also was used by hundreds of piano students.
And it's been through multiple moves as well.
So, I was not terribly surprised when it developed a major issue after this move.
This repair was beyond my skill level, and besides, I have almost no tools right now. Time to ask for help!
I put the bench in my van and brought it over to my dad's workshop, where he custom cut a piece of oak to reinforce the broken part.
And he also installed a SERIOUS hinge, which should hold up better over time.
for cold showers
It's been muggy and humid this week so I haven't wanted a hot shower at all; after my morning walk, the cool water feels SO GOOD.
for air conditioning in my van
Zoe and I were running some errands on a super hot day this week and I felt so, so thankful for working air conditioning in my van!
for the wineberries in my backyard
I've been eating them on my oatmeal and adding them to fruit salad.
for this cute kitten
His name is Mark and he is so tiny that he almost feels like he weighs nothing when you pick him up. SO CUTE.
for the flowers I see on my walks
I know Queen Anne's Lace is generally an invasive plant but I do enjoy seeing it along the paths where I walk!
And I like these tiny daises as well.
for an evening with my sister-in-law
We went to a yoga class last night and then hung out together afterward. I am so thankful for her; she is a delight, and we always have fun together no matter if we are painting furniture or treasure-hunting at the abandoned house or hiking or just sitting in the car chatting.
My brother made a very good choice. 🙂
for our cat
She makes my girls so happy, and that makes me happy!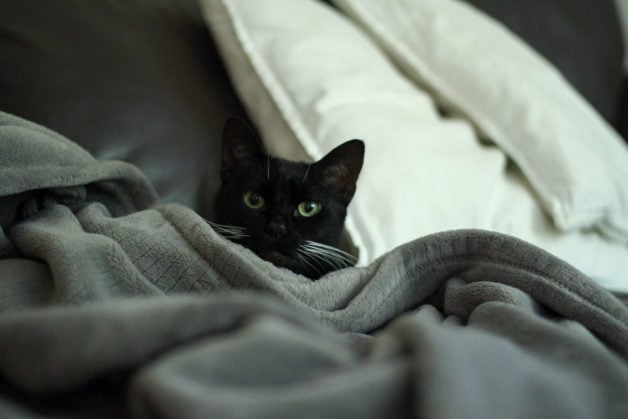 that I got my schooling situation figured out
I think I finally have all my ducks in a row now. I'm taking developmental psychology and microbiology this fall, and since my high school records are too old to qualify, I'm also adding in a non-credit chemistry class.
And after this fall semester, I can finally apply to nursing school. Yay!
What are you thankful for this week?