Life sure would be sweeter if everybody would

Look for the good in everything
And it made me think about the ripple effect that our own personal thankfulness can have on others.
Of course, looking for the good is primarily helpful for our own hearts. But by extension, our thankful hearts can bless other people.
Generally, people with thankful hearts make more pleasant company than people who do nothing but complain, and also, people with thankful hearts usually end up expressing appreciation directly to the people around them.
In addition, your thankfulness can inspire thankfulness in other people. I know that so many of you have commented that you feel encouraged by reading about things that other people are thankful for.
Sometimes, we don't even notice something lovely until we see someone else appreciating it!
Like, some of you have told me that because I post pictures in appreciation of beautiful sights in nature, you too are more likely to notice and be thankful for the beauty around you.
Anyway! Thankfulness is good for us and it can also affect others in a good way.
(Please note: I am not suggesting you weaponize thankfulness in order to change other people. Totally not the point. Focus on your own thankfulness, and the ripples will naturally flow out to other people. 😉 )
This week, I am thankful:
for blue skies
Once the clouds and rain disappeared last Thursday, we had some beautiful blue skies and I was so happy I almost cried tears of joy.
I've said it before and I'll say it again: I really do not think I am a person who is supposed to live in the Pacific Northwest.
I just don't know if I could handle as many days of clouds as they have out there. I might turn into sort of a sad Kristen. 😉
for the green
Ohhhh, my heart is happy when I take walks these days. It's just green, green, green everywhere.
for foggy skies
So, blue skies are the most elite, in my opinion.
But on occasion, I adore a foggy morning.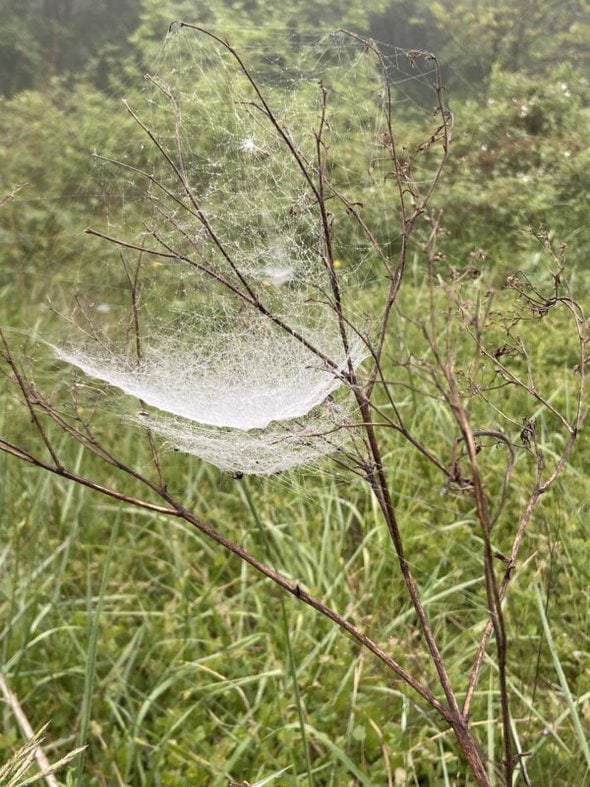 And I got one this past week! I was very excited to go out for a walk and see what my usual trails look when they were shrouded in fog.
I was…not disappointed.
Fog makes everything look so super interesting, in a mysterious sort of way.
for upcoming blackberries
Last summer I picked lots of blackberries on the trails by my neighborhood, but I didn't get to see them in their flowering stage.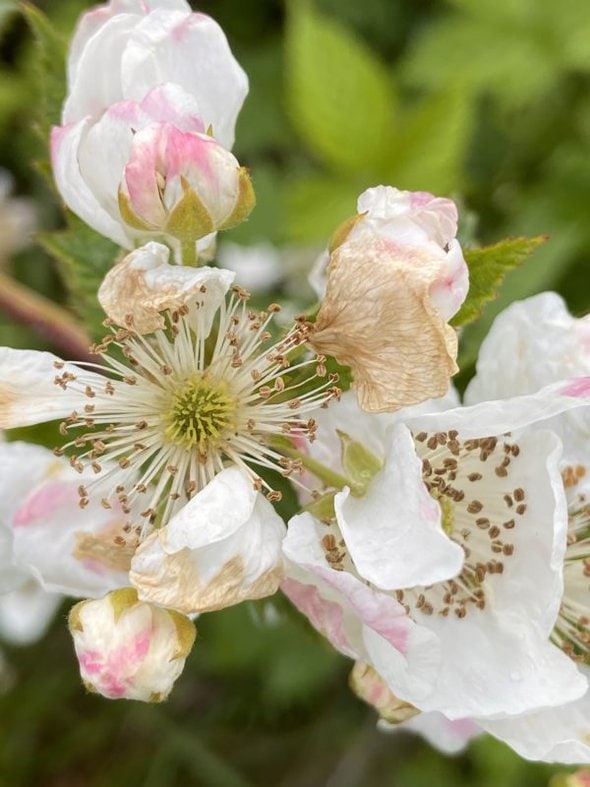 This year, though, I'm noticing all the blooms, and I will be patiently watching as the berries form and ripen.
for our cat
This week, I went to take a shower and discovered her in the tub, which made me laugh.
I thought, "Hmm, this is sort of unusual behavior."
And then I realized her water bowls were empty! She was probably looking for some drops of shower water because she was thirsty.
for the way cats like to sit in particular places
I like how she loves to sit underneath chairs or benches; I think she believes she's invisible when she does that.
for the animals I see as I walk
I spied a little box turtle one day this week.
And I see deer pretty regularly too.
that my taxes are finally done
Oof, my CPA and I ran into so many hiccups along the way, but thank goodness, my blog's tax returns are all done. Woohoo!
I learned so so much this first year of having my blog registered as an S-corp, and so I think next year, tax-time will be less…hiccupy. 😉
for my Hungry Harvest produce
I mainly get a Hungry Harvest box every other week because….it encourages me to eat more produce.
I appreciate that! It really helps me with the "eat more of the good stuff" way I try to approach my food.
(I don't mean to vilify any foods. By "good stuff" I just mean that I am looking for things to eat that have a lot of nutrients. And that definitely includes produce!)
By the way, the salad spinner in the picture is this one from Good Grips and I really like it. 10/10!
What are you thankful for this week?