When I was a kid, the only curry I had ever tasted was the yellow sort you use in Indian cuisine. But in the last few years, Cook's Illustrated introduced me to Thai red curry paste and OOH I love this way more than yellow curry.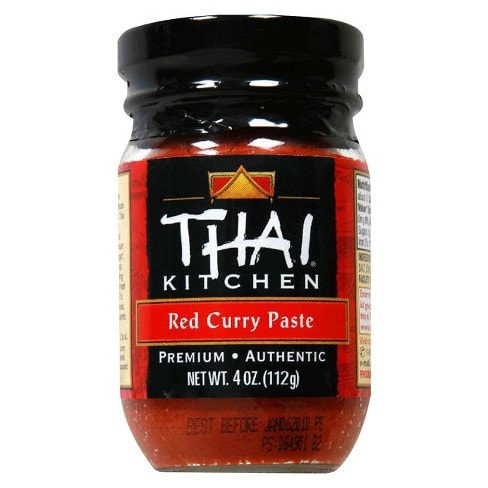 So delicious! And the bottle usually says something about it being spicy, but I never think it's very hot at all. And neither do the spice-averse people that I feed, so you can trust that this is not going to burn your tongue.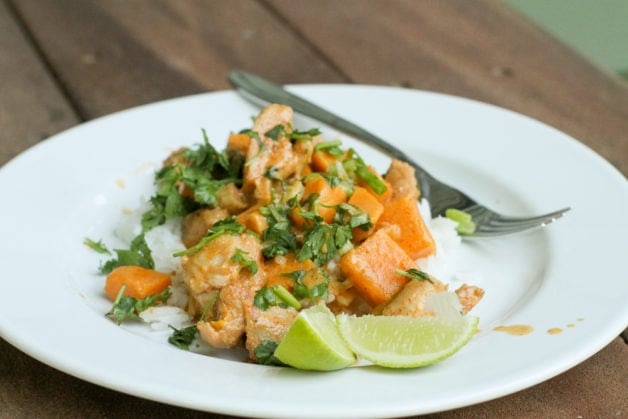 I initially tried this recipe a while back because it uses coconut milk, and I was always looking for dairy-free recipes for Sonia. But I liked it so much, I am still making it even though I am not feeding Sonia every night.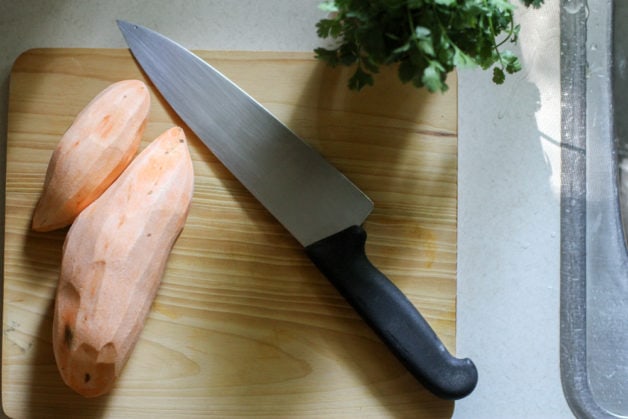 That's how you know a dairy-free recipe is good: you want to eat it even if you can have dairy!
My theory on that is the same as with gluten-free foods…the cuisine that is naturally dairy or gluten-free is always, always tastier than the dishes that are modified to be free of dairy or gluten.
Anyway, my last Hungry Harvest box contained a bag of sweet potatoes, so I put this on the menu, and then it occurred to me that I should share the recipe with you.
Things I like about this recipe:
it's pretty quick to throw together
it uses chicken thighs, which are nearly impossible to overcook
it tastes great leftover
it includes cilantro, lime, and red curry paste, all of which I adore
you can prep a lot of it ahead of time if you wish
This recipe's main components are chicken thighs and sweet potatoes, and I often get those ready earlier in the day.
I also sometimes prep the green onions, cilantro, and limes; that way when it's dinnertime, I can get this onto the table really quickly.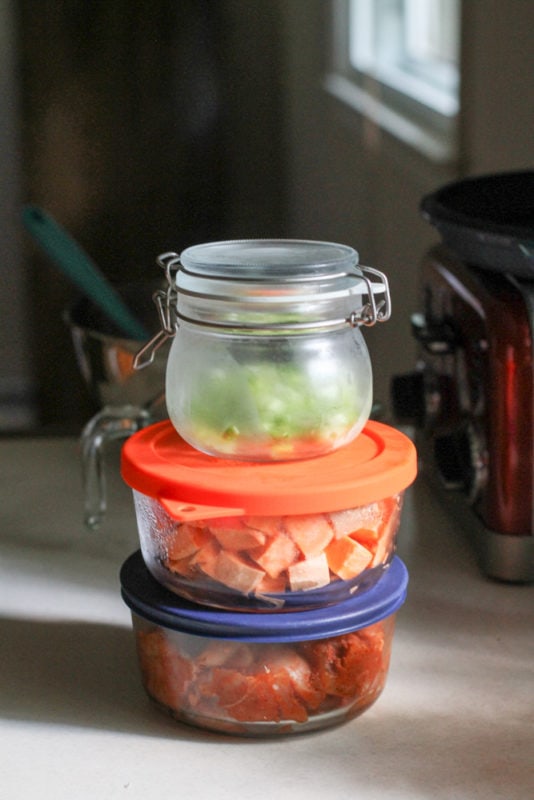 I got this recipe from Dinner Illustrated (full review of that cookbook here), and the only change I've made is to use the whole can of coconut milk. The original recipe called for a cup, and then I was left with an awkward amount to use up.
Now I just dump the whole can in and it seems to work fine.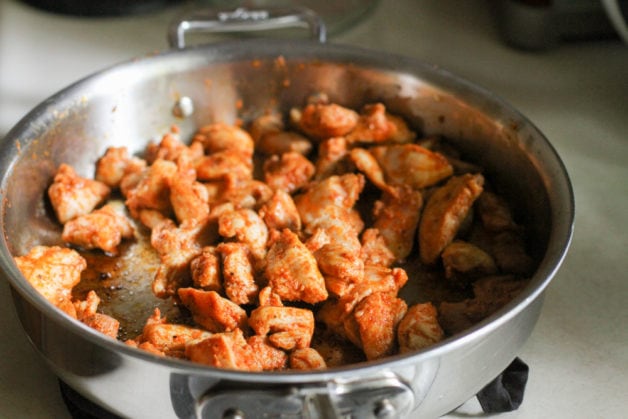 If you don't have fish sauce, you can use soy sauce instead. And the recipe calls for topping the curry with peanuts, but I never have done that, due to Sonia's peanut allergy.
While I skip the peanuts, I do always top my curry with scallions, cilantro, and lime wedges because they take the curry from good to awesome.
Scroll down for the printable recipe!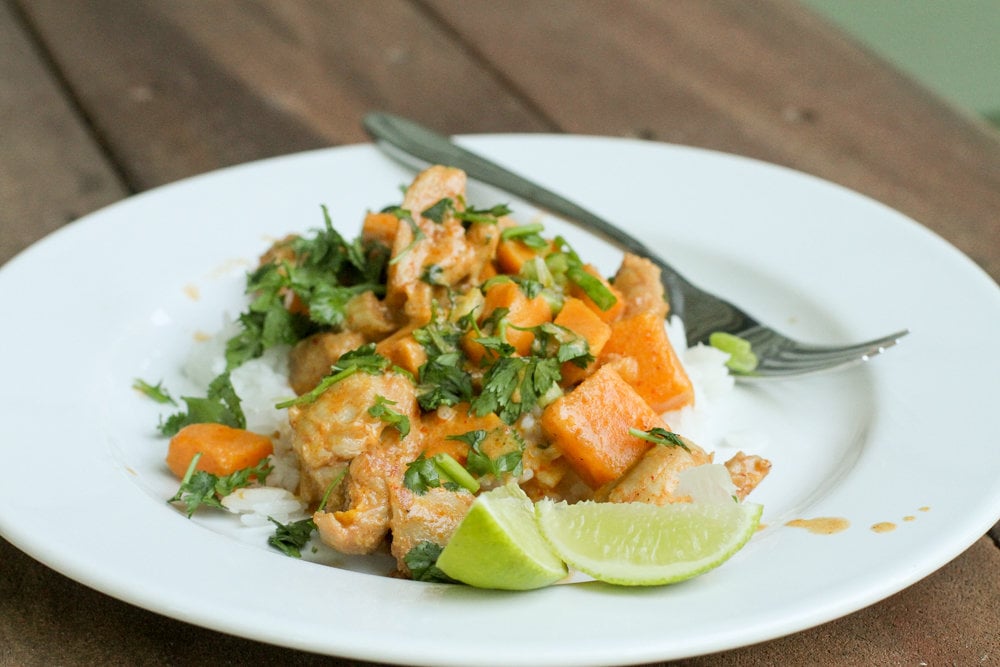 Thai Red Curry with Chicken and Sweet Potatoes
This quick meal is naturally dairy-free!
Ingredients
1 pound sweet potatoes
1 1/2 pounds boneless, skinless chicken thighs
2 tablespoons red curry paste
1 teaspoon vegetable oil
1 13.5 ounce can coconut milk
1 tablespoon fish sauce
Toppings
4 scallions, sliced
fresh cilantro, chopped
1 lime, sliced
1/4 cup chopped dry-roasted peanuts (optional)
Instructions
1. Peel sweet potatoes and cut into 1/2 inch cubes.
2. Trim fat off chicken; cut into 1-inch chunks. Toss with curry paste, 1/2 teaspoon salt, and 1/4 teaspoon pepper.
3. Heat oil in large skillet until shimmering; add chicken and cook 3 minutes, or until chicken is browned (it doesn't need to be cooked all the way through yet).
4. Stir in coconut milk, fish sauce, and potatoes and bring to boil. Reduce heat and simmer about 10 minutes, stirring every few minutes, until chicken is done and potatoes are tender.
5. Season with salt and pepper to taste, top with cilantro, peanuts, and scallions, and serve over rice, with lime wedges on the side.
Notes
You can prep the chicken (I mix the chicken chunks with the seasonings) and cut the sweet potatoes ahead of time; just refrigerate until you're ready to cook.
I used full-fat canned coconut milk; you could try using lite canned coconut milk, but I would not use the coconut milk that comes in refrigerated cartons.
Nutrition Information
Yield

4
Serving Size

1
Amount Per Serving
Calories

667
Total Fat

41g
Saturated Fat

24g
Trans Fat

0g
Unsaturated Fat

15g
Cholesterol

208mg
Sodium

888mg
Carbohydrates

33g
Fiber

6g
Sugar

9g
Protein

49g