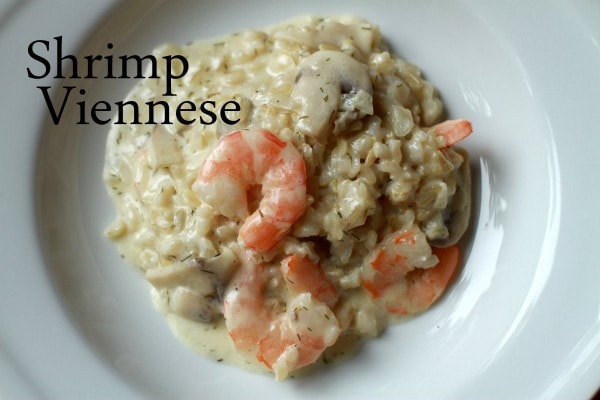 When I shared my dinner photo with you the other day as evidence that I had indeed resisted takeout temptation, a lot of you asked for the recipe, and I'm here to oblige.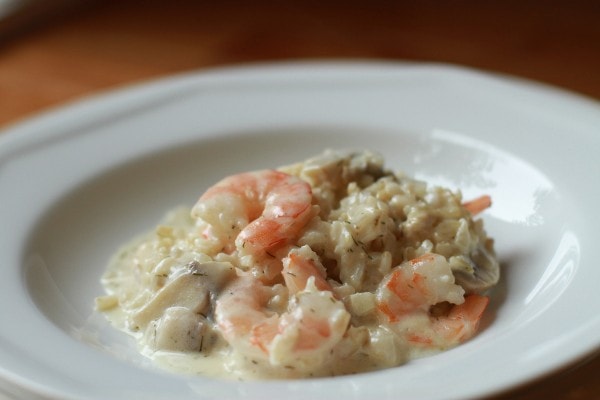 This recipe comes compliments of my aunt, and she got it from someone at church, and that means I haven't the faintest idea where it originally came from.
Basically, though, it's a rice casserole with a delicious shrimp and mushroom cream sauce.
(I just want to say that creamy sauces are pretty much the best thing in the whole world.)
I don't have step-by-step pictures, but I'm sure that if you can read, you can manage with the photos that I do have.
Ok. So, to make this, you need shrimp. That automatically puts this into not-so-frugal territory, but as shrimp dishes go, this one does stretch 'em more than usual. So, you could think of it as frugal if you're comparing shrimp recipes to shrimp recipes.
Just don't compare it to a lentil soup recipe.
Anyway.
For the tastiest shrimp experience, do yourself a favor and buy raw shrimp. Pre-cooked, pre-peeled shrimp are handy, to be sure, but they just do not taste as delicious.
The recipe calls for a pound of cooked, peeled shrimp, but I just steam a pound of raw, unpeeled shrimp and call it good.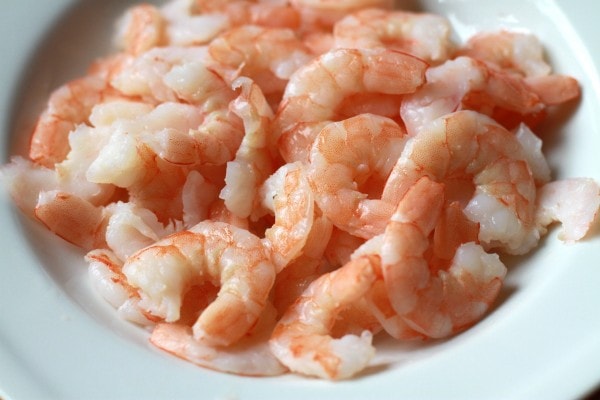 To help the shrimp distribute through the dish well, slice them in half lengthwise. They should still have their shrimpy shape…they'll just be thinner. You could just chop them in half, but that wouldn't look as beautiful.
You'll also need cooked rice. The recipe calls for 3 cups, but since I like my rice to be sauce-erific,I only use 2 cups of rice. More sauce, less rice, I say!
You can use white or brown rice, but I usually use brown. Because when I'm making a recipe that calls for cream and a stick of butter, health is clearly my top priority.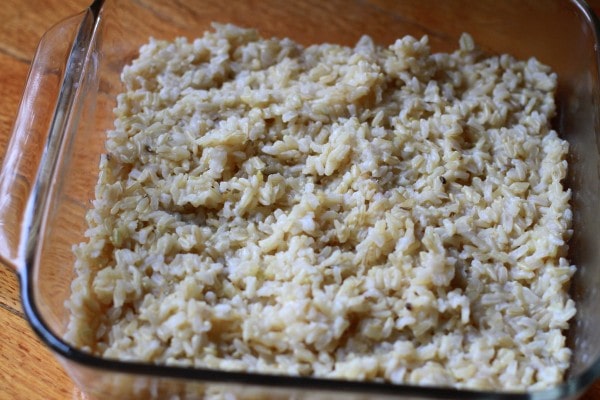 Speaking of butter and cream…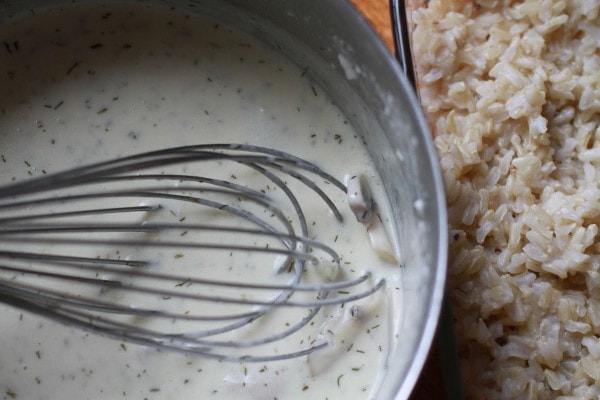 That's the sauce. Making it is pretty simple…it's a lot like making a cream soup base (like we do for Baked Potato Soup.) You saute chopped onions in butter, stir in flour, stir in the liquids, bring it to a boil while stirring, and boil it for a minute to thicken it up.
After the sauce is done, stir in the cooked shrimp.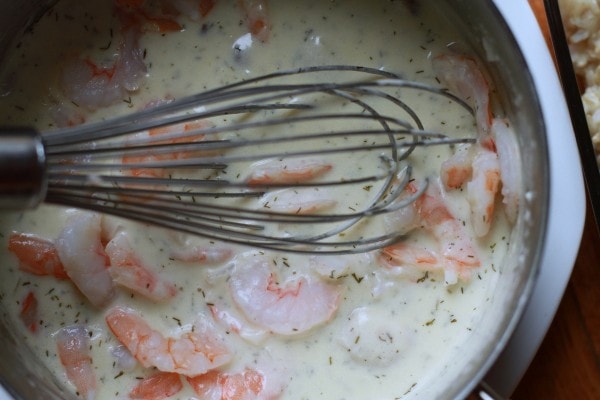 Pour the sauce over top of the rice.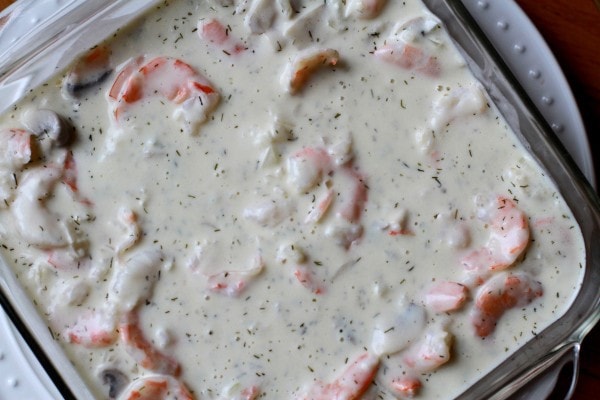 Cover with foil and bake at 350 ° F for 15-20 minutes, or until heated through. Be careful not to overbake it because that will dry your shrimp out. You're not trying to cook anything; you're just bringing it all to a even temperature.
Dish up onto your $0.50 white Goodwill plate and admire how beautiful it looks.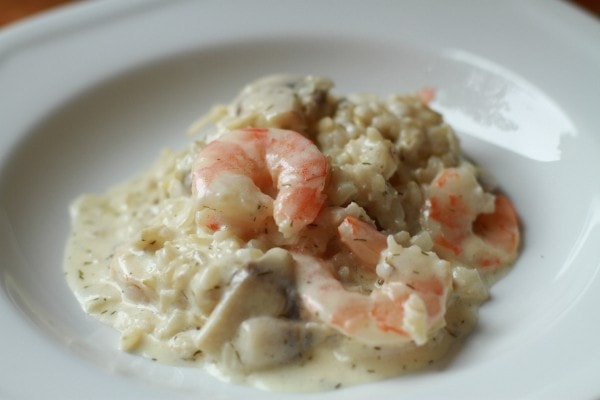 How many this serves sort of depends on how hungry your diners are, but I'd say that you could easily feed 4 adults with this recipe (it serves the six of us just fine, but my children definitely don't have adult-like appetites at this point in their lives!)
This dish is definitely best the day it's made because the chilled sauce doesn't reheat all that well and because it soaks into the rice, making the dish not as creamy. So, don't make an enormous pan of this unless you're feeding a lot of hungry people.
Shrimp Viennese
2 tablespoons onion
6 mushrooms, sliced
1/2 cup (1 stick) butter
1 tablespoon flour
1/2 cup chicken broth
1/2 cup cream
2 tablespoons lemon juice
1 tablespoon white cooking wine
1 teaspoon dill
1 pound shrimp, cooked, peeled, and sliced in half lengthwise
2-3 cups cooked rice
In a saucepan over medium heat, saute onions and mushrooms in butter until onion is softened. Whisk in flour. Whisk in chicken broth, cream, lemon juice, wine, and dill. Cook and stir over medium heat until sauce boils. Boil and stir for 1 minute to thicken sauce. Add salt and pepper to taste (I usually add none, but if your butter and broth are unsalted, you may need to add salt).
Stir shrimp into sauce. Place rice into an 8×8 inch baking dish and pour the sauce evenly over top. Cover pan with foil and bake at 350 ° F for 15-20 minutes, or until heated through.
__________________________
Today's 365 post: Do you notice clouds?
Joshua's 365 post: Pizza Smile!
Save