I know you are very good at keeping to a weekly food budget but don't you ever feel that you should also have a stocked pantry in case of food shortages?

Am I the only one suffering from some anxiety about this or do your other readers feel this?

-Holly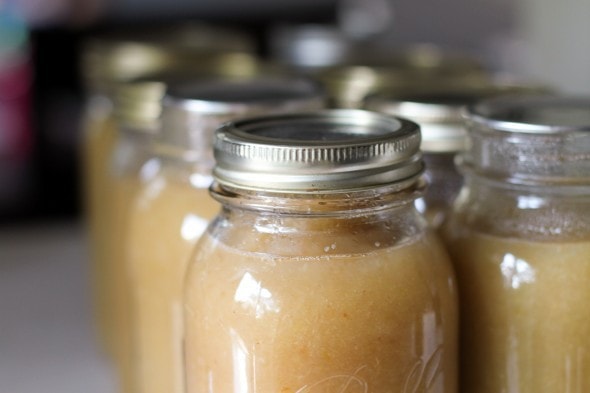 Hi Holly!
I definitely am a person who keeps a stock of food in my house at all times. My chest freezer is usually pretty full, my laundry room pantry shelf always has food in it, my kitchen cabinets have food in them, and I have two big buckets of flour in my laundry room as well.
If pressed, we could eat off of our stash of food for quite some time. It wouldn't be the most well-rounded diet (no fresh produce!), but we would not starve.
So, in the spring of 2020, when grocery stores weren't well-stocked (and again recently) I did have peace of mind in knowing that I had plenty of food for us to eat.
There are other reasons I keep a stash of food here too.
It's not the end of the world if I skip shopping
Keeping a stock of food here also means that if I don't get to the store one week, it's not that big of a deal.
I like to stash seasonal food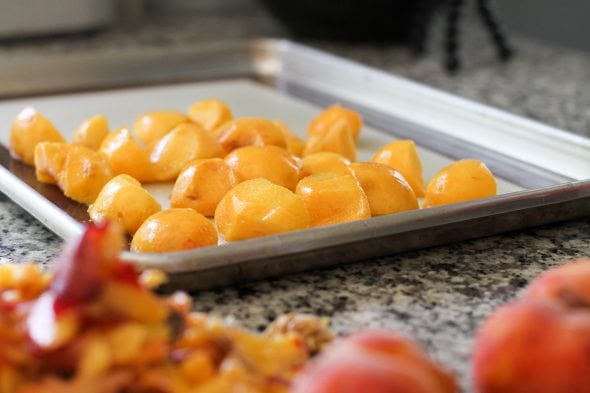 When peaches are in season, I buy boxes of bruised ones and freeze them.
(Here's how to freeze summer peaches.)
When apples are in season, I buy boxes of bruised apples, make applesauce, and freeze it.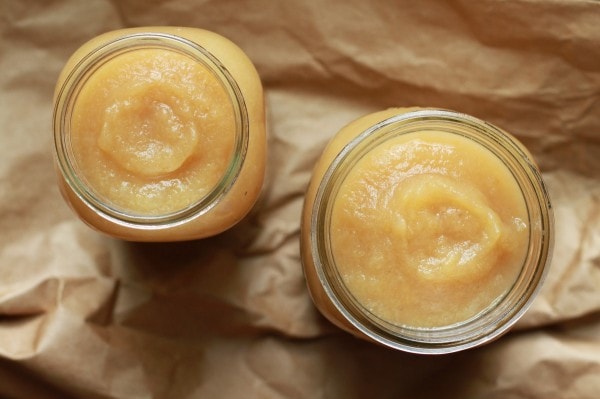 A bulk purchase is often cheaper
I have two big buckets of King Arthur flour in my laundry room because a 50-pound bag purchased online is way, way, cheaper than the five-pound bags from the store.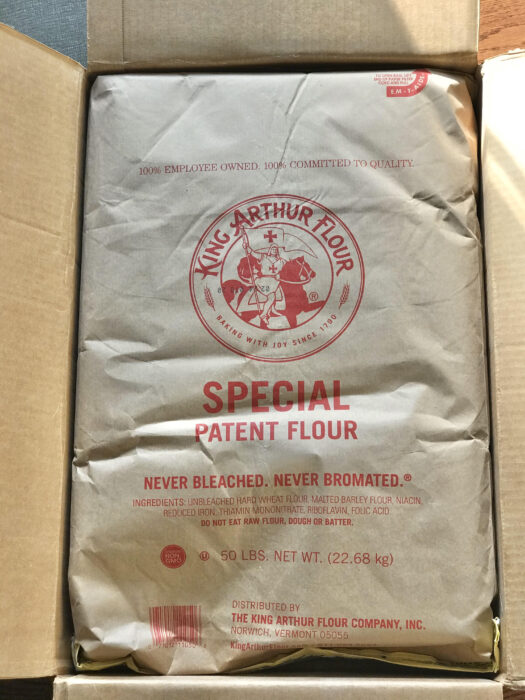 And I buy a case of coffee from Amazon because it's cheaper than individual bags at the grocery store.
I like to stock up if something is on sale
If I see a good markdown on something shelf-stable or freezable, I like to buy multiples and then store them for future use.
I like having backup items
On my pantry shelf, I always keep an extra jar of mayo, an extra bottle of vegetable oil, an extra container of salt, and so on.
That way, when I run out, it's no big deal; I grab one from the pantry shelf and buy another backup item the next time I go to the store.
_________
What about waste?
Of course, maintaining a stash of food is not without its challenges; it's easy to lose track of what you have and to let things go bad.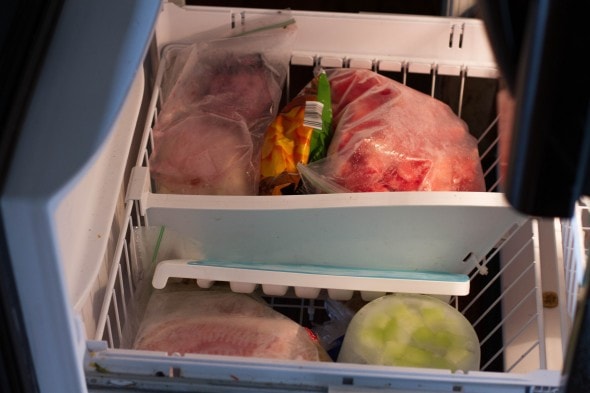 So, that's why I try to do a pantry and freezer challenge about once a year. A challenge helps me keep track of what needs to be used up, and I don't end up with things languishing in storage for five years.
(My food waste course has a module with some pantry/freezer challenge tips.)
How do you build a pantry without going over-budget?
I generally maintain my pantry stash by buying extras of an item or two at a time, not by buying tons of food all at once.
So, my pantry stash has been built while I've been sticking to the grocery budget you see me post here every week.
If I see a great sale on meat, I might spend a disproportionate amount on that one week.
If canned tomatoes are marked down, I buy a bunch of them.
Or if I find some half-bushels of bruised peaches or apples, I stock up on those.
I find this all works out over time; I might spend a bunch on meat one week, but then a lot of my other meal ingredients that week come from my pantry.
I might spend a lot of money on flour when I buy 100 pounds of it, but other meal ingredients that week can come from my pantry.
What if you don't have much storage space?
My house was built in the 1970s, so while I do have more storage space than people who live in super old houses, I wouldn't say I'm exactly rich in storage.
My kitchen doesn't have a pantry, and I don't have a lot of unfinished storage spaces in my house.
But I do have room for a chest freezer, and I have a couple of laundry-room shelves that house extra food.
I have also heard of people getting creative by storing extras underneath beds, or in linen closets.
(I actually have my electric griddle stored in my linen closet because I have no room in the kitchen for it!)
If you want to make some room for a food stash, you might want to consider what else you could declutter to make space for storage. Could you get rid of some other items under your bed, in your closets, and in your kitchen to make some room?
In summation:
Even if you are not at all concerned about food insecurity, I think there are a whole lot of good reasons to keep a stash of food at your house.
And if you don't have much space, you could try keeping a small stash of food. There's plenty of middle ground between a year's supply of food and no supply of food.
Do what's manageable for you!
Readers, what are your thoughts on maintaining a store of food at your house?