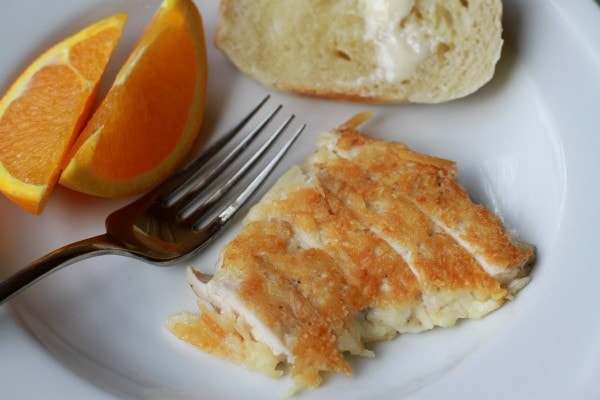 Want to guess where I got this recipe?
(No, that's too easy, probably.)
That's because about 68.987% of my recipes come from the same place…Cook's Illustrated. I've waxed rhapsodic about them many times before, so I'll spare you. I'll just say that their recipes are, well, marvy-fab. 😉 Well worth the price of admission.
Ok. This recipe is basically just very thin chicken breast pieces coated with Parmesan cheese. They're then cooked in a skillet until the cheese has turned into a crispy crust. Simple, but tasty.
You can't make these with the sort of Parmesan that comes in a round cannister, mind you. You'll need to buy an actual triangle of Parmesan cheese.
Cook's recommends using fancy-schmancy Parmesan, but I've never done that. I just use the $5 or so blocks that can be had at supermarkets, and this last time, I used a block from Aldi (I love it when they carry those!)
I'm sure Parmigiano Reggiano would make this even more delicious, but I am The Frugal Girl, after all, and since I'm totally happy eating $5 Parmesan, I've never splurged for the really good stuff.
To get started, you'll need to make three mixtures for dredging the chicken breasts. The first one is flour and grated Parmesan.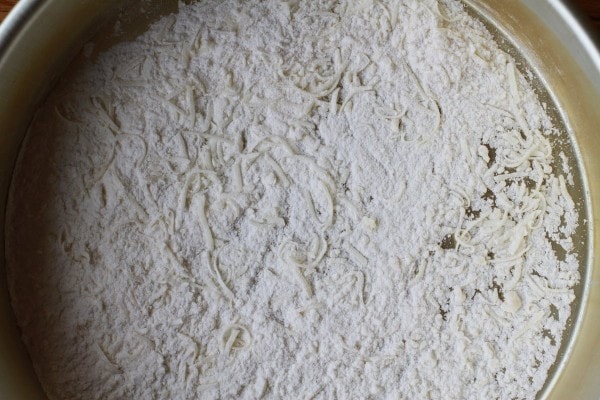 The second is mostly beaten egg whites.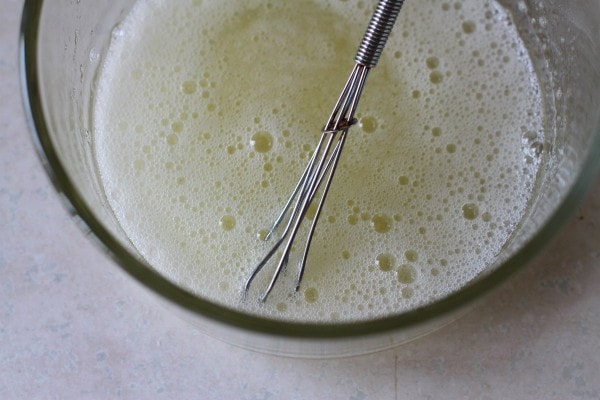 And the third is shredded Parmesan with a tablespoon of flour. This is why you can't buy the grated stuff…you need heftier shreds of cheese.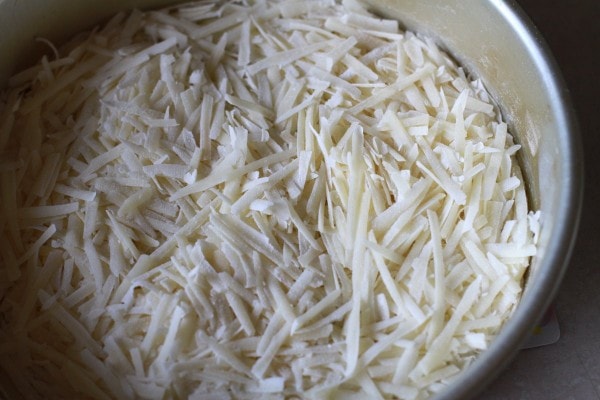 Of course, you'll need some chicken breasts too. Slice them in half horizontally to make cutlets, and then pound them with a meat mallet until they're quite thin.
If you don't have a meat mallet, you can probably improvise with something else in your kitchen. In the early days of our marriage, I sometimes covered the end of the tool hammer with plastic wrap and used it. It's not ideal, but it did the trick. 😉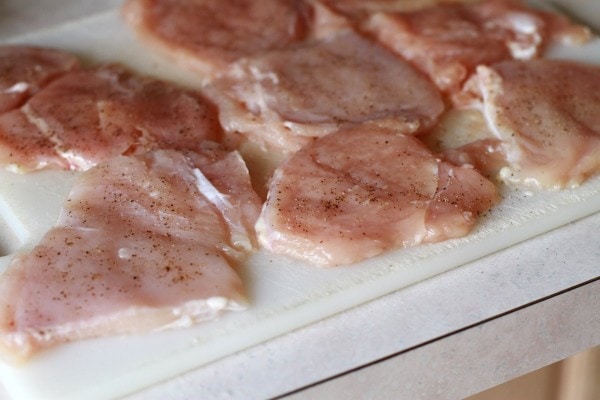 Salt and pepper the chicken to taste.
Next, you'll need to coat the chicken with all three of those mixtures you made at the beginning of the recipe. Working with one piece at a time, dredge the chicken in the flour mixture and shake off the excess.
Dip the chicken in the egg whites, letting the excess drip off, and then dredge in the shredded Parmesan, patting the cheese to help it adhere.
Place the coated chicken on a wire rack placed on a baking sheet, and repeat with remaining pieces of chicken.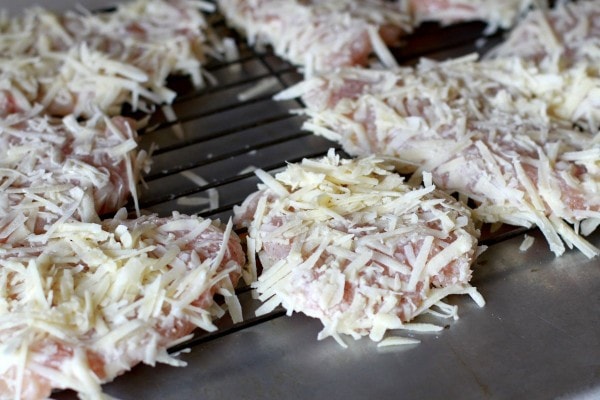 Heat a nonstick skillet or well-seasoned cast-iron pan over medium heat with a few teaspoons of the oil of your choosing. I wouldn't recommend trying this in a stainless steel pan because melted Parmesan is really, really sticky.
Trust me, I've tried and lived to regret it.
Cook the chicken for about three minutes, or until the cheese on the bottom side is browned. Carefully loosen the chicken from the bottom of the pan, flip it over, and cook for about another three minutes, or until the underside is browned and the chicken is cooked through.
If you're using a cast-iron pan instead of a nonstick pan, you may need to add more oil when you flip the chicken. Err on the side of more oil the first time you make this and you can adjust as necessary in the future.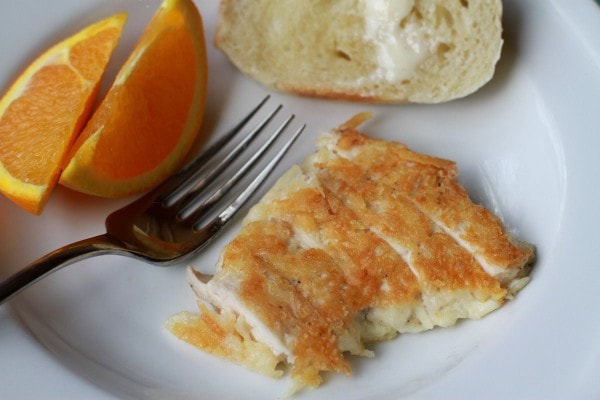 Also, depending on how big your pan is, you may not be able to cook all the pieces at once. Don't overcrowd the pan, as that can make it tricky to flip the chicken pieces. If you're worried about your first batch getting cold, you can keep it warm in a low oven (around 200 ° F).
You know what would be lovely on a plate with this chicken? The sauteed green beans I showed you last week (also from, you guessed it, the people at Cook's Illustrated.)
You can click on the picture to be taken straight to the recipe.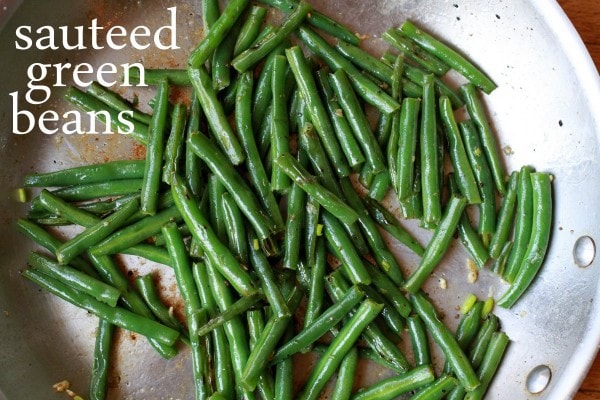 A crusty loaf of homemade French bread goes along pretty nicely too.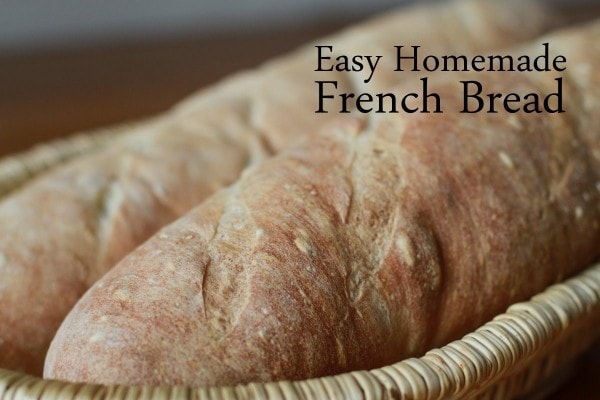 Aaaand here's the recipe for the chicken.
Parmesan Crusted Chicken
Print this! (1-page PDF version)
2 boneless, skinless chicken breasts (8 ounces each), tenderloins removed, breasts trimmed of excess fat and halved horizontally
Salt and ground black pepper
1/4 cup unbleached all-purpose flour plus 1 tablespoon
1/2 ounce grated Parmesan cheese (about 1/4 cup)
3 large egg whites
2 tablespoons minced fresh chives (optional)
6 ounces shredded Parmesan cheese (about 2 cups)
4 teaspoons olive oil
1 lemon, cut into wedges (optional)
Cut chicken breasts in half horizontally (you can partially freeze them to make this easier) and then pound them until they're 1/4″ thick. Salt and pepper to taste.
In a pie plate, combine 1/4 cup flour and grated Parmesan.
In a bowl or pie plate, whisk egg whites and add chives if using.
In a third pie plate, combine 2 cups shredded Parmesan and remaining tablespoon of flour.
Working with one piece of chicken at a time, dredge chicken in flour mixture; shake off excess. Dip in egg white mixture, let excess drip off. Dredge in shredded Parmesan mixture, then place on a wire rack placed atop a baking sheet. Repeat with remaining chicken.
Heat two teaspoons of oil in a 12-inch nonstick skillet over medium heat. Add chicken (you may need to cook it in two separate batches) and cook for about three minutes, or until the cheese on the underside is golden brown. Carefully flip chicken and cook for another 3 minutes, or until the underside is golden brown and the chicken is cooked through. Repeat with remaining chicken and oil.
Serve with lemon wedges, if desired.
Save