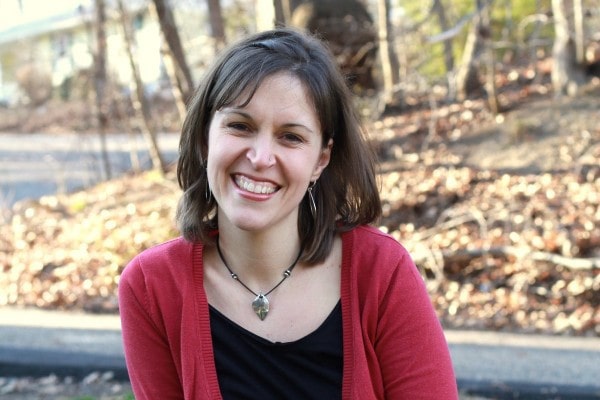 It's been a long time since I've done one of these, I know…you've been asking me for a new installment for quite some time now.
I often think about writing one and then decide against it because that day is an odd day. But really, most days and weeks have something unusual going on, don't they? I mean, how often do you have a week where everything happens according to the schedule and no extra events or errands are thrown in?
It's pretty rare around here.
This is one of those deviate-from-the-ideal-schedule days…it's not ideal because I had to run errands after lunch, but it's a real day nonetheless, from last week.
The other times I wrote this type of post, Mr. FG was working first shift, which made our days start and end early. So, this will be a lot different…we now keep night owl sort of hours. 😉
7:45-I roll out of bed, put my contacts in, check the weather on the computer (is it a long-underwear kind of exercise day?), read email, check Twitter, and get dressed.
8:00-I go for a walk. Sunny mornings are just the best, aren't they?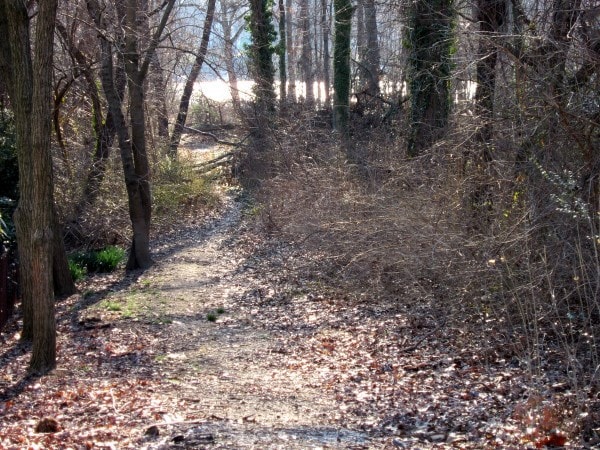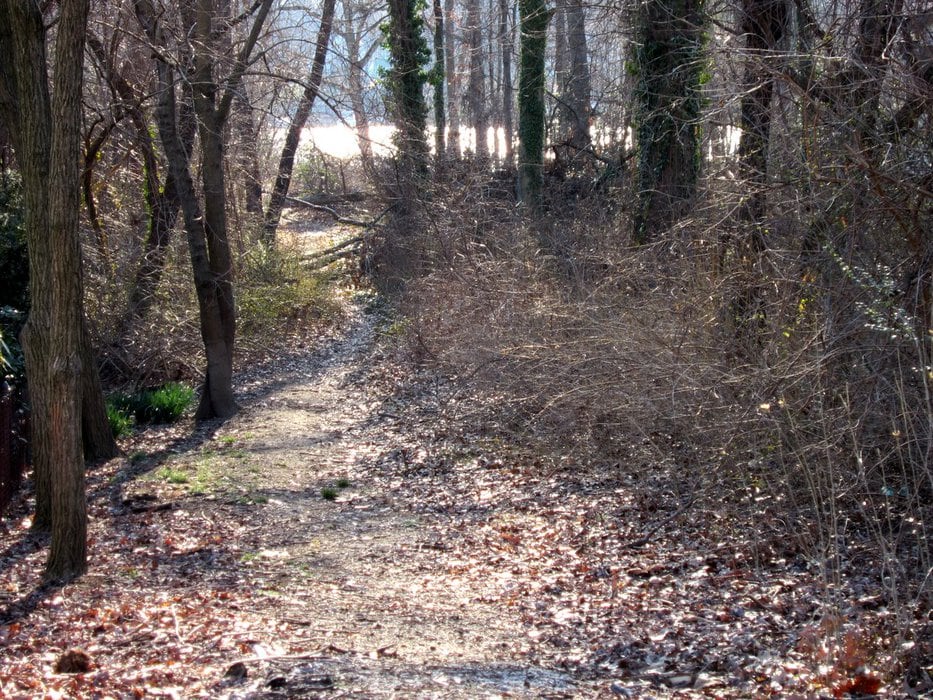 I pray while I walk, and the kids and Mr. FG eat breakfast while I'm gone. It's pretty nice that the kids can take care of that meal themselves…a big change from 5 years ago when I had a nursing baby and three other young children.
8:30-I'm back home. Mr. FG and Joshua head out for a walk/run together, and I do some calisthenic exercises (these vary from day to day.)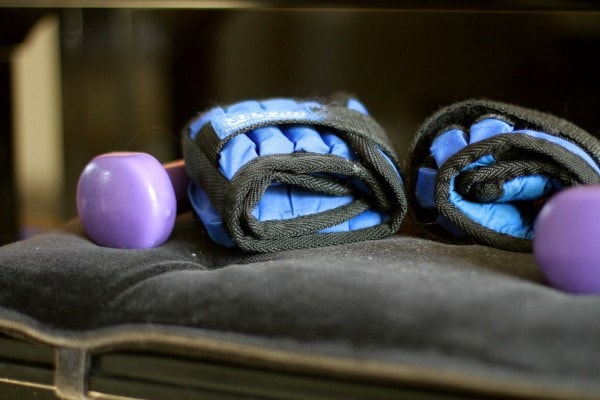 I have some spinach that needs using, so I make a green yogurt smoothie for breakfast (homemade yogurt, berries, bananas, and spinach).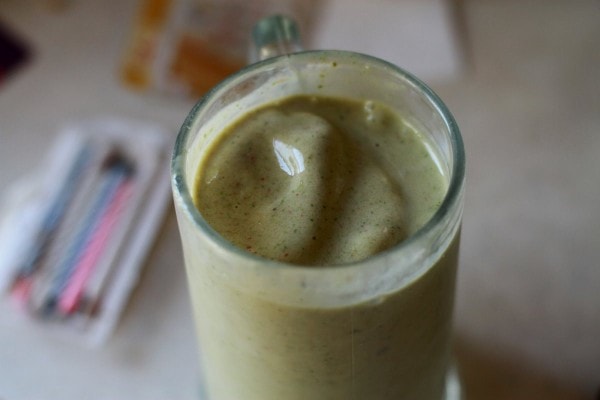 9:00-Mr. FG and Joshua are back, so we all gather in the living room for family worship. We read the Bible, pray, and after that, we read aloud from whatever book we're currently reading as a family.
Right now, it's Charlie and the Chocolate Factory. Augustus Gloop and Violet Beauregard have both been disposed of, and I know Veruca Salt is up next. 😉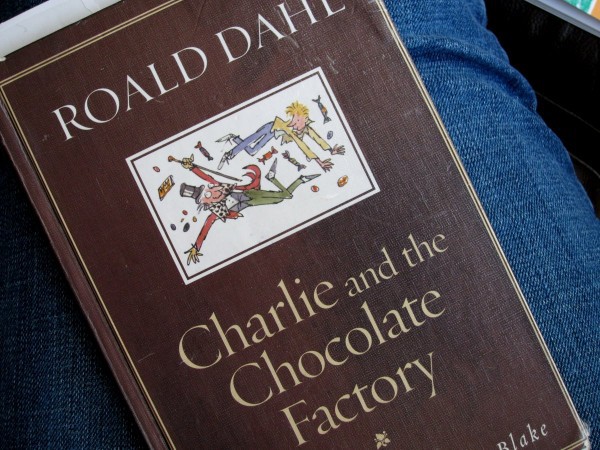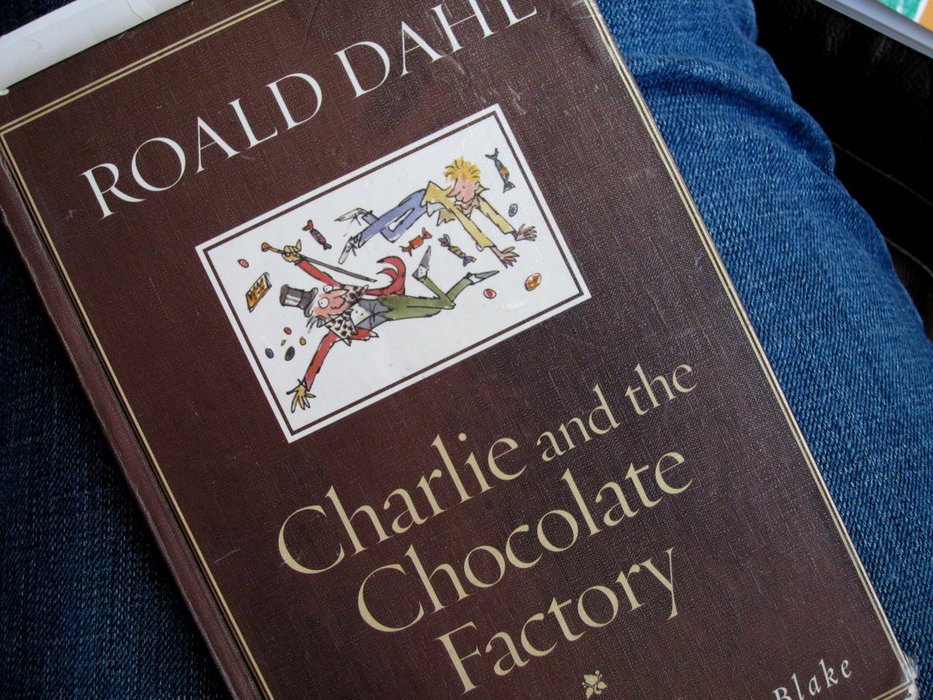 I read our fiction book, but Mr. FG handles the Bible-reading, and I fold laundry while he does that (I pay much better attention when my hands are busy!)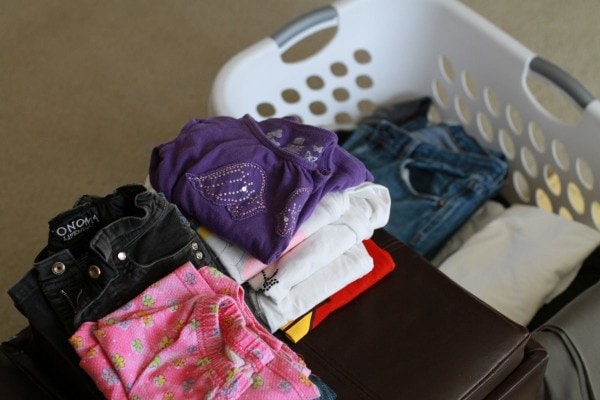 9:30-I put away the folded laundry and clean up the breakfast mess in the kitchen. The kids clear the table, but I need to clean up my smoothie mess and put some food away.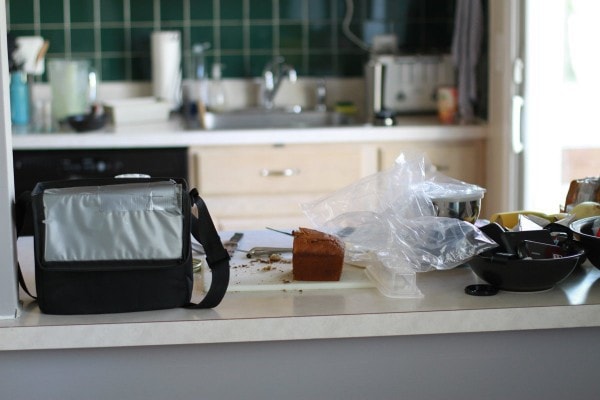 I have to cook our main meal in the morning, and it's so helpful to not have breakfast mess hanging around while I do that.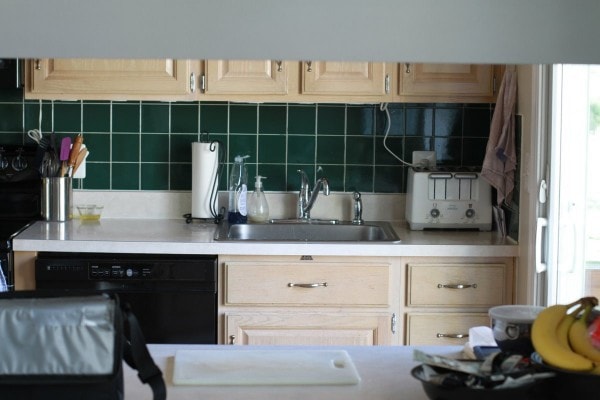 Then it's off to take a shower.
10:15-I'm finished showering, so I get dressed, put the dirty laundry in the laundry room, put on a bit of makeup, and straighten my bangs (they're pretty short right now and if I don't straighten them, they get curly and unruly and end up coming only about halfway down my forehead. It's not a good look.)
10:40-I sit down at the computer to write down what I've been doing so I don't forget! And of course, I check my email, Twitter and Facebook.
I switch a load of laundry around (it's a laundry kind of day, apparently), bring some upstairs, and get some things started for lunch. I'm making wraps, which need cooked bacon. I have a terrible tendency to burn bacon if I'm not careful, so I fold washcloths while I wait for it to cook.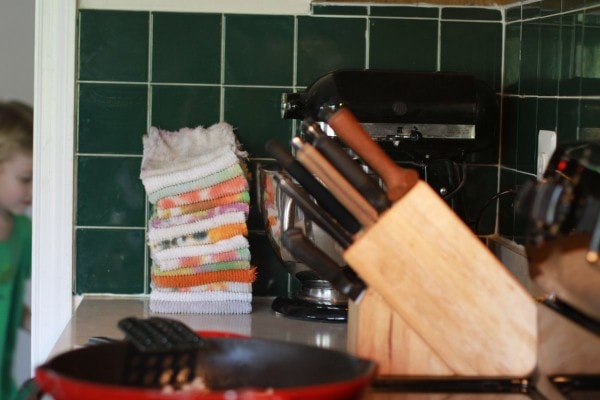 I helped Joshua sell something on eBay, so I package that up, and print a label. I weigh the package on my kitchen scale just to double-check the shipping weight…it's not super-duper accurate, but I always round up a bit just in case.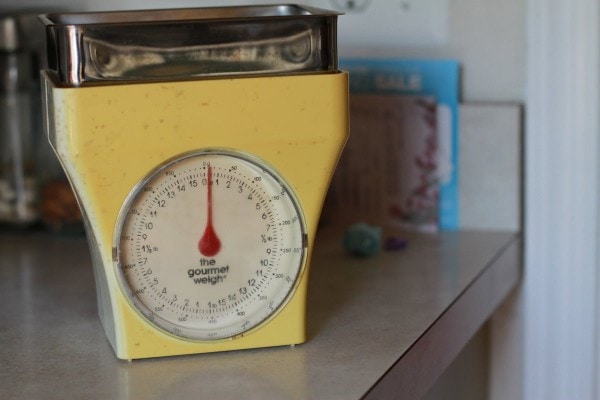 I pack some things for Mr. FG's work lunchbox, and then finish up my cooking. I'm making Chicken/Bacon/Spinach wraps,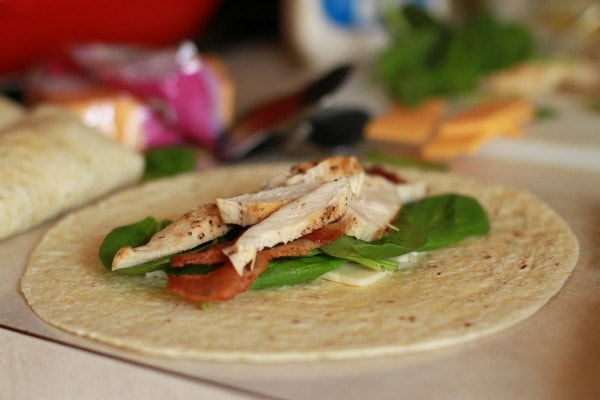 and we're having sauteed green beans (you should try them!) on the side. I remember that some of you wanted the recipe, so I take some pictures while I cook the beans.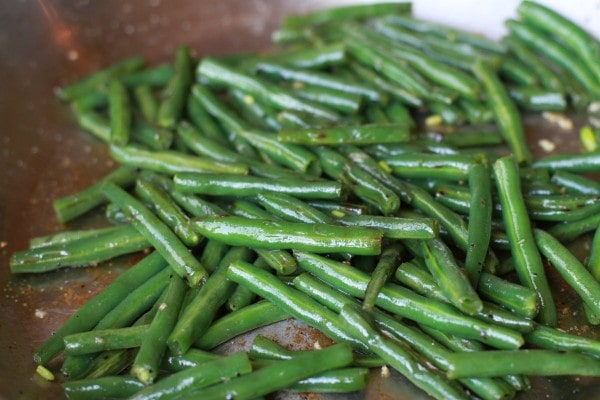 I think I helped Mr. FG with something he was working on too, but I can't remember what!
12:00-We sit down to eat together. Since Mr. FG works second shift now, this is our family dinner for the day.
12:45-We finish eating, clear our dishes, and I finish packing Mr. FG's lunch while he gets dressed for work.
1:00-He's off to work, and after saying goodbye to him, the kids and I head back inside to clean up lunch together.
1:20-Sonia, Zoe, and I leave to run some errands. Joshua and Lisey stay home to do schoolwork (they've also been doing some in the morning.)
We drop Joshua's package off at the post office, drop a few things off at my brother's house, and then pick up 50 pounds of organic red wheat. We order it from a semi-local company (though the wheat is not local), and they drop it off at host homes. The nearest one is about a half hour from my house. On the drive, Sonia and Zoe do their math and Latin flashcards, and when we're done with that, I listen to a new worship album I bought. It's my job to pick out new songs for church, so I'm trying to make a point of listening to new music.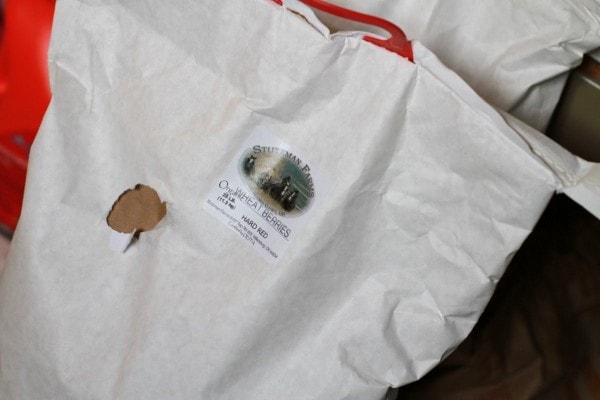 We're making kind of a big circle with our errands, and our next stop is the library. We have a few books on hold, and Sonia and Zoe pick out some books they'd like to read.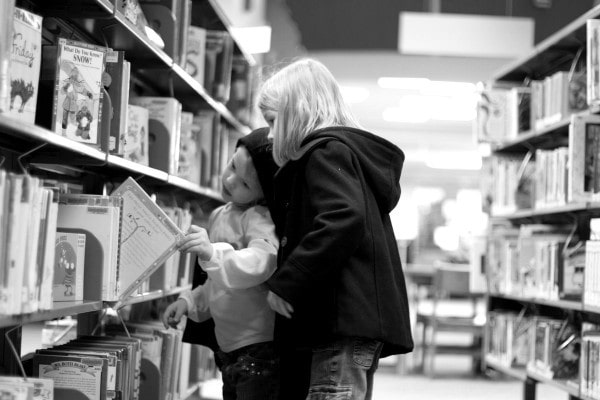 The kids and I often take a picture in the mirror when we leave the library, but usually there are five of us. We decide to take one today just because three is more unusual (everyone goes to the library normally!)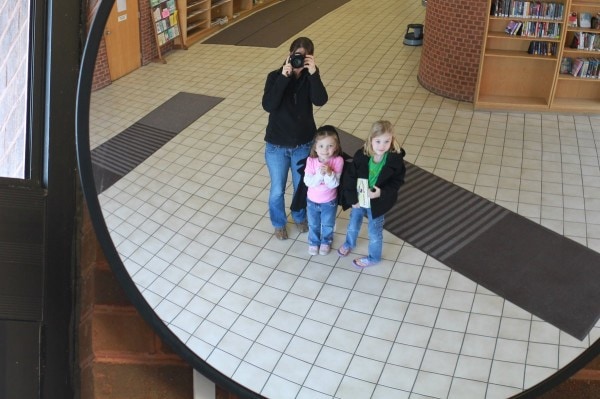 Next, we stop at the organic store for some local chicken. I almost always let the kids pick out a lollipop from the bulk section there.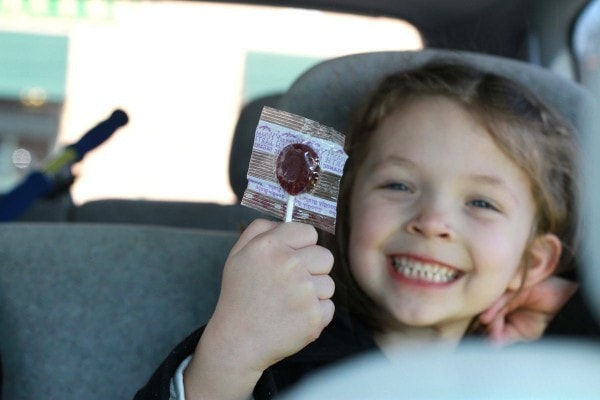 Finally, we stop at the bank to deposit some checks and head home. Phew! At least I got a bunch of errands done on one trip.
3:30-At home, I get Sonia and Zoe started on their schoolwork. On ideal days, we do this right after lunch, but sometimes other things need to be done after lunch. Fortunately, homeschooling is quite flexible.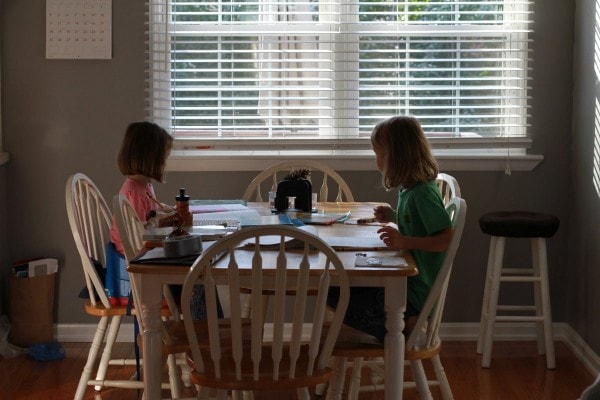 While they work independently, I check Joshua and Lisey's work.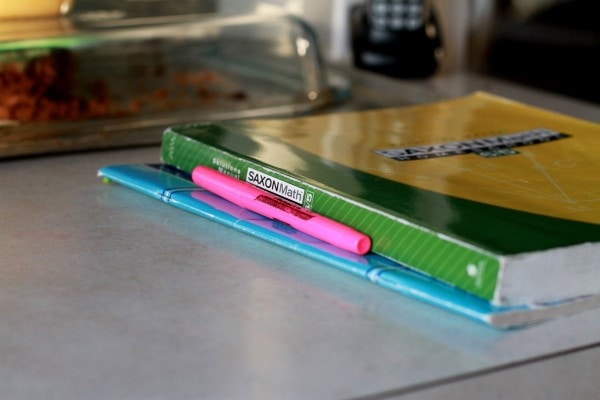 Sonia and Zoe aren't as independent as Joshua and Lisey are, though, so I kind of hop back and forth between correcting work and helping them.
Joshua and Lisey correct their mistakes after I mark their papers, and I help them with that as necessary. I also put away the lunch dishes that I'd left to dry earlier in the afternoon.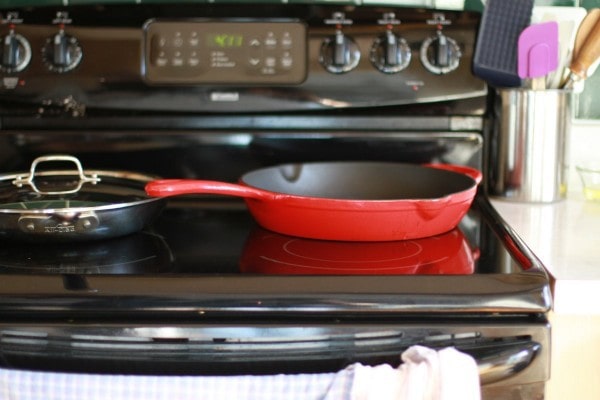 I help Sonia and Zoe finish up their bookwork (for Sonia, Handwriting, English Grammar, Spelling and Vocabulary, Math, Reading Workbook and for Zoe, Math and Handwriting, plus some other busy work that she loves) and then we do what we call our couch work. This is usually comprised of a journal entry, flashcards and read-alouds, but we already did our flashcards in the car. So, I read to them (a Bible book, and several science books), help them do a journal entry, and we're done.
5:00-6:30-The kids and I have a clean up session, I check my email, clean my inbox, approve and respond to blog comments, and do a few other computer tasks.
6:30-7:15-The kids and I eat dinner, which is comprised of leftovers and more lunch-y foods, like yogurt, toast, and fruit. While we eat (I usually finish before they do) I read to them. We're studying the presidents right now for history this year, and we're up to Chester A. Arthur.
We studied Lincoln not long ago, though, and I found a library book about his funeral train, so I read that too. (Abraham Lincoln Comes Home
, which I thought was a very moving account. It almost made me cry, actually. Great text and paintings.)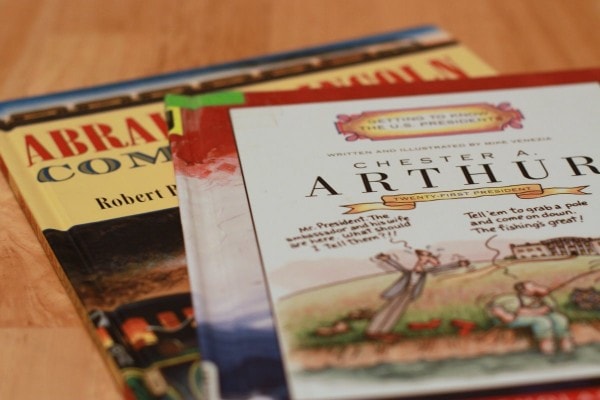 We usually draw or color a picture of each president and then write down some things we learned about him, but since it's getting pretty late, we decide to draw Arthur tomorrow.
7:15-7:30-We clean up dinner, and put away any remaining playthings. Except for the shipping boxes, which the kids are still going to play with (Those aren't just boxes. They're a train!)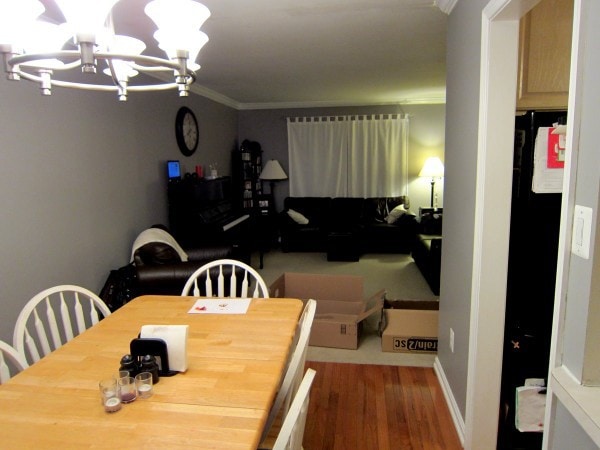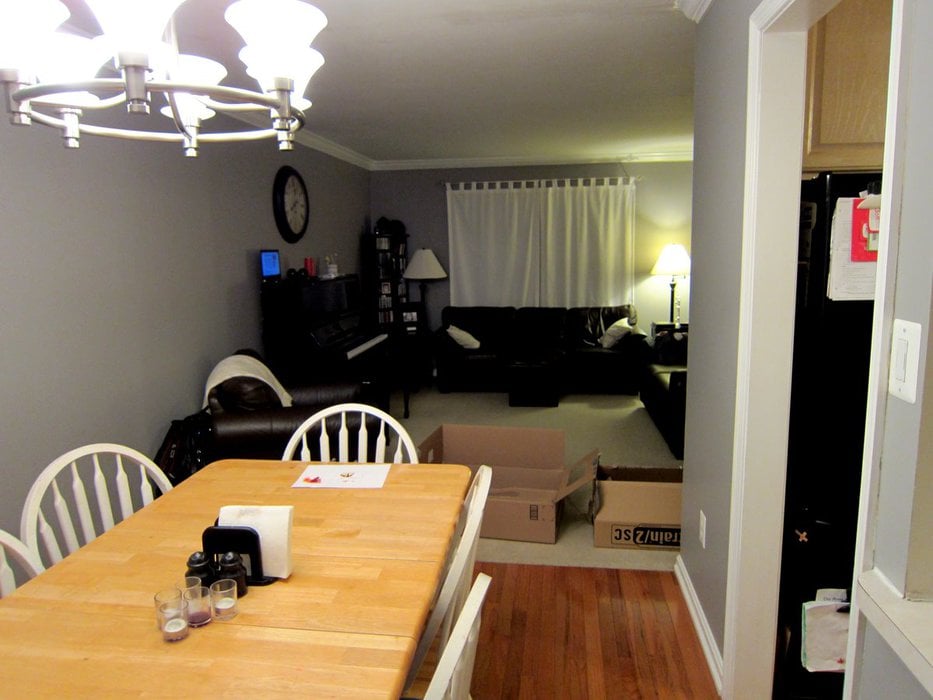 Sonia and Zoe put on their PJs, brush their teeth, give hugs all around, and I tuck them into bed.
7:30-8:30-I do more laundry (I swear I don't usually do laundry all day, but I just had a LOT that needed to be washed this day) and sweep/dust my room. I try to do one household maintenance task at night, like cleaning a bathroom. It doesn't happen every night, as is evidenced by the blanket of dust on my black nightstand. 😉
8:30-9:00-I take care of my email, write to Mr. FG (we write back and forth some while he's at work), and update Quicken.
9:00-10:00-It's blogging time! I write my post for the next morning, put together a 365 post, check Joshua's 365 post, and schedule all three to be published the next morning at 7:00 am EST.
10:00-Mr. FG calls me on his way home from work and we chat while he drives home. I'm not one to sit and talk on the phone while doing nothing else, so I usually find something to keep my hands busy while we talk.
When he arrives home, we try to have a policy of not having any screen time because it's just doesn't help us get settled down for bedtime. So, we talk some more, get ready for bed, and then Mr. FG often reads a book out loud to me while I iron his work clothes (again, I pay attention a lot better when my hands are busy!) Or sometimes we each read our own books.
11:00–12:00-Depending on what time he gets home and what we do after he gets home, we're in bed anywhere between 11:00 and 12:00. 11:00 is a really prompt night for us, and it's rare for us to be up past midnight.
So, that's the end of my day! I hope you enjoyed this little peek into my life.
____________________________
Today's 365 post: I've been carrying my point and shoot on my walks