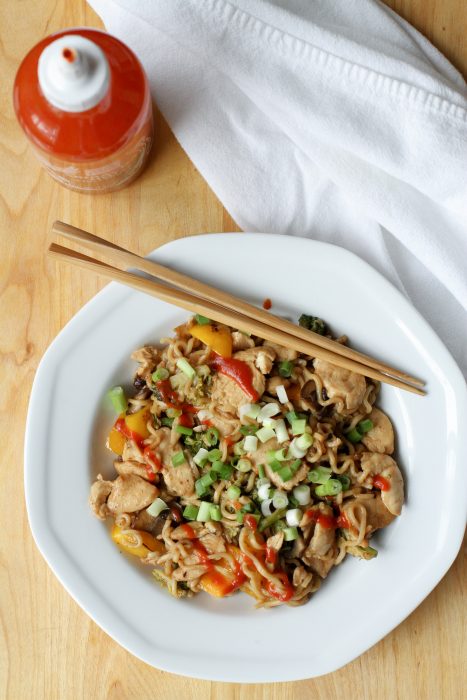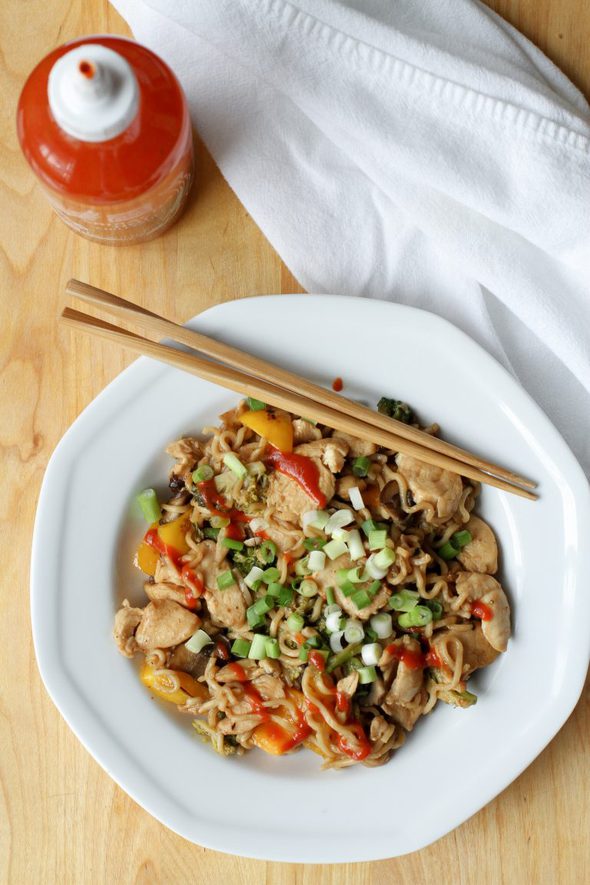 I'm posting this because I shared some step-by-step photos of these chicken and veggie ramen bowls on my Instagram stories last week, and my messages got flooded with requests for the recipe!
This is from the October/November 2017 issue of Cook's Country, and I've made it lots of times over the last year.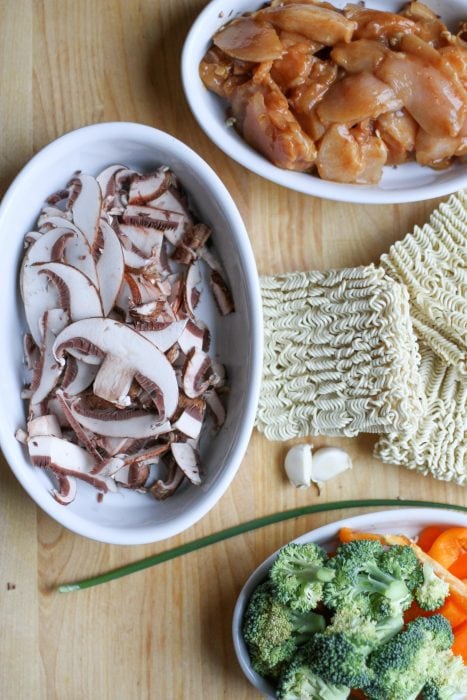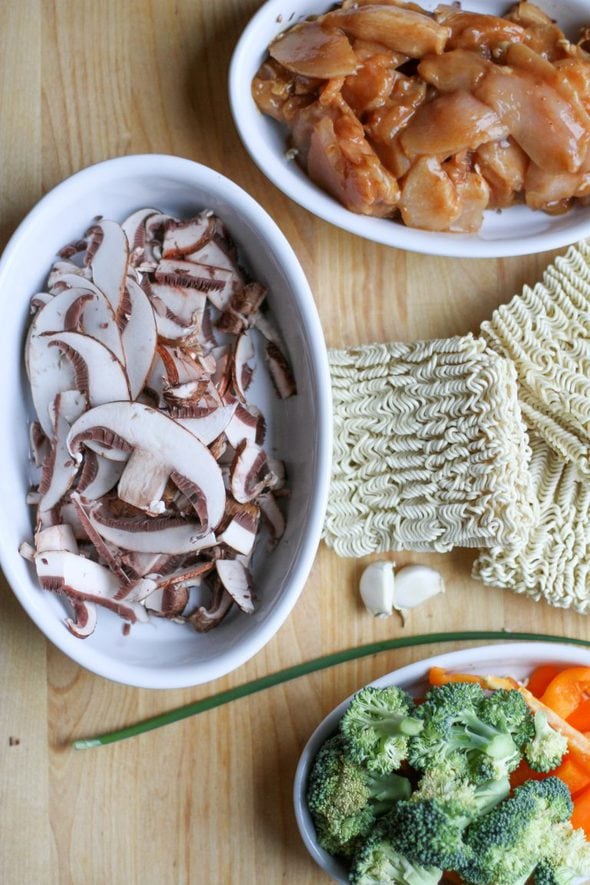 I especially like that you can customize it pretty easily to use up whatever veggies you have on hand, just like you can in this Sausage and Orzo dish.
I've used broccoli, asparagus, and red, orange, or yellow peppers and I'm sure there are more veggies that would work!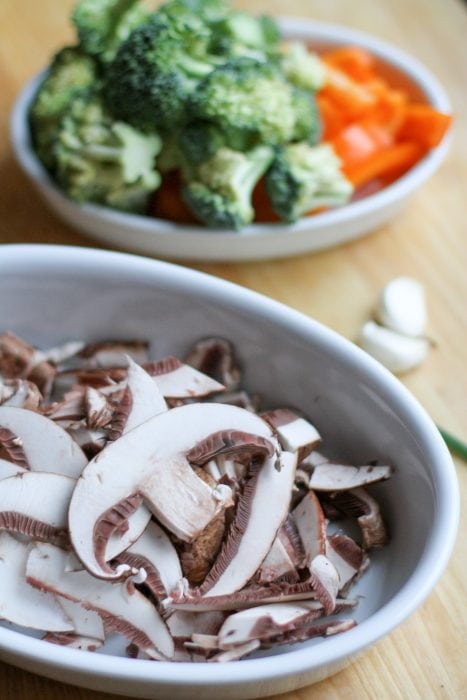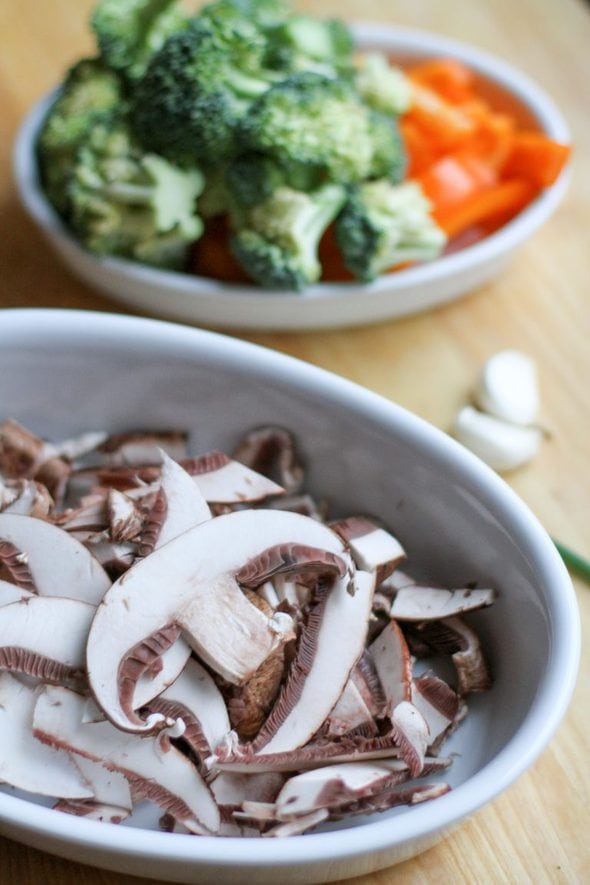 This recipe originally called for pork, but we all like chicken better than pork. So chicken it is.
To make this, you marinate some thinly sliced chicken or pork.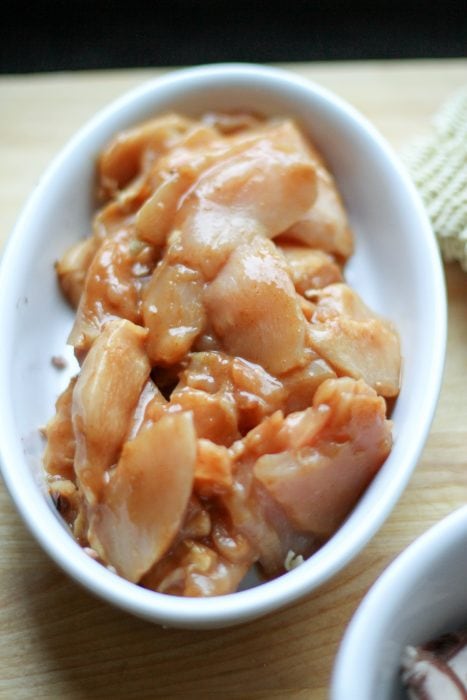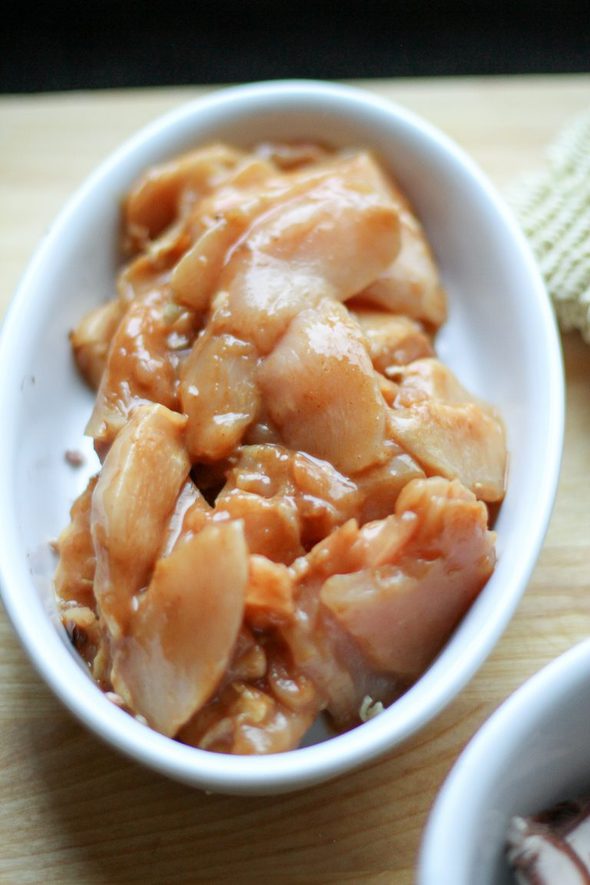 And you make a broth/hoisin sauce/soy sauce mixture to use at the end of the recipe.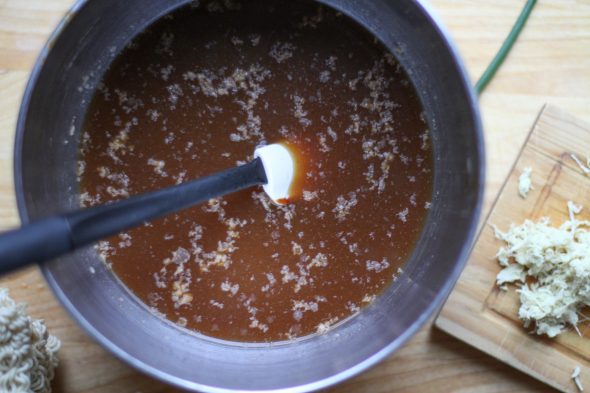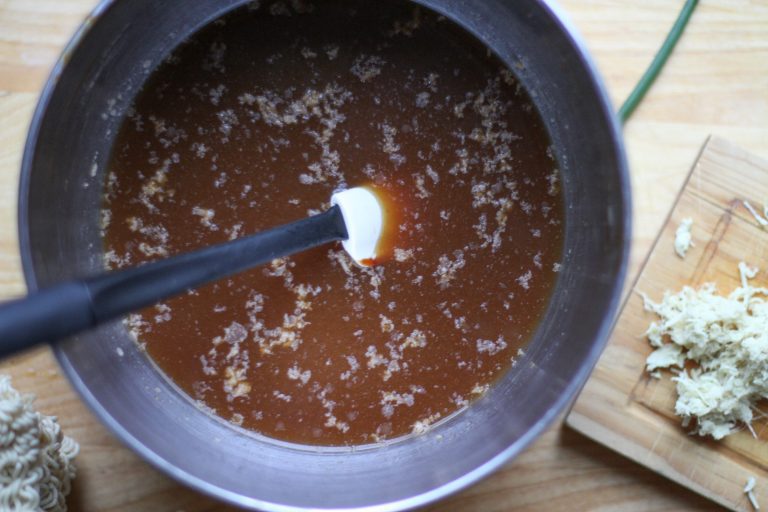 You'll need some packages of ramen, but you'll just be using the noodles, not the sauce packets.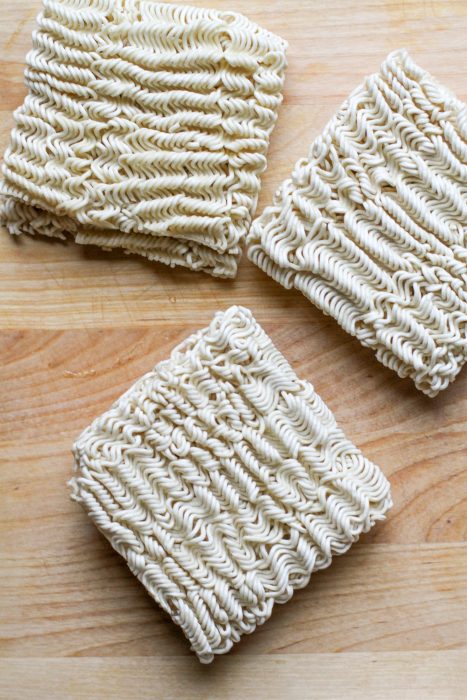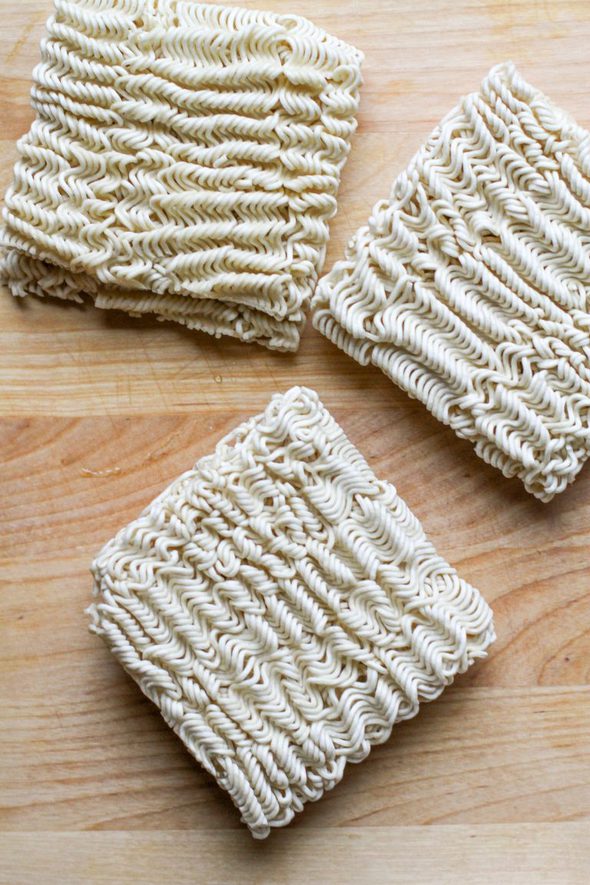 So, you saute the mushrooms, add the ginger and garlic,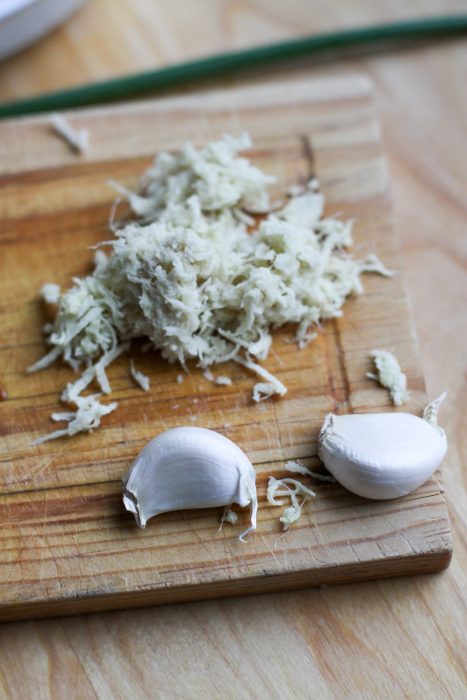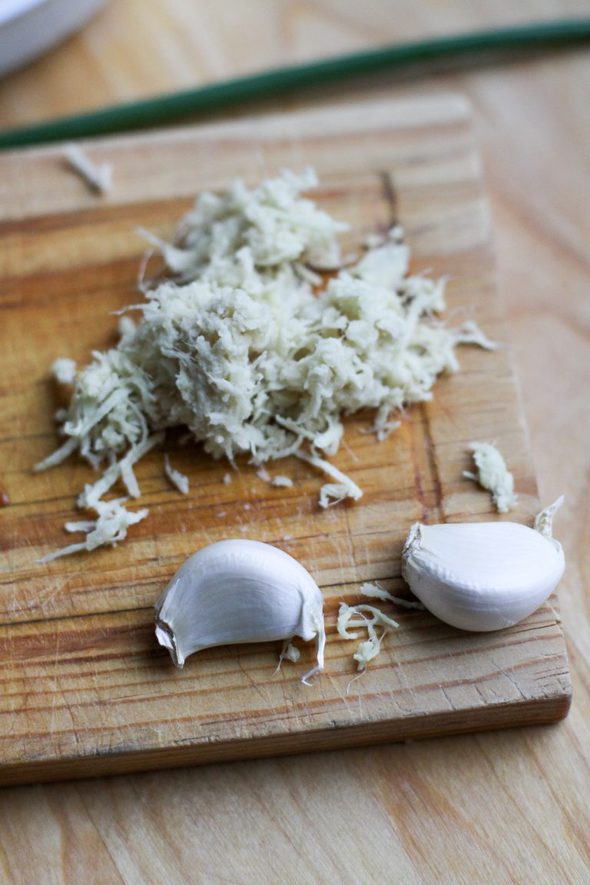 add the broth mixture, and the noodles. You cook them for a few minutes, stir the noodles, then add the veggies on top to steam.
Then you dump the whole noodle mixture into a big bowl, wipe out the skillet, and use it to cook the chicken pieces.
(Yay for one and only one dirty skillet!)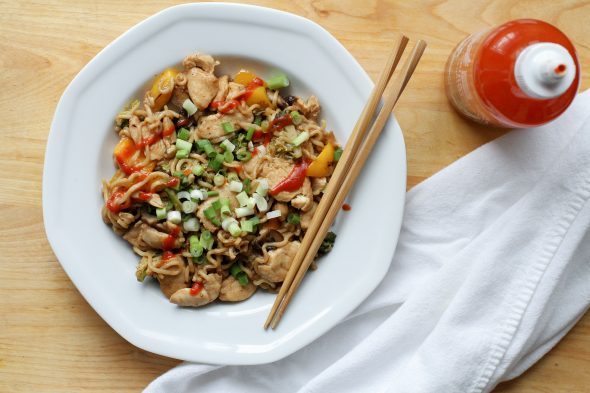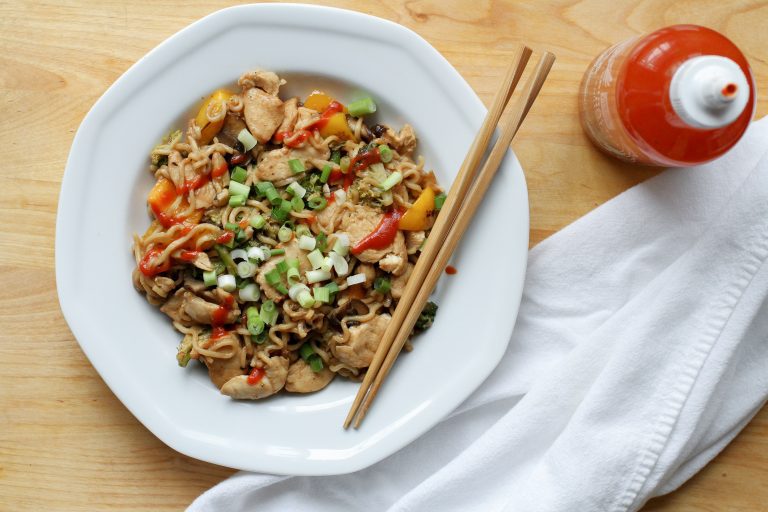 Combine the chicken and the noodle mixture, dish it up into bowls, and top the bowls with sliced green onions.
(and Sriracha if you like.)
(I like.)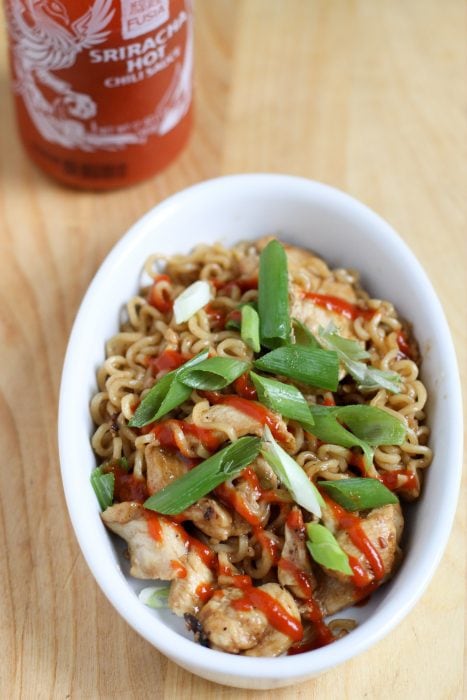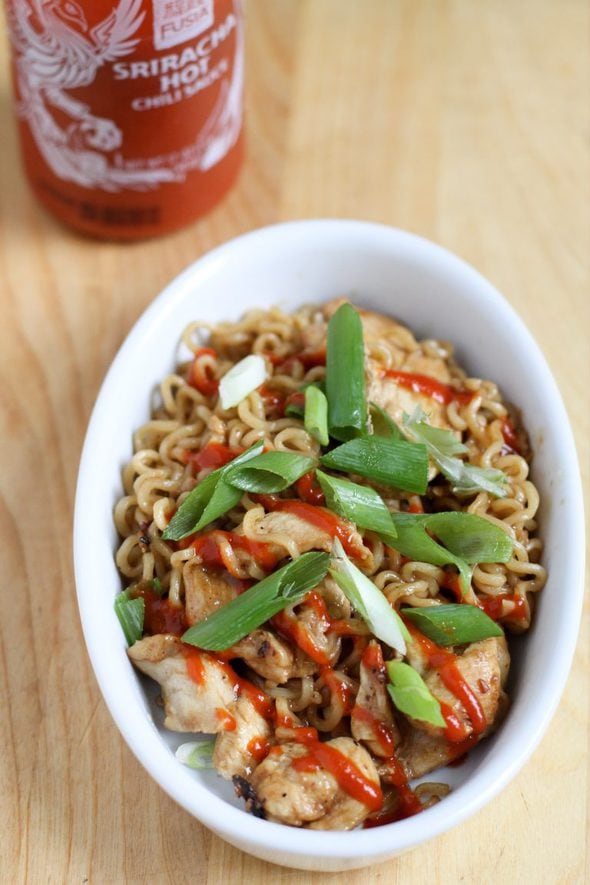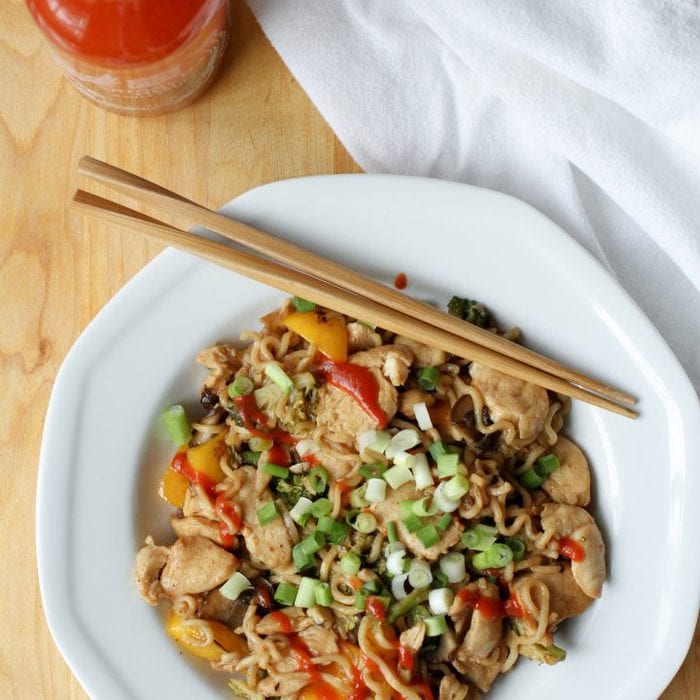 One-Pan Chicken and Veggie Ramen Bowls
Yield: 4 servings

Prep Time: 30 minutes

Cook Time: 15 minutes

Total Time: 45 minutes

These noodle bowls require only one skillet, and they're a great way to use up veggies. Feel free to substitute peppers and/or asparagus for the broccoli.
Ingredients
1/4 cup hoisin sauce
3 tablespoons soy sauce
2 teaspoons cornstarch
12 ounces chicken breasts, sliced thin
2 1/4 cups chicken broth
2 tablespoons vegetable oil
4 ounces white mushrooms, trimmed and sliced thin
1 tablespoon grated fresh ginger
2 garlic cloves, minced
3 (3 ounce) packages ramen noodles, seasoning packets discarded
12 ounces broccoli florets, cut into one-inch pieces
3 scallions, sliced thin on bias
Instructions
In a medium bowl, mix 1 tablespoon hoisin, 1 tablespoon soy sauce, and cornstarch. Add chicken and stir to coat; set aside.
In a separate bowl, whisk chicken broth, 3 tablespoons hoisin, and 2 tablespoons soy sauce.
Heat 1 tablespoon oil in large skillet over medium high heat until oil is shimmering. Add mushrooms and cook until browned. Stir in ginger and garlic and cook for 30 seconds.
Add broth mixture; bring to boil. Add ramen noodles; cover and cook 3 minutes. Noodles will have softened slightly.
Use a pair of tongs to separate noodles; spread evenly in pan. Sprinkle broccoli atop noodles; cover and cook until broccoli is tender, about 3 minutes.
Pour noodle mixture into large serving bowl. Wipe out skillet, return to heat, and add remaining tablespoon oil. When oil is hot, add chicken and cook until browned on bottom (no stirring!), about one minute. Then stir and continue to cook until chicken is no longer pink.
Divide noodle mixture between individual bowls; top with chicken and scallions. Serve with Sriracha if desired.
Notes
One of my kids is allergic to sesame, so I just have to be careful which hoisin sauce I buy. I linked to a sesame-free option below, but there are others out there too.
Recommended Products
As an Amazon Associate and member of other affiliate programs, I earn from qualifying purchases.

P.S. It's Pi day (3.14), but if you hate making pie as much as I do, here's a cookie pie alternative!