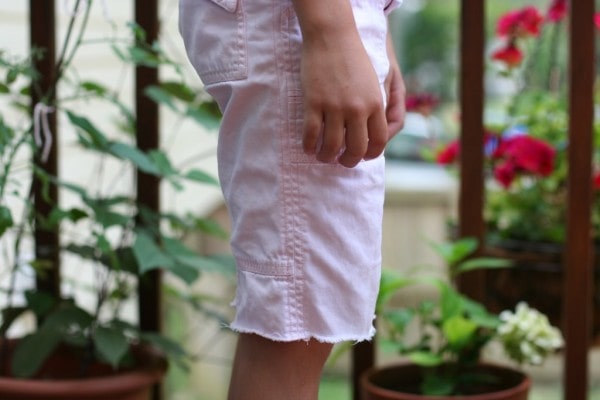 Sometimes when pants start to wear out, especially in the knee area, I like to make skirts (I make plain ones and I recently made a ruffle version). Cute though they are, skirts are definitely not the fastest way to reuse hole-y pants. No, if speed is the name of the game, cut-offs totally rock.
Lisey got a pair of Gap pink long pants for Christmas from her grandmother several years back and this winter, she wore a long, skinny, horizontal hole across the knee.
I really hate doing knee patches on children's pants, so I opted just to cut the legs off. And because I was feeling particularly lazy, I decided not to even bother with a hem and I left a raw edge instead.
These pants were made of multiple panels, though, so if I did nothing, they'd start to come apart after a few washings. So, I just sewed a straight stitch all the way around each leg opening, leaving sufficient room for fraying.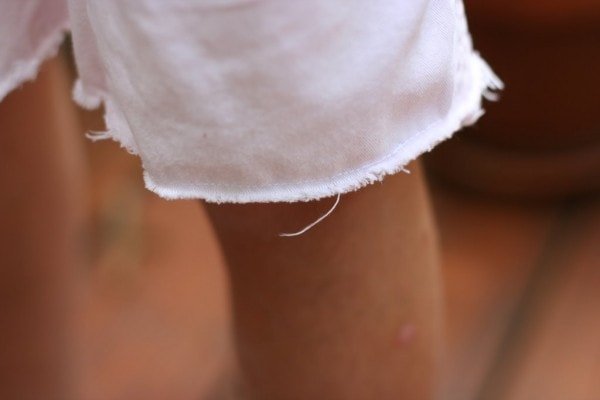 I just cut these off recently, so the fraying is still a work in progress (it gets better with each wash!). And as you can see, there are some threads I need to snip.
I'm really glad to have breathed a little more life into these pants! I left them fairly long, so between the length and the fact that the waist is nowhere near too tight (it's one of the adjustable kind), I think these shorts may carry her through another few summers before she hands them down to her sisters.
The skirts I make from pants make use of the pant legs, but cut-offs really don't. Worry not, though…I didn't throw them away! But, what I did with them is a whole 'nother post, and that's coming on Tuesday. 😉
Lisey's cut-offs are so cute on her, I'm seriously eyeing some pants in my closet and thinking that I might try this for myself too (I've got a pair that are a little too short and have a paint stain on the leg). I'll update you if I give it a try!