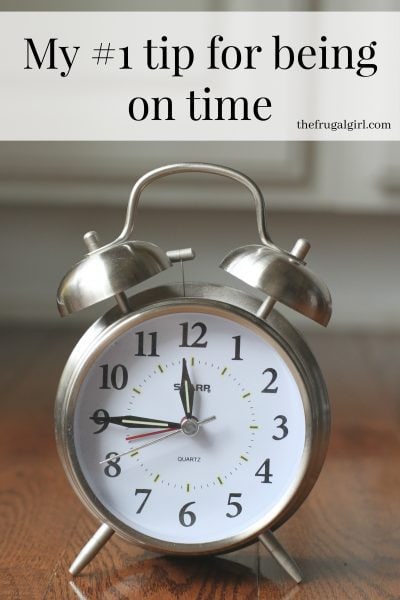 Running late has a number of unhappy consequences, and some of them are financial in nature.
For instance, if you are too late to a doctor's appointment, you can face missed appointment fees.
Or if you're late getting your kids to an extra-curricular lesson, you're missing out on time that you've already paid for.
Ditto for things like therapist appointments. You pay for the whole hour whether you're there for all of it or not, so you'll get the most bang for your buck if you arrive on time.
And of course, if you are habitually late to work, that can result in job loss.
Totally not a frugal thing. 😉
Anyway!
There are a lot of ways to help yourself be on time, but here's my (not-earthshaking) trustiest tip:
Always plan to leave at least 10-15 minutes before you NEED to leave.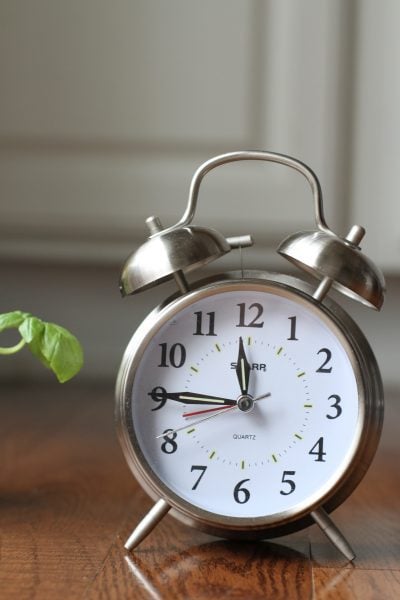 This is not necessarily so that you'll arrive 10-15 minutes early. Rather, it gives you a target that you can miss by a bit without suffering serious consequences.
Because no matter how well you plan, if you have multiple people that need to get out the door, something will go wrong on a regular basis, and you will regularly miss your target exit time.
Here are a few examples of how this plays out for me.
It takes about 15-20 minutes to get to church, so if I need to be there at 9:30, we plan to leave the house by 9:00.
If we leave at 9:00, great! We'll have a little extra time to set up.
But if someone is running a little slow with their breakfast-eating or someone forgot to brush their teeth until the last minute, it's ok. We can leave a little after 9:00 and still be on time.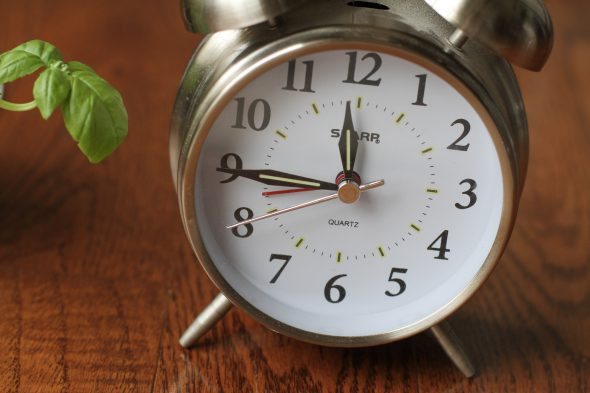 It also takes about 15 minutes to get to our martial arts class, so we plan to leave a half hour early.
If we actually do get out of the house on time, then we might have time to pick up holds at the library on the way, and we have plenty of time to get settled in at the gym before class starts.
And if someone's rushing around trying to find their belt at the last minute, that's all right…we've got a little play built into our schedule.
I admit, this is kind of a mind game, but it totally works for us.
Setting a goal that's a little more strict than necessary gives us all something to shoot for, and while it might make more logical sense to leave at 9:15 to make a 15-minute drive to a 9:30 appointment, I know that we wouldn't always hit that 9:15 mark.
And then we would be late!
So, it's better to set an earlier launch time that gives us a bit of a cushion.
And I'd rather "waste" a few minutes by arriving early than waste money by missing appointments or work hours. The reduction in stress alone is totally worth the possibility of having to wait when I arrive early.
Please note: I am not always perfectly on time. Like most people, I run late sometimes. But planning to leave earlier than necessary has been a huge sanity saver for my family and me, and it's helped us be on time more often than not.
_________________
I'd love to hear your #1 tip for getting out of the door on time (and I'm interested to hear if any of you play the same mind game we do here!)