Reader Monica recently left a comment asking for frugal and filling snack ideas for her kids so that she can keep them full between meals (without them resorting to cold cereal, which doesn't keep them satisfied for long).
So Monica, this is for you!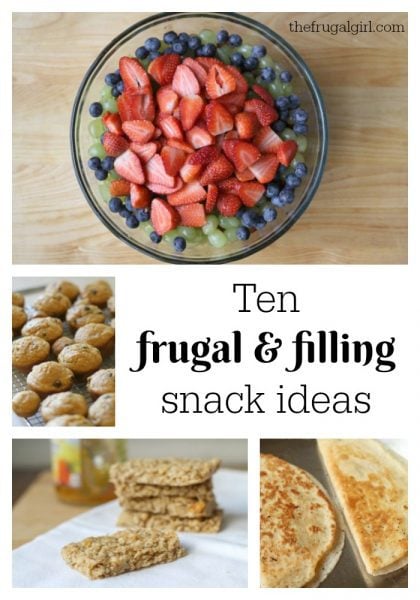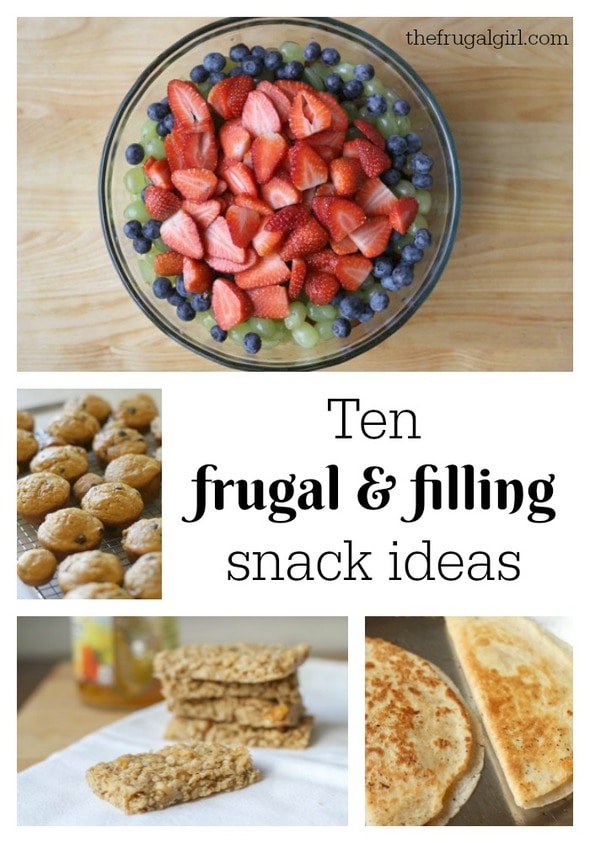 Fat, protein, and fiber are super helpful for keeping away hunger pangs, so if you look for snack foods with those qualities, you're going to have much better luck with keeping your kids full than you would if you served them, say, pretzels.
At first glance, it seems cheaper to go the pretzel route, but spending a little more on foods with fat, protein, and fiber should be cheaper in the long run because it takes less of these foods to satisfy hunger overall.
1. Granola bars
Granola bars do have sugar in them, but the good ones also have plenty of whole grains and fat, which offer some staying power. Plus, they're easy to grab and go.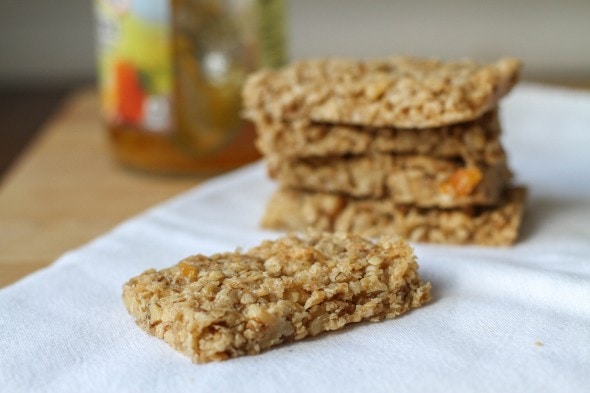 You can buy granola bars, of course, but it's also not very hard to make a pan of them yourself.
In fact, you could make two pans of bars and freeze half.
Here's an orange coconut granola bar recipe, and here's another you can make with raisins or chocolate chips.
2. Granola
Hungry teens and kids can go through several bowls of Chex or corn flakes and be hungry again in an hour.
A bowl of granola is going to stick with them a lot longer, though!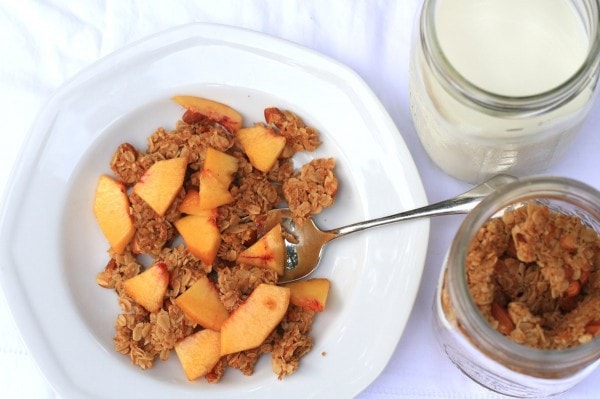 If you'd like to try making your own (SO much cheaper than store bought), give this recipe a try. It makes really clumpy granola, which is awesome, AND you do not have to stir it while it bakes.
(I haaaate stirring granola while it bakes!)
3. Trail mix
Trail mix is just as easy to snack on as crackers or pretzels, but because it has nuts, it's full of fat, protein, and fiber.
Your kids might not be super keen on some of the weird trail mixes available, but the sort with nuts, raisins, and M&Ms is perennially popular.
And trail mix is super easy to make yourself…just dump the ingredients together and you're good to go.
4. Hard-boiled eggs
These are not exactly a traditional snack food, but if your kids like hard-boiled eggs, cook up a dozen of them so that they're ready to go.
5. String Cheese or cheese cubes
A block of cheese isn't a very teen-friendly snack (most kids won't bother with slicing!), but string cheese is a little more appealing, and if you buy it at a warehouse store or at Aldi, it's pretty affordable.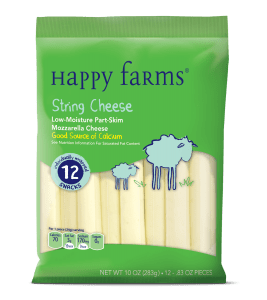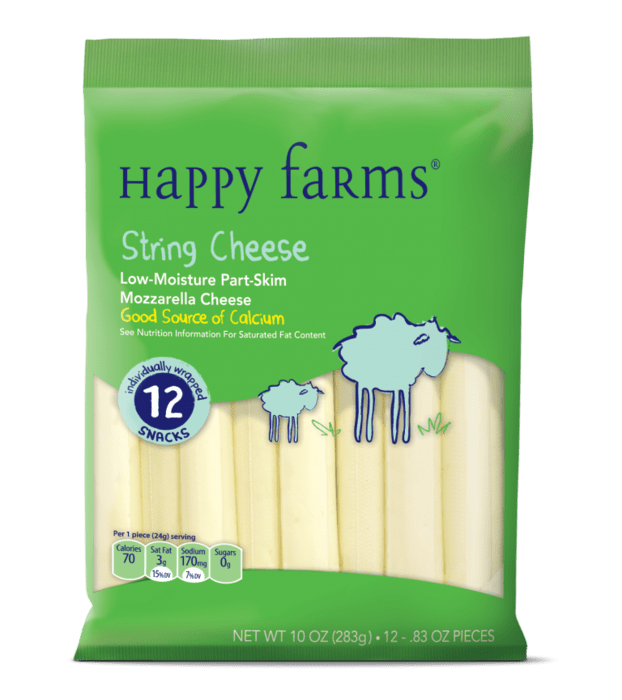 It does have more packaging than regular cheese, though, so if that bothers you, you could slice cheese into sticks yourself.
Or you can cut cheese into cubes.
If you go the DIY route, make sure to store the cheese in a clear container in your fridge so that your kids will remember it's there.
6. Produce with a dip
While produce is a super healthy thing to eat, on its own, it won't keep your kids full for very long.
Pairing it with a dip can help a whole lot. Ranch dressing is easy to eat with veggies, and hummus is also a good option.
If your kids are more into fruit, consider making a fruit dip. The fruit dip is going to have some sugar, yes, but it also has a respectable amount of fat and protein.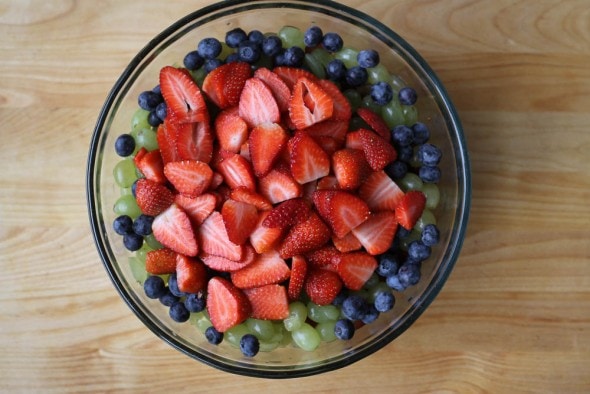 (Try this fruit dip recipe from my friend Kate. It's a lot less sugary than the fruit dip that calls for marshmallow creme!)
Bananas and nut butter also make a filling combo. I just cut bananas into chunks and put a dab of peanut butter onto each chunk.
Nut butter + apples is also great, as is cheese with apples.
7. Muffins
Continuing with the easy-to-grab-when-you're-hungry theme: bake some muffins.
If you're trying to lose weight, muffins aren't a really great option because they tend to be fairly calorie-dense.
But if you're feeding an active, hungry teenager, it's not like you've got to spend a lot of time worrying about caloric density!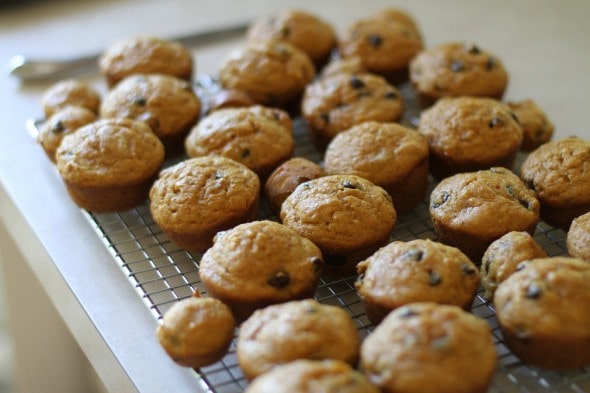 Prepared muffins from the grocery store are pretty processed and they tend to be very high in sugar. Luckily, muffins are crazy easy to make at home, and if you make a large batch, you can freeze a bunch of them for future snacking.
Try these pumpkin/sweet potato chocolate chip muffins or these banana chocolate chip muffins.
8. Cheese Tortillas/Quesadillas
I know hungry teens won't want to spend a lot of time cooking, but this really takes a minimum of effort.
Get a small flour tortilla, sprinkle some shredded cheddar on top, and microwave for 30 seconds, or until the cheese is melted. Roll it up enchilada-style, and enjoy.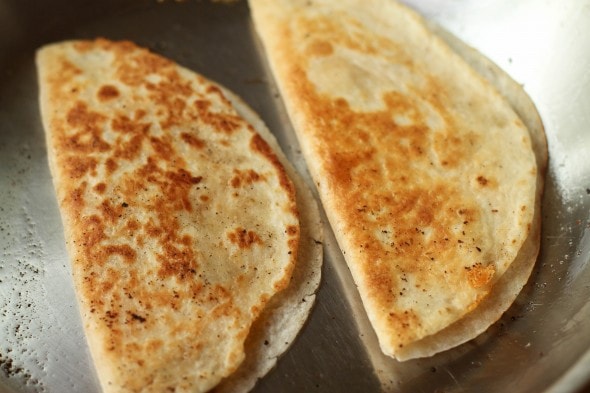 Or if your kids are a little more motivated (or you feel like cooking a snack for them) heat a pan on the stovetop. Sprinkle half of a tortilla with cheese, fold in half, and cook for a few minutes on each side, until the cheese is melted.
9. A bowl of oatmeal
If your kids are fans of cold cereal for a snack, see if they'll consider switching to oatmeal at least part of the time.
Compared to most cold cereals, oatmeal is better for sticking to the ribs, and it's usually cheaper too.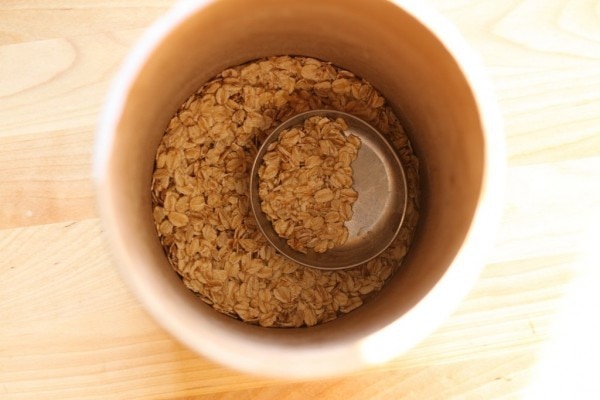 To make oatmeal kid/teen friendly without resorting to the purchased packets (those are no cheaper than cold cereal), make a big batch of homemade instant oatmeal packets.
You can switch up the flavoring to provide some variety, and if you want to add some fat, top the oatmeal with cream or butter.
(I personally love oatmeal with some peaches and a bit of heavy cream.)
10. Ham and egg muffin cups
These have all the portability of muffins, but they're savory instead of sweet. And you can make them ahead of time for reheating when hunger strikes.
Here's an option that has eggs, ham, and bread.
Here's another option that doesn't require bread.
And there's a paleo version as well. (though they call for prosciutto, which is pretty crazy expensive. Sub ham to cut costs.
________________
Aaaand, that's ten! I hope this list helps you fill up your kiddos without blowing your grocery budget.
Readers, I'm sure there are more filling and frugal snack ideas that I've neglected to mention. Add your suggestions in the comments for fellow parents of hungry people!
P.S. I'd be remiss if I neglected to point out that homemade bread and rolls make a pretty great snack. And they are really frugal. But I totally understand that most people won't want to bother with making yeast bread, which is why it didn't earn a spot on the list.
P.P.S. I started writing this post when Monica's question came in as a comment, and when I went back to look at the comments later on, I saw that a lot of you made similar suggestions to the ones I included in this post. Great minds think alike, O fellow frugal people!
Save