You all know the drill, right? I've got stuff I want to share, but none of it is big enough to demand a dedicated post. So, here are some random bits and pieces, pulled together into a blog post. : )
Clementine Box Update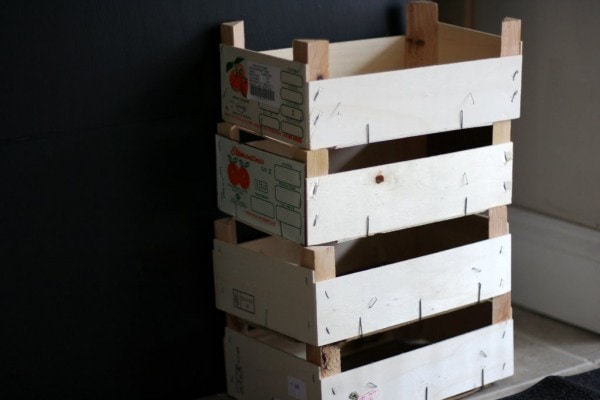 My mom emailed me after seeing the post about my clementine box quandary, and let me know that my dad would be happy to use the boxes as kindling (they have a wood stove in their house and also in my dad's workshop). Sweet! I'm totally happy to have them used that way, especially since I didn't exactly have a NEED for any of the clementine re-use projects (which means the projects might have ended up just being clutter. Even storage containers are clutter if too many of them live at my house!).
A good post with good questions
You all know I'm a big fan of simplifying our lives, and so when I read this post on Clover Lane, I said a big "amen!". Go read it and be inspired to clear the schedule clutter out of your life to make room for what really IS important and essential.
I went away! By myself!
I had kind of a rotten week two weeks ago, and a week ago Sunday, Mr. FG told me he was sending me away to a hotel for 24 hours so that I could rest and regroup (that's how my menu plan for the past week got so mixed up!). We get a Family and Friends discount from the hotel chain where my brother works, so we can get a really nice room for only $39.
That meant that I received Mr. FG's gift with not even a bit of misgiving (the difficult part of being married to The Frugal Girl is that you have to be careful not to bless her with gifts that are too expensive!).
I don't know if I have ever gone away by myself before overnight, except for one time when I was in high school and went to visit a college (but even then I went with a friend) and for the time I went to be at the hospital when my sister-in-law was having her baby (and again, even then I was going to be with family).
So, yeah…this was the first time I've ever just been completely by myself, and I have to say, it was pretty delightful. I wouldn't want to be by myself allll the time, but for 24 hours, it was lovely. Just what the doctor ordered.
Yay for my thoughtful husband! And for children that are old enough to easily go without their mom for 24 hours. 🙂
I did not waste my leisure.
Yes, indeedy. I followed my own advice, and used the time to do things that were refreshing to me.
I went to bed early, woke up sort of early (6:30), watched the sunrise from my window, walked on the treadmill, took a nice long shower, read my Bible and prayed, ate a leisurely breakfast (during which I figured out where I'm wasting some of my time during the day and made a new schedule/routine for our family), read some books (Dug Down Deep

was among them), did some leisurely shopping for Lisey's birthday and also some shopping for me (I had a $40 Gap certificate, and I'll tell you about that in another post), and ate a late lunch at Panera bread, where I did more reading and also made up a new prayer list for me to use when I pray for my family every day.
So, I returned home rested and refreshed, but also better equipped to face life and serve my family (the new schedule is working out very fabulously).
The new, improved schedule dictates that I be done blogging by 7:15 so that I can head upstairs to do breakfast, though, so I better wrap this up, or else one of my offspring will stick their head into the office and tell me I'm a minute late. 😉
Today's 365 post: The newest photographer
Joshua's 365 post: A Guest Post from Zoe