Hey everyone! We are meeting Jenni today, and the title of this post references the fact that she has a fake brick chimney in her house.
(presumably, this was not her personal decorating choice. Ha.)
Scroll on down to see it!
1. Tell us a little about yourself.
My name is Jenni, I'm married to a wonderful man. We have 4 adorable, yet incredibly strong-willed, children ages 7, 5, 2, and 2 months.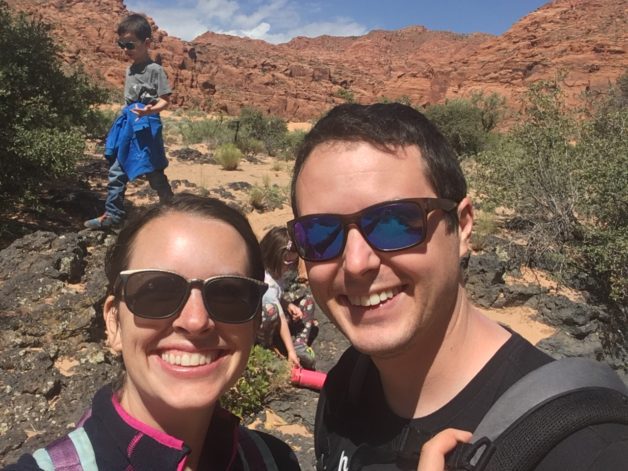 We spent the past two years in southern California while my husband was in seminary before moving back to Iowa. Our town is small but close to a large city so I feel we have the best of both worlds.
I call myself a minimalist but you might not know that from looking at my house-6 people come with a lot of things!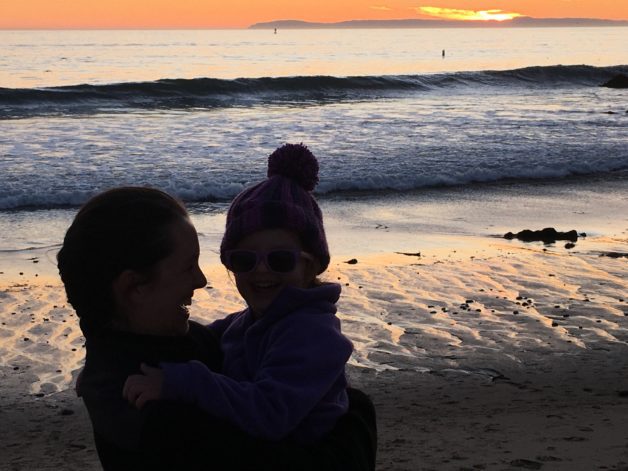 Our favorite beach in California
For each move (to California and from California) we got rid of most of our possessions and moved in our minivan. The trip to California had my husband and dog in the van and the trip back had all 5 of us and our dog in the van.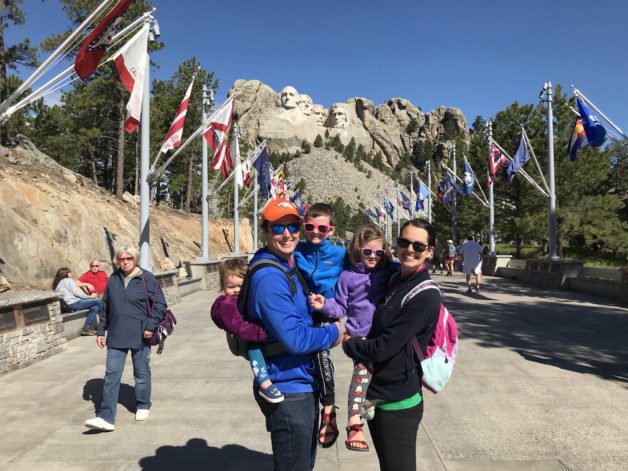 We left California in May of 2021 and spent 2 weeks getting back to Iowa. Every time we stopped, it felt like a giant game of Tetris to get our possessions and children in the van while still being able to see out the back.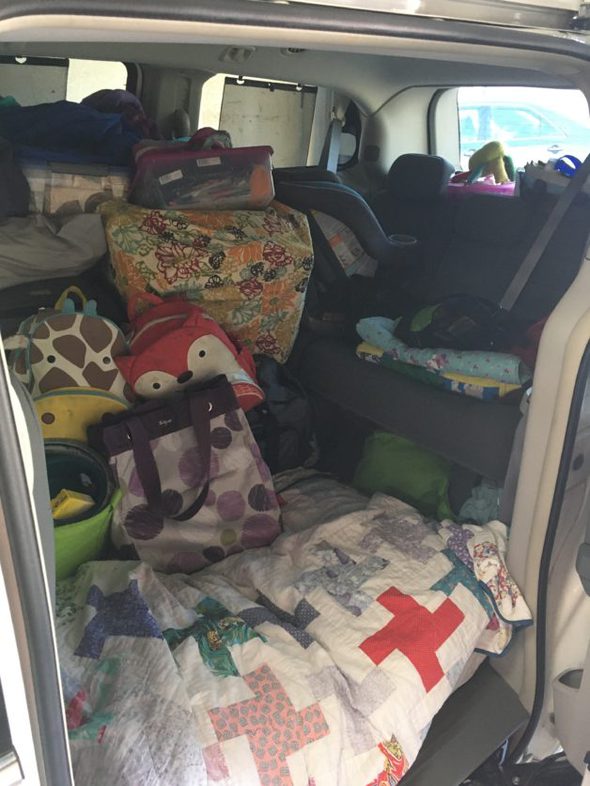 It was wonderful to see more of our country and in retrospect a much-needed time together as our family. We spent the summer living with family and friends before finally moving into our own house after my husband received his first call (job) as a pastor.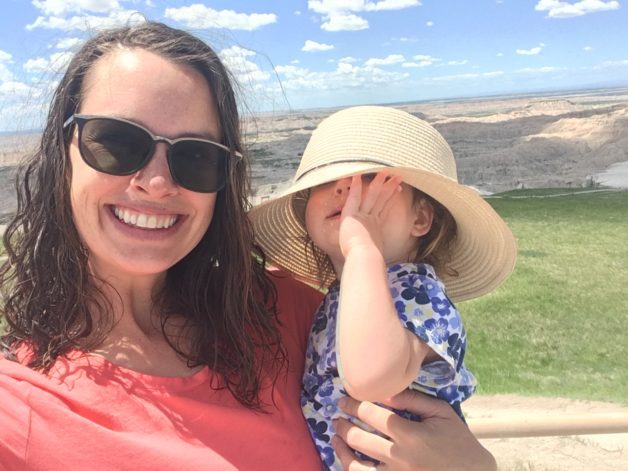 at the Badlands in South Dakota
We thought it was only going to be 1-2 months of unemployment but it turned into 4 months of living with other people.
I had our youngest 1 week before we moved into our house. I suffered from a spinal headache and was worried I wouldn't be able to make the move with my husband (he was supposed to drive the moving van and I would drive our minivan).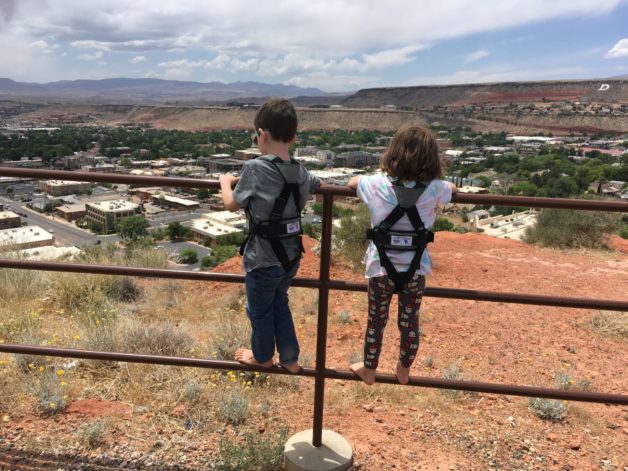 Luckily, I was finally able to stand up 2 days before the move without getting a massive headache and we got moved in just fine. The week I spent unable to stand or take care of my kids really made me appreciate my normal state of health.
I'm very active and I never want to experience that level of despair again. It seriously felt like I would never be able to stand again without a headache.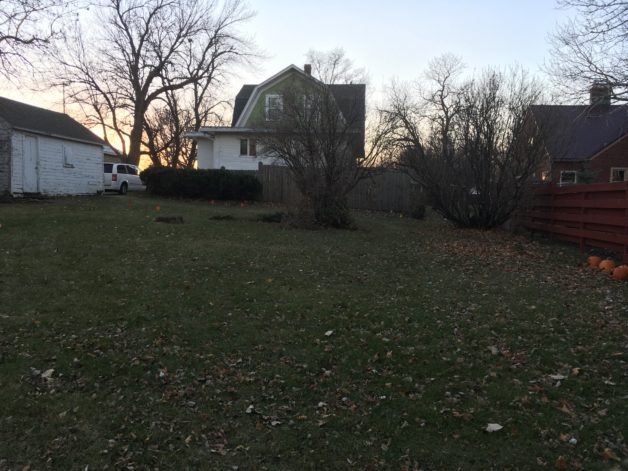 Our current backyard
We homeschool our kids and I really appreciate the flexibility offered especially with my husband's schedule. I am passionate about green living, being a good steward of my resources, and healthy living.
I enjoy cooking from scratch and gardening. There's something very satisfying about digging in the dirt and being outside (even if you aren't very good at growing things!)
2. How long have you been reading The Frugal Girl?
Sometime after 2013. (That's the year we bought our first house)
I was connected to Stacy Makes Sense (now Humorous Homemaking) from my Financial Peace class at church (taken at the same time we bought our first house which is a big no-no. The first lesson said "Don't make any large purchases during this course").
After that, I started searching for other money-saving blogs. I stumbled on The Frugal Girl and have stayed for the positivity. We are doing a thankful challenge for the month of November (each day you say a number of things you're thankful for based on the date) and I think of the Thankful Thursday posts – these are my favorite ones.
3. How did you get interested in saving money?
I grew up with no money. I was raised by a single mom with 3 kids, so money was always tight.
After taking Financial Peace, my husband and I got very interested in paying off our student loans quickly. I feel I inherited my frugal bone from my maternal grandma (the epitome of cheapskates!) but I have made my own frugal decisions as I've grown.
4. What's the "why" behind your money-saving efforts?
When we had our first child, my husband and I decided we wanted one of us to stay home with him. We were still paying off our student loans so this did not happen until our son was almost 1. At about 11 months, my husband was able to quit his job and stay home full time. Since then, we've added 3 kids and there has always been a parent at home full-time.
Windy Rocky Mountains. We were switching drivers on an exit ramp and our kids were asleep. It was sooo beautiful to drive through the Rocky Mountains. It was also terrifying because there are lots of tunnels and I was always convinced they would collapse on me and crush us all. They did not, I'm thankful to say!
My husband is now a pastor and for those of you who don't know, pastors don't make a lot of money. Living frugally enables me to stay at home full time with our 4 children and homeschool the oldest 2.
I also want to be a good steward of the earth. I prefer to buy less because it's good for my wallet and for our planet. I also don't like taking care of a lot of things so buying less equals more money in our wallets!
5. What's your best frugal win?
Our vehicles.
When we go vehicle shopping, we look for something less than 10 years old and less than 100K miles. A lot of people seem to think vehicles go bad around the 100K mile marker. In reality, we don't drive very far or very often (my husband's commute is a whopping 6 blocks) so the higher miles don't scare us.
We are able to pay cash for our vehicles and drive them until they die or get damaged beyond financial-sense repair.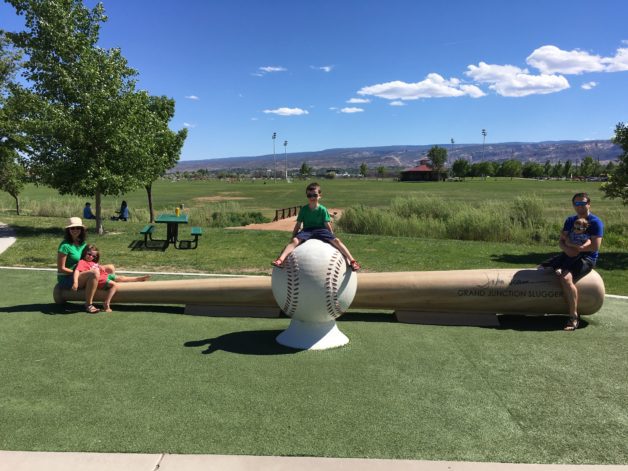 A stop in Colorado
My husband drove a Chevy Lumina when we met. It was backed into at my work and insurance gave us a check for $1500. He had paid $1000 for the car 5 years prior. My husband paid $35 at a junkyard for a new headlight and he and his dad hammered out the hood.
Was it pretty? No.
Was it driveable and safe? Yes.
On our current minivan (11 years old) we were backed into while at an ice cream shop and again, we received a check from insurance for about $1500. Now we drive around with a big dent above the driver tire. I don't even notice it anymore and the money is going towards a new car for when our van dies.
6. What's a dumb money mistake you've made?
Our bed (which my husband just returned to Costco thank goodness!)
We bought a split-king bed with an adjustable base. We have always eyed these bases but the first time we bought a mattress we could not afford one. So this time around, we thought we'd go for it. Turns out we hated the split. Maybe it wouldn't have slid apart as easily on carpet, but we have hardwood floors and the two sides and mattresses always ended up with a gap in the middle.
We're also both able-bodied so we decided to get a mattress and just put it on the floor. This is also more handy for kids since our 2-year-old and 2 month old regularly end up in bed with us during the early morning.
7. What's one thing you splurge on?
Shoes.
We all wear barefoot-style shoes because they allow natural foot movement and are feet shaped. I have always hated wearing shoes (I call them foot coffins) and socks. I have the beginnings of bunions from shoving my feet into too-small shoes while growing. I'm hoping to avoid this with our kids.
Nothing beats being barefoot! Even when the ground is kind of cold.
Men's footwear seems mostly fine but women's footwear is awful for people with wide toe-boxes! We have 2 girls and I want them to avoid the foot pain I have.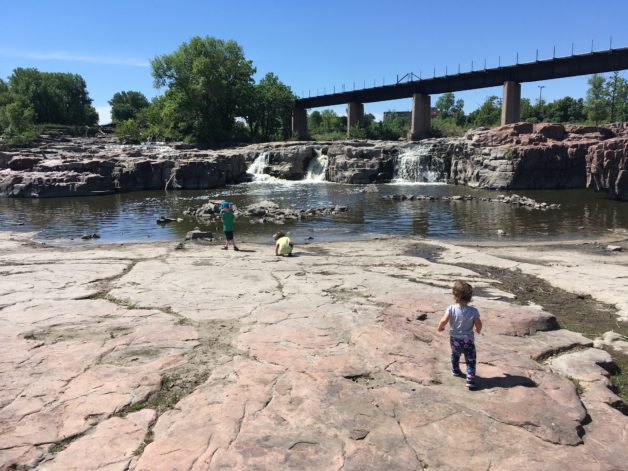 8. What's one thing you aren't remotely tempted to splurge on?
Purses. I have been carrying around a diaper bag/backpack for the past 7 years. I bought a smallet (a very small wallet) a few years ago after eyeing my husband's and that slips nicely into the backpack or my back pocket.
9. If $1000 was dropped into your lap today, what would you do with it?
Pay for a house project. Our house is almost 100 years old and needs a LOT of work. It still has knob and tube wiring, so after our basement foundation gets fixed, updated electrical will be next!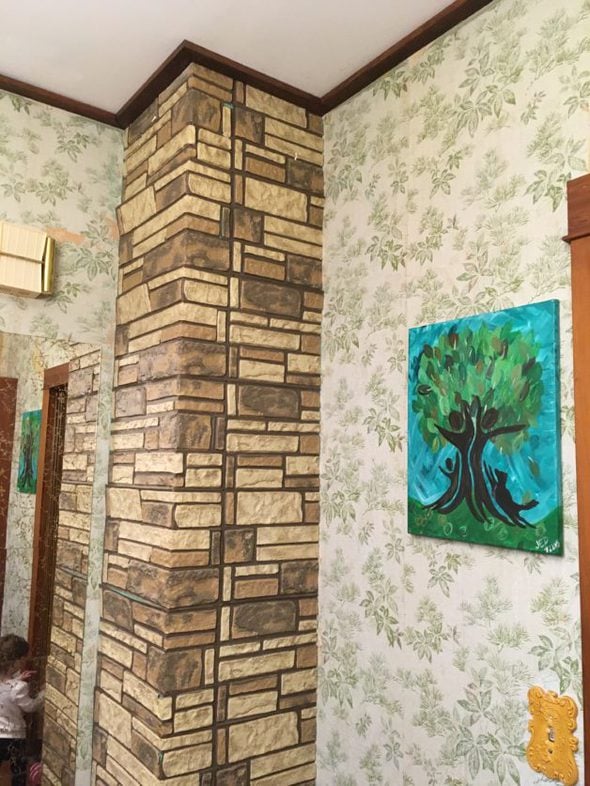 Our "chimney." Those are plastic bricks. And the speckled stick-on mirrors are in 3 places in our house. That wallpaper? The stuff we ripped off was the exact same, only yellow.
10. Share a frugal tip with other Frugal Girl readers.
I have a few because I am an overachiever at heart.
1. Shop in your house before going to a store. Chances are you may have what you need or something that will work in its place.
2. Buy less. While buying something on "sale" may save you 15%, not buying that item saves you 100%.
3. Don't just think of frugality in terms of money, your time is also valuable. I am trying to shift away from how much things cost to also thinking about the time cost involved. I recently paid our vehicle registration online even though it cost me $2.25 more than if I had gone to the courthouse in person (the courthouse is also 6 blocks away from my house).
However, the time it would cost me to transport 4 kids to and from the courthouse, plus the time to stand around waiting for my turn seemed way more valuable than the $2.25 I spent to do it online and have them mail me the stickers.
Teepee in Wyoming. It rained, it was small. But we can now check "slept in a teepee" off our list!
11. Is there anything unique about frugal living in your area?
We live in a farm community (evidenced by the near-constant smell of hogs outside my house). Buying meat directly from a farmer gives us higher quality for a lower price.
The cost per pound may be the same as ground beef in the store, but you also get steak thrown in the mix. So the price per pound of what you are actually getting is way less than in the grocery store. And there is definitely a difference in taste between fresh meat and old meat. The first time we bought direct, we felt like idiots: you pay the farmer for the meat, but then you also pay the locker (where they butcher the animal) based on the cuts you choose.
Neither my husband nor I grew up on a farm so we were pretty clueless on what to get. Luckily, the locker we dealt with was pretty friendly and we feel a lot more confident now! Buying direct is good for relationships and the local economy.
In California, produce was readily available and very inexpensive (so much produce is grown in California) but meat was expensive and not that great of quality. Now that we are back in the midwest, we are taking advantage of the good meat and the chance to support a neighbor.
_________________
Jenni, thank you! A few things:
I think you have one of the best smiles I've ever seen. It makes me want to be friends with you!
I feel EXACTLY the same way as you about shoes. I hate them. I am barefoot every chance I get.
If you don't like that yellow switchplate cover, I bet you could sell it to someone on Etsy or eBay.
The foyer in my house had bits of fake brick wallpaper glued onto the wall, surrounded by spackle, and then painted to look like brick peeking out of an old wall. It was terrible to remove and repair so I feel your pain! I also had to remove a lot of wallpaper in this house.
Are you keeping the green wallpaper? It's kind of a nice print, but there IS a lot going on in that room between the brick, the speckled mirrors, the wallpaper, and the light switch cover, so I wouldn't blame you if you got rid of it.
Readers, the floor is yours!