You guys, I was so excited when A. Marie emailed me her answers, I almost squealed.
Here's an old picture of Sonia to illustrate how I felt: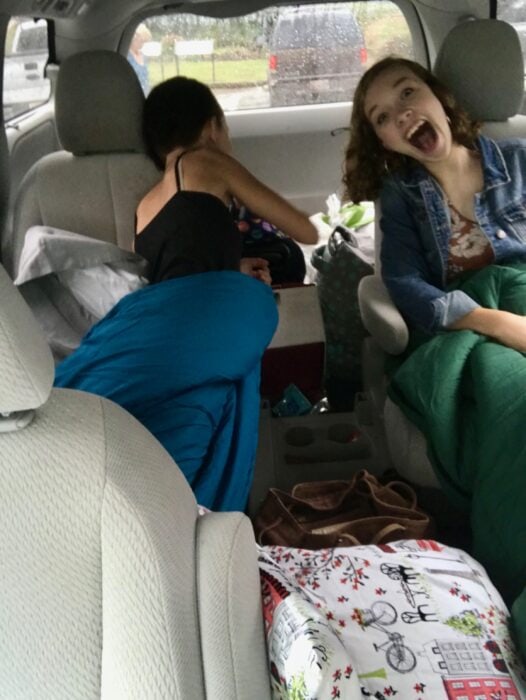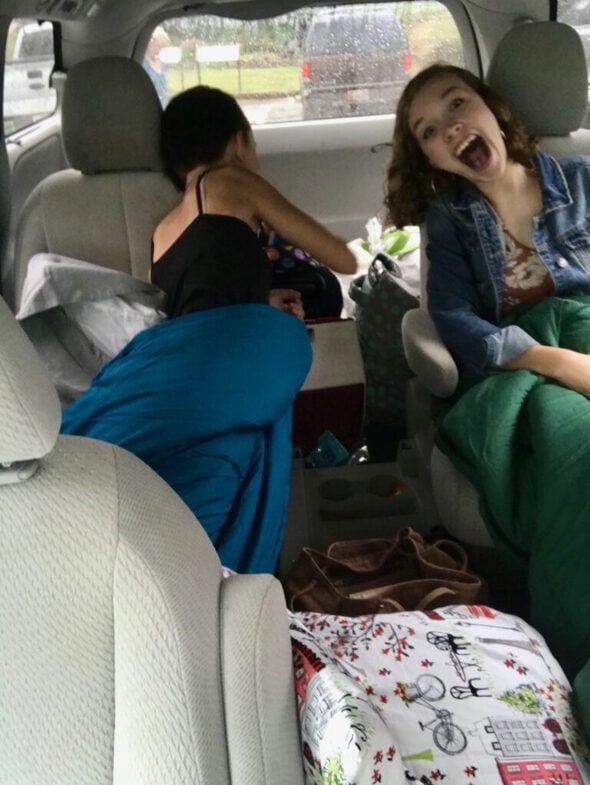 Instead of squealing, I replied to A. Marie with an email full of exclamation marks. Ha.
I asked her to participate quite some time ago (several of you put in a request that I feature her), but she was so busy getting her husband into assisted living, she did not have the time.
But her life has settled down a bit, and now we get to meet her. Sweet! I am always happy when I can manage to get a much-requested reader to participate. 🙂
1. Tell us a little about yourself.
I live in a medium-sized city in the center of New York State.
By now, it's no secret which city this is, but here's my old joke anyway: It's the city that's best known for the minor-league basketball team with the citrus-themed party-school university attached.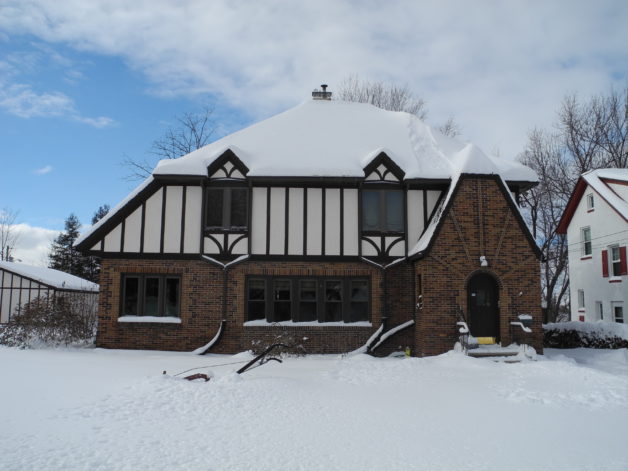 Our lovely home. I plan to stay here as long as I'm able–but I also intend to be realistic about when it's finally time to go.
I won't kid you; the winters here are hard on me as an expatriate Southerner. (I grew up in Tennessee and went to college in Florida.)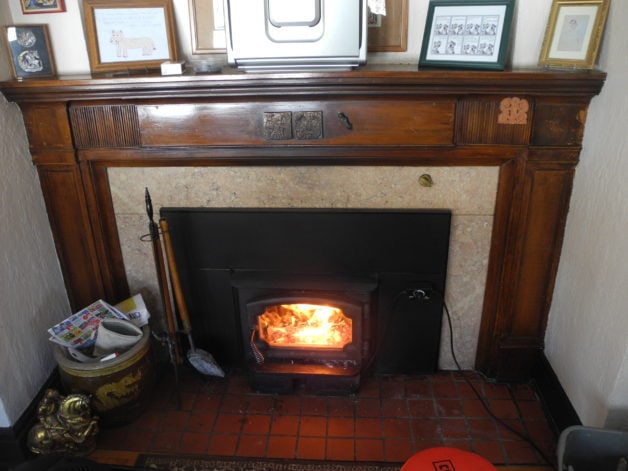 Our Lopi wood-burning insert at work. It's not our sole source of heat, but an electric blower keeps it pumping warmth pretty well.
But I like my dear old Rust Belt city; I like the surrounding area's natural beauty (well described and photographed by Corrine in her recent Meet a Reader post); and I love my beautiful street and my excellent neighbors.
I'm 66; my beloved DH of 42 years is 72 and has severe Alzheimer's disease. We have no children, by both choice and chance.
We lived together until June 2021, when I reluctantly placed DH in a local skilled-nursing facility because I could no longer care for him safely at home.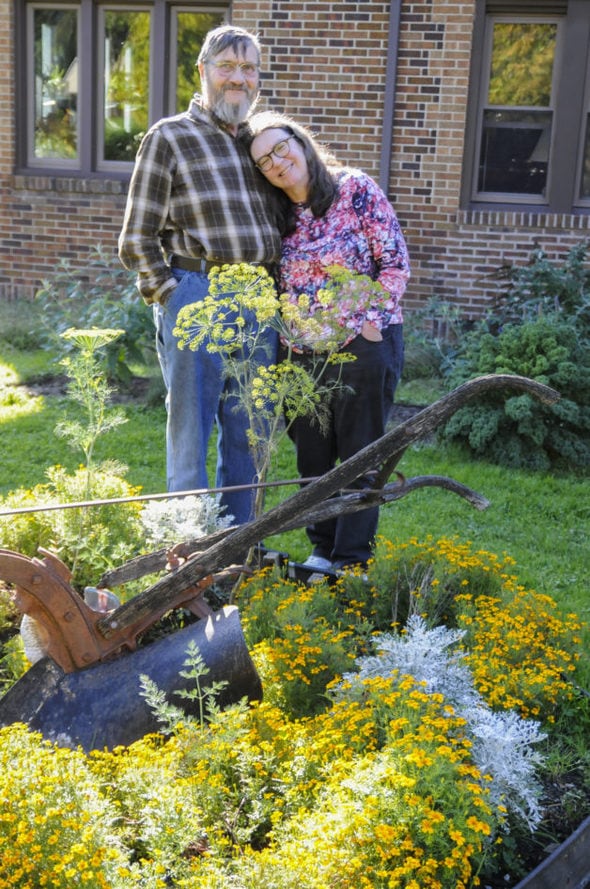 I hesitated about including a picture of DH and me. But one picture is worth a thousand words, and if I wrote from now till Doomsday, I couldn't do a better job of capturing the two of us and how much we loved each other than this photo does. It was taken near our 40th wedding anniversary in October 2019. (DH's sweet nature as seen here is the ONLY thing this stinking disease hasn't robbed him of. He's called "The Gentle Giant" on his ward.)
I currently live with our sixth cat (we have also owned two dogs) in the 1920s home DH and I have owned for 37 years.
This is the "Gotcha" photo of our current cat, Betty Crocker's Butterscotch Pudding (Betty for short), taken by DH soon after she adopted us at the local Humane Association. DH found the "New Home" sewing machine in the basement of one of his rental properties.
I retired in June 2020 from 36 years of work as a telecommuting copyeditor for a small NYC-based company that publishes texts in mental health, self-help, education, and other disciplines.
DH had many careers–instructor in English; self-employed housepainter/remodeler/contractor; rental property co-owner; certified home inspector; and home energy performance salesman and certified rater–until his retirement in 2013.
My current hobbies include gardening, birdwatching, cooking, and (of course) thrift shopping, trashpicking, and other frugal pursuits!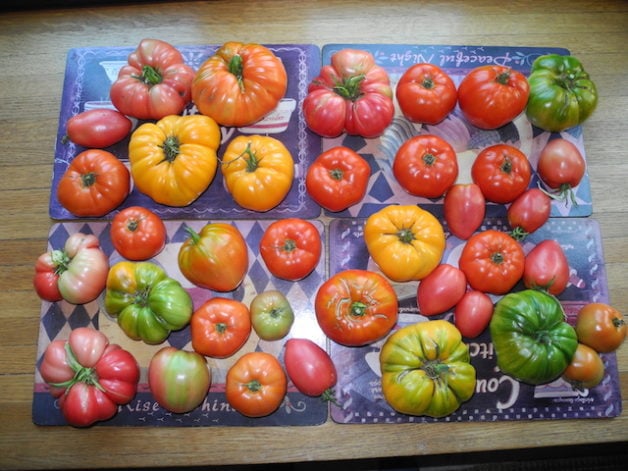 Some of the produce from a particularly good tomato year. Sadly, I've had to cut back on growing vegetables because of our out-of-control Eastern white-tailed deer population. But a neighbor and I are still growing a few tomatoes in pots behind her 8-foot chain-link fence. And I continue to grow deer-resistant flowers, plus herbs, onions, and garlic (which the Bamboids don't fancy!).
DH, in addition to doing most of the repairs and renovations to our house (a photo of our deck was featured several years ago in a Taunton Press book about decks), was an enthusiastic "urban logger."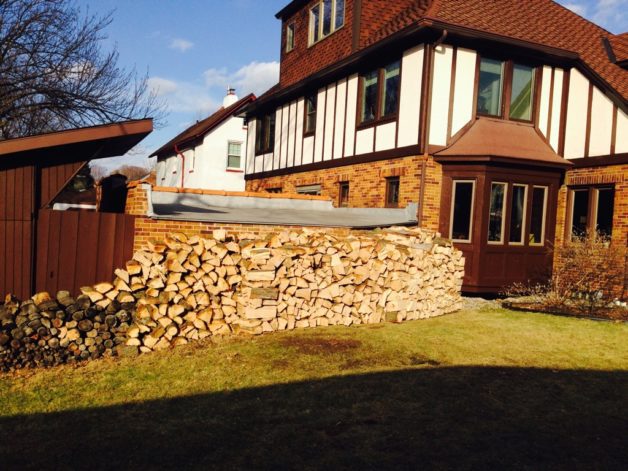 Part of DH's "urban logging" haul. We probably still have 2 or 3 years' worth of wood left.
That is, he'd keep an eye out for felled trees on the curb, bring them home, and cut them up for fuel for our woodburner (which can heat the house quite efficiently, although we do also have a good furnace).
Also, I am (and DH was) an avid reader.
I'm a proud Life Member of the Jane Austen Society of North America, and I stay involved in my local branch.
2. How long have you been reading The Frugal Girl?
This is a harder question to answer than I thought it would be. Although I know I've lurked for about a decade, a check of the archives indicates that I didn't start commenting until the last few years.
But, along with everyone else here, I appreciate Kristen's regular posting and her cheerful, friendly, and inclusive approach.
3. How did you get interested in saving money?
My mother was a Depression-era baby, and as the one of her four children most like her, I inherited the thrift gene. I was buying clothes at Goodwill as a college student in the 1970s.
But I really got hooked by Amy Dacyczyn and The Tightwad Gazette.
Mom, bless her, was a charter subscriber, and I picked up on TTG about halfway through its run.
(And, thanks to Mom, I have a complete set of the original newsletters! There's some stuff in these that didn't even make it into The Complete Tightwad Gazette book.)
4. What's the "why" behind your money-saving efforts?
I've been doing what I could all along to keep us living within our income and then some. DH was a later convert to frugality, but he came around soon enough that we have a paid-for house and zero consumer debt (no credit card debts, no car payments, no nothin').
And we were able to afford several major projects (see #7 below).
Now, of course, I've got one eye on DH's nursing home bills and the other on our various income streams (especially his LTCI; see #5 below).
I don't mind dying broke; I just don't want to live that way.
5. What's your best frugal win?
Unfortunately, this won't be something that's useful for most people now, given changes in the long-term care insurance (LTCI) industry over the last several years. But for us, it was definitely buying LTCI, back when we were both in our 50s and in reasonably good shape.
Keeping DH at home longer than I did might have resulted in serious harm to him (he's prone to both falls and wandering), as well as to me (in terms of both physical and mental health).
And the LTCI made his placement possible before any serious harm might have occurred.
6. What's a dumb money mistake you've made?
Oh, we've both made plenty.
But I'd single out not shoving every possible dollar into my 401(k) at work from the moment I had it, and investing too conservatively when I was younger. I did do considerable "catch-up" saving in that account, once I became old enough to do so. But I still wish I'd put more in.
We did tap some of the money DH could have invested in his two accounts for three excellent reasons. I don't consider those mistakes, so I'll cover these next.
7. What's one thing you splurge [well, OK, have splurged] on?
We did three major projects over the years:
(a) purchasing and restoring the property next door to us after the woman who lived there (a classic "crazy cat lady") tried to burn down the house;
(b) building a new garage on that property; and
(c) putting solar panels on the garage roof.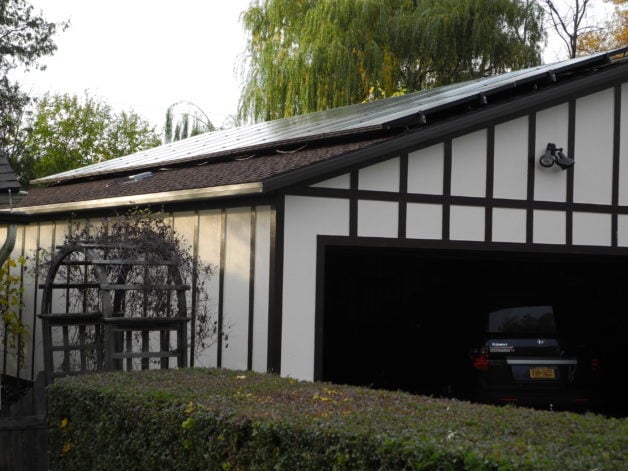 The garage and its solar panels. The 2010 Honda Element I'm still driving can be seen inside the garage. As DH said about everything from cars to snowblowers, "Hey, it's a Honda. It'll run."
The story behind (a) in particular is a long one, and this isn't the place to tell it–but in many ways, this entire project was the making of us, as a couple and as neighborhood residents. The total cost was probably what we would have spent to put a child through 2 years or so at the party-school university.
Still, I have no regrets, and I take a great deal of pride in my DH for making all this happen.
8. What's one thing you aren't remotely tempted to splurge on?
Again, it's a long list. But I'd put makeup, hair coloring, and jewelry at the top of it. I'm just not a very "girly" type.
9. If $1000 was dropped into your lap today, what would you do with it?
Put it into the emergency fund, which isn't quite back up to where it was when I had to tap it last year for a few things.
10. Share a frugal tip with other Frugal Girl readers.
(a) Prepare for emergencies. Save whatever money you can however you can, and be sure all your legal paperwork is in place (health care proxy, durable power of attorney, wills, etc.).
(b) Have a real-life "social network" of folks who have your backs and vice versa. Many of you have family or faith groups who meet this description; for DH and me, as regular readers know, it's our wonderful neighbors.
(This may not sound like a frugal tip at first. But by the time you work out what you and your network members save through equipment loans, being on hand for emergencies, and other exchanges, it's frugal, believe me.)
11. Is there anything unique about frugal living in your area?
This is New York State, of course, so taxes and utility bills are high. (Our electric and gas bills are below average because of all the improvements DH made to the house.)
But the cost of living is otherwise not bad, and housing prices are quite low. I've lost count of the number of relatives and friends who have exclaimed, "Do you know how much this property would be worth in [the NYC metro area/the San Francisco Bay area/the DC area/etc.]??"
________________
A. Marie, thank you so much for participating! I am delighted to know more about you now, and I am equally delighted to have a face to put with a name. Now your face and your DH's face will pop up in my brain whenever I read your comments.
A question for you: I am sure that Jane Austen's books top your list of favorites. But I am wondering what other books you love to read.
Relatedly, what's your favorite Jane Austen book and favorite screen adaptation?
_________________
Readers, the floor is yours!