We had this jambalaya while visiting some friends in Florida this past fall, and since all six of us liked it, of course I asked for the recipe.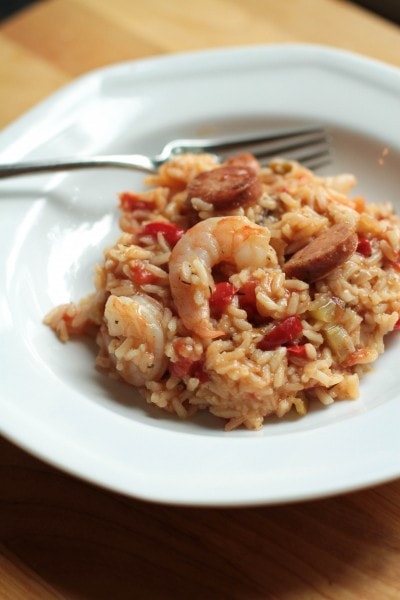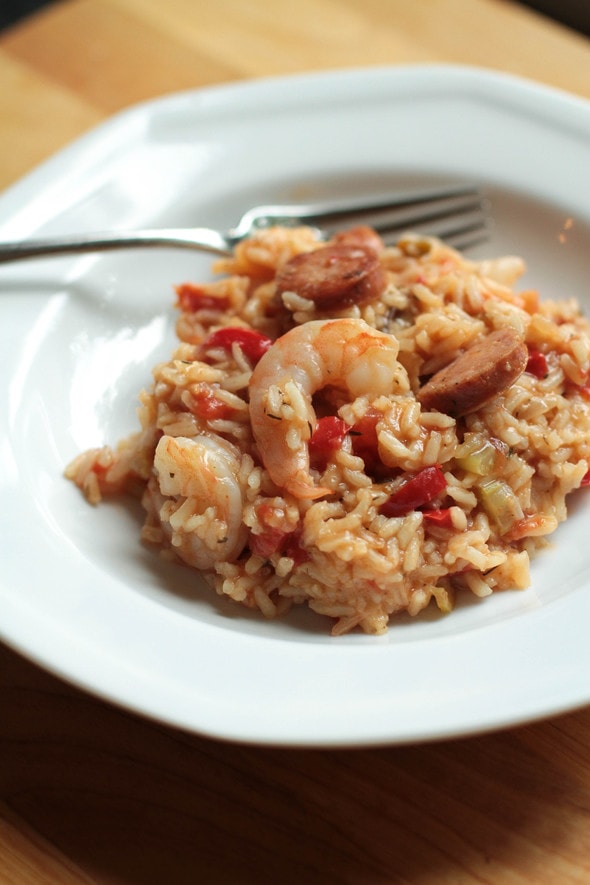 Because you KNOW how hard it is to find a dish that everyone likes and that's reasonably healthy too. Aaand, it really doesn't take too long to put together, which is marvelous.
It's been in pretty regular rotation around here, and since several of you asked for the recipe when I shared a photo on instagram…well, that's why I'm writing this post.
Zoe is actually allergic to shellfish, so I just spoon out a portion of the jambalaya near the end of the cooking time, right before I add the shrimp, and she's good to go.
Here's what you'll need. Almost all of these ingredients can be bought at Aldi except for the andouille sausage (although perhaps they carry it on a special buy sometimes. I'll be keeping an eye out!)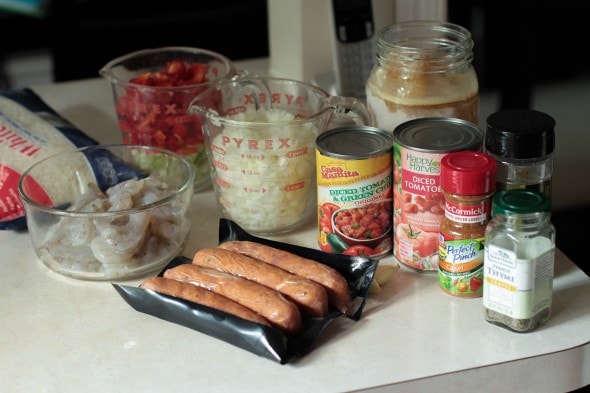 To start with, you'll slice the sausage and brown it in some hot oil.
Andouille sausage is quite spicy, so if you really hate spicy food, feel free to substitute something milder.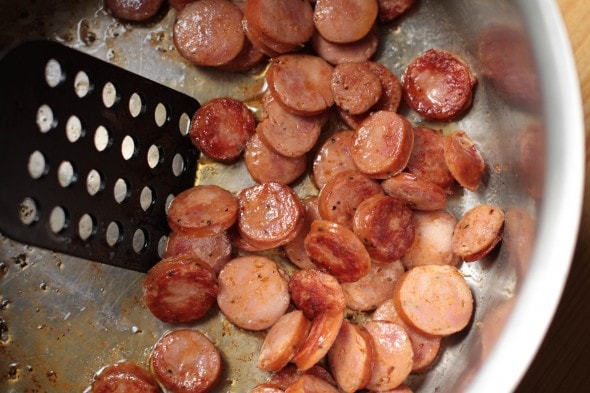 Next, remove the sausage from the pan and set aside. Then add your chopped onions, celery, and peppers to the hot pot and saute 'em until they're softened and lightly browned.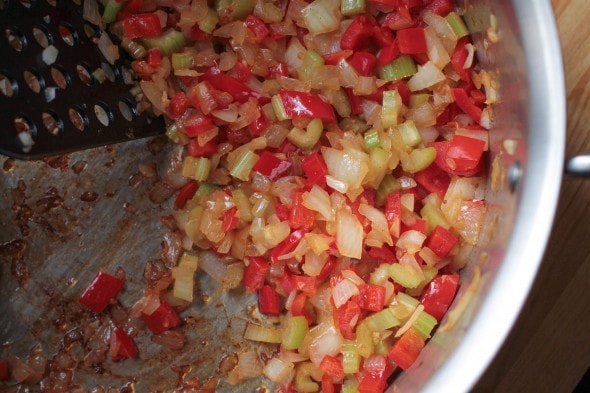 Add in the garlic and cook it for about a minute, and then stir in thyme, oregano, Creole seasoning (all I can ever find is Cajun!), canned tomatoes, Rotel, and chicken broth.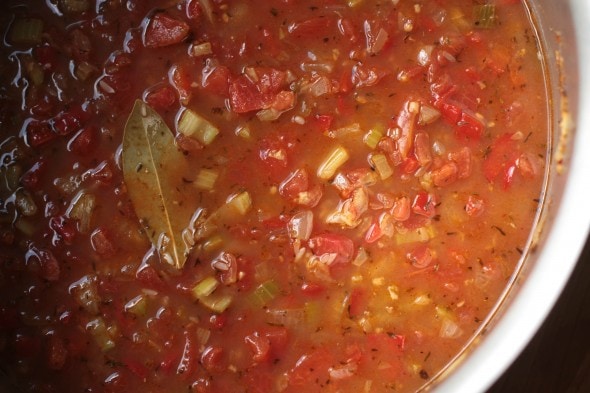 (I use my Actually Tasty homemade broth ;))
The recipe calls for two cans of Ro-Tel, but since Mr. FG and the girls aren't huge fans of spicy food, I use one can of Ro-Tel (the Aldi brand, of course) and one can of regular diced tomatoes.
Bring to a boil and stir in the rice. You'll cook this over low for about 20 minutes, or until the rice is tender.
Then you'll stir in your cooked sausage, some cooked, shredded chicken (which I've left out before and no one complained), and your raw, peeled shrimp.
Cover the pot and cook your jambalaya for about 5 minutes more, or until the shrimp have turned pink. Stir in some chopped parsley if you have it, and then you're done.
'Scuse the steamy picture here…it was a hot pot of food!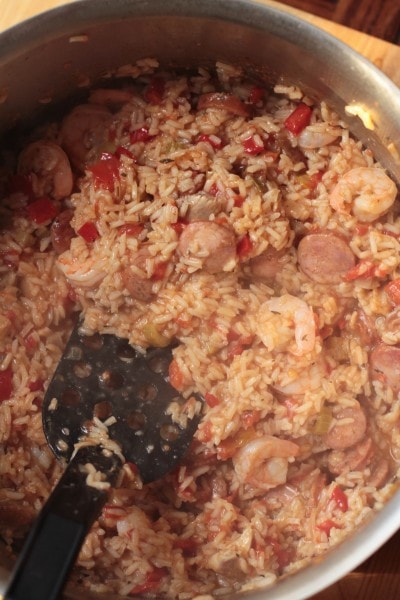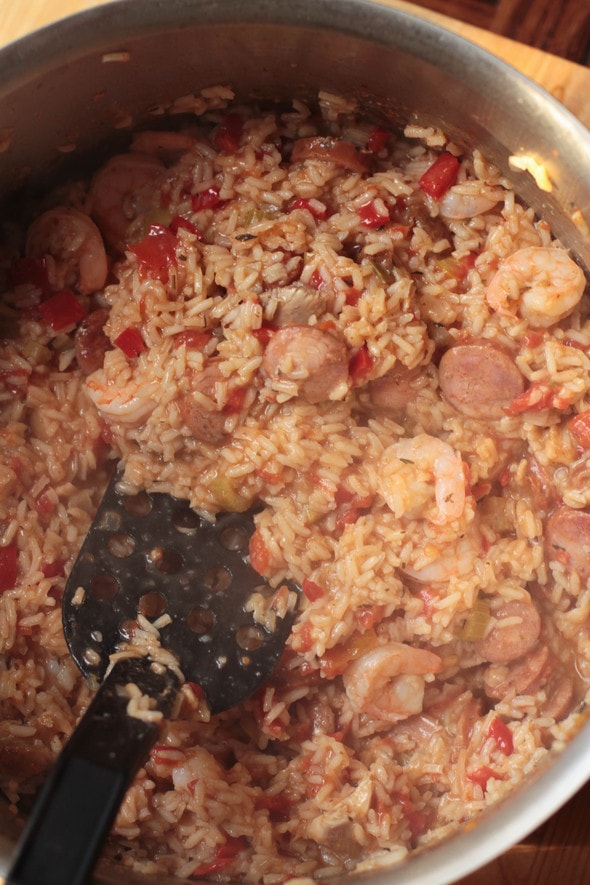 We always eat ours for dinner that night and then store leftovers in the fridge, but the recipe says you can actually prepare the jambalaya and freeze it.
Then when you want to serve it, you just thaw it in the fridge for 24 hours and bake it until it's heated thru.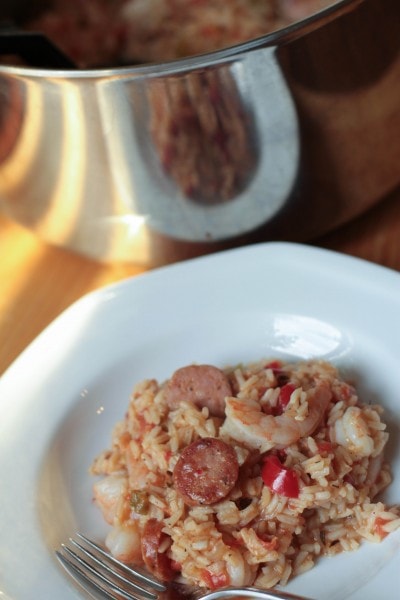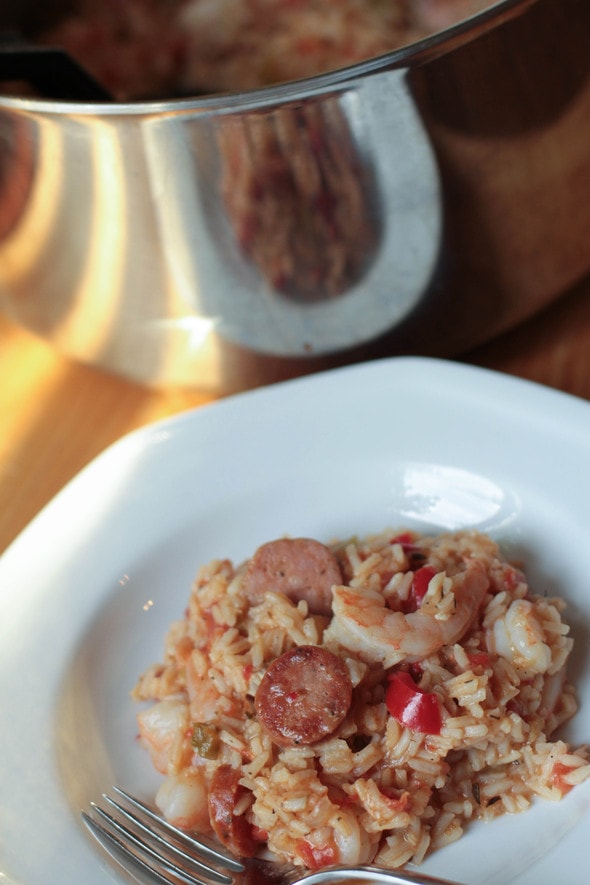 Having not tried that, I can't vouch for how well it works, but if you're into freezer cooking, it's something to consider.
I know this seems like a super long ingredient list, but this is actually not that hard to throw together, so don't be scared off!
Jambalaya
serves 6
1 pound andouille sausage, sliced
2 tablespoons canola oil or bacon grease
2 cups diced sweet onion
1 cup diced celery
1 large red bell pepper, diced
4 garlic cloves, minced
1 teaspoon dried oregano
1 teaspoon dried thyme
1 bay leaf
2 teaspoons Creole seasoning (less if you're worried about spiciness)
2 10 oz. cans Rotel, drained (swap one can for reg. tomatoes to reduce spiciness)
3 cups low-sodium chicken broth
2 cups uncooked long-grain rice
2 cups shredded, cooked chicken
1 pound peeled medium-size raw shrimp
1/2 cup chopped flat leaf parsley
Heat oil in a Dutch oven over medium high heat; add sausage and cook until browned. Set sausage aside.
Add onion, celery, and pepper to the pan drippings and saute until lightly browned, about 5 minutes. Add garlic, thyme, and oregano, and saute about a minute.
Add bay leaf, Creole seasoning, tomatoes, and broth. Bring to a boil, stir in rice, and simmer about 20 minutes, or until rice is tender.
Stir in chicken, cooked sausage, and shrimp; cover and cook about 5 minutes more, or until the shrimp are pink. Stir in parsley and serve.