When I posted about my whipped-cream-is-healthier-than-butter-and-syrup revelation recently, I got some questions about how to whip cream.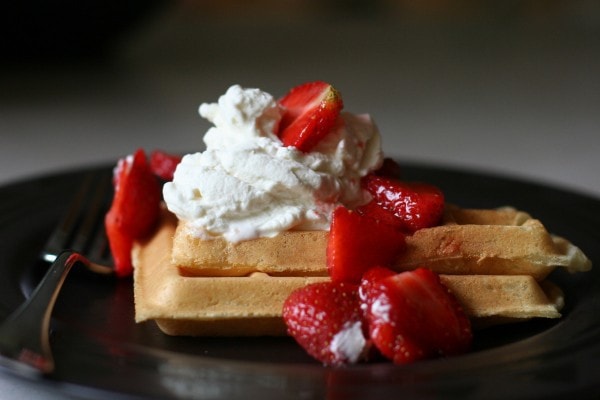 It's actually really easy and doesn't require a lot of sugar. Plus, it's cheaper than whipped cream in a spray can, more real than Cool Whip, and less trash-producing than either of those.
My method is nothing fantastic…it's just the basic whipped cream recipe from my Better Homes and Gardens cookbook
.
(incidentally, I highly recommend having one of those in your kitchen. It's not full of fancy food, but it's really, really great to have around for solid, basic recipes.)
So. To make enough to top two recipe's worth of pancakes, you need 1 cup of heavy whipping cream (light cream or half and half will NOT whip), 1/2 teaspoon vanilla, and 2 tablespoons of sugar.
Why yes, my cream is from Aldi.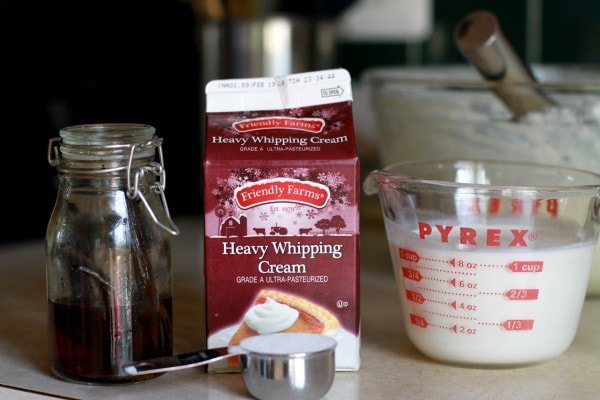 I know some of you will wonder about the vanilla…I didn't actually make that myself. My sister-in-law, (you would know her as Adriana's mom), made a bunch of jars and gave them to family members at Christmastime. I'm definitely going to give it a try myself, though, because the vanilla is really good.
Just dump all those ingredients together in a mixer bowl and fit your mixer with a wire whisk attachment. If you have time, you can stick your bowl and whisk in the freezer for 10 minutes or so, as cool temperatures help cream to whip better.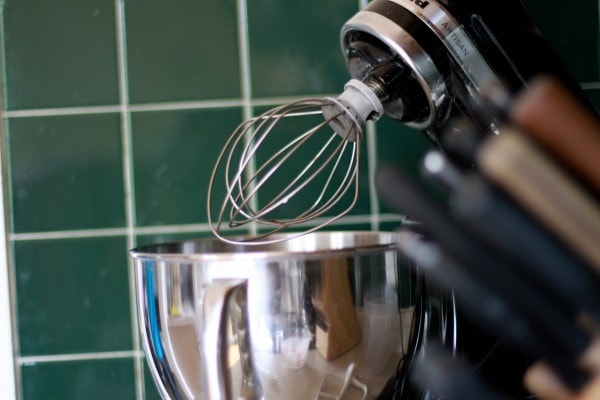 Mix on low speed for a minute or so, just to combine the ingredients, then mix on high until the cream is fluffy, like so.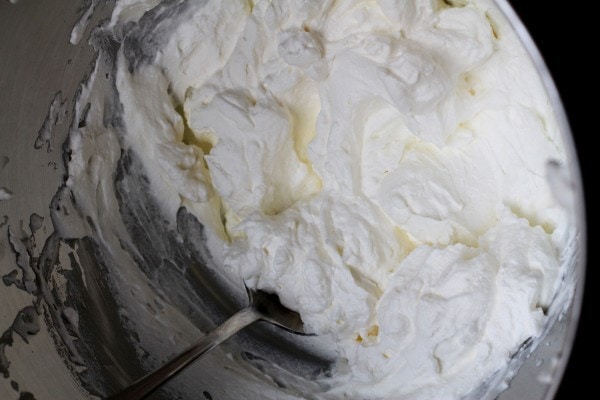 If you don't beat it enough, it'll be a little soft. It should have a pleasant firmness in your mouth.
If you beat it too long, though, it'll start to separate a bit. And if you beat it WAY too long, it'll turn into butter (That takes a really long time. Trust me.)
I promise it's not rocket science, though…just keep an eye on the cream as it whips. It should only take a couple of minutes. And really, the degree of firmness is up to you, especially if you're just putting dollops on top of waffles or pancakes!
Do you need something to top with whipped cream? Here are a few recipes for you.
Whole Wheat Buttermilk Pancakes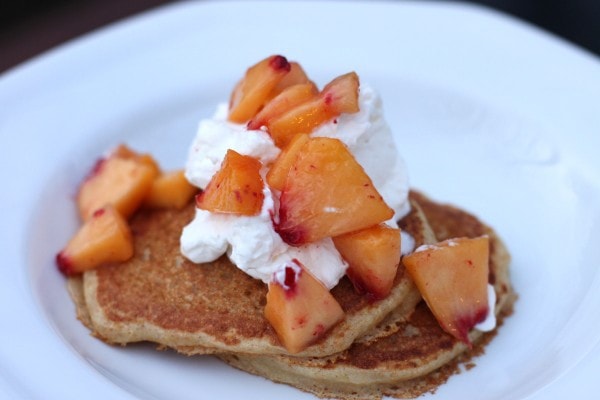 When I've got fresh fruit, I like to pair that with the whipped cream, but I've also used frozen fruit successfully (the peaches up there on the whole wheat pancakes are local peaches that I sliced and froze this summer). The key is not to thaw it to death…you want it to still be a little bit on the firm side.
Go make some breakfast food and whip up some cream for a change of pace from the usual syrup! It'll be delightful, I promise.