Like many diehard bakers, I use nonstick cooking spray on a fairly regular basis. And most of the time I use a discount brand, because I'm sort of a discount brand girl. My discount spray works fairly well, but there are times when it doesn't quite do the trick.
Oddly enough, I most frequently have trouble with sticking when I'm using my, uh, nonstick muffin tin.
It's not an old muffin tin, and the finish isn't chipping off or anything, but my goodness, I have such trouble with rolls and muffins sticking.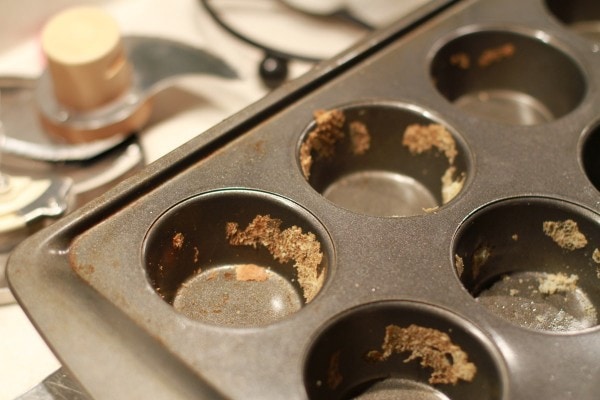 In fact, I have more trouble with that pan than I do with my plain muffin tin.
That makes no sense, I know.
Anyway, when I found out I was supposed to try the new, improved PAM® on my toughest sticking problem, I knew this muffin pan was a prime candidate.
70% better no-stick performance? Perfect.
I made some basic dinner roll dough and greased my muffin pan right up.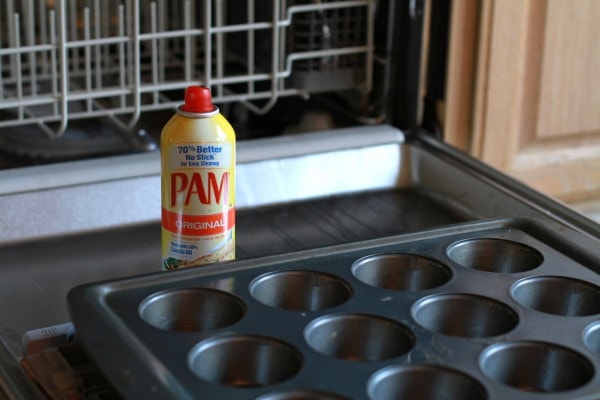 Why is my pan on the dishwasher door?
That's so any overspray goes on the dishwasher door. Much easier than cleaning overspray off of my counter.
One other quick tip: when I spray muffin tins, I like to use a little pastry brush to distribute the spray evenly.
I made some cloverleaf rolls because I think they're more interesting than plain round rolls.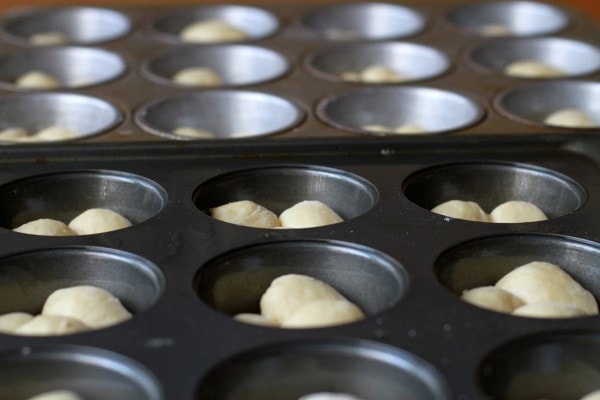 Here they are all risen and ready to go into the oven.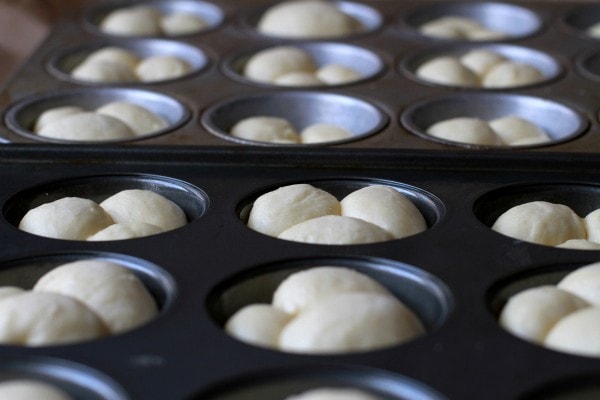 After they finished baking, I took them out of the oven, let them cool for a minute, and readied myself for the usual sticking.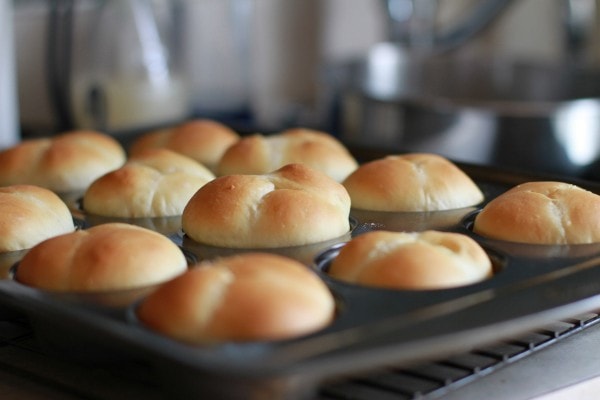 But look at this!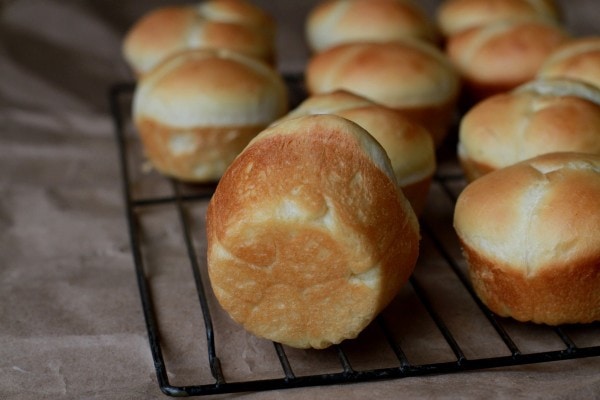 My rolls actually came out of that pan intact! All I had to do was gently run a knife around the rolls, and they came loose.
Let's look a little closer, shall we? Check out that perfection.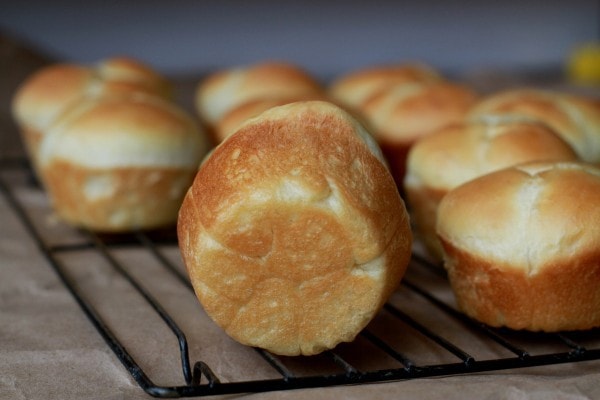 Normally the cloverleafs that come out of this pan have torn bits on the sides, so you can imagine my delight over these neat, unmarred rolls.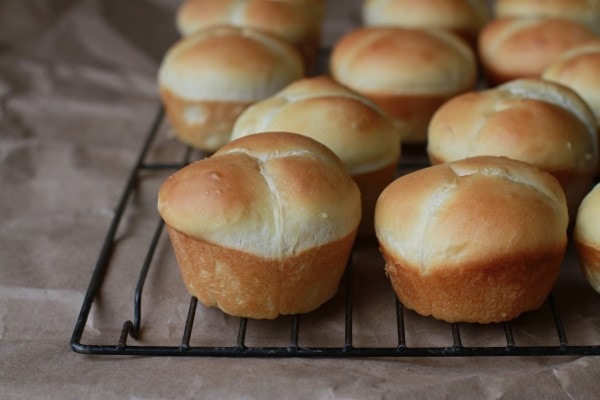 Marvelous.
I have to say, I wasn't sure any cooking spray could make my muffin tin work this well! I am impressed.
I didn't use any more spray than usual; I didn't change the recipe I used; I didn't change my greasing method…the only thing that changed was the brand of cooking spray.
So, despite my original skepticism, I'm convinced. The new PAM cooking spray is definitely better than the bargain brand I've been buying, so if you need superior protection against sticking, this is the spray for you. You can use PAM in any recipe you'd like, of course, but if you're interested in making my rolls, here's the recipe.
Basic Dinner Rolls-makes 24-36

Ingredients
1 cup milk
1/3 cup sugar
5 tablespoons butter, cut into chunks
1 teaspoon salt
2 packages(4 1/2 teaspoons) active dry yeast
4 1/4-4 1/2 cups all-purpose flour
2 eggs
1. Combine milk, sugar, butter, and salt in glass measuring cup or bowl. Microwave(or heat on stove top) until the butter is melted and the mixture reaches 120-125 degrees.
2. Combine yeast and 2 cups flour in the bowl of a stand mixer. Add warm milk mixture and eggs and beat on low speed for 2 minutes. Add 1 cup of flour and beat for an additional 2-3 minutes. Mix in as much of the remaining flour as you can by hand.
3. Turn dough out onto floured surface and knead for 3-5 minutes, or until dough is smooth and elastic. Put the dough in a bowl, cover with a tea towel, and let rise in a warm place for one hour.
4. Punch dough down, divide in half, and follow instructions below to shape the rolls.
Cloverleafs: Grease a 12 cup muffin pan. Take half of the dough and divide it into 12 pieces. Cut each of these pieces in three(you will have 36 pieces). Roll each piece into a neat ball, and place three into each muffin cup.
Knots Grease a large cookie sheet. Take half of the dough and divide it into twelve pieces. Roll each into a 6 inch strip and tie into a loose knot. Place on greased cookie sheet.
Rosettes Follow instructions for knots, but after tying the knot, tuck one end into the middle of the knot and one end underneath the knot to form a rosette shape.
5. Cover rolls and let rise in a warm place until doubled, about 30 minutes.
6. Bake in a preheated 350 degree oven for 12-15 minutes, or until lightly browned. Let cool on wire rack.
Ok! I've got a great giveaway for you guys. Read on!
To be entered for a chance to win a $100 Cooking.com gift card plus coupons for the new and improved PAM® Cooking Spray and Hunt's Tomatoes, leave a comment telling me your favorite recipe to make with the PAM Cooking Spray!
SWEEPSTAKES/GIVEAWAY RULES
This sweepstakes runs from 2/1 – 3/31. No duplicate comments. You may receive (2) total entries by selecting from the following entry methods: a) Leave a comment telling us what's your favorite dish to make with PAM? b) Tweet about this promotion and leave the URL to that tweet in a comment on this post c) Blog about this promotion and leave the URL to that post in a comment on this post d) For those with no Twitter or blog, read the official rules to learn about an alternate form of entry.
This giveaway is open to US Residents age 18 or older. Winners will be selected via random draw, and will be notified by e-mail. You have 72 hours to get back to me, otherwise a new winner will be selected. The Official Rules are available here.
Don't forget to visit the PAM® Facebook page, too!
Be sure to visit the PAM round-up page on BlogHer.com where you can read other bloggers' reviews and find more chances to win!