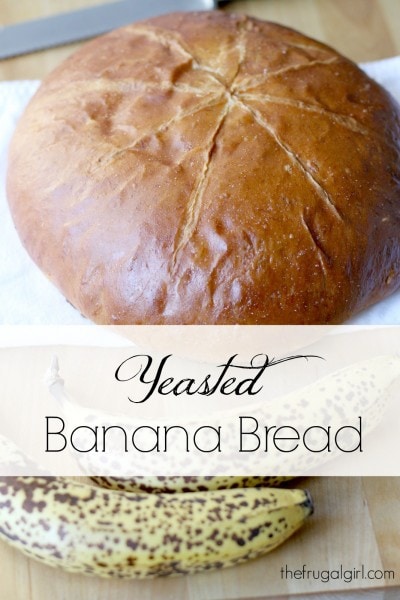 Banana bread is no stranger to most of us, but somewhere around 99.99% of banana bread recipes turn out quick breads (breads leavened with baking powder or baking soda rather than yeast).
I love banana quick breads and muffins, to be sure, but sometimes it's a little fun to shake things up and make a yeast bread with overripe bananas.
Plus, this bread is kind of a looker.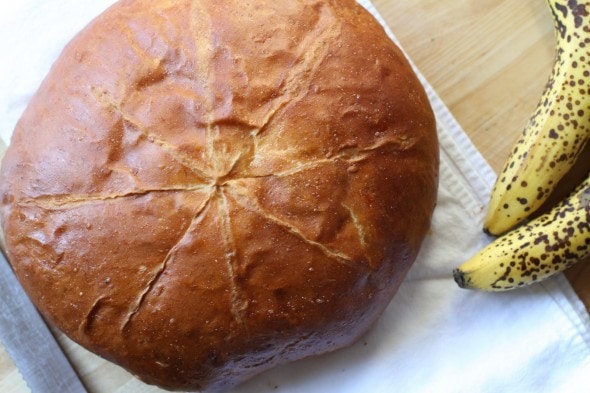 Aaand if you prefer a lighter, less-sweet banana bread, this will be right up your alley…it's more like bread and less like cake.
I used to make this when I was a teenager, and the recipe comes from my beloved 1970s Better Homes and Gardens bread cookbook. I'd sort of forgotten about it until I ended up with 10 super ripe bananas recently, so I decided this was a good time to dust off the recipe!
To start, you'll need to mash some overly ripe bananas.
You can do this in a food processor, but because I am too lazy to get it out and wash it, I just use a potato masher.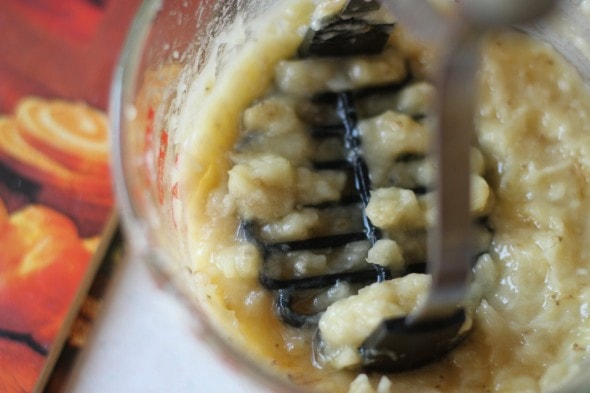 I never get the bananas as fine as the food processor does, but this seems to have no ill effect on the end product.
Easy for the win!
You'll also need to combine the milk, sugar, butter, and salt and heat it to around 120 ° F. The microwave is super convenient for this and I do it right in the measuring cup.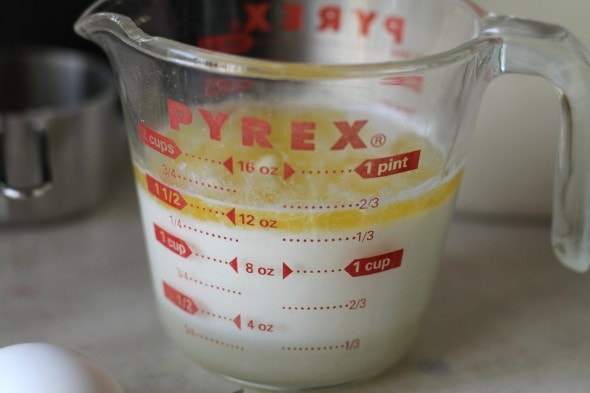 Combine 2 cups of the flour with the dry yeast.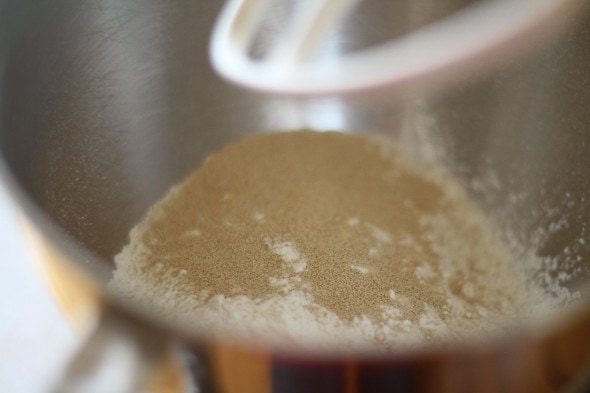 Mix the yeast and flour together. Then you'll pour in the milk mixture and add the bananas, an egg, and an egg yolk.
(We're reserving one white for glazing the loaves later.)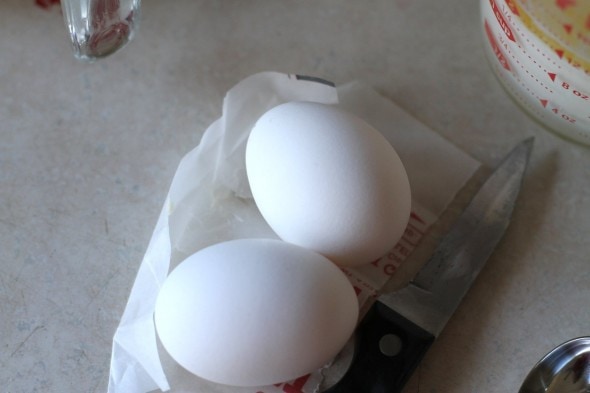 At this point, the dough will be a lot more like batter and you'll beat it on medium speed for about 3 minutes.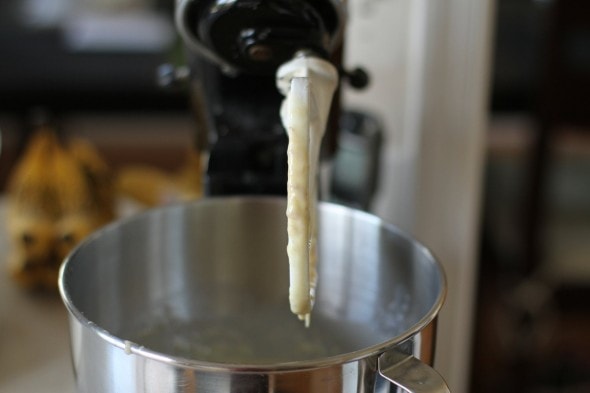 Now you're going to add in as much of the remaining flour as necessary to make a kneadable dough.
I like my dough to be fairly soft when I start to knead it, but you can make yours a little stiffer than mine if you like.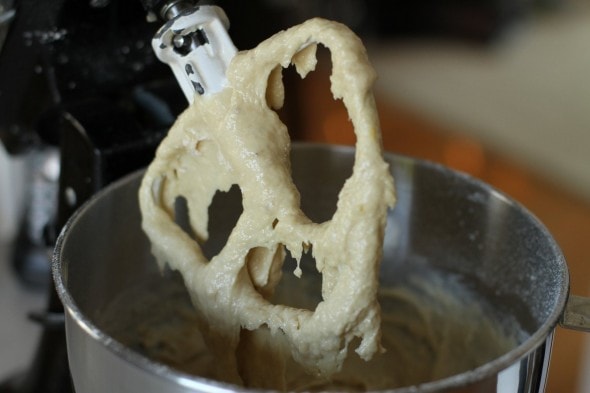 Here's what it'll look like when you dump it out.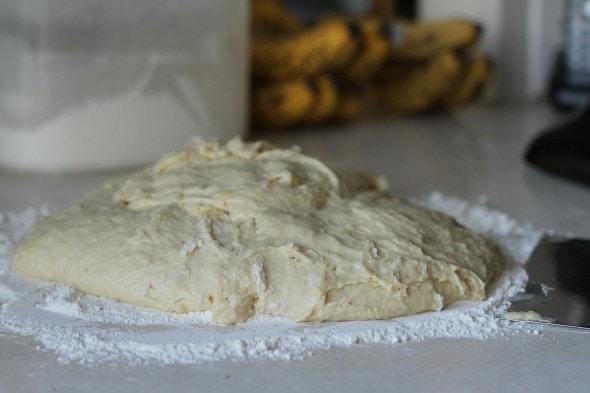 And once you knead it, it should look more like this. See how it's still soft enough to sort of flatten out a bit on the counter?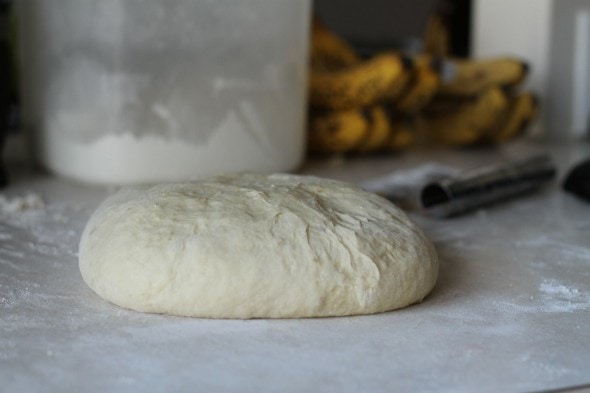 That's good because when dough is very stiff, the yeast bubbles have a hard time lifting it, and the result is heavy bread.
Softer dough will rise up beautifully, though.
Place the dough in a bowl, cover it with a wet tea towel, and leave it to rise for an hour.
Once it's done rising, turn it out onto a lightly floured counter and divide it in half.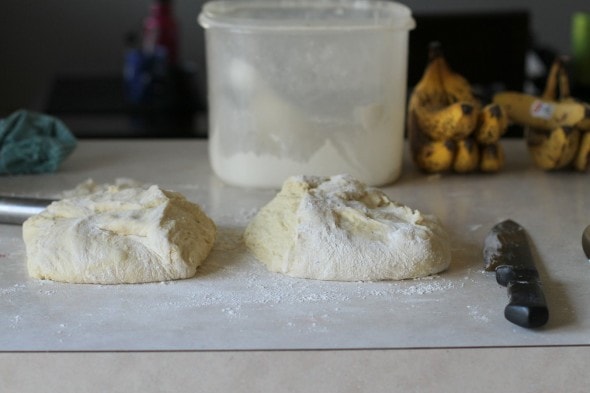 Then you'll want to make each half into a round loaf. I do this by pulling the outer edges around so that there's a smooth surface on the top and sort of an ugly mess on the bottom, like so.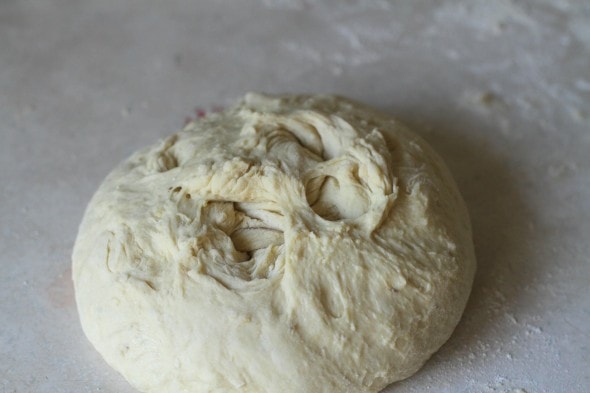 It takes a little bit of practice to do this easily, especially with a ball of dough this size, but it's the best way I've found to make nice smooth yeast dough balls for loaves, buns, or rolls.
Place each loaf onto a greased baking sheet. You could try to fit two on one sheet, but I think it's too crowded that way.
Cover each loaf with a wet tea towel and let the loaves rise until doubled, about 30-45 minutes.
Preheat the oven to 350 °F about ten minutes before the rising time is up so the oven is nice and hot when your bread is ready to bake.
Then whisk an egg white together with a teaspoon of water. Brushing this over the unbaked loaves will help them develop a beautiful sheen while they bake.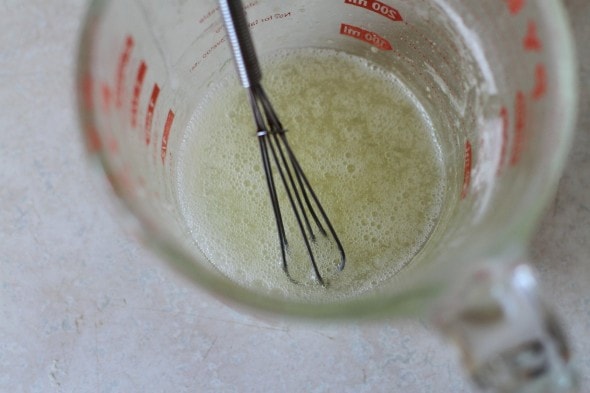 Brush over the whole loaf, and then use a knife to make slashes on the loaf, like so: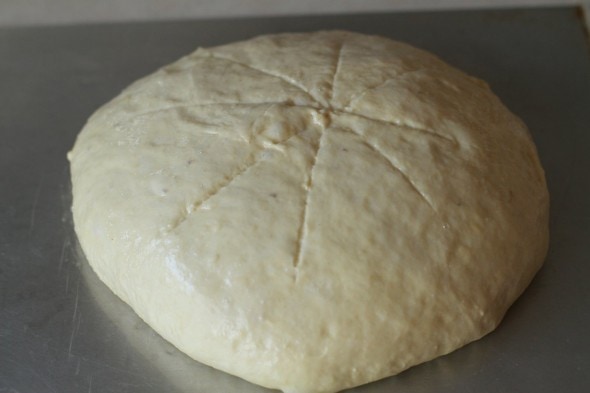 I find that a knife with really shallow serrations works great for a task like this.
Pop your loaf into the oven and bake for 30-45 minutes, then remove loaf to a wire rack to cool.
(And put your other loaf in the oven to bake!)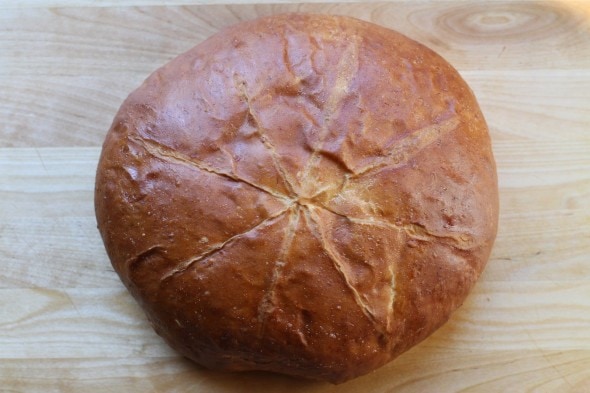 Then slice, butter, and enjoy.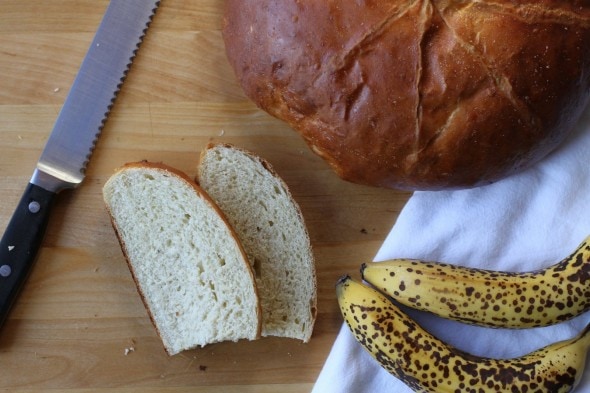 Since the recipe makes two loaves, and since it has no preservatives, you'll probably want to freeze one so that it doesn't dry out before you get to it.
If you have a small family, try cutting the loaves in half and freezing each half separately. That way you can defrost just one half at a time.
Yeasted Banana Bread
Printable Yeasted Banana Bread Recipe
makes 2 round loaves
5.5-6 cups all purpose flour (Gold Medal Unbleached is the BEST)
2 pkg. active dry yeast
3/4 cup milk
1/2 cup sugar
1 teaspoon salt
1/2 cup butter, cut into pieces
2 ripe bananas, mashed (1 cup)
2 eggs
In a large mixer bowl, combine yeast with 2 cups of the flour.
In a measuring cup, combine the milk, sugar, butter, and salt, and heat to 115 °F.
With the mixer running, add the milk mixture to the flour mixture. Then add mashed bananas, 1 egg, and 1 egg yolk (reserve the white for brushing over the loaves.)
Beat at low speed until combined, then beat at medium speed for 3 minutes. Stir in enough remaining flour to make a soft, but kneadable dough.
Turn dough out onto a floured surface and knead 3-5 minutes, adding flour as necessary, until dough is smooth and elastic.
Place dough in bowl, cover with wet tea towel, place in a warm spot and let rise for 1 hour.
Turn dough out onto a floured surface, divide in half, and shape each half into a round loaf. Place each loaf on a greased baking sheet. Cover with a damp tea towel and let rise til double (30-45 minutes).
Use a knife with shallow serrations to make slashes around the loaf as shown in the photos. Beat egg white with 1 teaspoon water; brush over loaves.
Bake in a preheated 350 °F oven for 30 minutes. Remove from baking sheet to cool on a wire rack, and place second loaf in oven to bake.