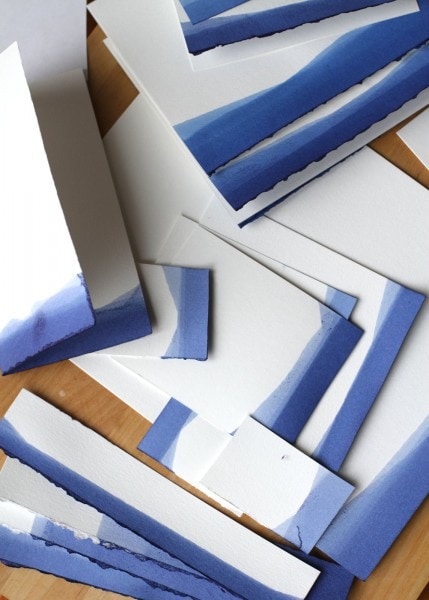 So, a little while back I got an email letting me know that Yahoo! has a DIY site full of tutorials for home decor, crafts, gifts, recipes, and more.
(Yay! I love DIY!)
As part of their blogger program, they invited me to give one of their tutorials a try. I browsed through them all (tablescapes? nah, not for me.) and came across a tutorial for dip-dyed stationery.
That piqued my interest not only because my girls love crafts but also because they are way into sending letters these days (and their envelopes are always closed with sealing wax.
)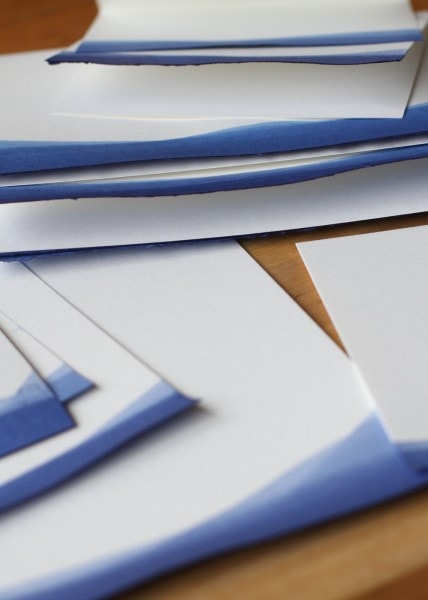 Plus, this stationery is awfully beautiful (and it looks so professional. Which is how I like DIY to be…when it doesn't look DIYed, I'm a happy girl.)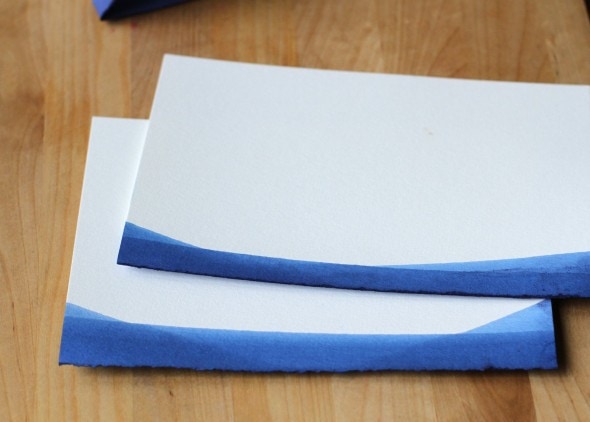 You all already know that I occasionally love to dye cloth, but I've never used fabric dye for anything except fabric.
So, I went out to a craft store and picked up a package of watercolor paper and a box of powdered Rit dye in royal blue.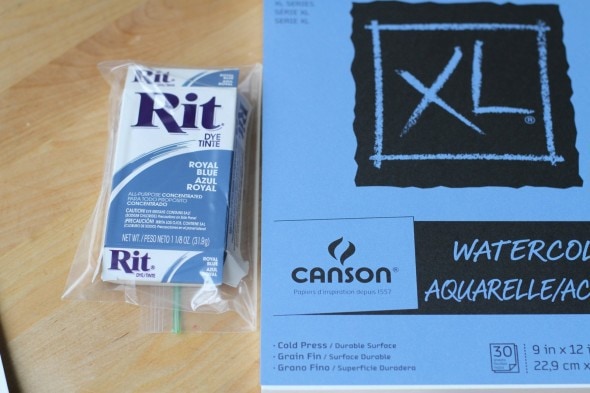 (The color possibilities are nearly endless, but I thought the blue from the original tutorial was beautiful, and I have a soft spot for blue anyway. So, blue it was.)
The Yahoo! tutorial didn't give specific directions for a water to dye ratio, but I combined half a packet of dye with 2 cups of boiling water and that seemed to work perfectly.
You'll want to use a plastic container that's wide enough for your watercolor paper, but also one that you don't really care about because it's gonna be stained when you're done.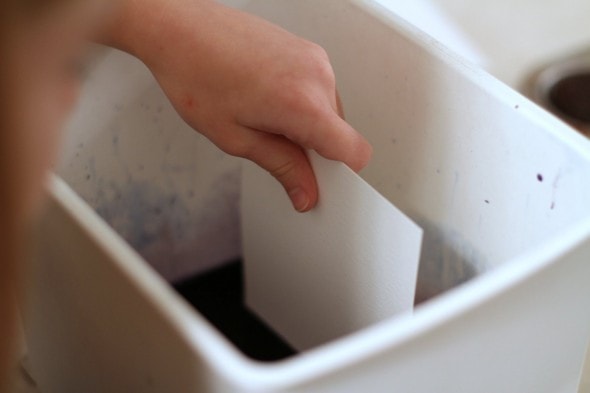 I used the liner from an old lunch box of Mr. FG's.  Normally it stores extra toiletries, so it totally did not matter to me if I stained it.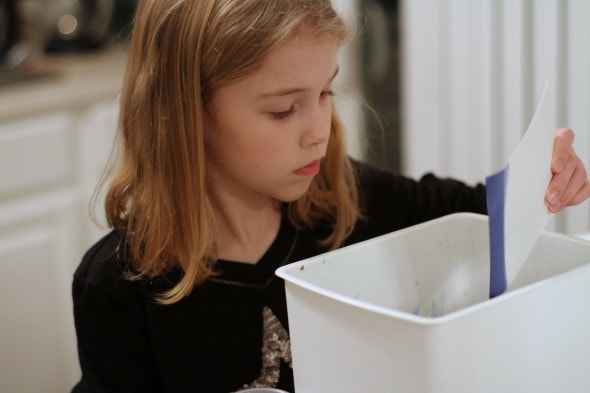 Another good option could be those Ziploc/Glad reusable containers, as they come in sizes wide enough for dipping.
So, once the dye is mixed with the water, just dip the edges of your paper into the dye.   If you just want a neat band of color, dip your paper evenly.  But if you'd like a little more color variation, you can dip one side a little deeper or soak one area a little bit longer.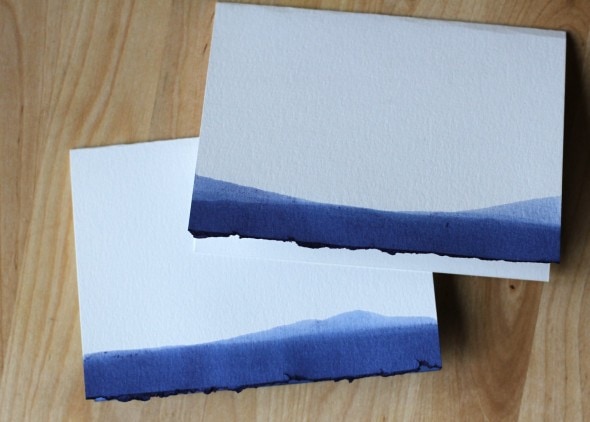 The paper in the tutorial looked like it had ripped edges, so using a ruler to give me a straight line, I ripped the edges off of some of our papers.  Watercolor paper is so thick, it's a little tough to rip, but I really do like how the ragged edges look, and they soaked up the color a little differently, which was nice.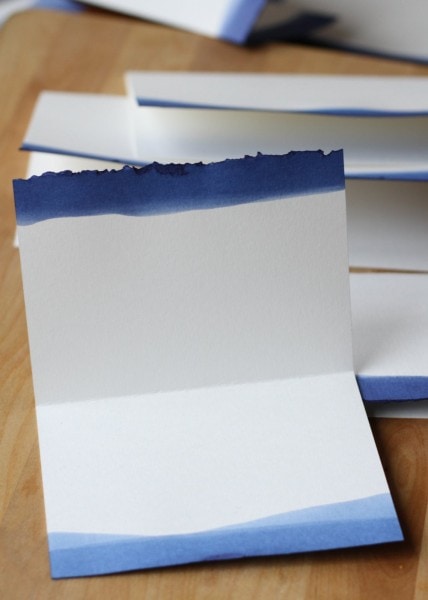 Once you're done dipping your paper, place it on a tray to dry (dye can obviously, um, dye absorbent surfaces, so be careful!).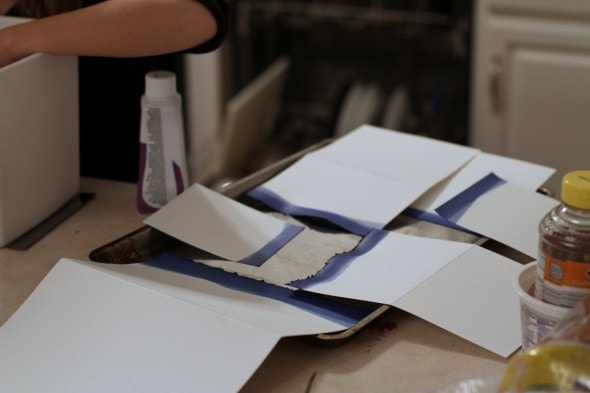 The original tutorial included instructions for making a lovely notepaper dispenser with a nail and a piece of wood, but since we made our stationery in all sorts of shapes and sizes, we opted to skip that part.
Sonia busied herself making one-sided notecards in various shapes.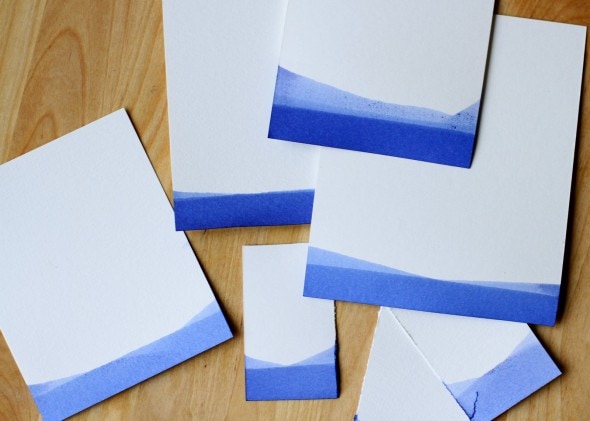 I made two-sided cards, mostly, and for one, I dipped both the front edge and the back edge.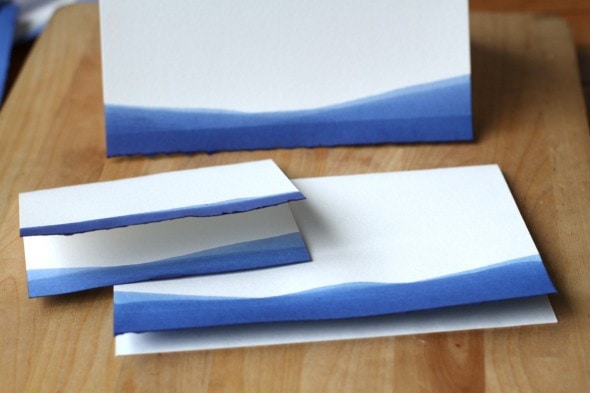 Sonia came up with the idea to make bookmarks, which worked out pretty nicely, I think!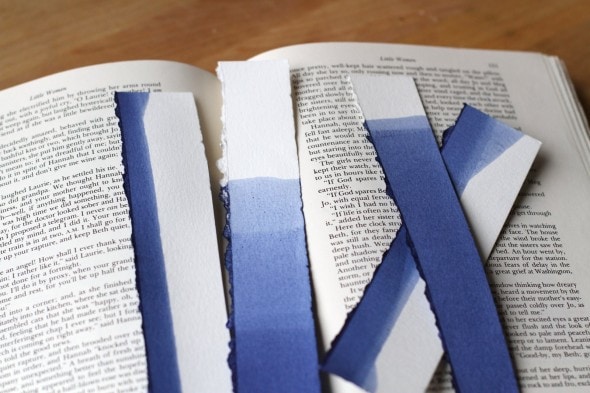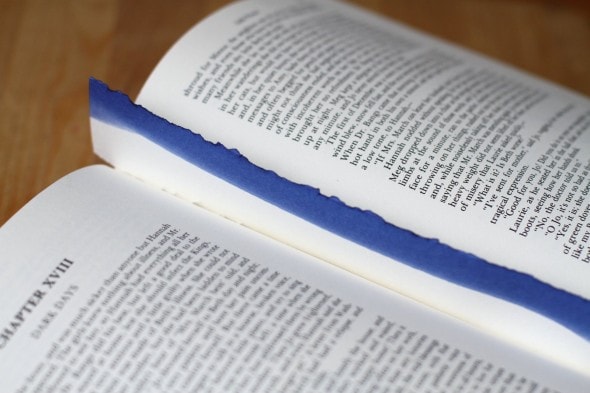 Anyway, we dipped to our hearts' content, and still, our dip-dye solution would have done more paper.  So, I definitely think half a packet plus 2 cups of water is a good combo.
Here's the sum total of what we made: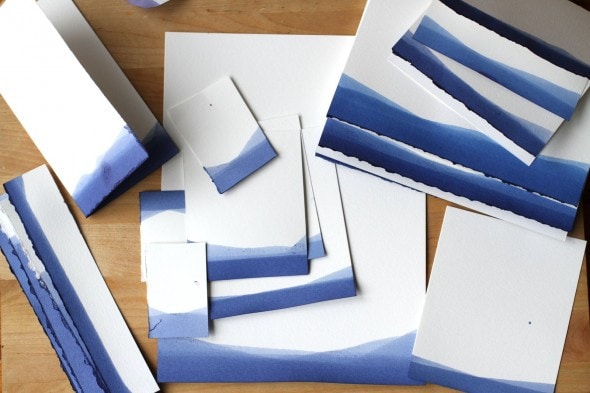 The watercolor paper was only $5 (30 sheets) after the 40% off coupon I used, and the dye cost $2.29.  Plus, we only used half the dye and not even half the paper, so the cost for what we made was a mere $3.65.
So, this is a super affordable craft, and if you know someone who loves to send letters, a stack of these would make quite a lovely gift.
I definitely think that we'll be doing this again and again, especially since there are so many other fun Rit dye colors to experiment with.
By the way, if you are like me and wonder if this can be done with regular paper, the answer is no.  See?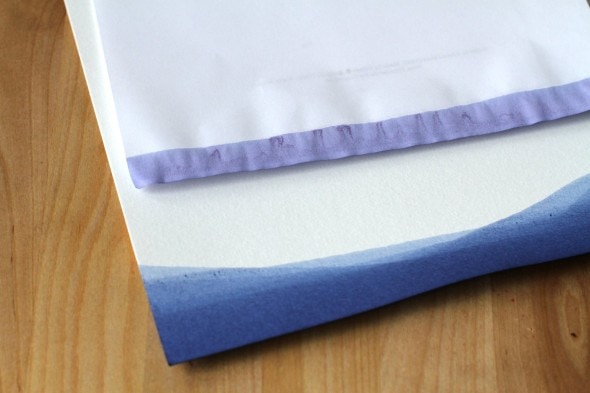 The regular paper is just too thin to handle all that liquid, and the color turns out funky as well. So, pony up for the watercolor paper. 
Check out the #YahooDIY tutorial for full instructions (and also to see the wood/nail notecard holder instructions.)  And be sure to take a peek at all the other great tutorials available on Yahoo! DIY.
____________________________
Thank you Yahoo! for sponsoring this post. While this was a sponsored opportunity from Yahoo!, all content and opinions expressed here are my own.