(I know, this is a weird time to publish a recipe involving candy canes. But I've been going through some old posts that were filed in a weird spot on my blog and fixing them up, adding recipe cards as needed, and this is one such post. You can pin it for next Christmas. Or use starlight mints and make it now!)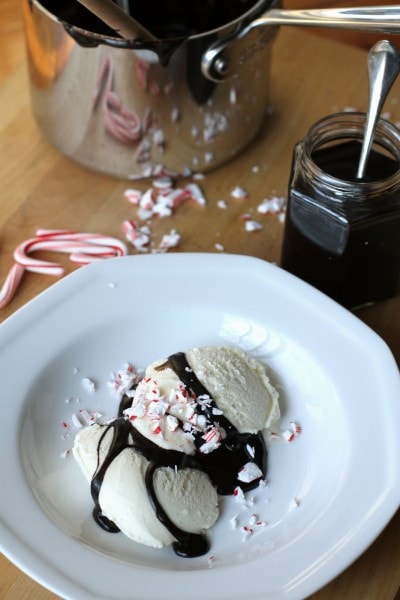 For some people, a peppermint/chocolate combo is reminiscent of eating toothpaste with their chocolate.
(I know. That is a disgusting thought.)
But for me, mint and chocolate is an endlessly appealing flavor combo.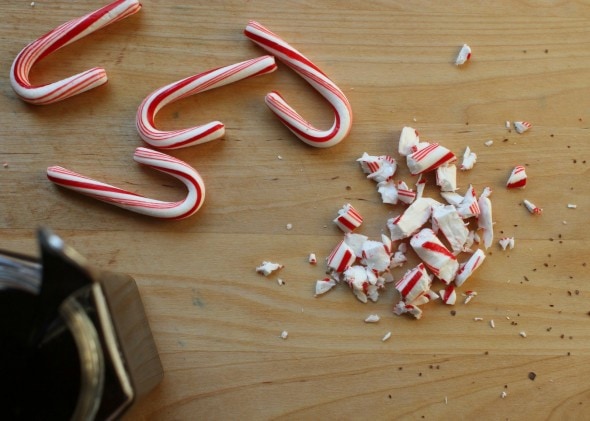 I originally found this on a now-defunct section of the Yahoo site, but I believe that the original original was from Smitten Kitchen.
When I first made this, I had just gotten my adorable new All-Clad pot and I have to say, that's part of the reason I chose the recipe. 😉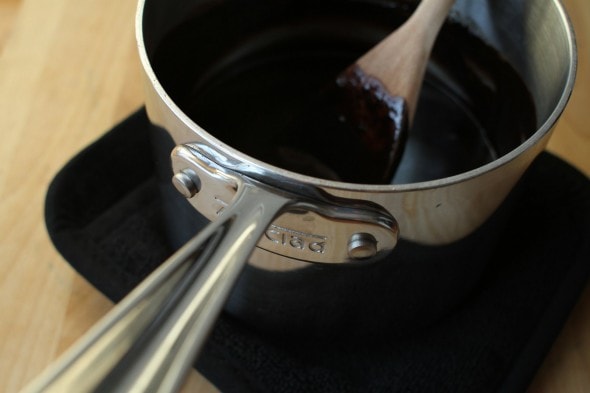 gratuitous new pot photo
I haven't dabbled in fudge-sauce-making a whole lot, but this is SO good and so easy.
As it turns out, if you can operate a spoon, you can make decadent fudge sauce.
My favorite part: once you pour it on the ice cream, if you let it sit for just a few minutes, it hardens into a firmer, fudgy consistency, which is perfect with slightly melty ice cream.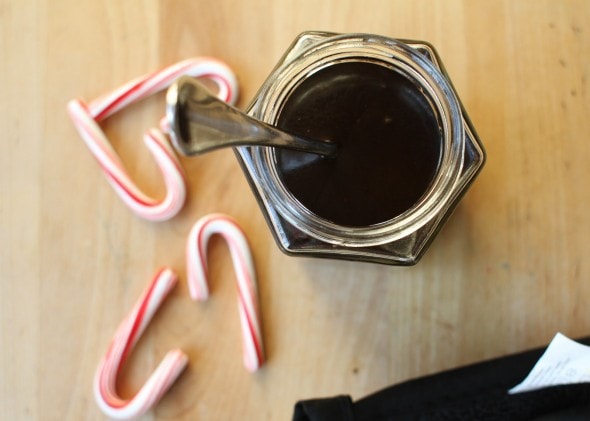 If you have some leftover candy canes from Christmas, they make a beautiful and tasty topping, but you can skip that bit if you'd like.
Or if it's not Christmas-time and you want to make this, you can certainly crush regular round peppermint candies instead.
Alrighty.
You'll need to chop up 6 ounces of chocolate first. I normally eat 85% dark chocolate, but since I wasn't planning to eat the sauce all by myself, I used a mixture of 70% and 60% dark chocolate.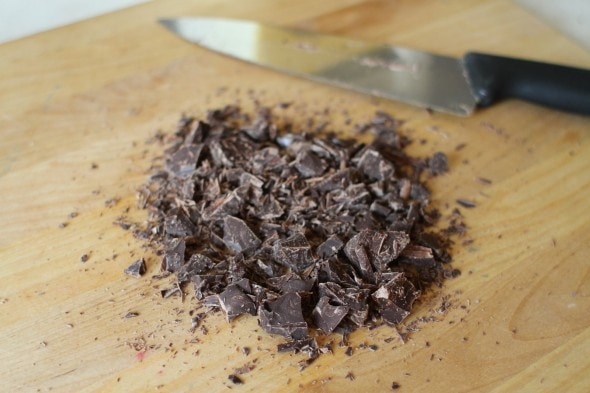 You could use milk chocolate, I suppose, but the sauce does have a lot of other sweetness added so I feel like milk chocolate would make a sickeningly sweet fudge sauce.
But this is coming from a fan of 85% dark chocolate, so take that with a grain of salt.
Combine half the chocolate with cream, brown sugar, light corn syrup, and Dutched cocoa powder (Hershey's sells this as dark cocoa powder).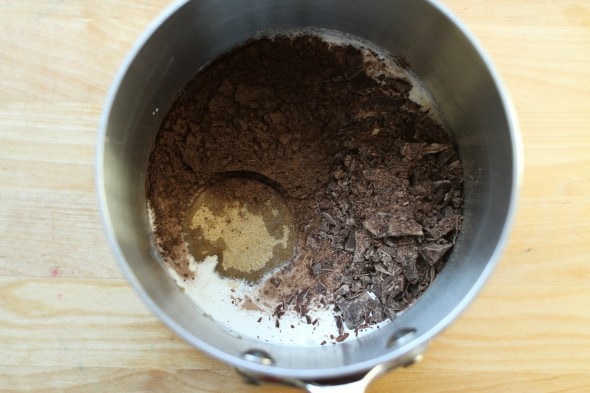 You'll need a 2 quart saucepan for this.
<Kristen does a happy dance and pulls out her new pot.>
Over medium heat, cook and stir until it all melts together, and continue cooking for about 5 minutes, stirring occasionally.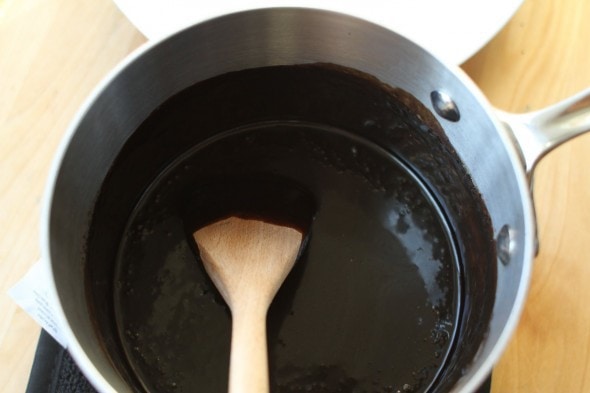 Remove the pan from the heat and stir in the remaining chocolate, the peppermint extract, butter, and salt.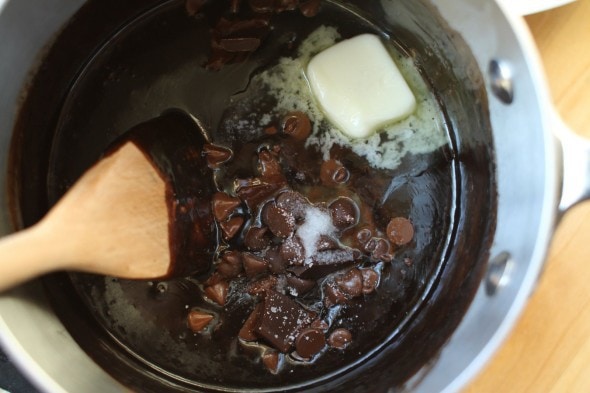 I love salt with chocolate.
And that's it! Fudge sauce is complete.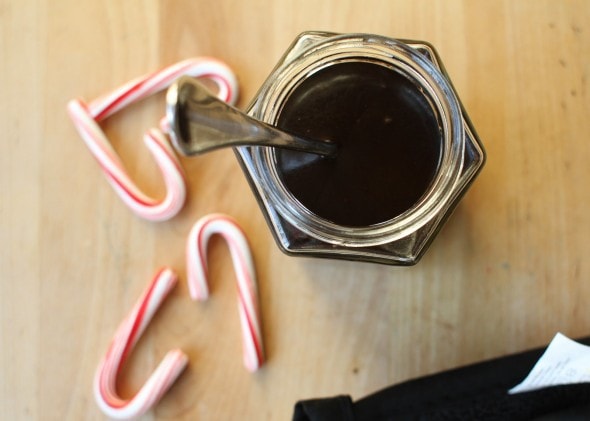 Let the sauce cool for a bit before you pour it over the ice cream, or your ice cream will get awfully melty.
Once the sauce is slightly cooled, pour it atop some ice cream, and then sprinkle with chopped candy canes.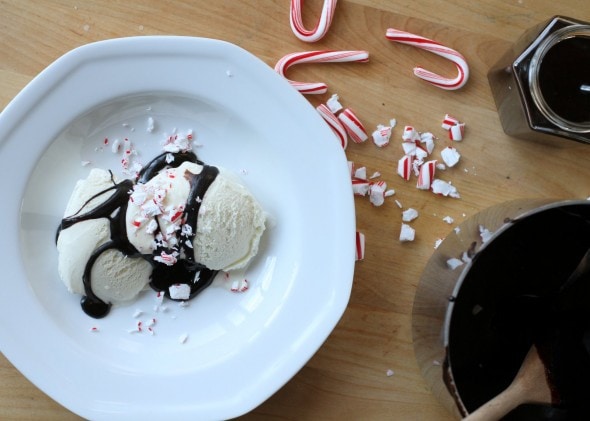 As I said, the candy cane step is optional, but I really liked the bit of extra crunch the candy cane bits provided.
One quick note before the printable: If you hate peppermint, just turn this into a salted fudge sauce by omitting the peppermint extract and the candy topping.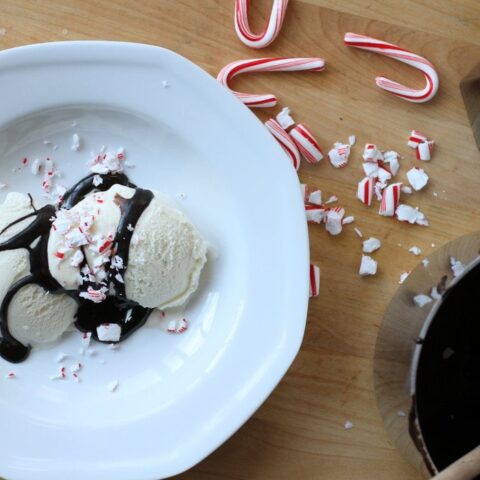 Salted Peppermint Fudge Sauce
This easy fudge sauce is made from pantry ingredients and requires little more than stirring.
Ingredients
2/3 cup heavy or whipping cream
1/2 cup light corn syrup
1/3 cup packed dark brown sugar (I used light brown)
1/4 cup unsweetened cocoa powder, ideally Dutch-processed
Heaping 1/4 teaspoon fine sea salt or level 1/4 teaspoon table salt (I used sea salt)
6 ounces bittersweet chocolate, chopped (or, about 1 cup bittersweet chocolate chips), divided
2 tablespoons unsalted butter
1/4 teaspoon peppermint extract, or to taste
Crushed candy canes, for serving (optional)
Instructions
1. In a 1 1/2 to 2-quart heavy saucepan, combine cream, syrup, sugar, cocoa, and half the chocolate and bring to a boil. Reduce heat and simmer for 5 minutes, stirring occasionally.
2. Remove pan from burner and stir in remaining chocolate, butter, peppermint extract, and salt. Stir until smooth. Cool sauce before pouring over ice cream.
3. Store in an airtight container in the fridge for up to two weeks.
Notes
If you don't have candy canes, use crushed round mint candies instead.
If you don't like peppermint, omit the peppermint extract and the crushed candy topping, and you'll have salted fudge sauce.