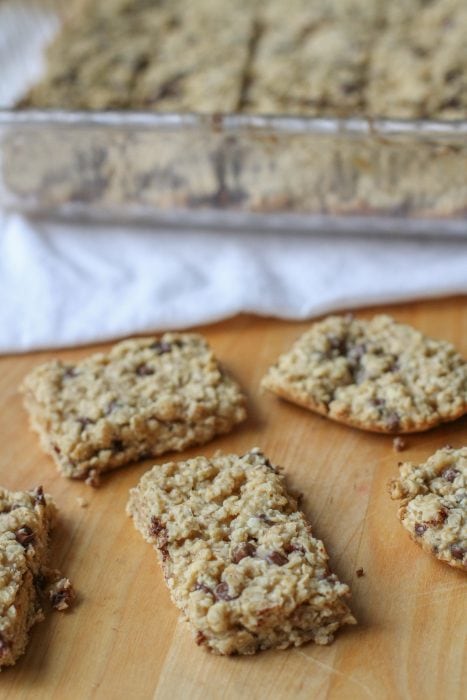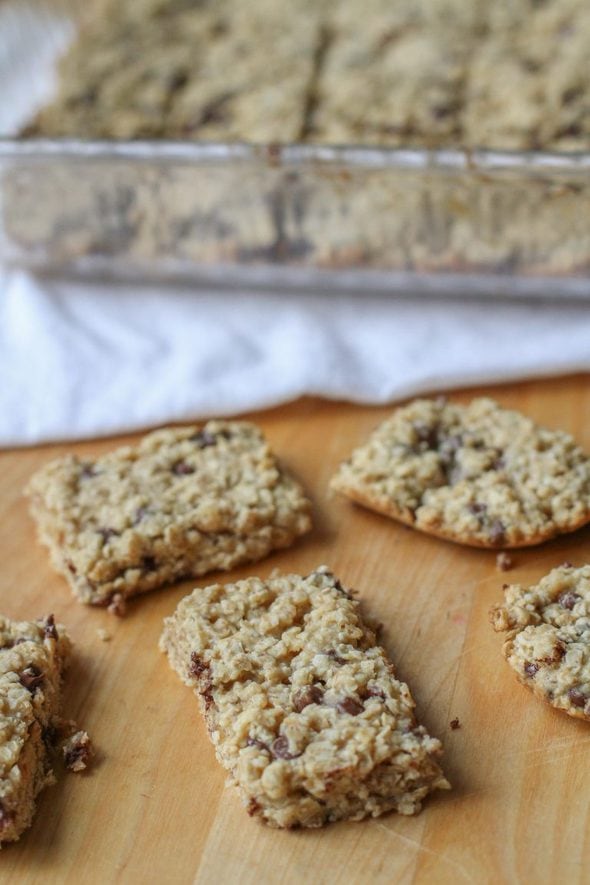 I wanted to link to this recipe recently, and I clicked on over to it only to discover that it was kind of a train wreck. Totally un-printable, with photos intermingled with directions and ingredients.
It was 2009, what can I say? I didn't know what I was doing! And there was no such thing as a handy-dandy recipe card plugin.
Anyhow, I thought it needed a re-post with a printable version.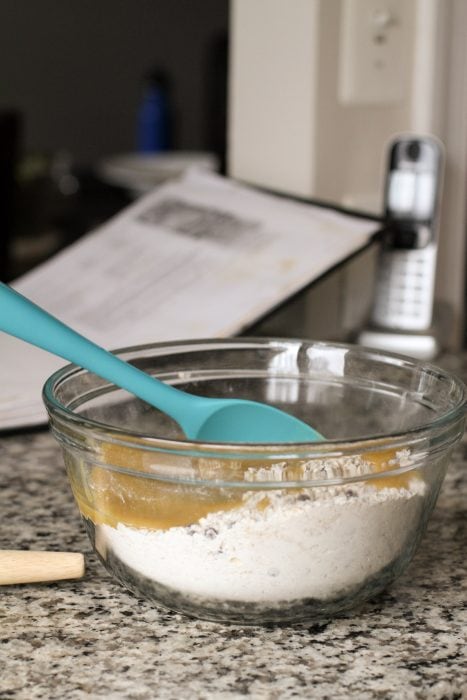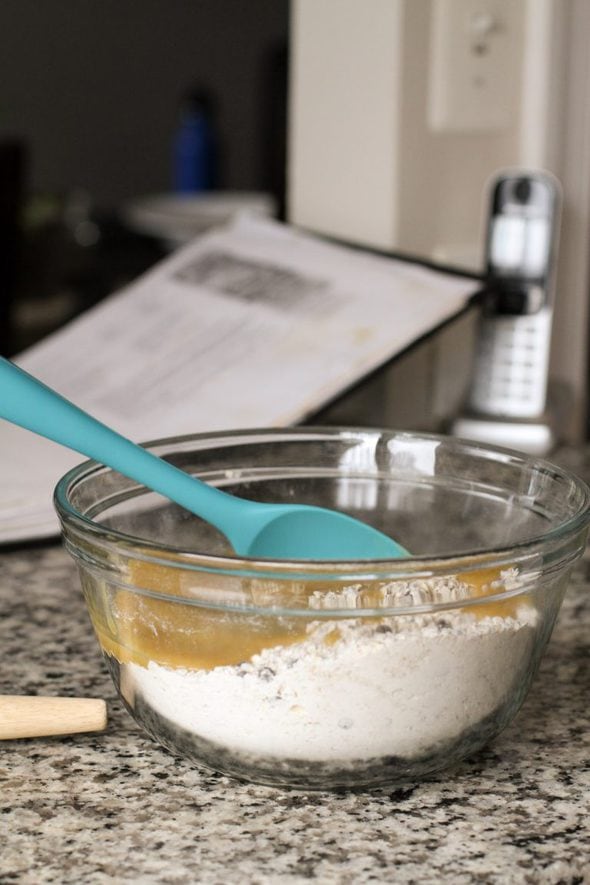 Some granola bar recipes employ a method similar to the one used to make Rice Krispie bars, where you make a syrup, pour it over oatmeal and some other ingredients, press the mixture into a pan, and let it cool.
This is not such a recipe…instead, this is more similar to the way you make muffins or cookies. You mix the dry ingredients, mix the wet ingredients, combine them, spread them into a pan, and bake them.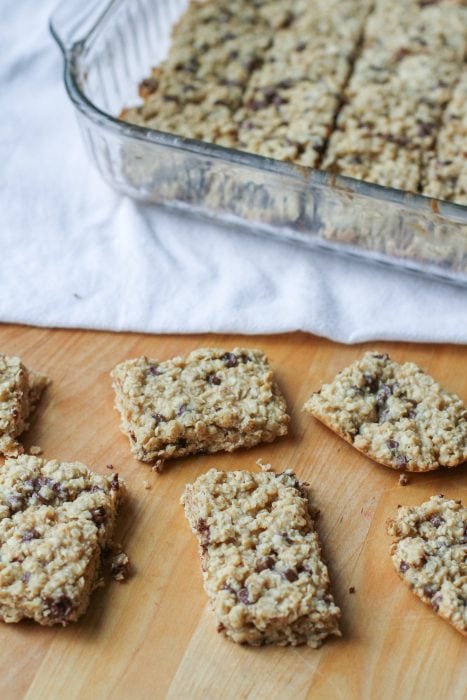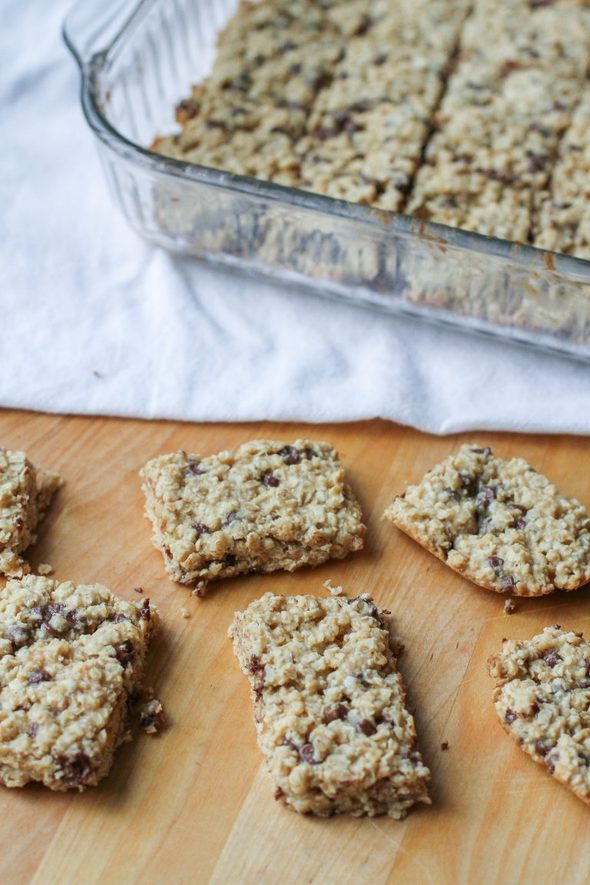 The resulting granola bars are dense and somewhat chewy, kind of like a bar cookie.
They're very simple to make. You just mix the dry ingredients: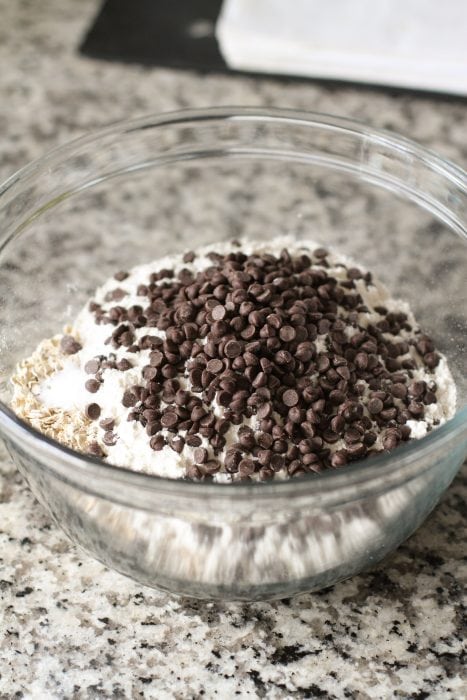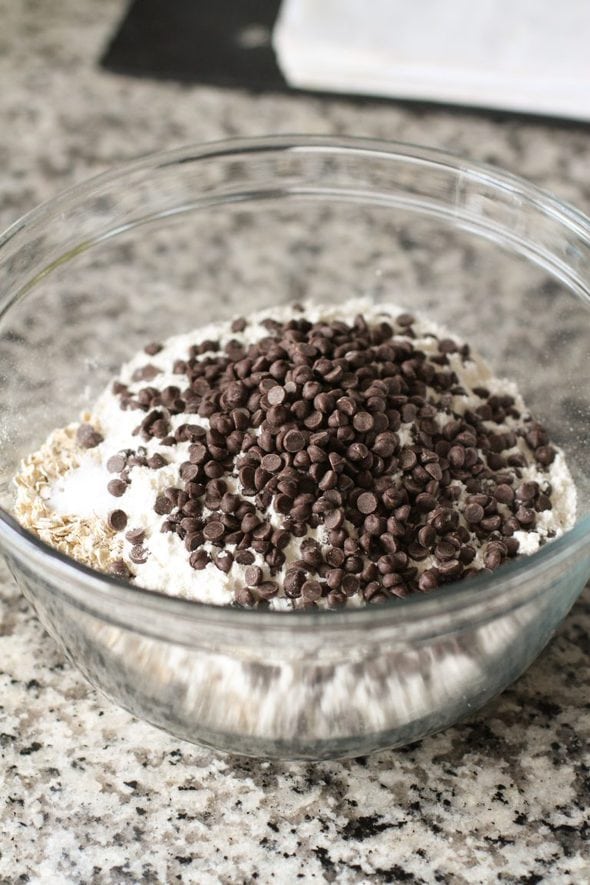 Mix the wet ingredients: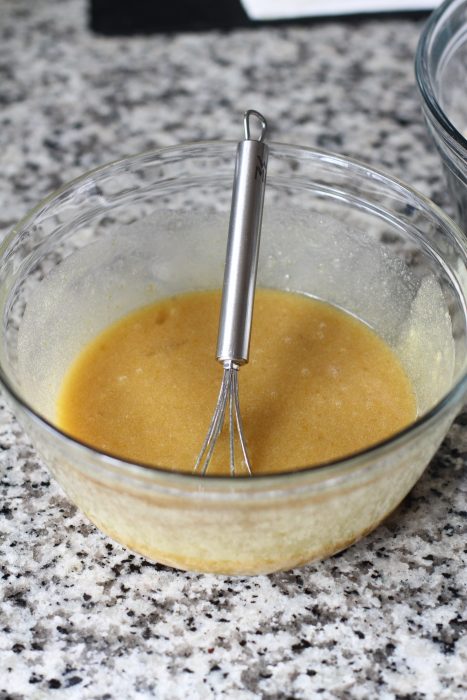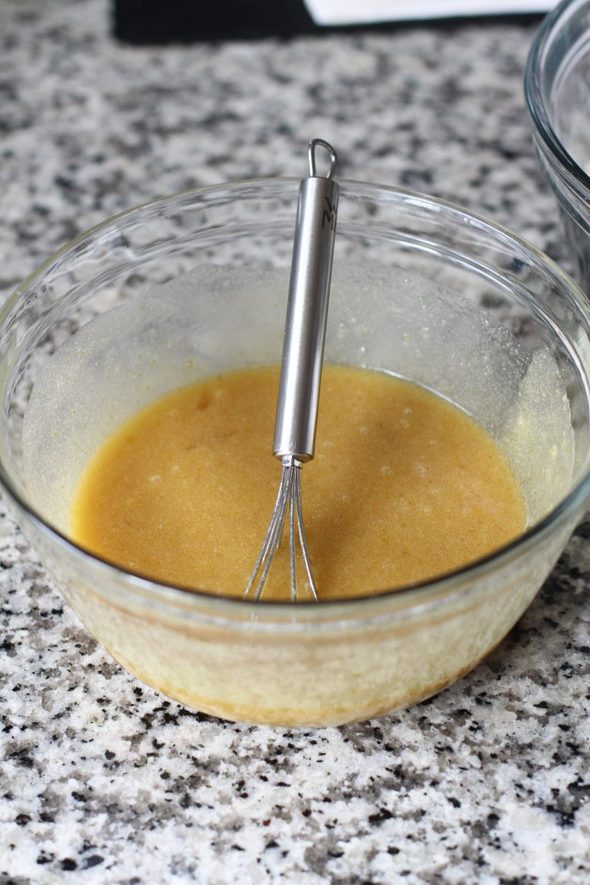 (incidentally, that small whisk is one of my favorite kitchen tools. So great!)
And then combine them.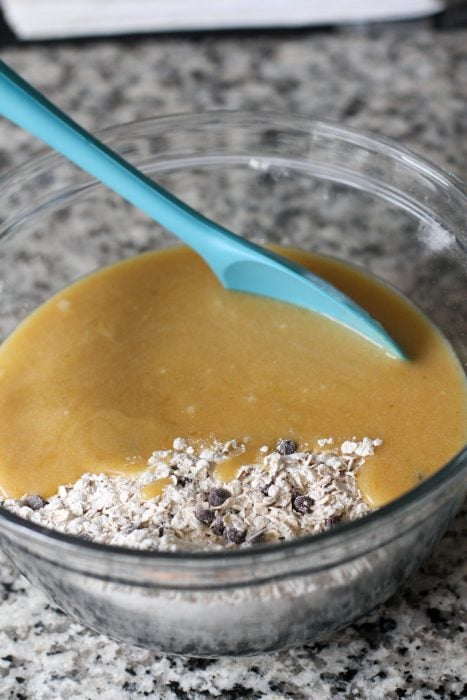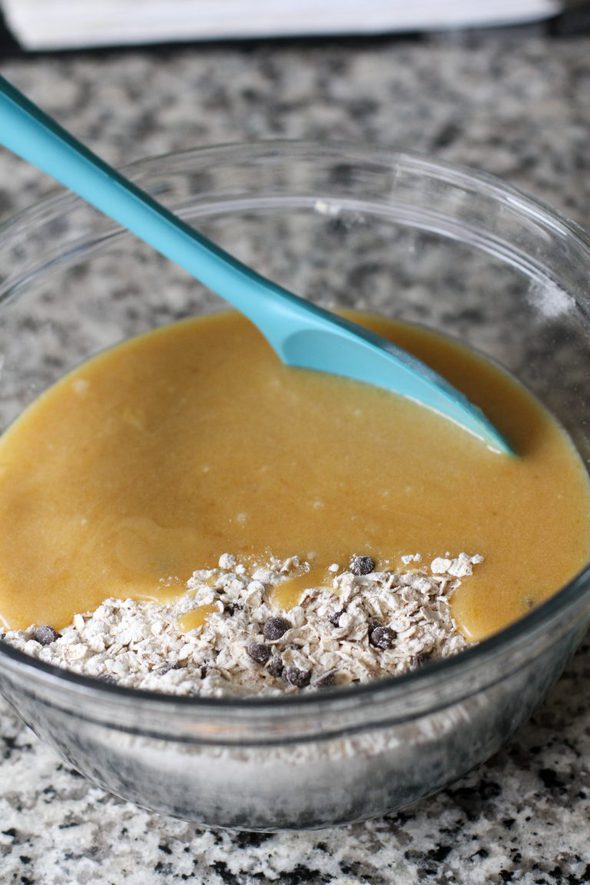 Press the mixture into a greased 9×13 pan (you will be sure it won't spread far enough, but it does! A greased spoon or spatula is helpful.)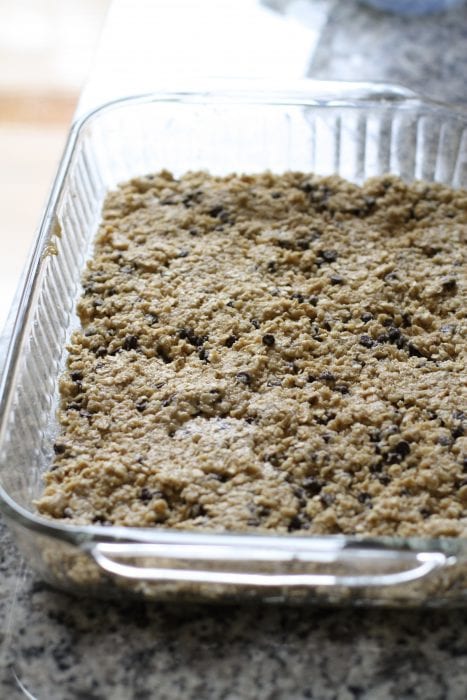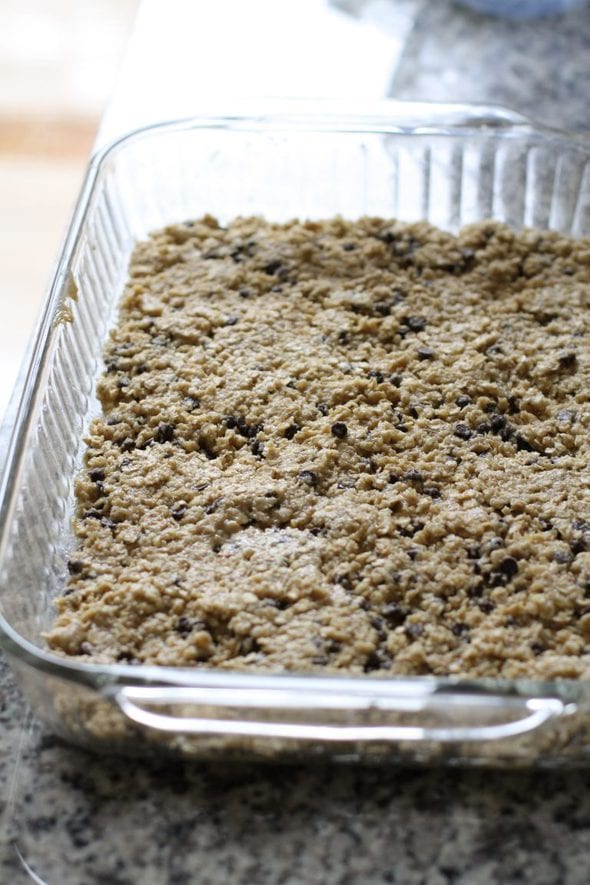 Bake 'em for 15 minutes, and you're done!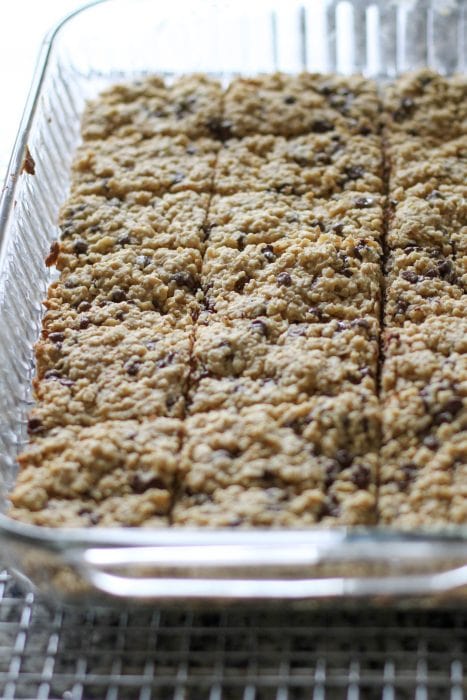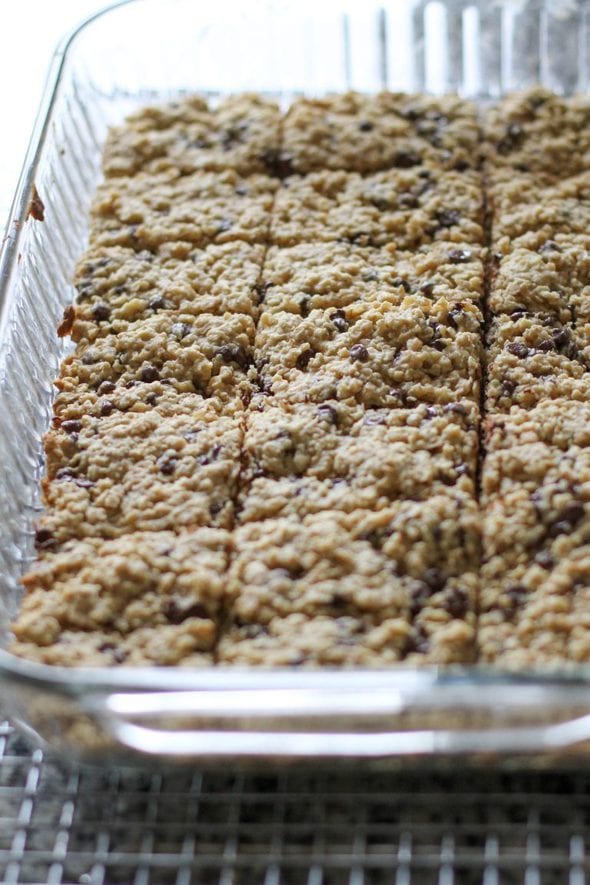 If you like your bars a little softer, check them at 12 minutes; they bake surprisingly fast.
A few notes:
These freeze nicely, so sometimes I bake two batches, one chocolate chip and one cinnamon-raisin, and freeze some of them.
The original recipe called for 3/4 cup of sugar, which is overkill in my estimation, especially with the 1/2 cup of honey. I've used as little as 1/4 cup and have still come away with family pleasing results.
Whole wheat flour can be substituted for the white flour. I don't usually do that when I'm making a chocolate chip version, but it works nicely with the raisin type. A 50/50 mix of white and wheat is a good option too.
If you want to make a chocolate version, leave out the cinnamon, and substitute chocolate chips for the raisins. Mini chips work really well but you can use either.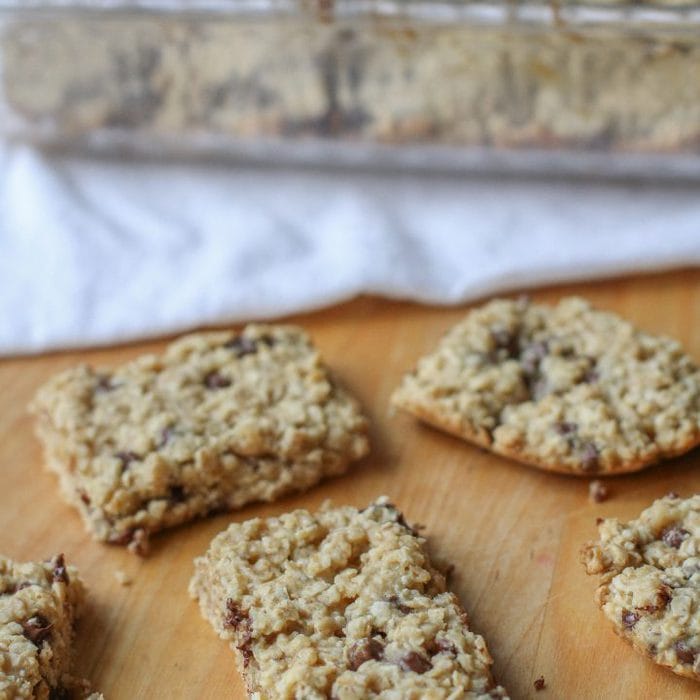 Homemade Granola Bars
This recipe makes hearty bars that freeze and travel well. Super easy, and less expensive than pre-packaged granola bars.
Ingredients
2 cups quick cooking oats
1/2 teaspoon salt
3/4 cup raisins or chocolate chips
1/2 teaspoon ground cinnamon (if using raisins)
1 cup all-purpose flour
1/2 cup chopped English walnuts (optional)
1/2 cup vegetable oil or melted butter
1/2 cup honey
1/4 cup packed brown sugar
1 egg
2 teaspoons vanilla extract
Instructions
Heat oven to 350° F. Grease a 9x13 inch pan.
Mix oats, salt, raisins/chocolate chips, cinnamon, flour, and walnuts (if using) in a large bowl.
In a separate bowl, whisk oil, honey, brown sugar, egg, and vanilla.
Pour wet ingredients into oatmeal mixture and mix thoroughly.
Spread granola mixture into prepared pan, using a greased spatula or spoon to spread evenly.
Bake 12-15 minutes. Cool in pan on wire rack, cut into bars, and store cooled bars in an airtight container.
Recommended Products
As an Amazon Associate and member of other affiliate programs, I earn from qualifying purchases.