Things started out ok….I got my groceries to the counter at Aldi, but then remembered I didn't have any cash because I'd used it all to pay for my blueberries from Jersey.
So, then I decided just to use my debit card, which would have been great except for the fact that it had expired the day before. I was dumbfounded and couldn't figure out why my band hadn't send me a new card.
I had to leave my groceries at Aldi, drive to the bank, go inside (can't use an expired debit card at the ATM), order a new debit card (with a new number, in case the one they sent me had gotten into the wrong hands), get some cash, and then go back to Aldi.
On the bright side, though, my bank is just across the highway from Aldi and my kids aren't nearly as hard to get in and out of the car as they used to be (they all walk and they can all buckle and unbuckle themselves. Life is pretty good.).
After leaving Aldi with my paid-for groceries, we went to Weis, and I realized that I hadn't gotten peppers or onions at Aldi. Red peppers are usually prohibitively expensive anywhere other than Aldi, so I was thinking I'd have to go back to Aldi again (3 times in one day is just tooo much!), but then mercy of mercies, I saw that red peppers and sweet onions were both on sale at Weis. Yay!
Anyway, by the time we got home it was more than lunchtime, so all I have for you today is a picture of bagged groceries.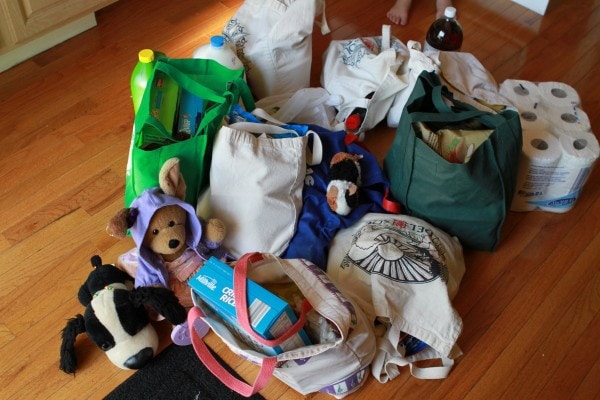 Want to know something that makes the debit card scenario more funny?
While I was putting away my groceries, I discovered my new debit card at the bottom of the fruit bowl.
Oops.
How it got there, I have no idea…normally when I get new credit/debit cards in the mail, I activate them right way, put them in my wallet, and shred the old ones. This one must have arrived on an unusually busy/disorganized day or something.
I spent $64.60 at Weis and $83.72 at Aldi for a total of $148.72. Since I'm trying to keep an $80/week budget to save up for a future beef purchase (I failed at that last month, thanks to my blueberry purchase!), that means I've got about $11 left for an off-week milk/produce run.
Breakfast this week will be granola, fruit, cereal, yogurt, and toast.
Lunches will be comprised of sandwiches made with whole wheat bread, homemade yogurt, yogurt smoothies, cottage cheese, fruit, raw veggies, nuts, cheese, and leftovers as necessary. Of course, we don't eat all of that every single day…it's just a list of the things we choose from for lunch each day. And Mr. FG eats leftovers for lunch pretty much every day.
Dinners are as follows:
Saturday
Sunday
Instead of our usual breakfast for dinner options, we're going to try making crepes, and we plan to fill them with strawberries and whipped cream.
Monday
Grilled Hamburgers
Chips
fruit salad
Tuesday
Broiled Tilapia Fillets
steamed broccoli
watermelon
Wednesday
Meatball Subs
green salad
Thursday
Fajitas (made with chicken, shrimp, and grilled peppers and onions)
fruit salad
Friday
Takeout date night for Mr. FG and me, something super-duper easy for the kids
Enjoy your Saturday! I'm off to have breakfast with my kids, get some whole wheat bread dough and homemade yogurt started, and then we're going to tackle decluttering Joshua's room. (check his 365 post today for a before picture of his nightstand!)