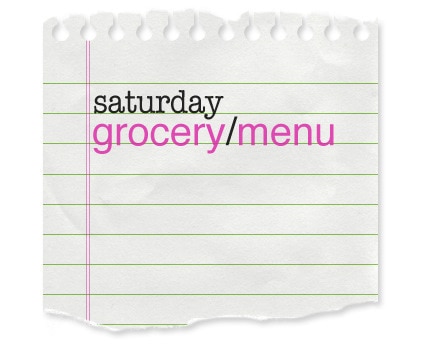 On Saturdays, I share my menu plan for the upcoming week along with a photo of my groceries and a tally of my spending. My goal is to spend $100/week for our food, toiletries, and cleaning products. I'm currently in the midst of trying to buy more local, sustainably-produced food while sticking to my budget. Can it be done? I don't know, but I'm going to try, and I'll share what I learn as I go along.
I haven't done one of these posts in what seems like a really long while!
And I haven't posted a picture of my groceries in an even longer while.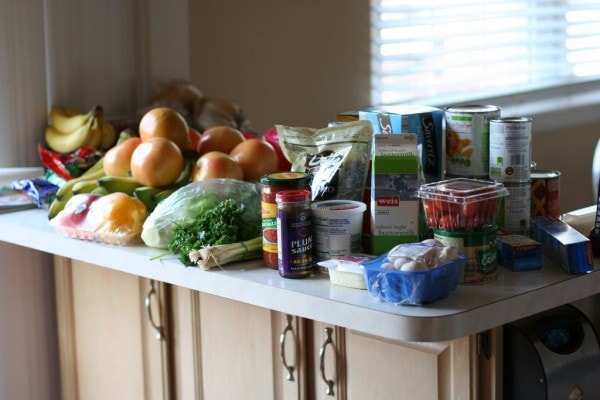 That's really a partial picture…I put my shrimp and fish and dairy products away before I managed to snap a picture.
Speaking of my shrimp…
Weis has a policy that states if a product doesn't ring up at the sale price, you get the item free, up to $10. Well, my bag of shrimp rang up at the wrong price, so I got two pounds of 31/40 raw shrimp for a total of $6.98. Sweet.
As far as my spending goes, I can tell you that I spent $81.88 at Aldi, and $21 at the organic store (for the packaging-free chicken, some nitrate-free bacon, and some cilantro), but I cannot locate my Weis receipt at the moment. I'm not entirely sure where I put it after I got my $10 price adjustment at the customer service desk.
If I find it, I'll update this post!
Saturday
Pizza. I think I'm going to try a new Cook's recipe. I'll let you know how it comes out!
Sunday
Snacky stuff…crackers, veggies, dip, popcorn, fruit and fruit dip, etc.
Monday
Asian Meatballs and rice (trying a new recipe from AllYou magazine
grapefruit halves (they were $0.35 apiece this week at Aldi!)
Tuesday
Chicken Parmesan Risotto
green salad
garlic breadsticks
Wednesday
Shrimp Burgers (a new recipe from Cook's Illustrated)
veggie chips
green beans
Thursday
Chicken Teriyaki
Cheese bread
green salad (don't you love my uber-traditional accompaniments to Chicken Teriyaki??)
Friday
Takeout date night for Mr. FG and me, something easy for the kiddos
Have a lovely Saturday, and check back here tomorrow because I'm going to give away 5 Seeds cds!
Today's 365 post: I replaced this with something from Goodwill…