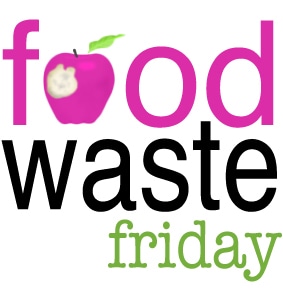 Every week, I post a picture of the food that has gone bad over the last seven days. Why do I do this? Because in March of 2008, I finally got fed up with the amount of food I was wasting, and I thought that showing my waste to other people would motivate me to use up my food instead of wasting it. Because this often embarrassing practice was so helpful for me, I invited other bloggers to join me in posting their food waste photos, and Food Waste Friday was born. If you're not a blogger but still want some food waste accountability, feel free to participate by leaving a comment.
Recently I posted about how sometimes I buy produce in small quantities, which is more expensive per pound, but less expensive overall because I less prone to waste with small amounts.
For some reason, I decided to buy a large pack of mushrooms last week, and this was the result.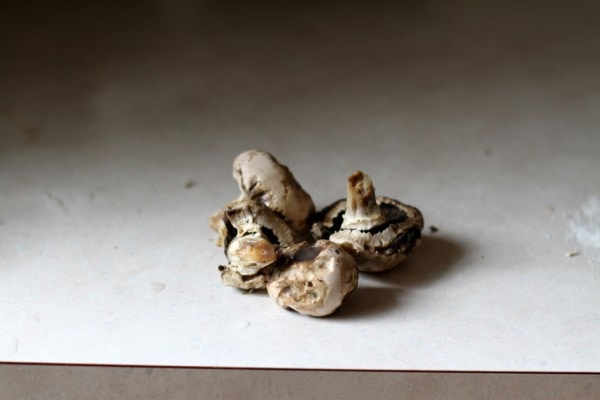 I'm not sure why these went bad so fast…I stored them in a paper bag in the fridge like I usually do, but I had to really scramble to use up as many as possible before they went south.
I did compost the mushrooms, of course, so at least they didn't go to the landfill!
Remember how last week I had to compost a hairy tomato? Just yesterday, a reader left this comment on that post:
"I think you're lucky you got to that tomato before the rest were affected – good work. "
Which is sort of funny, because apparently I didn't get the bad tomato out of the bunch in time. Shortly after last week's Food Waste Post, the other tomatoes started to sprout hair too, so I had to compost them.
I also have a few slices of roast beef lunch meat that have sat in the drawer a little too long for me to feel comfy eating them. Normally I throw leftover lunch meat into the freezer to use for panini sandwiches, but this package was hiding under some cheese and bacon, and I completely forgot about it.
_______________________________________________________
How did you do this week? If you blogged about your food waste, link us up by entering your info into the widget below. You'll save money, reduce your trash output, and get a little publicity for your blog! And if you don't blog, you can still share about your food waste by leaving a comment.