Every week, I post a picture of the food that has gone bad over the last seven days. I started doing this in March of 2008 to help motivate myself to use up my food instead of wasting it and it's been very effective. Since it helped me so much, I invited other bloggers to join me in posting their food waste photos, and Food Waste Friday was born.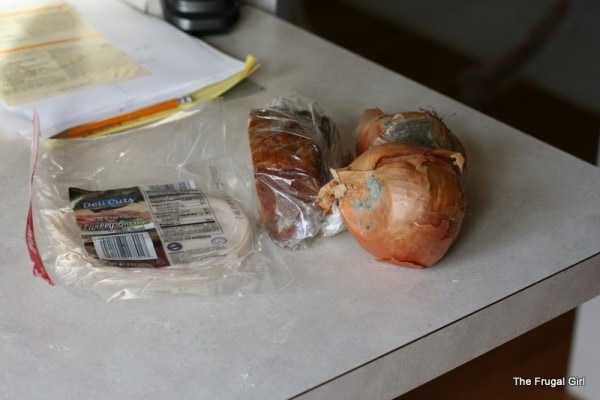 It was not the best week at our house for food waste. The slices of turkey breast were hanging out in a drawer in my fridge, and though they might be safe to eat, I am not entirely sure when I opened the package. And when it comes to lunch meat, I always err on the side of caution.
Next to the lunch meat is the end of a banana bread loaf. I'd made this with some really (really) black bananas, and it didn't taste quite right. We did make it through most of the loaf, though, and I am now certain that it is possible for bananas to be too ripe even for banana bread.
The two onions were in my cabinet, and I discovered the mold when I went to retrieve an onion for dinner. Bummer. On the bright side, Lisey was supposed to observe some mold for her science activity, so we just used the moldy onions (she dutifully inspected the mold with a magnifying glass as directed!).
________________________________________________________
How did you do this week? If you blogged about your food waste, link us up by entering your info into the widget below. You'll save money, reduce your trash output, and get a little publicity for your blog!