Some of you asked for Christmas light photography tips, and I really meant to get this post done before Christmas, but I didn't. However, the more I thought about it, the more I realized that the skills necessary for Christmas light photography are useful throughout the year. The principles that work for Christmas lights work for birthday cake shots, firework shots, and many other low-light shots.
So, I'm putting this post up now, and I'll try to remember to refer you all back to it when Christmas rolls around.
(did you want me to say Christmas a few more times??)
In order to explain how to take pictures of these tricky subjects, I'm going to have to go over some (slightly boring) camera basics. Bear with me here…I promise I will get practical in a minute!
Shutter Speed
Cameras require a certain amount of light in order to take a good picture. The light is let into your camera when the shutter is open, and the length of time your shutter needs to stay open varies depending on the available light.
If you're outside during daylight hours, or if you use a flash, your shutter won't need to stay open very long at all. But if you're inside, or outside while it's dark and you're not using a flash, your shutter will need to stay open longer in order to let enough light into your camera.
Why not just use flash, and make sure your picture has enough light? Flash, unless it's a bounce flash or off-camera flash, really ruins pictures of Christmas lights, birthday candles, and other such subjects. It sucks the magical glow right out of the scene. Because little light is available in these sort of situations, your camera will think that it needs to use the flash, so you'll have to manually turn it off.
So, since flash isn't a good option, for all the low-light situations I've mentioned above, your camera's shutter will need to stay open for a while (this is called a slow shutter speed) so that enough light will get into your camera.
How do you adjust shutter speed? That'll depend on your camera. If you have a point and shoot camera, it will likely adjust the shutter speed for you (in a dark situation, it'll pick a slower shutter speed). And fancier point and shoots usually have a shutter speed control…you'll have to read your manual to figure out how to adjust it.
Slow Shutter Speed and Blur
"Great!", you may be thinking. "This is totally easy. I'll just use a slow shutter speed and snap away."
And it would be easy, except that it's really hard to hold your camera still enough to get a sharp picture when your shutter is open for a second or two. Actually, it's hard to hold your camera still for even half a second!
So, you'll need some camera-holding assistance to be successful at this. A tripod is an obvious choice, but since this series is about improving your photography without spending a bunch of money, here are a few other options. (I actually use my tripod only rarely, just because I am sort of lazy like that!).
Use a piece of furniture.
For birthday cake shots, I usually set my camera on the table or a counter. Just find a flat surface in spot that will let you get the shot, press the shutter button down (that's the button that takes the picture!) and hold it until the camera is finished taking the picture. Even the slight action of taking your finger off the shutter button could cause your camera to move, and that'll give you a blurry picture.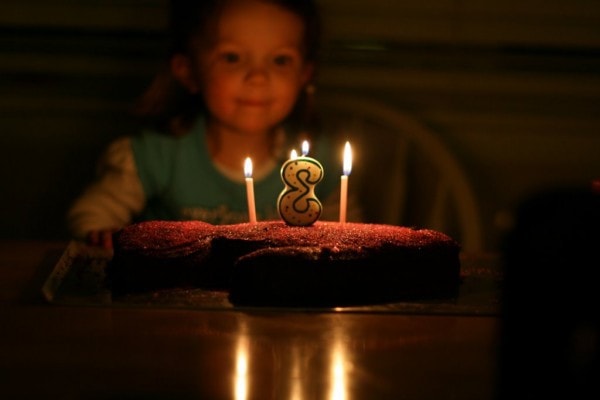 This is a handy idea when a piece of furniture isn't available, or when the furniture is the wrong height. You can stack books up on the floor, or on top of a piece of furniture that is too short.
When I wanted to take a picture of my Christmas boxes, I made a small pile of library books, placed my camera on top, and shot away.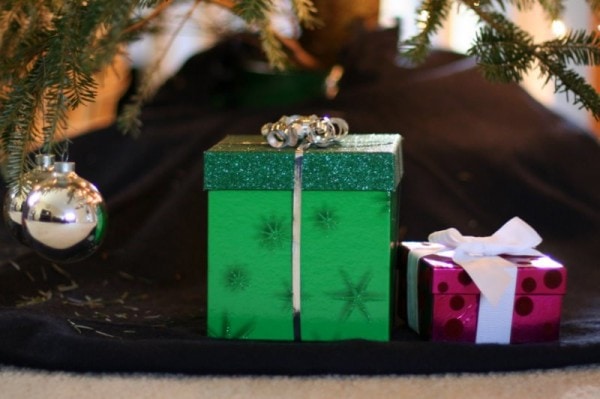 Subject Movement
It should be noted that a slow shutter speed is usually only useful if you are photographing objects that don't move. Christmas trees are immobile, so as long as your camera stays still, you'll get a sharp picture. However, people, especially children, do move, so even if you hold your camera still, it's highly unlikely that your subject (a person) will stay still long enough for a sharp picture.
Sometimes, though, subject movement works really well with a slow shutter speed. Fireworks do not stay still, but that's ok, because their movement creates a neat effect as long as your camera is not moving.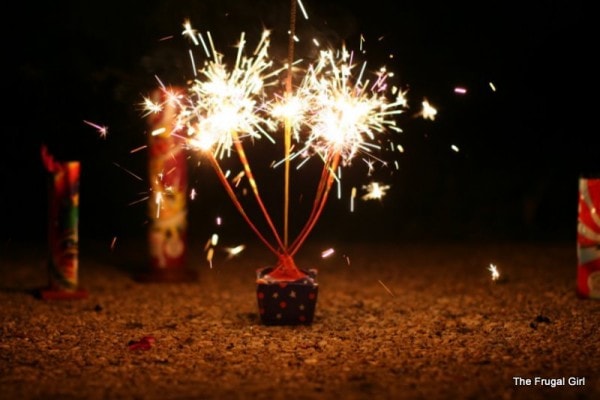 So, come Memorial Day and July 4th, turn off your flash, slow down your shutter speed, and find a steady surface for your camera.
To sum it all up, when you need to take pictures of low-light, inanimate objects, turn off your flash, use a slow shutter speed, and use something to hold your camera steady.
I hope that all made sense! If it didn't, please feel free to ask for clarification!