Normally, I keep my running around to a minimum, but on Monday, my husband's day off, he sent me out by myself to Atlanta Bread Company for a re-grouping/planning session (yay!). Afterwards, I made two quick grocery stops.
I had some coupons to use at Giant, and I spent a total of $6.97. I got a dozen eggs (I had a coupon to get them free), a box of Cream of Wheat, a 5 pound box of Clementines, and 3 pounds of bananas.
I also stopped by Safeway to redeem my flour raincheck (Gold Medal unbleached flour for $1.50/5 lb.). The raincheck was good for 20 bags, but they only had 13 in stock. So, I bought 13 and got my raincheck rewritten for the other 7. The 13 bags of flour cost $19.50.
So, before I even set foot in Aldi and Weis, I'd spent $26.47. None of those groceries are pictured, but I do have a picture of my Aldi/Weis groceries.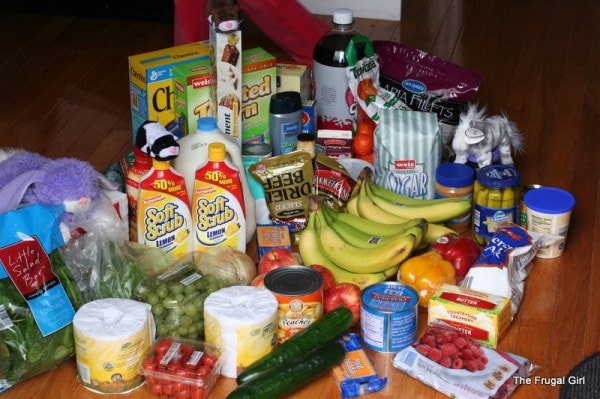 At Aldi, I spent $47.80, and at Weis, I spent $54.50.
So, my total for this week is $128.77.
Oh dear.
I was $6 under budget over all for the month, so that means I'm $22.77 over budget. And that means that I need to spend $77.23 or less next week. I think I can do that, and quite obviously, the main reason I was over this week was my flour purchasing, which I don't regret in the slightest.
For breakfast this week, we'll be eating cinnamon oatmeal bread, oatmeal, pancakes, Cream of Wheat, and cereal. Lunches will be homemade whole wheat bread, homemade yogurt or yogurt smoothies, fruit, and leftovers as necessary.
Saturday
Sunday (we're visiting my husband's grandmother and bringing the meal with us)
Monday
French Toast (made with challah this time)
OJ
Tuesday
Wednesday
Broiled Tilapia fillets
Cheese Bread
green salad
Thursday
Chipped Beef on Toast
green beans
Friday
Cornish Hens with Stuffing
green salad