Back in February after the TV spot about my blog aired, a new reader named Steve emailed to ask if I had any frugal shaving tips, specifically regarding shaving with a straight razor. Neither my husband or I are very hairy people, which means we don't go through a lot in the way of shaving supplies. Because of this, we've never ventured down the alternative razor road before. Steve mentioned he was going to give this shaving method a try, so I asked him to email me the results of his experiment. He recently let me know that he's sold on the old-fashioned method now, and he agreed to share the upsides and downsides of it.

Shaving can be expensive""for women and men alike! Want to make it more affordable, greener, and maybe even more enjoyable? Read on, frugal friends.
Allow me to introduce the double edge safety razor.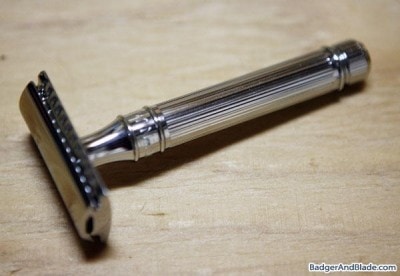 This is the kind of razor your parents or grandparents might have had in their medicine cabinet. The head of the razor is opened or disassembled and a thin, two-sided blade is placed inside.
It is often used with a glycerin-based shaving soap that is applied to the face using a small brush. The soap rests at the bottom of a mug (just like the one you drink your morning coffee out of) or a small bowl.
Whisking the dampened brush across the soap produces a thick lather that is then applied to the skin. In addition to transferring the lather, the bristles of the brush gently exfoliate the skin and raise the hairs for an even better shave.
So, the only supplies this method requires are as follows:
double edge safety razor
blades
shaving brush (optional)
glycerin-based shaving soap (optional)
Why would you ever want to climb into the Wayback Machine and start shaving this way? Here are the highlights:
The blades are less expensive.
Significantly less expensive! If you're paying between $2 and $4 for each multi-blade cartridge, you could easily bring that down to 1/10 the cost.
The packaging is greener.
There is substantially less plastic waste associated with double edge blades. In some cases, there is none at all. If you also switch from canned shaving cream to a brush and soap, you won't be throwing away spent aerosol cans either.
You will probably prefer it.
People who switch to a double edge razor frequently report less skin irritation, fewer ingrown hairs, and an overall better shave.
It's just cool!
You'll feel like Angie Dickinson and/or Dean Martin with one of these in your hand. (Your results will probably depend largely on where you are using your new razor.)
So what are the downsides? Here are the lowlights:
You'll have to retrain yourself to shave.
This razor requires a lighter touch. Think samurai instead of lumberjack. You'll also want to take care to position the blade at the proper angle against your skin. Around 30 degrees is generally considered optimal.
Shaving will take a little longer at first.
Just until you get the hang of it. (We both know you're worth the extra time!)
There is an initial startup cost.
A quality razor and brush can set you back $50 or more. Shop around. There are some great deals to be had. Even if you splurge, you can often recoup the cost in less than a year.
You might have to mail order your blades.
While many drug stores carry double edge blades, they can be of varying quality and will likely cost more than if you ordered them in quantity by mail.
If you want to learn more about this shaving method, check out the wealth of information about both equipment and technique on the Internet). There are even YouTube Videos that show you exactly how it's done.
I recently made the switch and couldn't be happier about it. If you think this might be for you, give it a try. I wish you many, many happy shaves!
________________________
Readers, I'm interested to hear if any of you have given this a try. Any tips to add to Steve's?