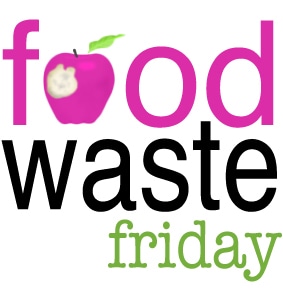 Every week, I post a picture of the food that has gone bad over the last seven days. Why do I do this? Because in March of 2008, I finally got fed up with the amount of food I was wasting, and I thought that showing my waste to other people would motivate me to use up my food instead of wasting it. Because this often embarrassing practice was so helpful for me, I invited other bloggers to join me in posting their food waste photos, and Food Waste Friday was born. If you're not a blogger but still want some food waste accountability, feel free to participate by leaving a comment.
The mushy thing on the top of my container is a pear that was beyond saving. If I cut off the bad parts, there wouldn't really have been anything left!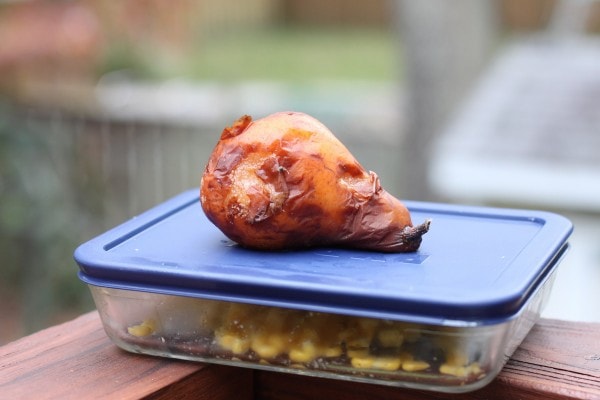 And inside the container, there's a little bit of leftover corn. Zoe would have happily eaten this, but I forgot to feed it to her. Whoops.
And lastly, a bit of milk that had gone too far south to be salvaged.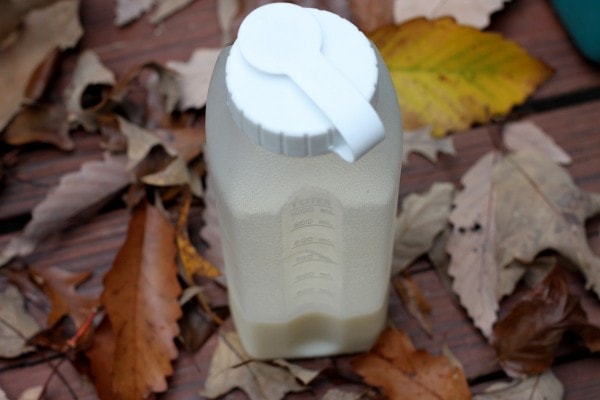 If milk is just a little bit sour, I use it to make chocolate pudding or I use it in any number of yeast breads. I just wasn't fast enough with this milk.
For the first time in a long while, though, I feel like I have a good handle on my fridge, so hopefully next week I'll have a bit less to show and tell.
________________________________________________
How did you do this week? If you blogged about your food waste, link us up by entering your info into the widget below. You'll save money, reduce your trash output, and get a little publicity for your blog! And if you don't blog, you can still share about your food waste by leaving a comment.
______________________________________________
Today's 365 post: Know why these eggs are unevenly sized?

Joshua's 365 post: The Dragon's Food