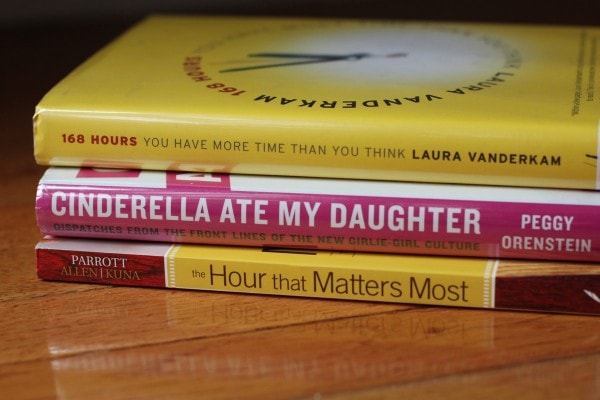 These are the three books that have inhabited my nightstand lately, and today I'm going to give you all a quick opinion about each of them.
____________________________
I got 168 Hours: You Have More Time Than You Think
from the library, based on MoneySavingMom's recommendation. I thought it was well-written…a breeze to read, and much more entertaining than some time-management books.
I gleaned some helpful information from it and was reminded of some things I already knew. I like that Vanderkam emphasized spending time on things that you enjoy (I wrote about that in my Don't Waste Your Leisure post). And I totally agree with her thoughts about TV and how it doesn't provide a lot of bang for your leisure buck.
On the other hand, I was a little annoyed with Vanderkam's perspective on a few things. For one, she doesn't seem to value quality spouse time too highly. That only got a small mention, while work and time with children were covered far more thoroughly. In fact, she recommends having a shorter work day, coming home to spend time with the children, and then putting in a few more hours of work (paid work) after the children go to bed. To me, it seemed like time with the children was being put at a higher priority than spouse time, and I think that's a mistake.
She also has a very different perspective than I do on the value of staying home. I feel like her thought process is that it's better to outsource cleaning, cooking, and childcare so that you can spend more hours working, and can spend your free time with your kids (and let it be known, I'm certainly not opposed to quality time with children!)
She cites the fact that most stay at home parents do only spend an hour or two of quality time with their kids each day. That may be true, but I don't think quality time is all that counts…being there to comfort, encourage, and discipline children all day is all important work too. And involving children in the cooking and cleaning process means that you can get those things done while also spending time with your children (and while not having to outsource those tasks).
Anyway.
I found myself nodding my head most of the way through the book, but then whenever her thoughts on the priority of childcare and marital maintenance came through, I soundly disagreed.
_______________________________________
I checked out Cinderella Ate My Daughter from my library after Cate Linden talked about it. Like 168 Hours, it was a well-written, entertaining read, and it didn't take me long to get through it.
The author comes to the table with a fair number of ideals that I don't share, but I knew this going into it. Her ideas about womanhood are different than mine, and some of the things she hopes for her daughter are not things I hope for my daughters (like that they will have an active intimate life long before they get married).
Oddly enough, though, we do share a lot of the same thoughts about little girls and what is appropriate and helpful for them and what is decidedly not. For instance, I am opposed to this trend of girls growing older younger (6 year olds now are interested in what 10 year olds used to be interested in a while back), I don't think girls have be nothing but pink and sparkly (do we really need pink legos? and pink strollers?), I think girls should think and study, I don't think little girls should be bombarded with sexy role models, toys, and clothes, and I think the girly-girl culture places too much value on appearance and not enough on character.
Fortunately, because my girls are homeschooled and watch very little TV, they haven't been exposed to a lot of the girly-girl culture, and after reading the book, I felt more and more glad of that. Though my girls do like sparkles and nail polish and such, they've whiled away many hours playing with our (primary-colored) duplos and wooden blocks, they love their blessedly-unsexy Calico Critters
, and their favorite stuffed animals (Build-A-Bears) are delightfully cute, round, and cuddly.
My girls will grow up soon enough, and I'm glad for the ability to keep them young for a while.
___________________________________
The The Hour that Matters Most: The Surprising Power of the Family Meal
is a book that was sent to me for review. It's written by Les and Leslie Parrott, two psychologists, and two mothers who started a freeze-your-meals business.
I'm already a big fan of cooking and eating a meal together at home every day (hello, big money-saver!), but I still enjoyed reading about this topic. It reinforced my thoughts about how important a shared meal is, and it was interesting to read how many studies linked a variety of benefits to the simple practice of eating dinner together.
The book covers the history of family meals, talks about why you should even bother making a family meal a priority, and offers advice about how to make the table atmosphere pleasant and welcome, how to encourage conversation, and how to use mealtime to instill values and manners in your children (I didn't agree with all of the parenting advice, but I still found the book to be valuable. Chew up the meat and spit out the bones, I say!)
Also, at the end of every chapter, a make-ahead, freezer-friendly recipe is included (and there's a picture of each recipe!).
If you're having trouble feeling inspired enough to make family meals happen at least a couple of times a week, this would be a helpful read for you.
___________________________________
What have YOU been reading lately? And if you've read any of these three books, I'd love to hear your thoughts on them!
___________________________________
Today's 365 post: Then and now (I didn't plan this, but my 365 post today is about reading too!)
Joshua's 365 post: A Giant and His Counterparts
Amazon links are my affiliate links.